Interview with Shoko Takahata, "Keep Your Hands Off Eizouken!" prop designer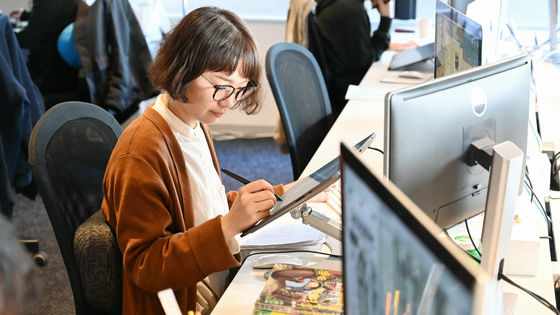 A TV anime based on the comic of Sumitomo Odori, ' Don't touch the video lab! ' Will start on Sunday, January 5, 2020. In connection with this work, director Yuasa and three main casts appeared at the
preview and interview
, and the original author,
Sumitomo Odo
, the first story storyboard and direction director
Mari Motohashi
, the fourth story An interview with Mr.
Fuga Yamashiro,
who is in charge of storyboarding and directing, is included, and I also talked to Mr.
Takuko
Takahata,
who was in charge of designing small items (prop design) appearing in the work.
TV anime 'Don't dabble at the Video Lab! 'Official sitehttp://eizouken-anime.com/GIGAZINE (G):
Mr. Takahata is in charge of the prop design for 'Don't give your hands to Video Research!'
Mr. Shoko Takahata (hereinafter referred to as Takahata):
Yes. I was in charge of one episode. `` Video Lab '' is faithful to the original work, so the small items that come out in the original work are designed to be persuasive so that the animator can easily draw at various angles. You.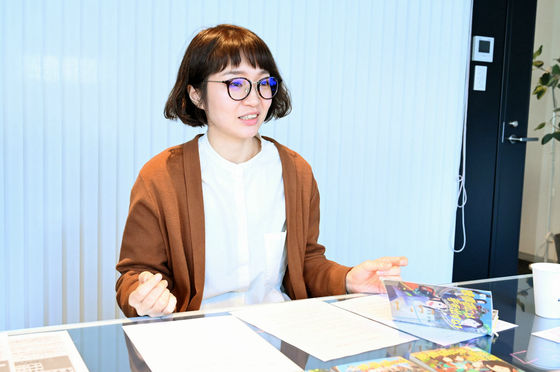 G:
'Easy to draw' means that some things are difficult to draw if they are not.

Takahata:
If it is a single picture, it is cool if you can draw it, but in animation, 'moving' is important, so I omit the design. On the other hand, if you omit too much, it will be a cheap image, so it is difficult to balance. In the first episode, it was the first time, so I drew the settings in detail, but when I saw the animation, the animator omitted it well, so I learned it.

G:
For example, what is the first episode?

Takahata:
The binoculars that Asakusa has, their mobile phones, and their sketchbooks. In the sketchbook, the drawing inside was done by another person, but I was in charge of the outside design.

Speaking of the following images, the content drawn by Asakusa is different, and the design of the 'ring part of the sketchbook' and the 'pen' correspond to the prop design.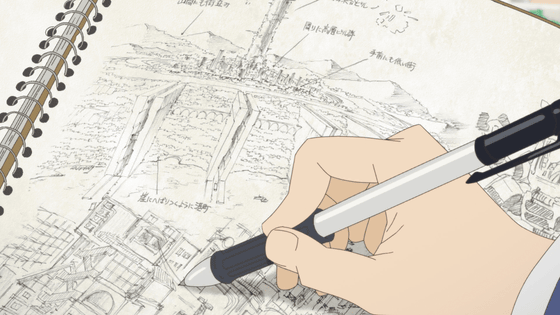 Takahata:
And the milk and drinks that Kanamori has. We asked the producers to find out how to deal with the trademark, and ultimately it became "Strawberry Milk". I was in charge of everyday accessories.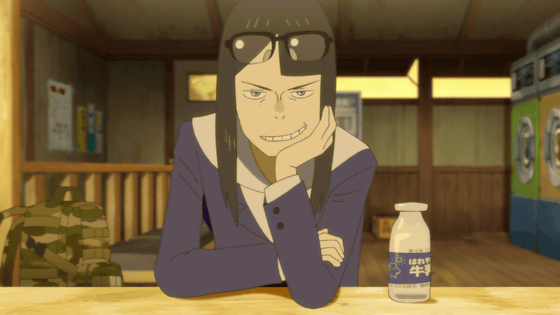 G:
What is the detail you drew?

Takahata:
Binoculars and tools. I could not draw if I did not know what it was making, and I looked at the pictures for reference, but there were some parts that I could not understand if it was just a photo, so I actually went to a home electronics mass retailer and checked it myself There were things.

G:
There are parts where photography alone is not enough.

Takahata:
Something like 'What's going on behind you?', 'Why there's a protrusion here? What's this for?' If you draw it only with an image, the animator will be more annoyed later, so I wanted to understand that and then draw it. I was also in charge of animation, so at first I was a little omission when drawing, but I was convinced by Mr. Motohashi, the director (1st episode), saying `` It is better to draw here properly '' did. Eventually, the animator draws it according to the scene.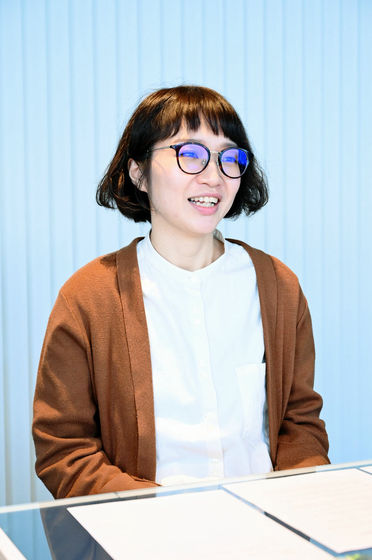 G:
In the first place, what was your background in designing props?

Takahata:
I've been interested in design for a long time, so I raised my thoughts about doing it. Even before entering Science SARU, I had experience with the design itself, but because of the different process, it was my first time designing Japanese animation, and I participated and learned from the first idea idea. Was.

G:
So that's it.

Takahata:
I arrange what is in the original and put it out, but my picture is an ant as an illustration, but there are places that do not work a little as an animation design, such as proper perspective, shadow, how to insert instructions for highlights etc. We came while having you tell.

G:
What is the decisive difference between illustration and animation design?

Takahata:
I wonder if animation needs more convincing. If it is a single illustration, it can be made without thinking about what is going on behind the picture. For example, complicated shapes such as the binoculars that appeared earlier change the appearance depending on the angle, such as the shape viewed from the front and the side and top, so in animation design, the design depicting the appearance from various directions will become necessary. Also, there was a version that opened and closed when the width of the eyes of the binoculars was changed, so I thought whether an animator would help when such a scene appeared. I think the purpose is different from the illustration.

G:
Certainly, it is different from the original idea. This time, how long did you draw a prop for 'Don't give your hands to the video laboratory?'

Takahata:
Is it about 20 to 30? The first episode is the main one, but small items that are not enough in the later episodes are added as supplements.

G:
Is there any design that remains in your impression?

Takahata:
Food was difficult. Also, I couldn't draw pretty cute stuffed rabbits, which was taken care of by Daido.

(Laughs)

Takahata:
I wanted to draw it cute because I was particular about it, but it didn't go well ...

The author's pic.twitter.com/93P1yzc37f

— SumitoOwara (@ dennou319) December 29, 2019


G:
Is there any reason why it doesn't work?

Takahata:
Maybe it's a millimeter difference. The position of the eyes was slightly different, the fluffy feeling, etc. I corrected it many times, and fixed it again to make it the current shape.

G:
Is it in millimeters?

Takahata:
It looked so simple and it was a bit pressure to make a mistake (laughs).

G:
What was difficult about food?

Takahata:
In the first place, I didn't often draw the food itself with animation. So I started by saying, 'How do I draw?', And while painting other anime, I looked at how the colors were separated and painted them. If you draw ramen noodles too finely, it doesn't look a bit uncomfortable or looks very delicious.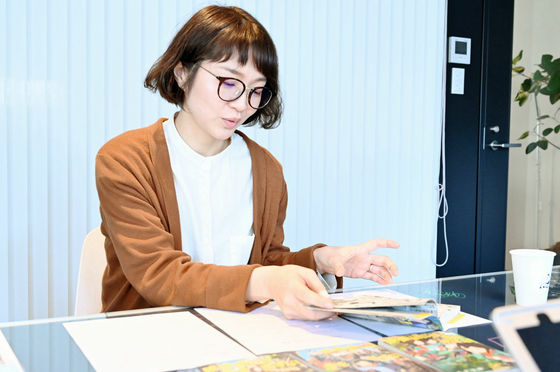 G:
Hoho.

Takahata:
When I looked at the scene where the ramen actually came out, it was processed well, but it was something I did not draw, so I searched for `` how to draw it and get it done well '' I did.

G:
Just because you draw it doesn't mean it looks delicious.

Takahata:
I agree. The lines are drawn with black lines, and the colors are made softer and softer, so the way they look changes.

G:
Just because there is an original does not mean that prop design can be done easily.

Takahata:
I think that it would be faster than prop design of the original work because there is something that can be used as a reference, but there were many difficult points ...

G:
It's like translating the original design for anime.

Takahata:
It's weird to say 'make it right', but there are things that need to be unified with the settings and the settings, so it's like 'making it usable in animation'. I want to make the design that animator thinks tougher as much as possible, but it is difficult to balance.

G:
Ultimately, how do you balance?

Takahata:
'Persuasiveness' and 'functionality' do not mean that 'it would not work without this'. For example, if you just want to make the impact driver of the tool simple, it might be like a switch with a stick-like shape without the square box-shaped projection below, but since the battery is in, the lid is I was conscious of the fact that I had to draw it. However, if there is something that does not affect the animation or story, I think that it is easier to animate it if it is omitted.

G:
The design is convincing with the accumulation of such logic.

Takahata:
I agree.

G:
Mr. Takahata is not only responsible for prop design, but also for storyboards in the second half of the story.

Takahata:
Yes. I had no experience but wanted to try someday. I was afraid of failure, so there might have been an option to refuse, but I really wanted to try it. As a company, including producer Unyon, it is very important that I want people who are motivated to take on a challenge, and I really agree with that policy.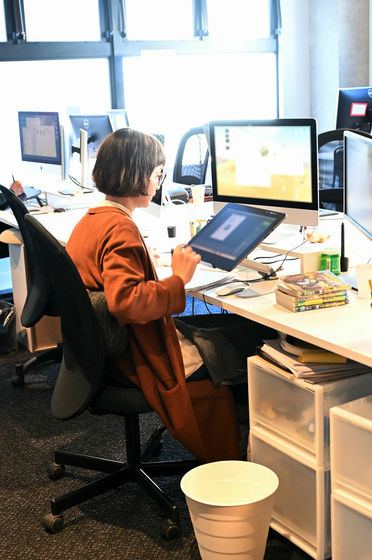 G:
I guess that by being in charge of prop design and storyboards, you might have read the original much, but what was your first impression of the work?

Takahata:
With the impression that I was very particular about the settings ... mechanics came out, and honestly, I thought it would be difficult. Since I have never done a work in such a style, I said, 'How do you do it?' I often tried a new challenge from scratch.

G:
Is there any part of your work that this was a challenge?

Takahata:
As a policy of a work rather than an individual, I thought it would be interesting to change the style between the real world and the image. When I was reading the original, I suddenly switched between the real world and the world of images, so I was wondering what it would look like to make it easier for people watching the animation to understand.

G:
Even with the 'propeller skirt', delusions were directly connected to reality. How do you make the storyboarding work?

Takahata:
I read the script and draw the idea in a rough way, but at first I draw only the main picture without drawing too much detail, and I add it little by little when possible.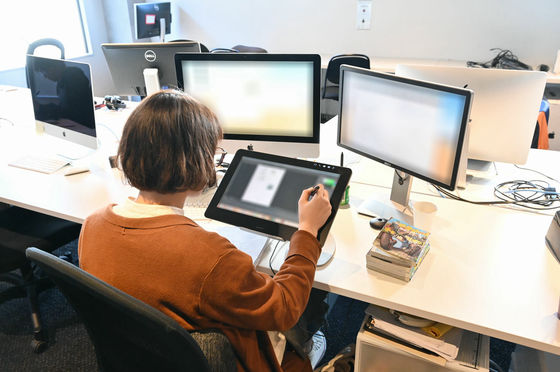 G:
Do you have any detailed instructions from Yuasa about the storyboard? Or do you leave it to me?

Takahata:
At a meeting called 'conte hitting,' Director Yuasa explains the image while reading the script and asks if there are any questions. This time, especially the episodes 9 to 12 are connected, so we deepened our understanding of the flow and what is going on when there are similar cuts. At the time of the storyboarding, Director Yuasa draws an image, but the details are like 'try it'. I think there's an image in the director's head, but I don't have the impression that I will be instructed one by one.

G:
What is your impression of the original about Takada's three daughters?

Takahata:
All three have different personalities, but they work well with each other, and I think it's amazing that they're so enthusiastic. When I was in high school, I felt like a similar person was hanging, and I hadn't seen many people who jumped out so far, so it seemed fun.

G:
Sounds fun.

Takahata:
After that, Director Yuasa also talked about the secret base, but I also went out to play and made a secret base when I was little, so I saw Asakusa delusional There is something like 'I did it!' (Laughs) But the great thing about Asakusa is that I don't draw what I see on the spot, but rather learn it as an image and draw it later. I don't have that ...

G:
I'm a bit away from my work, why did you become an animator?

Takahata:
Originally, I was drawing a portrait at a shopping mall, but when I was drawing, I thought, 'Isn't it more interesting to move my own picture?' And I wanted to learn animation.

G:
Portrait drawing! That's amazing.

Takahata:
I guess everyone gets a job at university. So when I said, 'What job do you want to do?', I didn't have anything to do. The only thing I wanted to do was 'I want to draw a picture', but I wasn't from a beautiful university ... I don't have a lot of people who aren't from a beautiful university or inexperienced people. The result of looking for a place to put in was a caricature.

G:
So that's it.

Takahata:
I wanted to make an animation, but I wasn't very interested in animation itself, so I didn't select an animator at first. But when I was in Canada, I saw Yuasa's work and it was different from what I thought of the anime, so I said, 'This person is different.' The movement was also interesting, and I started to pay attention to it after receiving a shock.

G:
So after working as an animator in a Canadian studio, he returned and joined Science SARU.

Takahata:
The main reason is that I also want to contribute to Yuasa's work. Among the various styles of the work, Science SARU's work seemed to be challenging and I thought it would be fun.

G:
When you actually participated, how many times did you say 'It looks fun'?

Takahata:
I feel a lot of pressure when creating a work, but it is rewarding and rewarding to see the work being completed. There are many people around me that I respect, so I'm grateful to work with them.

G:
So that's it. I am looking forward to the broadcast of the 11th episode, which is in charge of storyboards, as well as props. Thank you for today.

・ Continued

Interview with Producer Choi Eun Young who draws `` fun animation production '' `` Don't touch the video lab! ''-GIGAZINE