Interview with Mari Motohashi, who was in charge of the storytelling and direction of the first episode of the animation 'Don't give a hand to the video lab!'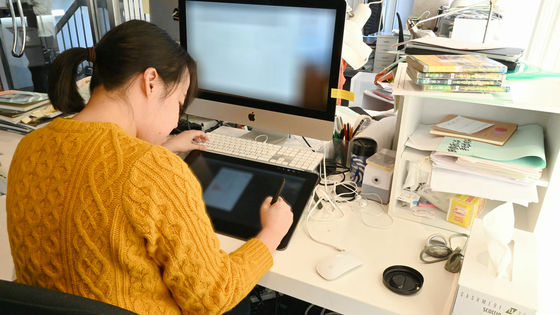 Masaaki Yuasa director and Midori Auditor-Sairi Ito's Asakusa, Sayaka Auditor-Mutsumi Tamura Mr. Kanamori, swallow officers Misato Matsuoka appeared Mizusaki
'Do not take out a hand to the video Research!' Premiere and conference reports
,
original author・
Following
the interview
with
Sumitomo Odo, interviews
were also conducted with the staff of Science SARU, who are actually involved in the production of 'Don't give your hands to Video Research!' First of all,
Mari Motohashi,
who was in charge of the storytelling and direction of the first episode. Under Yuasa, we asked him what he was doing and what kind of painting he was doing.
TV anime 'Don't dabble at the Video Lab! 'Official site
http://eizouken-anime.com/
Motohashi who answered the interview.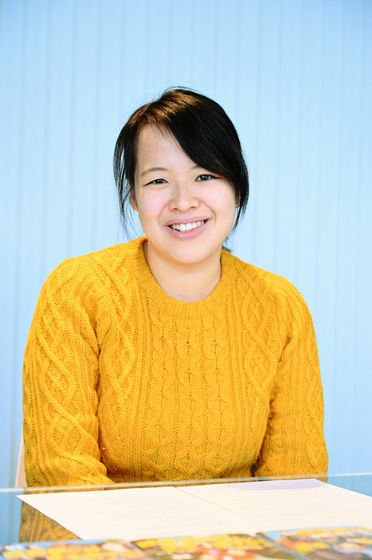 GIGAZINE (G):
'Don't give your hand to the Video Laboratory!', I saw Episode 1 a little earlier. The content was expanded as a whole without greatly changing the original episode. Did you draw the storyboards in order from the top?

Mari Motohashi (hereinafter, Motohashi):
The procedure for storyboarding varies from person to person, but in this case we proceeded from scratch. If you get used to it, there is a way to draw from where it is easy to draw, but this is the first time I am in charge of a storyboard for 30 minutes animation, so I have to think about the whole flow. Director Yuasa also told me that I wanted to see it all, and from the overall flow, I added that speedy and `` I have too much volume here '' `` I want to bring an impact here, so I want to suppress the action ''・ Because subtraction, I thought it was better to do it from the head.

G:
How many round trips did Director Yuasa check the storyboard?

Motohashi:
Basically once. After checking, show the corrections from the director and make a meeting while watching. This is the same for other stories. If you make too many corrections, the motivation of the side of drawing the storyboard will be reduced, and there is also the specialty of the person in charge, so it is meaningless to correct all of them. Basically, it is an image that the director adjusts so that the whole flow will not be irregular while bringing out the writer's character of the storyteller.

G:
In episode 1, was there any major correction?

Motohashi:
The daily parts weren't very much modified, and they said, 'It's pretty easy to see.' However, in the conversation scene, I put the character in front of me and the opponent also kept cutting the composition in front of me ... so I said, 'In such a case, if you occasionally add a picture that is panned in the horizontal position, the balance will be better Or advice. I don't have much experience in the action scene, and I think that Yuasa had something he wanted to do in the first episode.

G:
You don't have much experience in action, but what are your favorite scenes that Mr. Motohashi is easy to paint?

Motohashi:
I don't particularly have this, but I'm crap phobia ...

G:
Crevice phobia?

Motohashi:
When you place a character, you'll be very worried if you have a large background or a space that doesn't fit easily. So even at the storyboard stage, I was thinking about drawing the background as well as the layout and positioning it.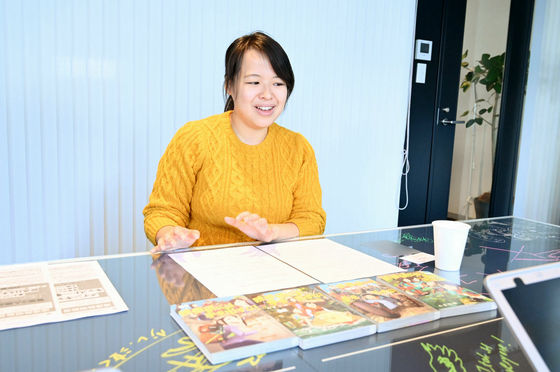 Motohashi:
In the end, there are some people like
Satoshi Ima
and
Tsutomu Shibayama
who draw and copy the storyboard to create a layout.
G:
Looking at the director's storyboard right now, I think, 'I'm drawing that far at this point !?'
Motohashi:
Depending on the original drawing man, I think that motivation may decrease if just copying the storyboard, so there are people who dare to leave the part that the person can draw. If it's a daily part, a composition with a special angle of view is not suitable, so a super wide-angle lens that looks like a desk as wide as a counter would look good, but would look unnatural. So, in this story, I drew aiming to make it as orthodox as possible. So I think most of the cuts were almost OK.
G:
It is the first time that you are in charge of a storyboard for an animation for 30 minutes.
Motohashi:
The short animation series "
SUPER SHIRO
", which has been distributed since October 2019, and the rest of the day, we've done a practice task of drawing storyboards together from a single script in the company.
G:
Was it hard to be in charge of one episode of animation for 30 minutes?
Motohashi:
Surprisingly, it wasn't that hard.
G:
What is the working time?
Motohashi:
About 300 cuts is about a month. Some people are quick to draw in two weeks.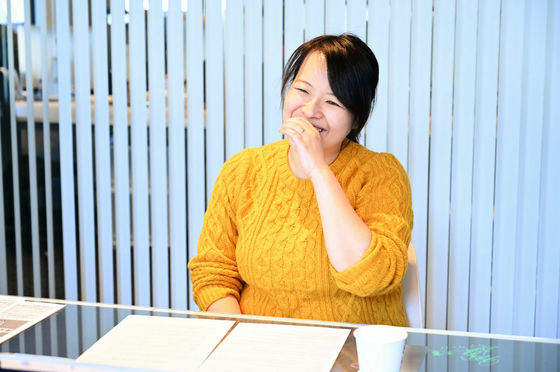 G:
This time, how did you work on your work as a director?

Motohashi:
It's really the first time, so anyway, 'I have to absorb a lot from Yuasa.' I feel like an animator is a writer, but in the production of animation, the director is the commander, and ultimately I think that 'making what the director wants to make' is a professional job as a director and a drawing director. Is. Whether you are a director, an original artist, or an art artist in any situation, the correct answer is to 'make a picture that the director wants', so I aimed to 'do not put myself in a good sense.'

G:
What did Yuasa consider to absorb?

Motohashi:
Mr. Yuasa has a 30-year career, but since I have been in the Japanese animation industry for 3-4 years, I was able to absorb know-how. If you have experience, even if you have trouble, you can use this picture in this way or have problem solving ability. There is also the difference between the movie version and the TV series

G:
I see, i see. There is something like 'how to turn around the site'. Mr. Motohashi worked as a Flash animator at an overseas game company, and then joined Science SARU. Why was Science SARU?

Motohashi:
Originally, there was a time when I worked with Yuasa and Unyon who started Science SARU. At a game company, I was a member of the Japan Studio, but after the studio broke up, when I was working elsewhere, I had a science SARU. Then, there was a drinking party where members of SARU gathered, and when I went there, she said, 'It looks like something interesting.'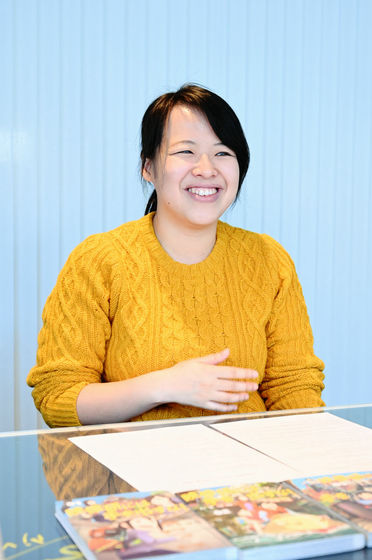 G:
(Laughs) You had a relationship before.

Motohashi:
He said that when he launched Science SARU, he sent an email saying, 'I want a Flash animator, why not come?' However, the address was not used at all, so I didn't notice it at all (laughs). After the smartphone was created, the number of people who could use it was reduced, and it was necessary as a valuable human resource.

G:
What was your first impression of the original 'Don't give your hands to Video Research!'

Motohashi:
I thought, 'Isn't it necessary not to be a high school girl separately?'

(Laughs)

Motohashi:
Because high school girl club activities are doing, I wonder if it was adapted to it. I thought that the main character could be boys, but on the contrary, it's genderless. It's rather real. I feel like a high school girl is actually refreshing. Even at the scene, there are precautions that do not allow characters to pose girls and poses.

One scene of the first episode. Although it is certainly a 'high school girl', what we do is quite genderless.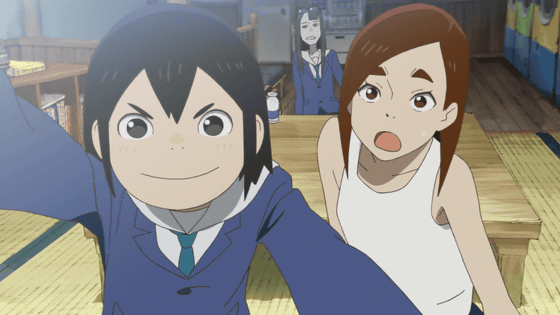 G:
Don't you do too much like a flirt?

Motohashi:
I think that Mizusaki still has feminine parts compared to the two, but Asakusa is like a schoolchild. Kanamori is like an intelligent kuza.



(Laughs)

Motohashi:
Although Asakusa and Kanamori are easy to understand (laughs), Mizusaki also wears a cat when in model mode, but his personality is ragged, and he is not like a 'girl'. It is quite difficult to tell such a thing to Mr. Genga.

G:
It's a girl character, but it doesn't move like that. How do you communicate?

Motohashi:
Basically, I tell the director of each story the content, and when the director checks the original picture, he corrects it as 'This character does not move like this ...'.

G:
Do you draw instructions at the storyboard stage?

Motohashi:
I agree. I'll fix the director as well. Depending on the director, it may be 'I want to do this here'. Although 'Video Lab' can be said to be 'high school girl', it is popular among creators because it has a lot of enthusiasm for animation by the original creator, Daido-san.

G:
indeed.

Motohashi:
Also, I think Kanamori is quite effective as a spice. 'I don't have time, so let's just do something' is fresh. This kind of response is really a field.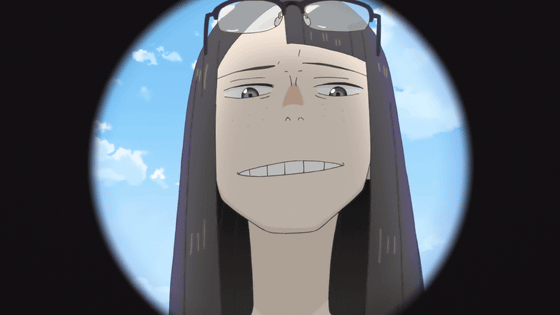 G:
Such a point is that it was a good original that people involved in animation production could see.

Motohashi:
I agree. Also, when the project started, Yuasa-san said, 'I want to have something in the animation industry.' I think Yuasa-san had a lot of sympathy.

G:
The original creator Sumitomo Odo tweeted on Twitter that 'The concentration of one episode is supposed to be happiness as far as I see the video lab, the conte ...' Did you have any feedback from?

As far as I can see, the density of one episode is supposed to be insignificant. damn. This super anime TV broadcast or www ordinary aniota can only see a reaction that can not be done www this is this www

— SumidaOwara (@ dennou319) Sumida Owara , July 30, 2019


Motohashi:
I'm thrilled to know for the first time that you have said that.

G:
Did you raise the concentration intentionally? Or do you feel like you've gone up naturally?

Motohashi:
I like animations that move well, and I like cartoons from overseas that have simple characters, and "guts frogs" and other anime of that age. I sometimes talk about old anime with Yuasa, but I was told, 'Mr. Motohashi, you know quite old anime.' I don't know.

G:
It was really moving.

Motohashi:
In the first episode, there is a scene where Asakusa eats a rice cake. That is the first thing that Asakusa does when it appears, but if it is a normal animation, it will be 5 to 6 sheets, place the container of the sticky stick, open it, eat it, move it, move only the hand Although my body does not move, I wanted to make Asakusa's character stand, so I thought it would be better to focus on it, so I am increasing the number of original pictures.

G:
It's not like moving your hands straight, but turning your arms around.

Motohashi:
The trajectory when placing is usually a straight line, but the arm is usually moved greatly so that it can be easily seen by customers. In such a case, the videos give hints on the trajectory to the videos, saying, 'I want to make this kind of movement.' When you eat something, human movements first bring food into your mouth, but finally pick you up from your face. If you lift the object and put it in your mouth without moving your face, it will look like a robot, so eat with your face close, eat, chew, and if you do, chop chopsticks. Please

(Laughs)

Motohashi:
I wanted to stick with it because it's the first reaction that reveals Asakusa's personality. If you do it properly, the character's presence will increase and it will be called reality, or convincing. Everyone is casually watching when watching, but I am making specially cut cuts that can flow naturally (laughs)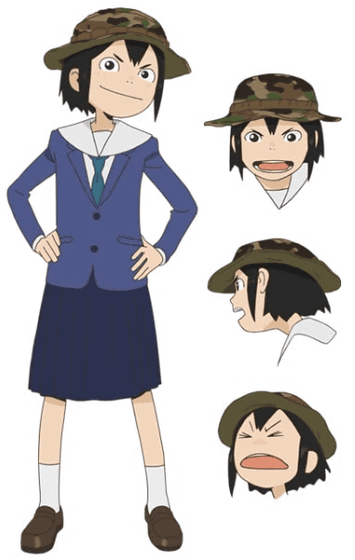 G:
Are there any other scenes that are built in like a scene of eating a stale mochi?

Motohashi:
Where Asakusa, a young child, sits on a chair, the number of people who 'sit by grabbing a rotating chair' has been increased by two to three times. The movement of the foot is usually about four cuts, but it is elaborate.

G:
How did you know that pursuing eating and foot movements increased your reality?

Motohashi:
Is it an experience ...? If you actually try to do the movement yourself, you may realize that this part moves unexpectedly so far, so you have to move it yourself.

G:
So that's it. Is it an image that the character's realism will increase if you put a cut with details raised first?

Motohashi:
Well, I think realism is important. Anime is fictional, so if you don't convince yourself somewhere, you will be cheap. So if you are not particular about drawing with a hand holding a glass or a hand holding a pencil, it will be just an animation. I think that because the characters are passionate about making anime, if the actual characters do not move properly, the overall quality of the work will deteriorate.

G:
Oh ...

Motohashi:
I thought it was particularly important in the times I was in charge of, so I was quite conscious.

G:
So that's it. The first episode was exciting. Thank you for the place busy.

Motohashi returned to work immediately after the interview.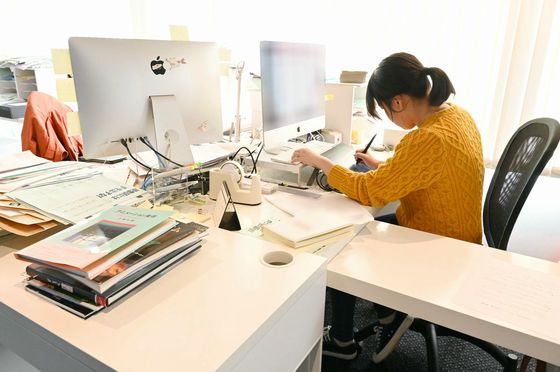 The process is being digitized, so I am working on a tablet.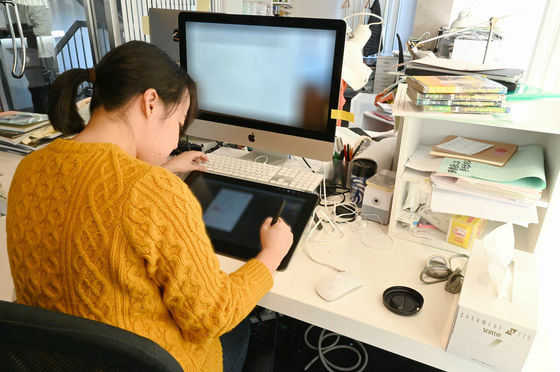 Following Mr. Motohashi, we interviewed Fuga Yamashiro, who is in charge of storyboarding and direction, in episode 4.

・ Continued

Interview with Mr. Fuga Yamashiro, who is in charge of directing storyboards and directing the episode 4 `` Don't give your hands to the video lab! ''