Huawei responds to reports that it received support from the Chinese government worth 8 trillion yen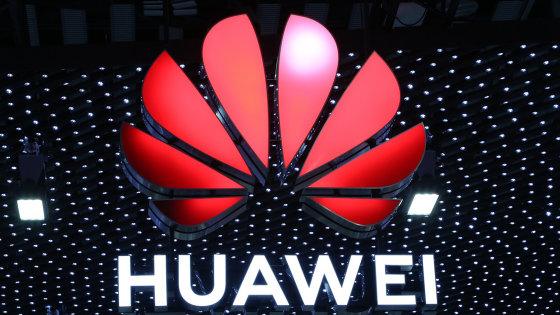 'Huawei has received $ 75 billion in state support from the Chinese government,' the Wall Street Journal reported on December 25, 2019. The press has been spotlighted as an indication of Huawei's close ties to the Chinese government, but Huawei countered that `` support from the Chinese government is no different than for other technology companies. '' Is.

State Support Helped Fuel Huawei's Global Rise-WSJ

https://www.wsj.com/articles/state-support-helped-fuel-huaweis-global-rise-11577280736
Huawei reportedly got by with a lot of help from the Chinese government | TechCrunch
https://techcrunch.com/2019/12/26/huawei-reportedly-got-by-with-a-lot-of-help-from-the-chinese-government/
Huawei says relationship with Chinese government 'no different' from any other private company in China | South China Morning Post
https://www.scmp.com/tech/big-tech/article/3043558/huawei-says-relationship-chinese-government-no-different-any-other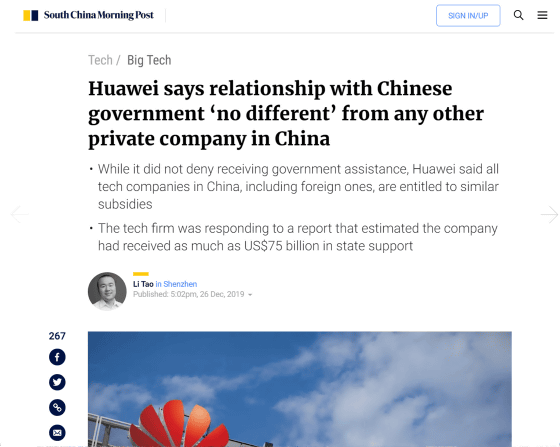 According to official records obtained by The Wall Street Journal, Huawei had received a loan worth $ 46 billion (about 5 trillion yen) and a tax reduction of $ 25 billion (about 2.7 trillion yen) . 'While financial support for businesses and industries is common in many countries, support for Huawei in China has been available for 25 years, including tax reductions, which raises questions about Huawei's relationship with Beijing. 'Empowers it,' the Wall Street Journal wrote.
In response, Huawei Vice President Karl Song said on Wednesday that 'like other technology companies operating in China, Huawei also has political support from the Chinese government. I have not received any support or special assistance. '
Once again, the @WSJ has published untruths about #Huawei based on false information.This time, wild accusations about Huawei's finances ignore our 30 years of dedicated investments in R & D that have driven innovation and the tech industry as a whole.Read on for the #Facts . Pic.Twitter.Com/MpFVDIUecO

— Huawei (@Huawei) December 26, 2019


Huawei, based in Shenzhen, China, has long denied close ties with the Chinese government. While the U.S. Trump administration is tightening up on Huawei and other Chinese companies, Huawei said, `` The U.S. government is acting without evidence that Huawei's products are being used as spy tools. '' Is accused.

Song said in a statement that 90% of Huawei's operating capital was generated from its business. He stated that financial support from the government was in line with market rules, and that debt costs were in line with market standards.

The Wall Street Journal notes that Huawei has received 17 times more subsidies over the five years to 2018 than Nokia, the world's second largest telecommunications equipment maker. Of the $ 46 billion in support, $ 30 billion was credit lines made available by the China Development Bank (CDB) and others. Song explains that the $ 30 billion is based on a strategic agreement that the company signed with CDB to provide loans to Huawei's customers, and Huawei did not directly benefit. did.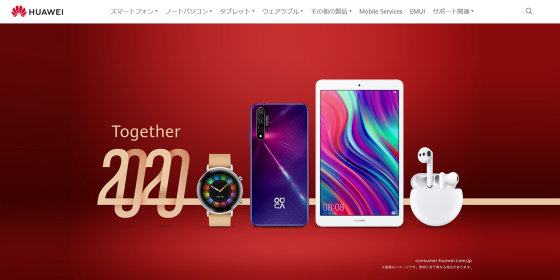 Song says, `` In fact, all technology companies operating in China have the right to receive government subsidies, as long as certain conditions are met, '' he said, saying that the subsidies were R & D expenses. He said, 'In the past decade, Huawei has received less than 0.3% of its total revenue from governments at home and abroad. For 2018, it was 0.2% of its total revenue.' Was.