'Keep Your Hands Off Eizouken!' Interview with the original author, Sumito Owara, said 'I didn't mind if the three protagonists were different.'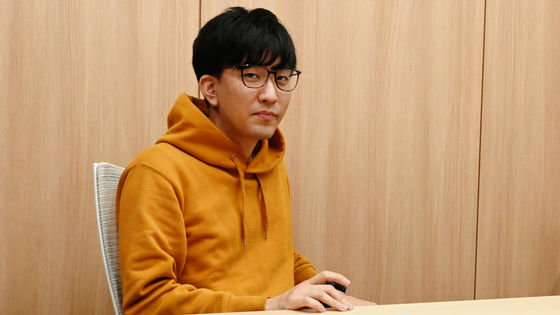 "Keep Your Hands Off Eizouken" will be turned into a TV animation, and broadcasting will start from midnight on January 5, 2020.

The director is Masaaki Yuasa, who is known for 'The Tatami Galaxy', 'Ping Pong THE ANIMATION', 'Night Is Short, Walk On Girl'. Before the start of the anime broadcast, we had the opportunity to interview the original author,
Sumito Owara
, so we asked him about various things such as anime stories and his ceations.
TV animation 'Keep Your Hands Off Eizouken! 'Official sitehttp://eizouken-anime.com/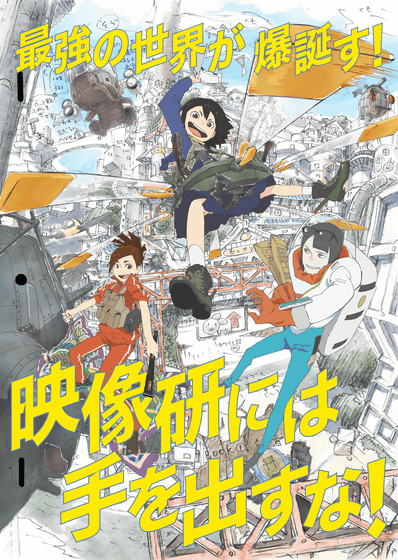 GIGAZINE (hereinafter G):
What was your first impression when you heard the story of the animation when 'Keep Your Hands Off Eizouken!' is animated?

Original author Sumito Owara (hereafter, Owara):
Since I was watching the TV series 'The Tatami Galaxy' and 'Kaiba' that Director Yuasa dealt with, I knew Yuasa-Kantoku before the story of animation. He was an animator of 'Crayon Shin-chan', and he is an excellent animator and director, and the fact that director Yuasa will make my work has received feedback from fans on Twitter. At the same time as I was surprised, I was convinced of the victory (laughs)

(All, lol)

Owara:
That is the first impression.

Q:
I think Owara-san had a lot of knowledge about animation because he was doing independent production, but I think there are some things that change when it comes to actually engaging in TV series. How are you working with Science SARU and Director Yuasa?

Owara:
I certainly liked the site of animation, but I didn't have many friends to talk about in the same animation and video, so I couldn't work hard and become more detailed. However, I heard that the original author complained to the scene and the scene stopped, and that kind of story. There is a lot of trust in Director Yuasa and Mr. Science SARU, and I'm sure that I can make good things, so 'I don't mind if you ignore the original, I'll let the scene do whatever I want.' Anyway, I was thinking that I would give back 100 for 1 if I had any questions so I wouldn't say anything. After that, there were various offers to me from Science SARU, and I was working together as if one of the production team really put me in.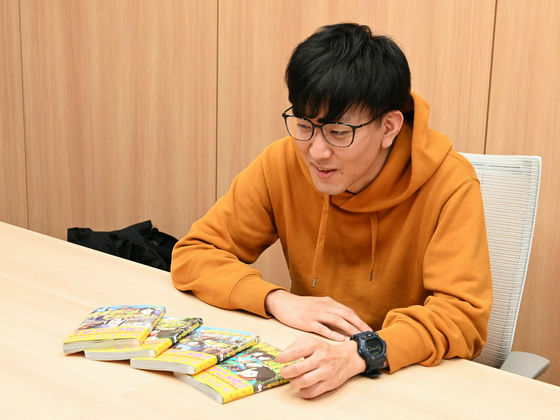 Q:
Did you ever hear from someone who wanted to know something like this and thought, 'The people at the anime scene want to know something like this?'

Owara:
For example, a tank called 'Personal Defense Tank' comes up in the process, but I was asked about the structure and location of 'What does this mean?' 'What kind of structure is it?' I can't draw it in detail in the manga, but when the other person discovers that the details must be hidden, a question comes to me, so I explain a considerable part and reply. doing.

I draw it as an impressive picture, but there is a place where it is hard to grasp whether it is just a delusion or a deeper detail. For example, in a scene where Mizusaki utters a line saying, 'I have to say I'm here,' Mizuzaki stands on a carpet as a depiction. Is that carpet a flying carpet? , I wonder if it's like a cloth floor tied to an airship or if this carpet is fluttering or fixed if it stands, I'll only draw it. I was asked, so I was asked questions.

At the same time as I knew that, I also realized that I would like to express something as a Science SARU, and I understand that I am trying to draw, thinking that the other side is also an important point. If a question comes up, I've come up, and I can see that there is a direction in which the other side is trying to express. That's a lot of fun.

Q:
As Mr. Owara said earlier, I think there is an expression that mixes reality and delusions as a feature of 'Iken'. What kind of expression do you use in anime?

Owara:
I think it's best to see the finished product, but each story has various expressions. Of course, I think that I sometimes introduce it diagrammatically, but in addition to that, there is also a description that I will assemble it using the drill that I drew a little in the first collection, so I will put weight on that and draw it I think it may be explained. In the first PV that has already been released, Asakusa is on board. In the figure of the explanation, there will be a small place to board. I am looking forward to it, including the differences from the original.


TV animation 'Keep Your Hands Off Eizouken!' 1st teaser PV-YouTube
Q:
Could you tell us how you felt when you saw the finished image, and what made you feel particularly impressive?
Owara:
After all, what was impressive was that it was different from the original. Even if I watch it, it will be a new image, so it's very impressive. In the first episode, Asakusa, Mizusaki, and Kanamori run away from the men. I used to record voices in various patterns over and over, but I laughed at every take, and I'm looking forward to being a viewer, in a place different from the original. As the original author, I'm familiar with the story, so I thought that it might be less fresh than those who started watching it in zero state, but the part I drew myself also thought that it was 'new'. Yes, I have fun.
G:
Earlier, you said that you can ignore the original when making it into an animation, but did you still have a part that asked you to protect this part?
Owara:
When I first met the director, if the title was 'Keep Your Hands Off Eizouken!', I was thinking that the three protagonists could be different. Aside from the actual situation of 'Iken', I thought that 'it would be easier to collect money as a project with the original work,' so the collaborators said that it was with the original work. I think it would be nice if all of us could do anything fun at the scene. When I looked at the scene of 'Don't mess with IKEN!' From a meta-perspective, I was wondering, 'Isn't that' Iken '?' I don't care.
G:
That would be fine if it became the Yuasa version of 'Iken'.
Owara:
I agree. If you can see Yuasa's new work.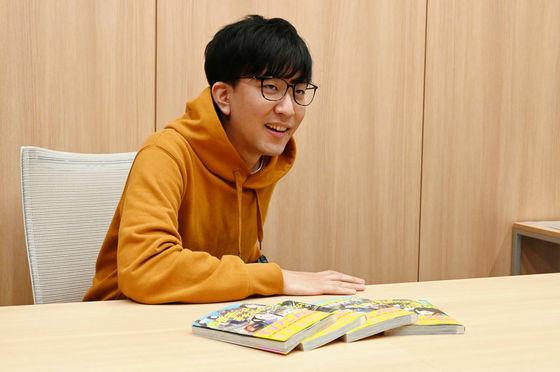 Q:
Do you have any motivations or motifs that led to the title 'Don't touch the Institute of Imaging Research?'

Owara:
It's an old movie.
I wanted to
get closer to such phrases as '
Dial M for Murder
', 'Take a
path to north-northwest
', and '
Bonnie and Clyde
.' Also, there is also the phrase '
Touchez pas au Grisbi
.' As a result of various thoughts, it became 'Don't put your hands on the image research!'.
Q:
I think the big difference between manga and animation is that 'sound is added.' It was said that the actors were actually played by three people with a habit, and you also saw the post-recording scene, but what about your performance?
Owara:
I can only say 'first class'. I was reminded that I'm the type who is impressed by what I feel is 'professional' in all fields. When I was making a self-produced movie in high school, I was also an actor. I did it even after graduating from high school, the students made it themselves, there was no strong leader, I was raising the quality to my heart's content, but when I look at my acting and what I recorded, it was inevitable. I often thought, 'It's kind of bad.'
That is different for professionals. The inflection and emphasis, and the acting patterns are also very realistic or comical. Anime is a perfect complement to the voice actor's acting duo, or one of which has been finished to a certain quality, but the other one is going to be higher, such complementary things Is also a feature of how to make it, and it is also where I was impressed by participating in the recording.
Q:
What kind of work did Dr. Dodo have created before he reached the work 'Do not put your hands on the image research!'?
Owara:
Around the upper grades of elementary school, I started drawing illustrations and drawings. When my sister was a kid, she was drawing, and both her mother and father were in the environment of hobby painters. The otaku culture boom reappeared when I was in the middle 1 or middle 2, and the 'Suzumiya Haruhi' series and 'Lucky Star' came out. It was also the heyday of Flash animation, so stickman GIF animation was also very popular, and it was the first video to draw a few GIF animations there. I tried various things in order to challenge Flash, but the software was difficult and I gave up about 1 in the middle.
After that, I gradually got into the animation from various directions ... I don't know if I was 'getting into it', but I started to like it. Since then, my main focus has been to draw illustrations, but even then, there was somewhere I wanted to make an animation, and when I was in high school, I heard the story 'I'll make an animation in the movie club.' I entered. However, I have not actually made an animation (laugh) Still, I have a strong feeling that I like images, just when I entered high school, GoPro started to appear in the world, and you can see a very cool promotion video on YouTube Then, I started thinking that 'I might be interested in movies in general, not just animation,' and I began to focus on angles when shooting videos.
Since there was a place in the movie club where you could use the camera to create images, I think that it was a continuation of that kind of place that led to the image-like expression of 'Iken'. In the simplest place, when you think 'How can I make a picture look like a picture?', If you cut the human head above and below the chest, the picture looks like a picture. . I wonder if the trimming is the expression of the image. I apply that kind of thing quite a bit.
Q:
Is it possible to draw Perth with a drawing picture?
Owara:
That is also ant. However, if it is a drawing picture, the way of taking perspective changes depending on whether it is a tight perspective or a loose perspective, an ordinary illustration, a common cartoon picture or a picture-like perspective, it is difficult Become. Even if you add a little perspective, or raise or lower the angle, it will look like a picture.
Q:
It was a story that you were involved in Flash, but Science SARU also introduced Flash and the method is different from other studios. How did you see it from the teacher's eyes?
Owara:
There are places that I wonder, 'Is this Flash here?', But the impression is that it's a hybrid. The Flash animation style that has been used up to now is like a typical example of simple animation production, such as 'moving the same shape' or 'simulating a fixed shape on a PC to animate'. I had an image. But not always. I was told that 'software called Flash is just a tool, and it can be transformed into anything depending on the person who uses it,' and 'why did I drop out of Flash at that time?' I didn't understand anything because I just messed up a couple of times rather than dropping it.
Q:
Did you see the new Flash expression from Science SARU?
Owara:
I agree. I don't know much about Science SARU's trends, so I'm interested in how I've reduced the effort and how Flash was introduced. When making 'IMAGIN' into an animation, I think if the knowledge of the technology around it makes everyone aware of the meaning of 'IMAGER'.
Q:
I heard that after a lot of experience, it was reflected in the work, but is the experience involved in the animation production this time reflected in the manga at the moment? If so, what is it like?
Owara:
'The picture got better.'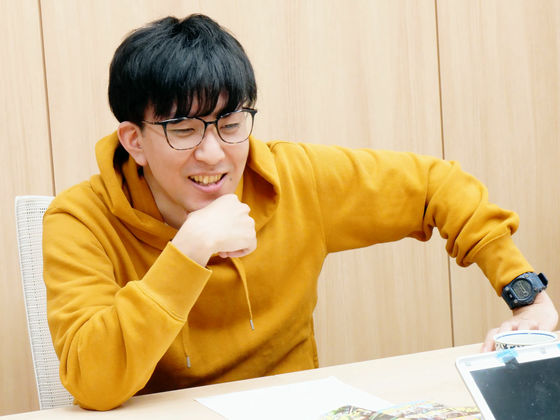 (All, lol)

Owara:
In anime, we have to eliminate blurring of the picture as much as possible, and we have to unify the character designs, so when we see the character designs and pictures that come up, it is still 'good'. Although the character I made is drawn with the elements of the character I made, if it is a few steps better than myself, it is easy to see what is different. If it's a good picture of a character that I have not designed, it ends with 'Ummee, Yabe', but when the character I designed is sophisticated and beautiful, 'I am not satisfied. I think that it will be directly connected to the point that you really improve your drawing by understanding that 'was it here?' Or 'I changed this here.' This is really a benefit of the original author.

Q:
When did the story of the anime itself come about, and when did the anime production begin?

Owara:
It was over two years ago. It seems that there is a conference about what to do with the NHK-san's broadcast frame, and that's why I first got a call. When I got a voice, the first person in charge said, 'It was amazing,' but 'But it is not always animated as it is, so if you expect too much, damage later It will be like that ... '

(All, lol)

Owara:
I had the feeling that 'I understand. I'm happy just because I heard a voice,' but when I thought 'Ah?', He said 'I can do it.'

Q:
So, if you revisit the story of manga over the past year or so, do you find that the effects of animation are gradually emerging?

Owara:
The timing when I actually came up as a picture is in the last few months, so it seems that the picture may be slightly better around the 4th and 5th collection. I drew it up to the 3rd collection with a challenging feeling, and never thought that I should draw it so that it could be easily animated. Rather, from the beginning, 'Is it possible to animate?' ... Of course I thought I would be happy if 'Iken' was animated, but I also thought that it would not be good to control my power, so there I will stick to it all the time and draw things that are difficult to draw and things that are difficult to animate, and put in a bit of money or things that are likely to afflict the people involved in animating.

(All, lol)

Owara:
I feel like I've been doing it for a long time in the style of 'Try it if you can.'

G:
In the original work, how long does it take to complete the name?

Owara:
It's about two weeks. Of the two weeks, on the first day, I sat down on the chair and drew 'A' and finished. It requires the most torque to get out, so if you pull it out and roll it out, you'll be able to do something like this.

G:
In an interview published in 'Komisupe!' , After experiencing the difficulties of animation production, he said, 'I thought that if the storyboard was divided into manga style, it would be a work at that time and the efficiency would be good.' I heard, but is the name like a storyboard?

Owara:
Isn't it? I had no experience of 'drawing a name' until I created 'Iken', so it was a trial and error process. Recently, I often write developments for each page, and I write a keyword line, for example, 'No, that's not really possible,' and wrote, 'Mr. Asakusa messes up here.' . So, on this one page, I made only the information that 'I'm foolish' and 'I can not do that', and in the middle of the conversation, I made a few round trip conversations in detail. It's like drawing. Then the deadline comes and it is sent to the editorial department. I give up on compromise.

G:
At the time of the name, you can't even see the division into frames, so first of all, is it a feeling of solidifying the flow of stories and emotions?

Owara:
Yes. After that, there are many patterns in which you actually start to insert the pen, enter the drawing stage, decide the lines, and divide the frame cleanly.

G:
Is the name work fun?

Owara:
It's fun to think of. I'm very impressed with 'O Kitakita'. However, it is fun to decide the picture or the layout, so the fun is in the latter half of the drawing stage.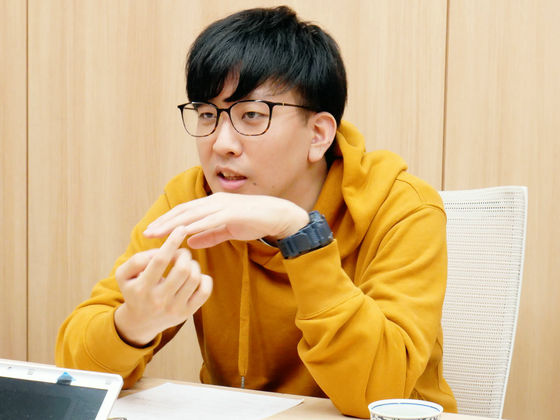 G:
I saw the drawing scene
distributed
on
YouTube
.
Owara:
Thank you very much. I think that there are various people in manga artists, and I think that the process of drawing and creating is fun, but in my case, it is a work product, the feeling that I think that the finished product is 'good' There are things, but when I'm drawing, there are quite a few things I think like that, 'I'm tired of doing, I have to draw more lines' (laughs).
G:
(Laughs) Was there a time when you tried 'If you divide the storyboard into a manga style?'
Owara:
There were various weird ways to make it. When I first made a doujinshi, I was working on a series of frames one by one, thinking 'what should I do next?' It's kind of like serializing one frame at a time, but I didn't know any other way. I wondered if there was a way to do it, I thought I shouldn't be doing it right, but I don't have the know-how, or 'when I try it, there is no evidence that I can do it.' There is.
G:
So how was it when you first published a fanzine?
Owara:
The book wasn't finished, but it was okay to just sit down. I don't hate being in shabby or miserable situations. Even if you think that it may be useless or that you are disheartened, it is an opportunity to think about what you should do, so it is not unpleasant. So, 'I'm glad I got it,' 'Ah, but why don't you buy it ... I'm sad.' The committee is a place of primary creation, and it is assumed that the power of each work is weak, so it was said that manga is not sold well, and it was said that it is 'difficult', but the 30 copies printed at the beginning Of these, more than 10 sold.
G:
Wow ...
Owara:
I wonder if I've lost about half because some of my acquaintances have come. I'm glad it sold well, so I reprinted it and went to the second time. That alone made me feel good and felt like 'I'm fine here for the rest of my life'.
G:
Didn't you say, 'I'm out of stock, what should I do?'
Owara:
There aren't many, and if anything, 'How much money do you have?' At first, I didn't make any money, and I sold it for 100 yen. It was a hobby, so there was no such burden. The bookbinding work on the previous day was tough.
G:
It's a mentality for creators.
Owara:
I think my mentality is weak, but I was fine with this.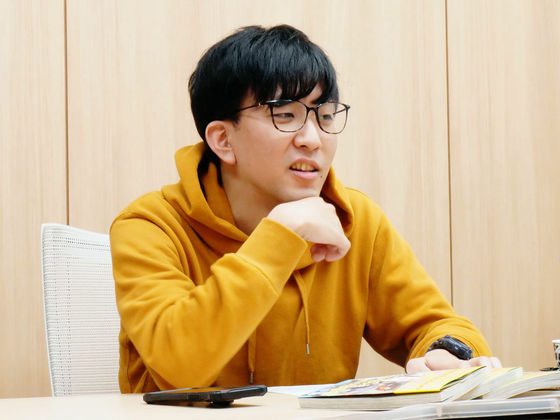 G:
It means that Owara was scouted at the committee. Is it brought to the business trip editorial department? Or did the editor come to the booth?

Owara:
He came to the booth, picked up the book, and said, 'I am such a person ... are you interested in magazine serialization?' I'm in a state where I can only say 'No' or 'Ah' and 'Uh'. I was so angry when I received a business card from Shogakukan and another company that I was drawing the manga, so I was most happy when I thought that it would be useful in commerce.

G:
'anger'?

Owara:
I am angry with all kinds of works in the world and promise development. Also, I was drawing manga because I was angry that I wasn't rewarded, so I thought it was amazing that it seemed to work in commerce. I did my own way of drawing, and even in doujinshi, I tried to add perspectives to the balloons, and I also tried to make visual pictures. I didn't like 'manga-like pictures' so much, and I was drawing with a strong focus, so I was very happy if there was a possibility that it would be accepted. So, on my way home from Komitia, I bought two magazines for which I received business cards at a bookstore, but the magazines of publishers who are not Shogakukan have quite a lot of erotic works `` I can not show this to my relatives I decided, 'OK, let's go to Shogakukan.'

G:
I see, that was the flow. Before publishing the book, Owara drew on the Hatena blog saying 'I wonder what the experience of publishing the book would be useful for', but the books also appeared one after another and the work was animated. Did you come across something that you thought was 'a valuable experience' during the event?

Owara:
It's a valuable experience to be able to sell a book and sell it, and above all, to be animated. I am impressed with a feeling like a person, saying that it is amazing that I am following a route like a successful manga artist's success example (laugh)

G:
(Lol)

Owara:
There are many things I can't say because it's a matter of work, but since I've grown up on the internet, I've read rumors about the industry. 'How about the original author?', 'How about the animation production site?' 'There is a strong force working behind the scenes, something is decided by the pushing force' ... But when I actually got involved with it as an original author, ' Hey, I felt.

When I first came to Shogakukan for a serialization for a magazine, I said, 'Even if you can't actually become a manga artist, this experience will definitely live. It's something that no one can do. If that's the case, then I'm just making money. ' From there, it's always 'making money.'

G:
Strong (laughs)

Owara:
From now on, I think I'll be in a position to say things like 'Grandpa, talking the same way'. 'I used to be a cartoonist who turned into anime,' 'Yes, Grandpa, that story is already good,' he said.

G:
What a happy route.

Owara:
Therefore, I think I should enjoy it as usual so that I don't be too humble. I have a lot of things to do other than cartoons and animations, so I'll do that too, but don't get eaten by cartoons.

G:
(Laughs) I used to post photos on my blog. Do you have a lot of opportunities to take photographs in the course of making material photos and making works?

Owara:
I don't shoot much. Sometimes I shoot a part of the details, the shape or length of the screw. If it's a corrugated board, it's like an interval between the boards, and a galvanized board. In such things, raindrops rust from the edge of the flap, but there is a device to prevent deterioration by processing the edge. Regarding the overall modeling, I can understand at a glance, but sometimes the structure is difficult to understand unless you look closely and look closely. An old man is a carpenter, and there is a warehouse that I built in the garden 50 to 60 years ago, but the galvanized iron plate was about to fly due to the strong wind in the fall, so I struck it with nails. At that time, I saw that it looked like this.

That way, you don't have to take a picture of what you see and observe and remember, but if you don't have time to look in detail, you can take a picture and check it later. .

G:
Do you feel that what you see once is stored in your mind as a document?

Owara:
Overall it is like that. I draw the structure of the steel frame and the structure of the truss only by memory, but there are some difficult structures, so I sometimes look at the materials each time.

G:
That kind of feeling is linked to the fact that the corrugated corrugation is too thin, and there are various disappointing points in me in the interview with 'Komispe!'

Owara:
That's right.

G:
I saw the story, 'Since I was a junior high school student, I continued to watch animations, movies, manga, wide shows, etc., and occasionally I went out on my bicycle, thinking that I would make use of this in my work.' Did you continue to do this kind of input work even after the series of 'Iken' was started?

Owara:
I don't have much time to do that, but since I've been living for about 26 years, I have a stock that I can remember. Also, I can't multitask. "I can't do" is the level at which I can't work after returning when I'm interviewed this time. Then, I can only walk afterwards, but when I take a walk on the way back, I can see that there are various buildings, such as 'There are amazing buildings' and 'Is there a flower in such a place in this season?' You can do it, so you can use it later.

G:
Oh, I see.

Owara:
I think that's probably the characteristic. I'm wondering if it's really amazing, but I think it's just one of my own ways.

G:
Do you often play background music and movies to focus on your work?

Owara:
I've been doing it for a while, but my concentration will go away, so I feel like I can do it if it's a movie I've seen many times. Nowadays, if you keep playing Doraemon and Kiteretsu Encyclopedia animations, it will be very comfortable. When I was in high school, when I was writing a report in my room, I felt like I had brought in a TV and kept playing a video recording the 'Kiteretsu Encyclopedia' for about 8 hours.

G:
With VHS, I feel like I'm recording 3 times as much (laughs) I'm surprised and sorry that the creative work will not be possible after this ...

Owara:
No, the walk after this will live in future creations.

G:
I would appreciate it if you could say so. Thank you for your valuable time and story.

Owara has decided to pose like a menacing koagui.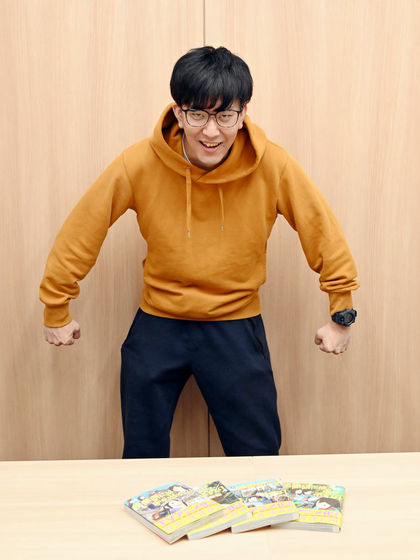 'Keep Your Hands Off Eizouken!' Will start broadcasting at the beginning of the new year. By then, I will post an interview with the staff of Science SARU who is in charge of production, so please look forward to it. Today, monthly publication on Friday, December 27, 2019! Spirits has a lot of information about 'Iken', so please read along.


㊗️ Monthly release today!

# Spirits are both front and back # Video research !!!!! ㊗️

There is a lot of information on video research on the middle of the screen. #You can also draw illustrations in the style of watching anime by Sumi Hitomi .

It became a commemorative issue just before broadcasting ???? pic.twitter.com/GUNs3pP3tD — TV animation "Keep Your Hands Off Eizouken!" (@Eizouken_anime) December 27, 2019


・ Continued
Interview with Mari Motohashi, who was in charge of the storyboard and direction of the animation 'Keep Your Hands Off Eizouken!', And bring out the individuality of Asakusa by eating Zunda mochi-GIGAZINE