'Don't give your hand to the video lab!' Interview with the original author, Sumitomo Odo, the animation was 'I was going to care if the three main characters were different.'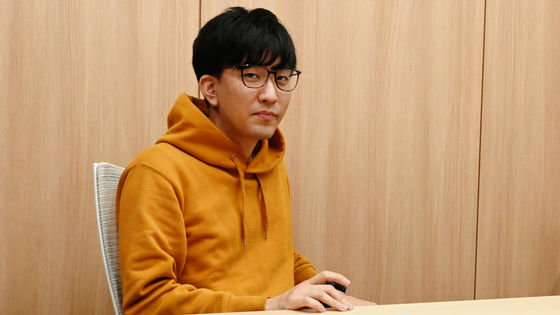 The popular work ' Don't touch the video lab !' Serialized in 'Monthly! Spirits' has been turned into a TV animation and will begin broadcasting at midnight on Sunday, January 5, 2020. His work is directed by Masaaki Yuasa, who is known for 'Yotatami half mythology', 'Ping Pong THE ANIMATION', 'Short walk at night'. Before the start of anime broadcasting, he was the original author
hard fighting
Sumitomo
Since I had the opportunity to interview, I heard a lot about things such as the story of anime and the story of Daido-san's creation.
TV anime 'Don't dabble at the Video Lab! 'Official site
http://eizouken-anime.com/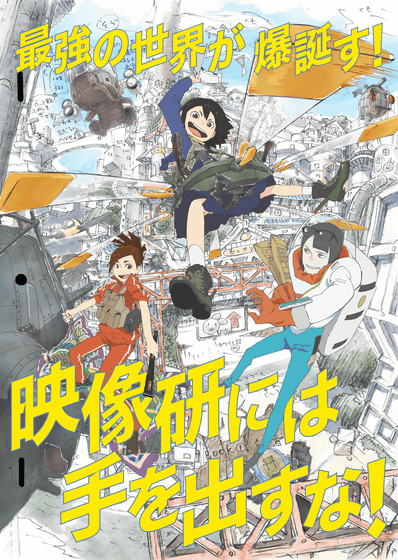 GIGAZINE (G):
What was your first impression when you heard about the animation of 'Don't give your hands to Video Research!'

Original creator, Sumitomo Odomi
I was watching the TV series 'Yotatami half mythology' and 'Kiba' which Yuasa worked on, so I knew Yuasa even before the story of animation came. I was a member of `` Crayon Shin-chan '' as an animator, and I am an excellent animator and a director, and that Yuasa will make my work, so fans have received feedback on Twitter, He was surprised and convinced of victory (laugh)

(Laughs)

hard fighting:
That's your first impression.

Q:
I think that Daido was an independent producer, so he has a deep knowledge of animation, but I think there are some things that will change when it comes to TV series. How are you working with Science SARU and Director Yuasa?

hard fighting:
I really liked the animation scene, but I didn't have a lot of friends who talked about the same animation and video, so I couldn't work harder and learn more. However, I heard that the original author complained about the site and the site stopped. There is a lot of trust in Yuasa and Science SARU, and they should be able to do absolutely good things, so he said, 'I don't mind even if you ignore the original work at all, let the site do whatever you want.' I didn't want to mess around anyway, so if I had any questions, I thought I'd do something like returning 100 for one. After that, there was a lot of offer from me to Science SARU, and we made it together as if we were really included in one of the production teams.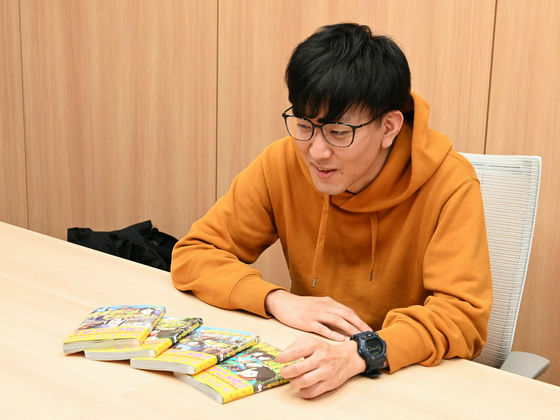 Q:
Did the other person ask you 'I want to know this kind of thing' and thought that 'people at the anime site want to know this kind of thing'?

hard fighting:
For example, a tank called 'Personal Defense Tank' comes out in the middle of the game, and as to its structure and location, 'What does it mean here?' 'What kind of structure is it?' Although it is not drawn in detail in the manga, but the other side knows that the details must probably be hidden, the question will fly to me, so I will explain a considerable part of it and reply doing.

I draw it as an impressive picture, but there are places where it is difficult to find out whether it is just a delusion or there is deeper detail. For example, in a scene where Mizusaki issues a line saying 'I must say I'm here', Mizusaki is standing on a carpet as a depiction, but is that carpet a flying carpet? I wonder if it's like a cloth floor tied to an airship, or if I'm standing, this carpet is fluttering or fixed, I'm not sure how to draw I asked questions in such a place.

At the same time, I realized that I would like to express something as a science SARU, and that I was trying to paint it because it was an important point. When the question comes in, you fly, and you know that there is a direction in which the other side is trying to express. That's really fun.

Q:
As you mentioned earlier, I think that one of the features of 'Video Lab' is the expression that mixes reality and delusion. How is it expressed in animation?

hard fighting:
I think it's best to have them look at the finished product, but there are various expressions in each story. Of course, I think that I will introduce it graphically, but besides that, there is also a description that is assembled using a drill or the like that I drew a little in the first collection, so depending on the depiction you put on it I think there may be some explanations. Speaking of the first PV that has already been released, it's where Asakusa gets in. There will be a small step in the illustration. I am looking forward to it, including the differences from the original.


TV animation `` Don't touch the video lab! '' The first teaser PV-YouTube
Q:
Could you tell us specifically how you felt when you saw the finished video, and where you felt particularly impressive?
hard fighting:
What impressed me was the difference from the original. It's a very new image even if I watch it, so it's very impressive. In the first episode, Asakusa, Mizusaki, and Kanamori escape from the men. There, I recorded the voice in a variety of takes and various patterns, but I laughed at every take, and I'm hoping to be a viewer, even though it's different from the original. I am familiar with the storyline as the original creator, so I thought that there was something less fresh than those who started watching at zero, but even the parts I drew myself thought that it was `` new '' Yes, I am enjoying it.
G:
Earlier, when you made the animation, you said that you can ignore the original, but was there any part that requested that you keep this part?
hard fighting:
When I met the director for the first time, even if the title was 'Don't give me a try!', I thought that the three main characters could be different. Regardless of what the actual site of 'Video Lab' is, I thought that 'it would be easier to collect money as a project with the original', so by having the original, collaborators If you can do anything fun at the site, it will be fine. When I looked at the site of 'Don't work on the video lab!' From a meta perspective, I thought, 'Is that it's 'video lab'?' I don't care.
G:
If it was Yuasa's "Video Lab", that was all right.
hard fighting:
I agree. If you can see Yuasa's new work.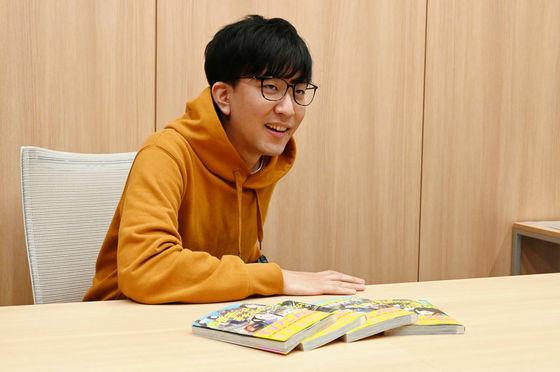 Q:
Is there any motivation or motif for the title "Don't give your hands to the Video Lab!"?

hard fighting:
Old movie. ' Turn the dial M! ' Or 'Take the course north-northwest ', and after that, ' We don't have tomorrow ' or something like that. And there's ' don't give up on cash .' As a result of various thoughts, the result was 'Don't dare to work on the video!'

Q:
I think the major difference between manga and animation is that it has a sound. You said that the actors were actually playing three people with habits, and you also saw the post-recording site. How was your acting?

hard fighting:
I can only say 'It's top notch'. I realized once again that I was impressed by what I felt like 'professional' in every field. When I was making a self-produced movie in high school, I was also doing actors. Even after I graduated from high school, I made it myself, students did not have a strong instructor, I was raising the quality as I wanted, but when I saw my acting and after recording it was absolutely `` I don't think it's good. '

Pros are different. The inflection, emphasis, and the pattern of the acting also depend on whether it is really realistic or comical. Anime is a place where two people with a voice actor's acting are perfected, or where one has been finished to a certain quality, the other is going to be further up, such a place that complements each other Is also a feature of how to make it, and I was impressed by participating in the recording.

Q:
What kind of creation did you have before you arrived at the work "Don't give your hands to the Video Laboratory!"?

hard fighting:
Around the upper grades of elementary school, I started drawing things like illustrations and drawings. You started drawing when your sister was younger, and your mother and father were in the environment of drawing people for their hobbies. The geek culture boom re-appeared in the middle one or two, and the "Haruhi Suzumiya" series and "Lucky Star" came out. It was the heyday of Flash animation, and GIF animations of stick figures were also very popular, so I drew only a few GIF animations for the first time as a video. I tried to do Flash and tried various things, but about 1 of them gave up because the software was difficult.

After that, I gradually got into the animation from various directions ... I don't know if I got into the animation, but I started to like it. After that, I started to draw illustrations, but there was still somewhere that I wanted to make animation, and when I was in high school I heard the story that I would make animation in the movie club and went to the movie club I entered. However, the animation is not actually made (laugh) Still, the feeling that `` I like the image '' is getting stronger, and just when I was in high school, GoPro began to appear in the world, and a very cool promotion video can be seen on YouTube I began to think, 'I guess you may like movies in general, not just animation,' and began to stick to angles when shooting video.

There was a place in the movie club to make images using a camera, so I think that from that point on, it was connected to the image-like expression of 'Iken'. In the simplest case, when you think, 'How do you make a single picture look like a picture?', If you cut above and below the head and chest of a human, the picture looks like a picture. . I wonder if the trimming is a visual expression. I draw and apply such things quite a bit.

Q:
Is there a way to draw Perth with a drawing picture?

hard fighting:
That is also an ant. However, if it is a drawing of a pull, the way of taking a perspective changes depending on whether it is a tight perspective, a loose perspective, an ordinary illustration, a common cartoon picture, or a picture-like perspective picture, it is difficult Become. Even if you add a little perspective, raise or lower the angle a little, it will look like an image.

Q:
You mentioned that you've been involved in Flash, but Science SARU also has a different approach than other studios because of the introduction of Flash. How did you see it from the teacher's eyes?

hard fighting:
There are places where I wonder, 'Is this Flash?' The style of Flash animation that has been used until now is like a typical example of simple animation production, such as 'moving the same shape' or 'animating a determined shape on a PC in a pseudo way'. There was an image. But that's not always the case. I was shown that 'Flash software is just a tool, and it can be changed depending on the person who uses it,' he said. 'Why did you drop out of Flash at that time?' I didn't understand anything at all because I only played a few times rather than dropping out.

Q:
Did you see the new Flash expression in Science SARU?

hard fighting:
I agree. I'm not very familiar with the trend of Science SARU, so I'm curious about how to reduce the hassle and how the introduction of Flash started. When making an animation of 'Video Lab', if you get to know something like the technology around it, the title of 'Video Lab' will come out.

Q:
You mentioned that after a lot of experience, it is reflected in the work, but is your experience in the production of animation this time reflected in the manga at the moment? If so, what is it?

hard fighting:
'The picture got better.'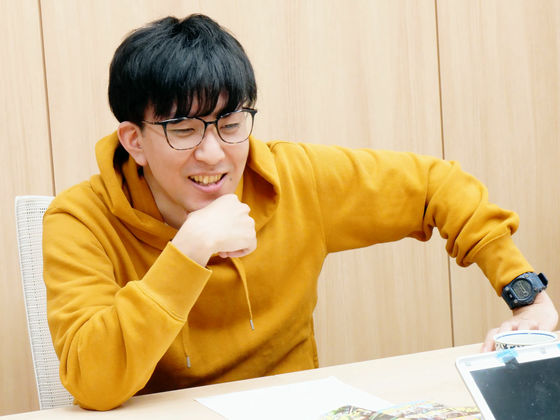 (Laughs)

hard fighting:
In anime, you have to eliminate the blurring of the picture as much as possible, and you have to unify the character design, so when you look at the character designs and pictures that come up, you're right. The characters you create are drawn with the elements of the characters you composed, but if you are a few steps better than yourself, you can easily see what's different. If a good picture of a character that you haven't designed is finished with 'Umeena Yabee', then if the character you design becomes sophisticated and beautiful, it will say 'What you don't have enough for you.' I knew that I was here, 'or' I changed it this way ', and I think that would be directly linked to where my painting really works. This is indeed the benefit of the original author.

Q:
When was the story of the animation itself, and when did the animation production begin?

hard fighting:
The time is more than two years ago. There seemed to be a conference on what to do with the NHK's broadcast frame, so I heard a voice first. When I heard the voice, the first person in charge said that it was `` great '', but `` But it will not necessarily be animated as it is, so if you expect too much it will be damaged later It will be like that '...

(Laughs)

hard fighting:
It was like, 'I know. I'm just happy to hear you.' But while I was thinking, 'What?'

Q:
So, if you review the story of manga over the past year or so, do you see that the effects of animation are gradually appearing?

hard fighting:
The timing that actually came up as a picture has been in the past few months, so it seems that the painting may be slightly better around the fourth and fifth collections. Until the third volume, I drew it with a challenging feeling, and never thought about 'draw it to make it easier to animate.' Rather, from the beginning, 'Is it possible to animate?' ... Of course, I thought that 'Video Lab' would be animated if it was animated, but I thought it would not be good to control the power with that, so there Draw through things that are difficult to draw and things that are difficult to animate, and put a bit of a topic of money that seems to be a bit of a stakeholder when animating.

(Laughs)

hard fighting:
It's like I've been doing it in the style of 'Try it if you can.'

G:
How long does it take to complete the name in the original?

hard fighting:
About two weeks. Of the two weeks, the first day is all about sitting on a chair and drawing "A". It needs the most torque to start, so if you pull it around and roll it out, you're doing something like that.

G:
In an interview published in 'Comise!' , After experiencing the difficulties of animation production, he said that 'I thought that if you divide the storyboard into a manga style, it would be a work at that point and it would be efficient' Was your name a storyboard style?

hard fighting:
Not really. I didn't have the experience of "drawing a name" until I made "Video Lab", so it was a lot of trial and error. Recently, I only write developments for each page, and write a line that becomes a keyword, for example, 'No, such a thing is truly impossible' and write 'Here Mr. Asakusa is crazy' and then the next page . So, on this one page, I make information that says 'I'm sorry' and 'It's impossible to do that', and in the middle of a conversation I can come up with a few round trip conversations It's like drawing. Then the deadline comes and it is sent to the editorial department. Give up on compromise.

G:
At the time of the name, it does not mean that you can see the frame division, but first of all, it seems like you are consolidating the flow of stories and emotions.

hard fighting:
Yes. After that, there are many patterns in which you actually start to insert a pen, enter the drawing stage, decide on dialogue, and break the frames neatly.

G:
Is naming fun?

hard fighting:
It is fun to come up with. 'Oh, I've come' is impressive. However, deciding on a picture or deciding on a layout is fun, so the fun is in the latter half of the drawing stage.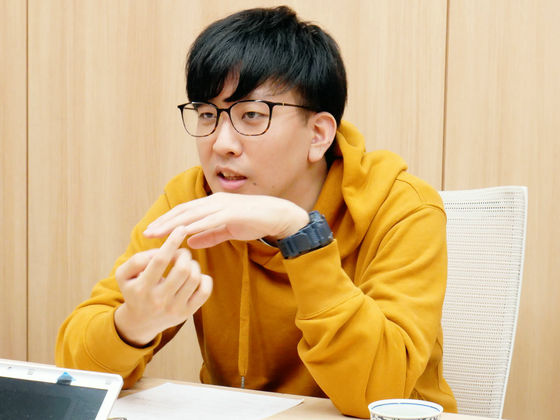 G:
I saw the drawing scenes being distributed on YouTube .

hard fighting:
Thank you very much. I think that there are various people in manga artists, and that there are people who enjoy the process of drawing and completing, but in my case, the result, the finished thing is `` good thing '' There are, but when I'm drawing, there are quite a few things I think like that, `` It's troublesome, I have to draw a few more lines '' (laughs)

G:
(Laughs) Did you ever try to split the storyboard into a manga style?

hard fighting:
I was doing a lot of strange things. When I first created the fanzine, I was working on a clean copy, thinking about what to do next, one frame at a time. It's like a series of one frame at a time, but I didn't know any other way. I thought that there was some way, I thought that the current method should not be the correct answer, but there is no know-how or `` There is no evidence that I can do it when I actually try it out '' There is

G:
So how did you first publish your doujinshi?

hard fighting:
The book wasn't finished yet, just sitting there was fine. I don't hate being placed in shabby or miserable situations. Even if you think 'it may be useless' or 'it is meager', it is not unpleasant because it is an opportunity to think about 'what to do'. So, 'I'm glad I got it in my hand.' 'Ah, but don't you buy it ... I'm sad.' The committee is a place of primary creation and it is presumed that the power of individual works is weak, so it is famous that comics can not be sold much, and it was said that it was `` highly difficult '', but the first 30 copies printed Of these, more than 10 sold.

G:
Great ...

hard fighting:
I guess it's been reduced by about half because some acquaintances came. I was reprinted and it was my second time to say that it was a great sale. It was just comfortable and I felt like I could stay here for a lifetime.

G:
Didn't it say 'out of stock, what to do'?

hard fighting:
It's not so much, but rather, 'How much money?' At first, it was sold for 100 yen, ignoring profits, and it was a hobby, so there was no such burden. The bookbinding work on the previous day was difficult.

G:
It's mental for creators.

hard fighting:
I think the mental is weak, but I was fine with this.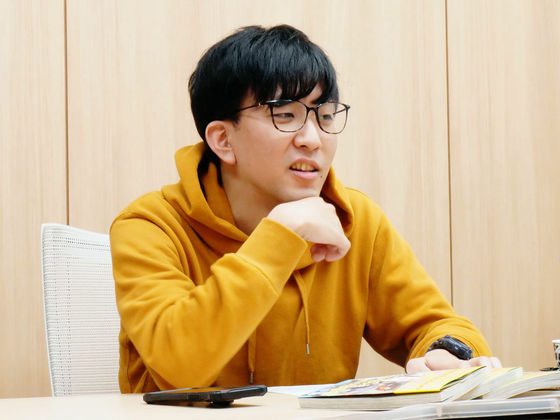 G:
You mean that you were scouted by a committee, are you bringing it to the business trip editorial department? Or did the editor come to the booth?

hard fighting:
He came to the booth and actually picked up the book and said, 'I'm this kind of person ... are you interested in serializing magazines?' 'No, oh,' or 'oh,' 'Uh,' I can only say. When I got a business card from Shogakukan and another company, and I was drawing the manga, I was very angry, so I was most pleased to say, 'Did you think that it would work in commerce?'

G:
'anger'?

hard fighting:
It is anger at all kinds of works and promises in the world. Also, because I was drawing manga with anger at being unrewarded, I thought that the manga would be acceptable in commerce, 'It's amazing.' I was doing my own way of drawing, and in the doujinshi I was putting perspective on the balloons, and I was also trying to make a picture-like picture. I didn't really like 'manga-like pictures', and I drew my attention so much that I was really happy if there was a possibility that it would be acceptable. So, on the way back from the committee, I bought two magazines that got business cards at the bookstore, but the magazines of publishers who were not Shogakukan had a lot of erotic works and said, `` This can not be shown to relatives I thought, 'Okay, let's go to Shogakukan.'

G:
Indeed, it was such a flow. Before publishing the book, Odo drew a Hatena blog that `` I think that the experience of publishing a book will be useful '', but the book appeared one after another and the work was animated Did you come across something that thought, 'This was a valuable experience?'

hard fighting:
It is a valuable experience to say that a book can be sold out and, more importantly, to be animated. I am impressed with the feeling like a person, saying that it is `` great '' to follow a route like a successful example of a successful cartoonist (laugh)

G:
(Lol)

hard fighting:
There are a lot of things I can't say because I'm at work, but since I've grown up watching the internet, I've read the rumors of the industry. 'How about the original creator', 'What about the animation production site', 'There is a strong force working behind the scenes, something is decided by pushing' ... But when I actually get involved as an original writer, Hey! '

When I first came to Shogakukan for a series of magazines, I said, 'Even if I couldn't be a manga artist, I would definitely live this experience. This experience is not something that anyone can do. That's it, it just makes money. ' From there, it's always profitable.

G:
Strong (laughs)

hard fighting:
From now on, will I be in a position to say something like 'Grandpa, I'm talking the same again'. The future image of 'I was a manga artist long enough to animate in the past' and 'Oh my grandpa that story is already good' are waiting.

G:
What a happy route.

hard fighting:
So, I don't want to be too humble. There are a lot of things I want to do besides manga and animation, so don't be overwhelmed by manga while doing that.

G:
(Laughs) I had uploaded photos to my blog, but are there many opportunities to take photos while creating material photos and works?

hard fighting:
I don't shoot much. Sometimes I shoot a part of detail, such as the shape and length of a screw. If it's a corrugated board, it's like a board, and it's like a galvanized sheet. Such a thing rusts from the end where the rain drops dripping, but there is a device to prevent the deterioration by processing the end. At first glance, I can understand the overall molding, but sometimes it is difficult to understand the structure unless you approach and look closely. He was working as a carpenter, and there was something like a warehouse built in the garden 50 to 60 years ago, but he was nailed again because a galvanized plate was about to fly in the strong winds of autumn. At that time, I saw that it was like this.

That way, you don't have to take a picture if you look, observe and learn, but if you don't have time to look in detail, take a picture and check it later. .

G:
Do you feel that what you saw once is stocked in your mind as a material?

hard fighting:
That's the whole thing. I draw the structure of the steel frame and the truss only with my memories, but there are some difficult structures, so I sometimes look at the materials every time.

G:
That commitment is what led to the interview in 'Comise!' Where the waves of the corrugated sheet were too narrow, and there were various parts of me that are frustrating.

hard fighting:
That's right.

G:
'I've been watching anime, movies, manga, and wide shows since I was a junior high school student, and while I occasionally changed my bicycle, I was thinking of making use of this in my work.' Have you continued this input work even after the series of 'Video Lab' started?

hard fighting:
I don't have much time to do that, but since I've lived for about 26 years, I have a stock that says 'just remember'. Also, I can't do multitasking. 'I can't' is the level where I can't work after I get back to the interview this time. In that case, you can only take a walk, but when you take a walk on the way home, there are various scenery inputs such as `` There is a building '' or `` Where flowers bloom in such places in this season '' You can use it later.

G:
Oh, yeah.

hard fighting:
I think that's probably such a characteristic. I think there are times when people think, 'Seriously, it's amazing,' but for me, it's just one of my own ways.

G:
Do you often play background music and movies to concentrate on your work?

hard fighting:
There was a time when I was doing it, but since my concentration goes there, I feel like I can do it if I watch a movie many times. Lately, if you keep running Doraemon and Kiteretsu Daihyakka animations, you can feel very comfortable. When I was in high school and writing a report in my room, it was like bringing a TV and playing a video that recorded 'Kiteretsu Daihyakka' for about 8 hours.

G:
With VHS, I feel like I'm recording three times more (laughs) I'm sorry with surprise that I can no longer do creative work after this ...

hard fighting:
No, the walk after this will live for future creations.

G:
Thank you for saying that. Thank you for your precious time and story.

Daido decides to pose like a threatening Koa-Liqui.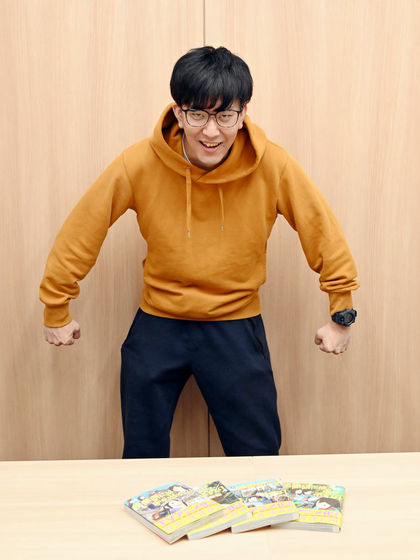 'Don't give your hands to the video institute!' Finally starts broadcasting from the new year. By that time, we will also be posting interviews with the staff of Science SARU who is in charge of the production, so please look forward to it. Monthly published today, Friday, December 27, 2019! The spirits have a lot of information on 'Video Research Institute', so please read along.


月 Monthly release today!

# Spirits is also back also Table # video Research Di !!!!! ㊗️

Video Research information is also in the middle surface miss ⛰ # enormous effort KiyoshiHitomi also draw down anime appreciation style of illustrations by teacher ...

It became a memorable issue just before the broadcast ???? pic.twitter.com/GUNs3pP3tD — TV animation 'Don't give your hands to the Video Lab!' (@Eizouken_anime) December 27, 2019


・ Continued
Interview with Mari Motohashi, who was in charge of the storytelling and directing of the first episode of the animation `` Don't give your hand to the video laboratory! ''