Forced Russian police investigation, employee detention and equipment seizure to NGINX, a web server developer used worldwide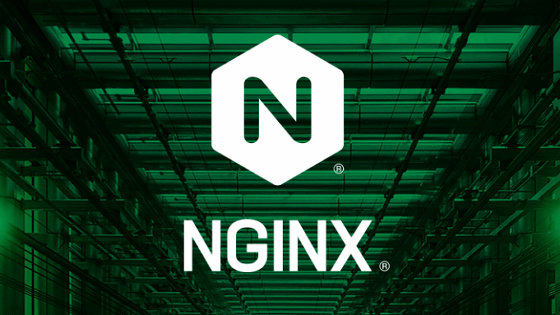 It turned out that NGINX, which develops a free and open source web server ' nginx ' used by web services around the world, was subjected to a forced investigation by the Russian police. There is a problem that "Russian companies insist on ownership of nginx" behind this. Employee information also reveals that the police have detained the employee and seized the equipment.

Rambler заявила о правах на Nginx – Бизнес – Коммерсантъ
https://www.kommersant.ru/doc/4190259

Telegram: Contact @thebell_io
https://t.me/thebell_io/4311

Russian police raid NGINX Moscow office | ZDNet
https://www.zdnet.com/article/russian-police-raid-nginx-moscow-office/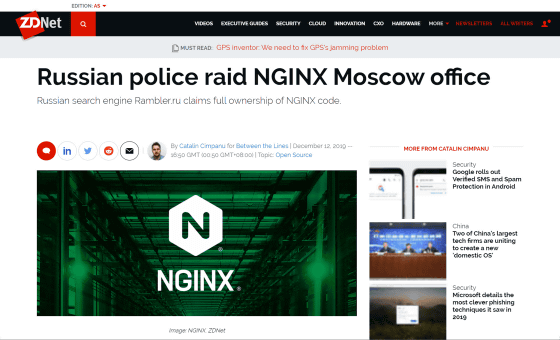 NGINX is a web server software company that provides an open source web server ' nginx ' developed by Russian software engineer Igor Sisoev in 2002. Many people do not know nginx web server, but various services such as Instagram, Pinterest, Netflix, Airbnb benefit from nginx, so people do not know when using SNS or online shops nginx Is used.

NGINX was acquired in March 2019 by F5 Networks, known for its network appliance products.

F5 Networks acquires Web server company NGINX, will it be a bridge between developers and network operation team-gigazine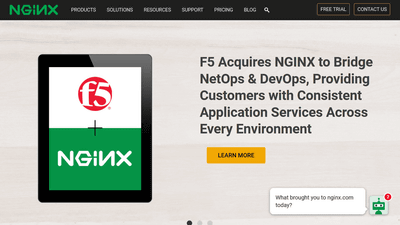 NGINX's Moscow office was subjected to a forced investigation by the Russian police on December 12, 2019. Technology news media ZDNet reports that equipment was seized by police and employees were detained for questioning.

The news came out as NGINX employee Igor Ipolitov posted a screenshot of the search warrant on Twitter. This post was later deleted from the request of the Russian police, but Anton Nesterov, who saved the posted image, has tweeted the content again.

Like Rambler Filled Seems Copyright Claim To Attoisysoev Regarding Attonginx , Nginx Office Under Police Raid (Unconfirmed). Originally Posted By Attoigorippolitov , But Somebody Asked Him To Remove His Post. Pic.Twitter.Com/76mBNtV31G

— Anton Nesterov (@AntNesterov) December 12, 2019


This stems from the fact that Rambrell Media Group, which operates the Russian search engine Rambler , sued NGINX for copyright infringement. According to the search warrant, Lambrell claims that NGINX rights holders are Ramblell because Mr. Sisoev developed NGINX while working as a system administrator for Lambrel. In a 2012 interview , Mr. Sisoev said , "NGINX was created in free time, and Rambrell had not noticed NGINX for years," but developed while working as a system administrator. I did not deny that it was.

Mr. Sisoev created nginx in the early 2000s, made it open source in 2004, and then established NGINX Inc. in San Francisco, USA in 2009. Although it is based in the United States and has offices around the world, including Moscow, the source code for the nginx server is still free and managed in an open source model. In February 2019, nginx became the most widely deployed server on the Internet.

According to Ippolitov, the police were detained by two employees, including Mr. Shisoev and co-founder Mr. Maxim Konovarov.

Lambrelle's spokesman has not commented on ZDNet as "poor English knowledge," but local media reported that Lambrell filed a copyright infringement claim on 4 December.

In addition, Russian politician Leonid Volkov criticized allegations and forced investigations after 15 years, and said that it is out of date to claim and claim copyright infringement. Showed.

Ого.
Обыск в офисе nginx, одной из самых или даже самой успешной на мировом рынке чисто российских ИТ-компаний: мол, 15 лет Игорь Сысоев разрабатывал nginx в рабочее время, будучи сотрудником Рамблера!
Сроки давности? Не слышали!
I Voobse Polnyj Nu Bred. Pic.Twitter.Com/D8HSOd8G8S

— Leonid Volkov (@leonidvolkov) December 12, 2019