Review site deletes a lot of `` suspicious user evaluation '' to `` Death Stranding '' and the score suddenly increases rapidly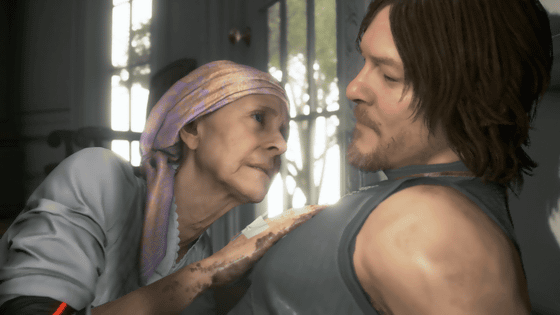 In response to Hideo Kojima's latest work ``
Death Stranding
'' released in November 2019, over 6000 negative user ratings posted on the review site
Metacritic
are `` suspicious reviews '' It was found that they were deleted all at once. Due to the removal of negative user ratings, Death Strand's rating score spikes in just one night.
Metacritic Removed 'Suspicious' Death Stranding User Ratings-IGN
https://www.ign.com/articles/2019/12/07/metacritic-removed-suspicious-death-stranding-user-ratings
Metacritic deleted over 6,000 negative Death Stranding ratings
https://thenextweb.com/gaming/2019/12/09/metacritic-death-strandings-negative-ratings/
Argandg
, a Reddit user,
discovered
that Death
Strand
's
user ratings were removed in large amounts overnight
. According to argandg, as of December 4, 2019, the total number of user evaluations was 18,225, but as of December 5, the number decreased to 11,878. Of the user ratings, positive or neutral in Death Strand did not decrease, but the negative user rating decreased from 9335 to 2906, indeed 6000 A calculation with no negative review ratings removed.
"As of the launch date, Death Strand's user score was 6.2. As negative user ratings have been submitted over the past few weeks, the score has steadily dropped. We have seen an average of 200 positive user ratings and 250 negative user ratings submitted per day, so the number of negative user ratings as of December 4 is It was over 1000 positive user ratings. "
The following is a review page of Death Strand in Metacritic. The rating score of Death Strand before the large number of user ratings were deleted was "5.1", but at the time of writing the article, it suddenly rose to "7.3".
Death Stranding for PlayStation 4 Reviews-Metacritic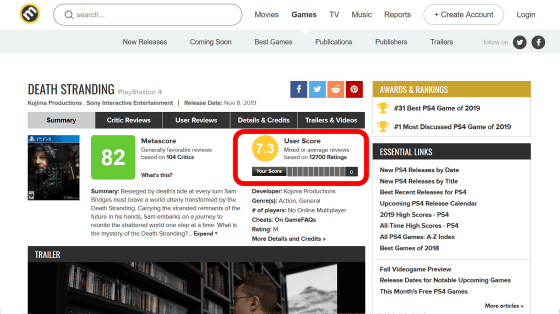 A Metacritic spokesman has issued a statement about the mass deletion of user reviews. "Metacritic has removed multiple user reviews for Death Stranding as suspicious activity, so we removed them. We take user ratings seriously as we may manipulate the score, 'In addition to a system for detecting abnormal behavior by users, moderators regularly inspect the site and remove posts that deviate from our guidelines,' spokesman said. He stated that the mass deletion this time was against counter-tampering.
The Next Web
, a technology website, noted that the negative review rating may not have been an organized low-rate bombing, "If you thought Metacritic was suspicious, It 's better to delete it than to regret it later. " The intentional user rating process at the review site is a big issue and states that the review site should deal with suspicious activity.
IGN
, which operates game-related websites, is unclear as to where the user evaluation specifically targeted for deletion this time was a problem, but it was only the user evaluation that posted only the numerical score that was deleted A point is mentioned. Metacritic makes it possible to evaluate the game with only numerical scores without reviewing the contents by text, but none of the negative user ratings that were deleted this time were text reviews was.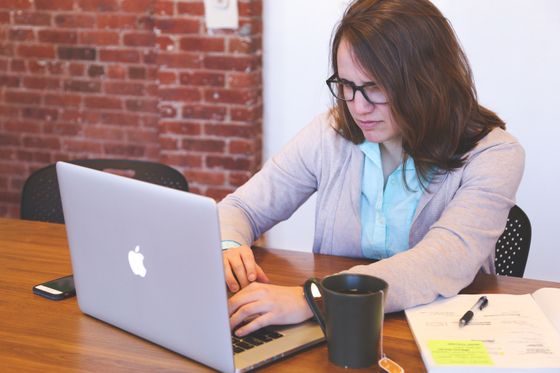 by
Startup Stock Photos
The Next Web pointed out that the underrated bombing that spreads negative ratings to the review platform has the purpose of "punishing something" by lowering the rating of movies and games and reducing sales. In the past, low evaluation bombing was done, starting with
the troubles between YouTuber and game developers
, limiting
the
game purchase platform to Epic Games Store,
and touching the anger of Chinese users
I came.
Argangg
commented
that the reason why the low-strength bombing was done against Death Stranding may be due to '
The Game Awards 2019
' held on December 12, 2019 (Thursday) local time. The Next Web also said, "While it is unclear who has what problem with Death Stranding," Jeff Keeley, who is hosting at The Game Awards, is a friend with Hideo Kojima , He points out that some users may be concerned about fraud in the selection of winning awards.
On the other hand, Mr. Keeley has complained that he does not have a right to vote for the candidate work or the right to choose the winner because he has a strong connection with the game world as the host of The Game Awards. The In the
Ask Me Anything (AMA)
held on Reddit, Mr. Keeley said, "As a producer of the show, I will inevitably have connections with people in the industry. That 's why we can do the show. "