On iPhone 11, it turns out that location information is shared even if location information service is turned off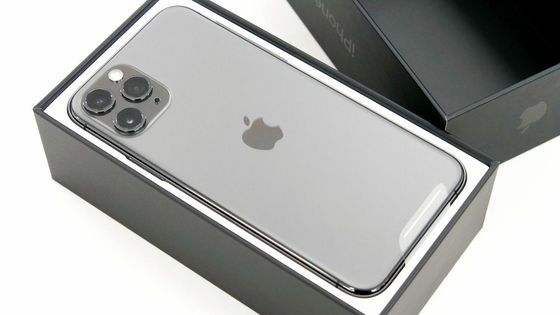 Apple's
iPhone 11/11 Pro / 11 Pro Max
reports that
Krebs on Security
, a security blog, hides and shares location information even if it is turned off.
The iPhone 11 Pro's Location Data Puzzler? Krebs on Security
https://krebsonsecurity.com/2019/12/the-iphone-11-pros-location-data-puzzler/
The iPhone 11's U1 chip necessitates constant geolocation pings, Apple says | Ars Technica
https://arstechnica.com/gadgets/2019/12/the-iphone-11s-u1-chip-necessitates-constant-geolocation-pings-apple-says/
According to Apple 's privacy policy, if you 've enabled location on your iOS device, you 'll need to know, "GPS, Bluetooth, your IP address, as well as the location of crowdsourcing Wi-Fi hotspots and mobile base stations, and other technologies. We may use it to determine the approximate location of your device. ' Apple states in its privacy policy about location-based services:
Legal-Privacy Policy-Apple
https://www.apple.com/jp/legal/privacy/jp/
In order to provide location-based services with Apple products, Apple, our partners and licensees (such as map data providers) collect, use and store accurate location data, including the real-time location of your Apple computer or device. May share. Where available, location-based services use GPS, Bluetooth, your IP address, as well as the location of crowdsourcing Wi-Fi hotspots and mobile base stations, and other technologies to approximate your device's location. May judge. Unless you consent, this location data is collected anonymously without identifying you as an individual and is used by Apple and our partners and licensees to provide and improve location-based products and services. Will be. For example, if you choose to use location services, your device location may be shared with the application provider.


To turn off location information on an iOS device, simply tap the button once from "Settings" → "Privacy" → "Location service". You can disable location information services in one tap.



If the location service is turned off, the diagonally upward arrow icon (location service indicator) in the red frame disappears, indicating that the location service has been disabled.




In addition, on iOS devices, it is also possible to set the location information service on / off individually for each application. In the case of "I want to use location information in the map app but I want to disable it in the game app", I can set the use of location information service individually.

However, in the iPhone 11 series, it is clear that location information sharing cannot be completely stopped even if location services are turned off for individual applications, unless location services are turned off collectively.

Actually, even if the location information service is turned off for each application, a movie that records the situation that the location information service indicator does not disappear, that is, sharing of location information, has been released. In addition, even if the location information service is turned off for each application, location information is still shared only with the iPhone 11 series, and it seems that the iPhone 8 could not reproduce the same operation.

iphone11pro usingGPSwhenTurnedOff-YouTube


Krebs on Security contacted Apple about location information being shared as of November 13, 2019, so that location information is not shared even if location services are turned off for individual apps It seems to have requested that it should be.

Apple told Krebs on Security, "There are no real security implications in this regard. If the location service is enabled, the location service indicator will appear on the status bar. Is not an unexpected behavior, 'he said, and said there were no security issues.

Will Strafach, who works as a founder and CEO of Guardian Firewall, a developer of iOS security app, analyzed the unintended location sharing that happened on iPhone 11 and iPhone 11 Pro. It's very likely that there is no evidence that it is local and that information is being sent to the remote server. ' However, the question is 'Why Apple doesn't explain this directly?'

FWIW, tried to dig into this and replicate.

it is very likely that it is something locally which does not have an exposed switch, no evidence of data sent to remote servers.

begs the question: why does Apple not answer for this directly? https://t.co/5Ht2hA30CR

— Will Strafach (@chronic) December 5, 2019


In the iPhone 11 series, even if the location information service of each application is turned off, the case where sharing of location information cannot be stopped is a hot topic, and it is reported by multiple media. As a result, Apple has developed a statement to the overseas technology media TechCrunch about why iPhone 11 Pro shares location information unintentionally .

Apple says its ultra wideband technology is why newer iPhones appear to share location data, even when the setting is disabled | TechCrunch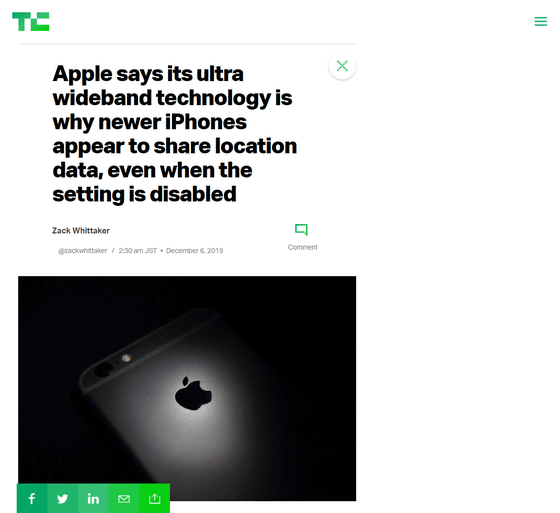 In a statement, Apple mentions that the iPhone 11 series uses ultra wideband (UWB) technology. By using this technology to grasp the position of the iPhone that uses other UWB technologies, it is said that the iPhone's spatial recognition power is enhanced. UWB technology is a technology used for high-speed communication and position detection at short distances. Existing technology such as AirDrop is used.

In addition, it is speculated that UWB technology is also used in the "smart tracker", a lost article prevention tag that is rumored that Apple is developing secretly.

Is Apple's original lost item prevention tag `` Smart Tracker '' scheduled to be announced soon?-GIGAZINE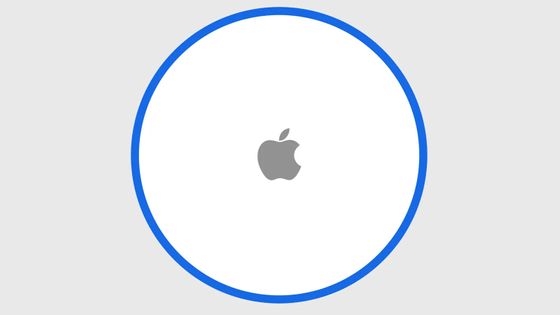 In addition, Apple said, "UWB technology is an industry standard technology and is subject to international regulatory requirements that need to be turned off in certain locations. IOS disables UWB by using the location service. The UWB compliance management and location data usage are all done on the device, and Apple collects user location information The sharing of location information is only "used to detect places where UWB should not be used". The content of Apple's statement is consistent with Strafach's analysis.

The UWB technology adopted by Apple in the iPhone 11 series is used in the "U1 chip" that enables ultra-high performance coordinate measurement.

We are attracting attention that the coordinate measurement accuracy of `` U1 chip '' installed in iPhone 11 is a superb high performance `` error several centimeter level ''-GIGAZINE