Interview with Mr. Nobuhide Hamanaka, a reporter who has seen the BB-8 of 'Star Wars / Dawn of Skywalker' made with Japanese traditional Shigaraki ware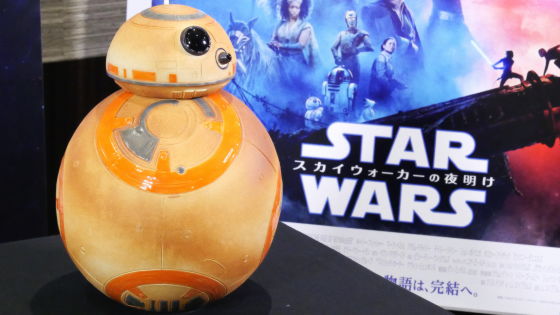 December 9, 2019, '
Star Wars / Dawn of Skywalker
', the ninth work of the movie 'Star Wars' series released in 1977, the Star Wars complete story depicting the story of the Skywalker family (Fri) will be published. To commemorate the public,
Shigaraki
, who is a potter of Hamanaka Senshu is produced in Shigaraki the droid 'BB-8', which appeared in the play. I went to see how the BB-8 was baked at Shigaraki ware and actually saw the production site.
Star Wars / Dawn of Skywalker | Movies | Star Wars Official
https://starwars.disney.co.jp/movie/skywalker.html
table of contents:
◆ Production of Shigaraki BB-8
◆ Interview with the producer Nobuhide Hamanaka
◆ Shigaraki BB-8 finished product show
◆ Production of Shigaraki BB-8
`` BB-8 '' appearing in Star Wars from ``
The Awakening of the Force '
' produced at Shigaraki ware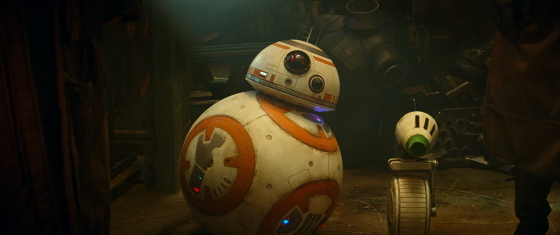 The design drawing of Shigaraki BB-8 drawn by Mr. Nobuhide Hamanaka. Shigaraki BB-8 is about 30cm in size.



After the prototype of BB-8 is made, the mold is made. It is said that the base of BB-8 is put into the mold and solidified.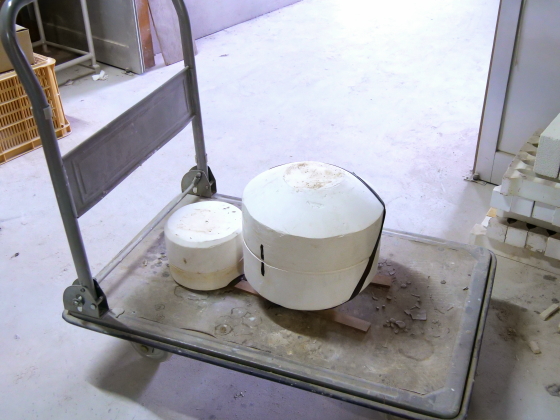 We had you show where you actually removed your head. Remove the mold ...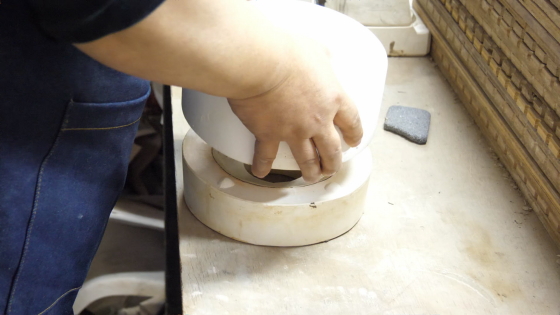 Carefully remove the head.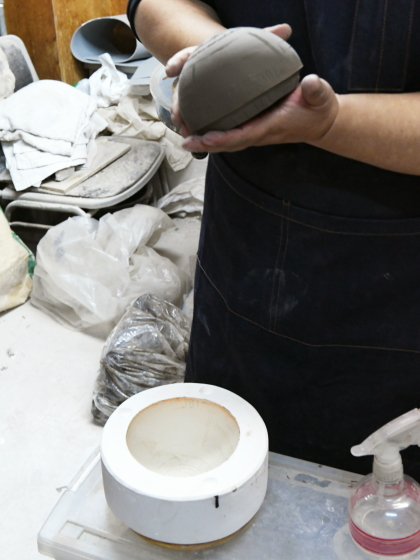 The inside of the head mold looks like this. The mold of BB-8 is floating inside.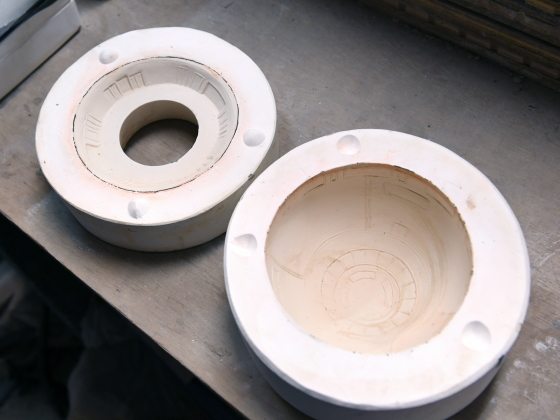 After removing from the mold, draw lines by hand and fine-tune the pattern.



You can check how you actually draw the BB-8 pattern by hand from the following movie.


'Star Wars / Dawn of Skywalker' Shigaraki ware 'BB-8' in commemoration of the opening appearance-YouTube-YouTube
Head and torso reproducing the detailed decoration of BB-8.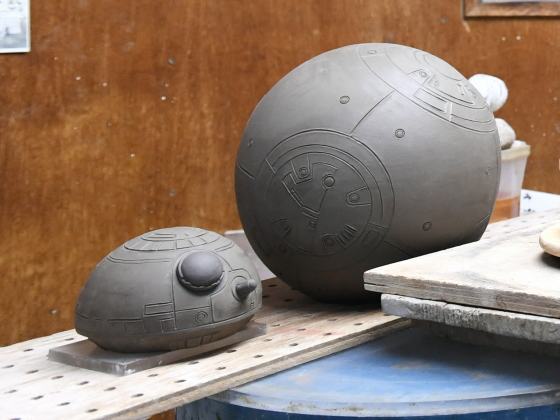 When combined ...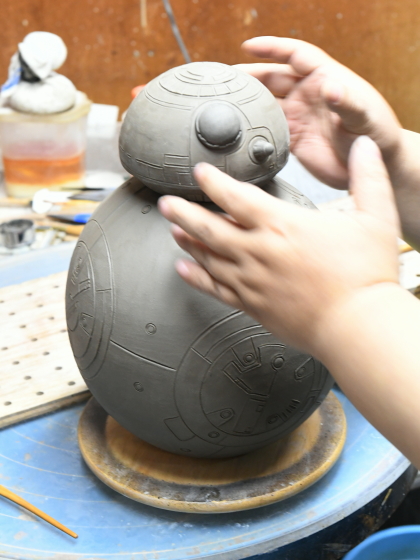 It is in a state where it can be recognized as BB-8 even if it is not baked.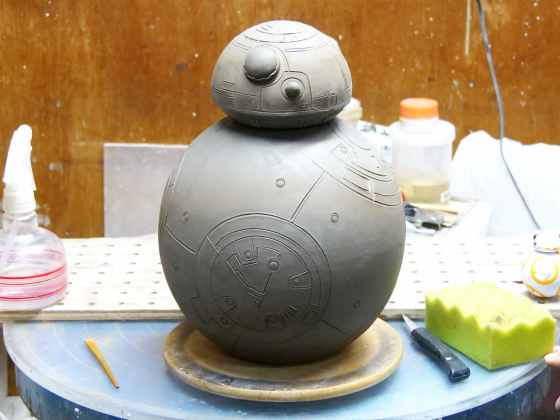 There was a lot of materials and toys about the BB-8 in the workshop, and I was able to get a glimpse of how the BB-8 was made with attention to detail.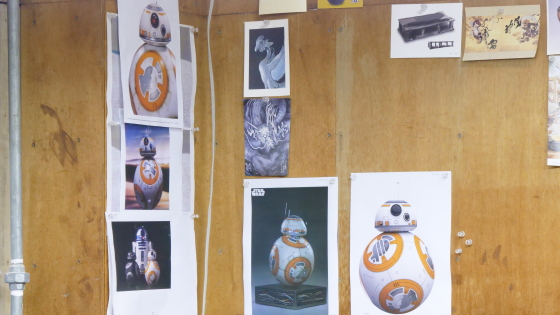 ◆ Interview with the producer Nobuhide Hamanaka
Nobuhide Hamanaka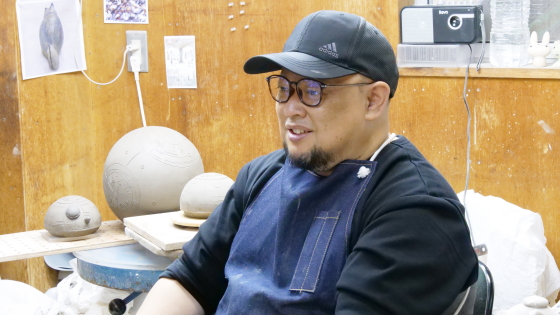 GIGAZINE (G):
I showed you the
works
placed in the studio and the works on
Facebook,
but the works such as horses and sheep were smooth and fluffy like marshmallows, and I thought, 'This is Shigaraki?' .
Nobuhide Hamanaka (hereinafter, Hamanaka):
When the animals are lined up, they say 'like bread' or 'like cookies'. I guess it would be interesting to see them at first.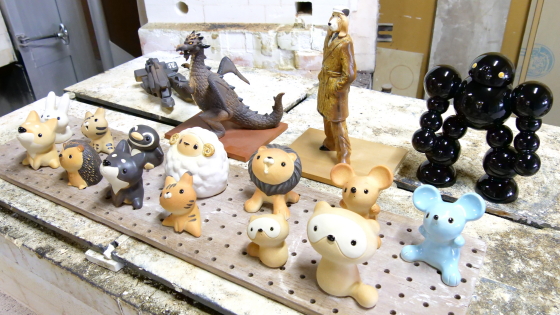 G:
Shigaraki ware is one of the very old cultures and is registered as a cultural property. Is the technique you use in making your work based on your own thoughts, or was it originally Shigaraki ware?

Hamanaka:
Originally, it is a production method of Shigaraki ware raccoon dog.

G:
Shigaraki-yaki raccoon dogs seemed to be more shiny and rugged, but the atmosphere was a bit like unglazed.

Hamanaka:
Modern raccoon dogs are getting pretty round and their smiles are pretty. The merry mood also has a crisp and cute atmosphere, and on the extension, the techniques are the same.

G:
Is there a
glaze around
your eyes?
Hamanaka:
It is just as it is. It is a glaze of raccoon eyes.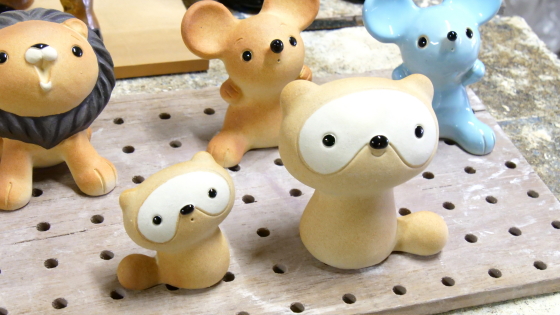 G:
That's right. Regarding the shape of the BB-8, I was worried that the sphere could be made with Shigaraki ware. When it came to a perfect sphere, I thought it would be difficult to crack or distort if there was even a little, but I thought that I could see a big catfish work on Facebook and do it Was.

Hamanaka:
It is different from how to make catfish, but there is something close.

G:
Is making a sphere made of Shigaraki ware a new attempt?

Hamanaka:
I agree. It was the first time I had no chance to make something so far.

G:
Is there a hollow inside the sphere?

Hamanaka:
It is hollow.

G:
Are there any difficulties or difficulties making spheres?

Hamanaka:
I'm just working with a spatula and a board.

G:
Then bring it closer to the sphere. That means that the BB-8 placed there also looks like a perfect sphere, but was this also created by Mr. Hamanaka?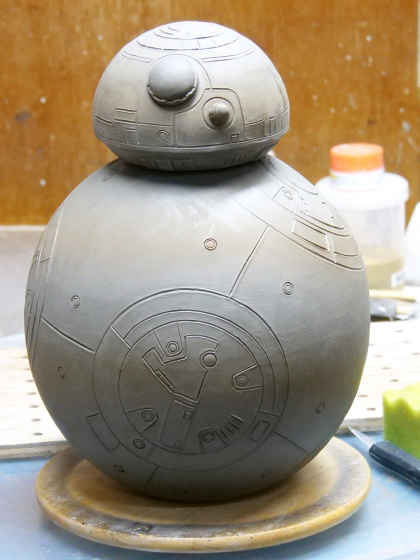 Hamanaka:
I agree. However, it is slightly longer than Manmaru.

G:
lengthwise?

Hamanaka:
I dare make it longer. Because it is distorted at the time of baking, the length is also taken into account in calculation.

G:
There are various BB-8 models.

Hamanaka:
I agree. I order toys and I don't know how far I can go, but I'm thinking, 'I'll stick with you.'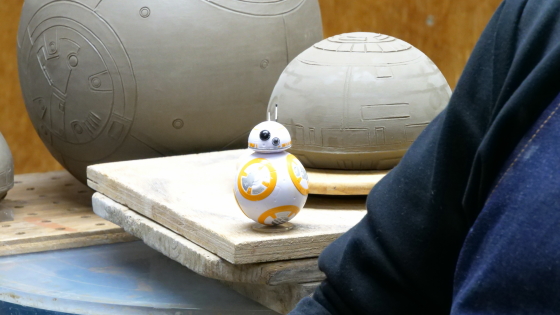 G:
BB-8 has a lot of complicated patterns drawn on the mold. Is it difficult to draw them on a sphere?

Hamanaka:
Is difficult. It's really difficult, and it just doesn't make sense. It took time to match them.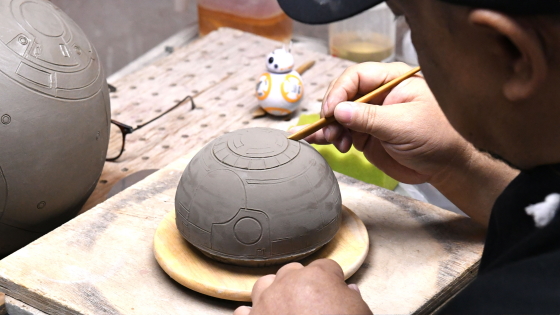 G:
So that's it. If the mold is inserted too deeply, it will crack, and I think that area is usually made for work, but I feel that it is hard to see pottery with so many lines.

Hamanaka:
I have never done it. This is my first time doing this.

(Laughs)

G:
Mr. Hamanaka himself draws a line and says, 'It is a pottery to do hands free without using a ruler', so I was surprised because there were so many lines. How long does it take to remove and reinsert the BB-8 mold once?

Hamanaka:
5-6 hours after going up and down. If you are not good, it will not end in one day, carry over to the next day ...

G:
Is the mold the hardest work before baking?

Hamanaka:
Isn't it the heaviest? The weight is the heaviest.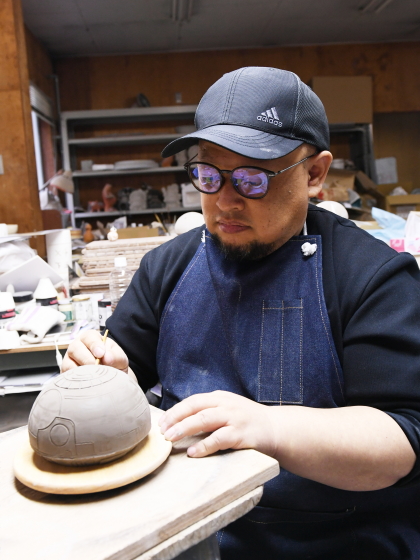 G:
Did you originally like subcultures such as anime and games? What kind of work do you like?

Hamanaka:
When I was in elementary school, it was Gundam. I still buy gunpla.

G:
Do you like
Gundam
from the original
Mobile Suit Gundam
?
Hamanaka:
I like Gundam as much as I can see it all from the first.
G:
Is the robot statue 'tanuki' displayed in front of the kiln also affected?


Hamanaka:
That side is the flow of Gundam. 'What happens if I make a gunpla with pottery?' I have a copyright, so I can not do it as it is, but I am making my own design.

G:
I've been working on a subculture-like work, such as participating in a
fantastic festival
with ceramic artist
Daiki Okuda
, and I'm curious if there were any parts that were alive in this BB-8 production. I think that the direction is different from the ceramics that are usually made, but was there any part that you thought was different in the making, including the modeling?
Hamanaka:
The best-selling items are still animal series, but robots are close to hobbies, robots and dragons, and they are an extension of my hobbies. .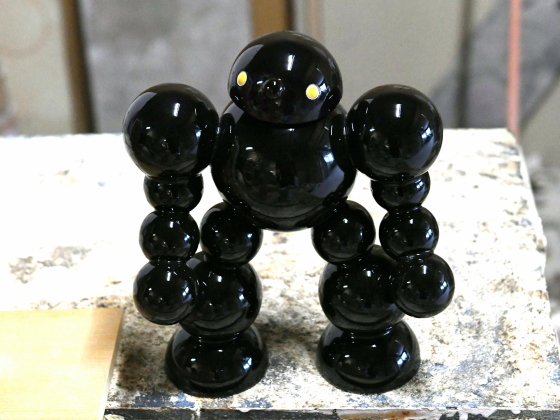 G:
So that's it. I would like to ask about Mr. Hamanaka as a potter, but how did you first start pottery? You said you attended Takarazuka University of Art and Design, did you learn there?

Hamanaka:
At university I only draw pictures. There was no pottery course. I liked clay from a very young age, and when I was in elementary school I was a child who always made clay with silence, and I thought it would be best if I could do it at work. When I came to Shigaraki after graduating from college, I first jumped into a tableware shop to study. However, the president of the tableware shop recommended that I go to a pottery school for one year, and I went to a pottery school on weekdays, and worked at a tableware shop after the school was over, and on Saturdays and Sundays, If there was, I helped a tableware shop ...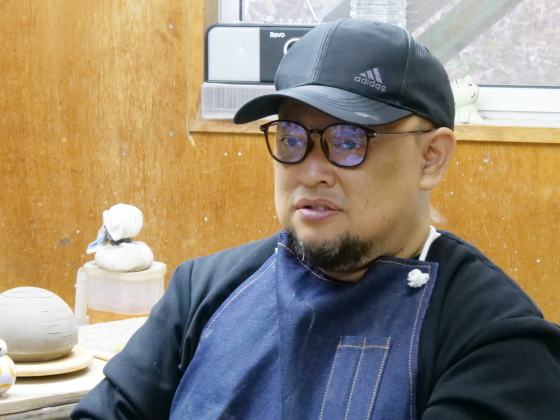 Hamanaka:
At first, I was working on making cups and coffee cups, but in myself I was far apart from playing with clay, and I thought that it was 'no'. Then, the president of this factory, I would be my father-in-law, but I got an invitation from the president, 'Would you like to work part-time at the factory?' When the person made a cow with the prototype of the zodiac and saw it, he was surprised at the realism of the cow and said, 'I want to do this! I really want to steal this technology, and from there.

G:
Speaking of real works, there were impressive macho statues in animals, comical sheep, horses and dogs.

Hamanaka:
Actually, I also like things with a real feeling, so this is after all.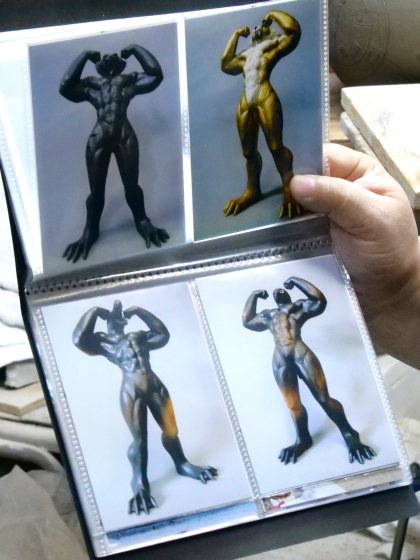 Hamanaka:
This is usually just because you want to build muscle, 'I'll build muscle.' I studied everything from how to attach bones and muscles and enjoyed making it. If you do not make something real once a year, your skills will become dull.

G:
So that's it.

Hamanaka:
Like a dragon, once a year, you have to make something elaborate to make yourself feel at home.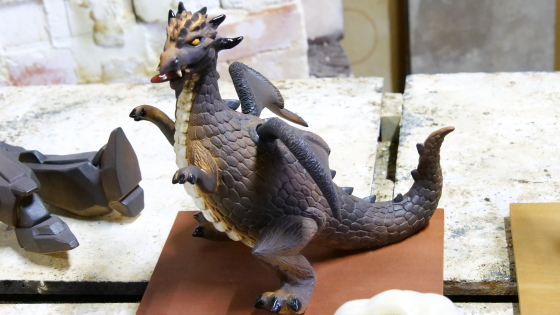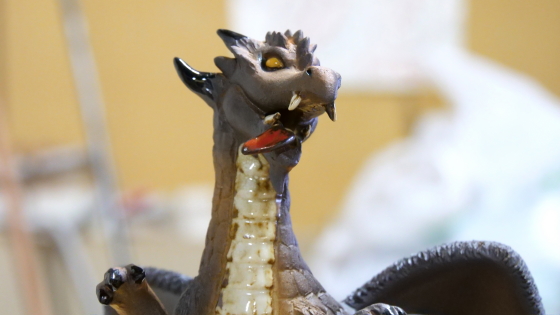 G:
Are they all Shigaraki techniques?

Hamanaka:
That's right. However, the original model has its own manufacturing method. I've been commissioned to make dragons and Buddha statues, but sometimes I just want to make something real once a year. I want to make it without business.

G:
Do you want to keep making your own techniques and techniques, and create more real things to go along with your motivation?

Hamanaka:
I agree. It's a good opportunity to improve technology.

G:
You've talked about making clay since you were a child, but what was your first experience in making solid objects as your own experience?

Hamanaka:
When you were in elementary school, you made a form of my grandma worshiping with clay. Grandma chanted the sutra every day in front of the altar in the morning and evening. When I was in the first or second grade of elementary school, I thought, 'Grandma, it's hard to worship every morning and evening.' So I made a figure of my grandma with clay and placed it in front of the Buddhist altar. 'Grandmother was so terrible that he had put it in place.' Then, my grandmother was very happy and praised, 'This is a really good child.' Even though it was just a doll made of clay, I thought for the first time that people would be so happy, so I think I'm probably here now.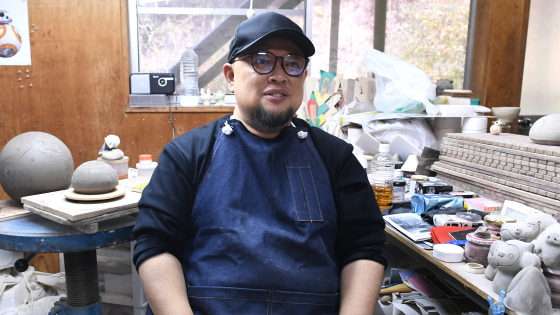 G:
So that's it.

Hamanaka:
I think that's where I started playing clay. If you can be pleased so much, if you think that if you make more, you will be able to please a lot of people, it is not really an animal series, but if you see it and have a little laugh, I'm more glad It's not really, so it's really just that.

G:
That's right. Lastly, I would like to ask you, what kind of response has been made since '
Scarlet
' was broadcast on a serial TV novel from September 2019?
Hamanaka:
After all, the excitement is amazing, so everyone can call us, send emails, and say, 'I'm excited about Scarlett' or 'It's great to be taken up in Shigaraki.' I'm really happy to live in Shigaraki. I really hope that Shigaraki can be appealing.
G:
There is Shigaraki BB-8, and there is also Scarlett. I look forward to completion. Thank you for your valuable story today.
◆ Shigaraki BB-8 finished product show
A few weeks after the interview, I came to TOHO Cinemas, where the Shigaraki BB-8 finished product will be unveiled. It will be released on the 4th of December 4 (Wed), 2019, when the premiere was held and the 'Force Day' with the 'Force'.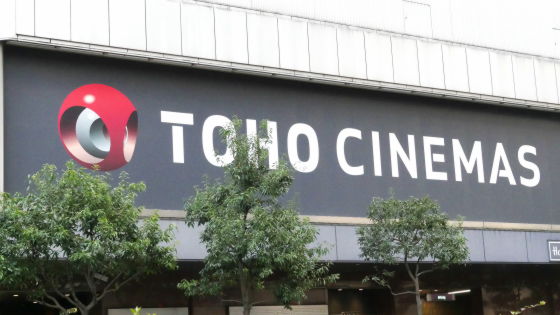 At the venue, a poster of 'Star Wars / Dawn of Skywalker' was displayed.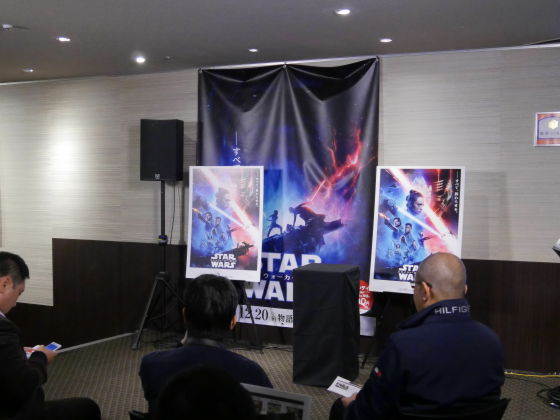 With the hands of Mr. Hamanaka who built Shigaraki BB-8, Shigaraki BB-8 was carefully transported as if holding his own child. Mr. Hamanaka, who brought the Shigaraki BB-8 with his own hands from Shigaraki's village, Shiga to Osaka, said, 'I carried it with throbbing so as not to hit people.'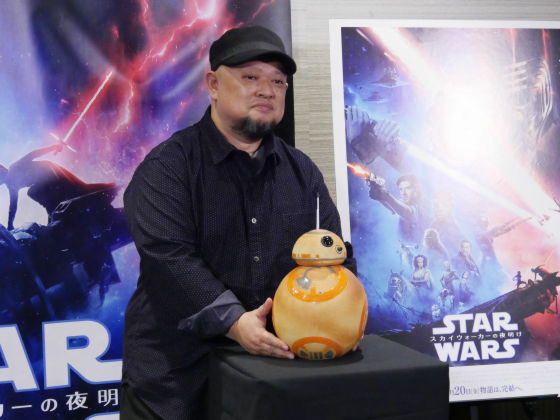 The size is about 35cm in height and 21cm in width. The height of the BB-8 that appears in the movie is about 70 cm, so it is about half the size of the real thing.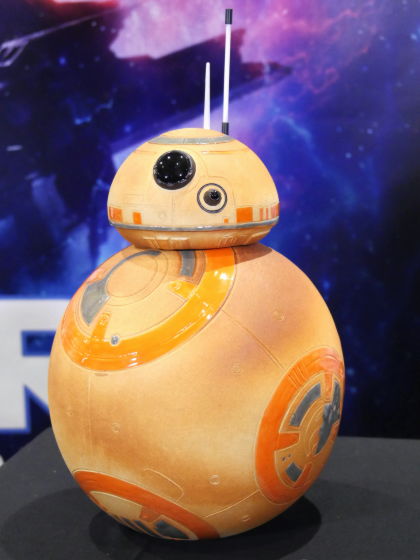 Regarding the color of Shigaraki BB-8, Mr. Hamanaka said, `` If I could make it with Shigaraki ware, I thought I could express the warmth of Shigaraki ware through the color of scarlet '' Was. Scarlet is a color of glaze, and it is said that it uses glaze that is uniquely blended to improve color development.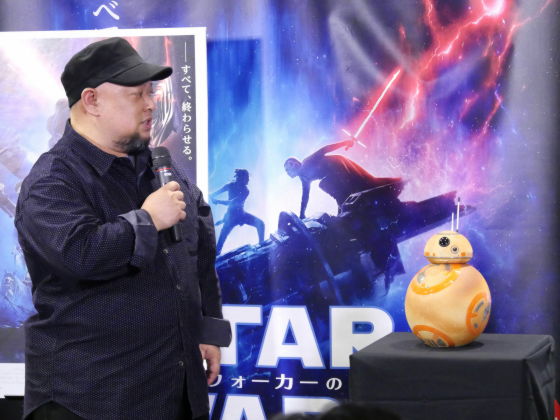 The production period is about one month, and he finally brought out the best color from the three baked bodies. It exudes a different beauty than the BB-8 that appears in the movie.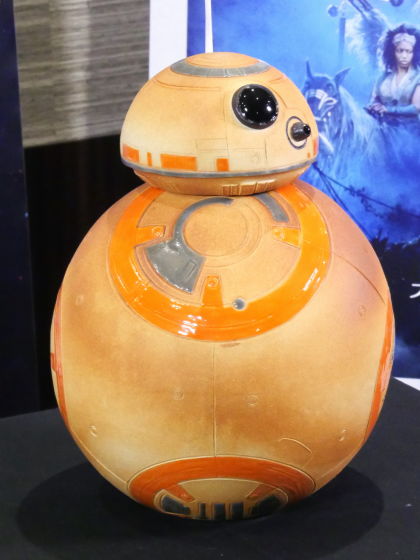 Hamanaka's talks as 'satisfactory gloss was put out'
photo receptor
part of, in the Shigaraki we use the glaze to be used in the eye, such as a raccoon, almost like a shiny of a real lens.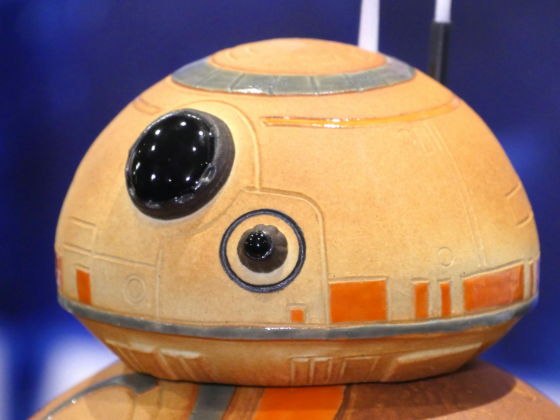 The antenna part is not Shigaraki ware, but wooden parts are used.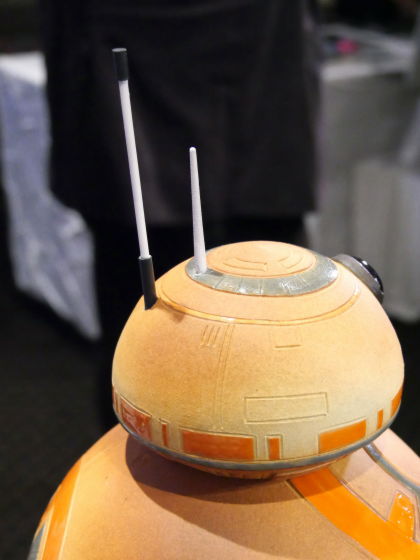 The molds, which were carefully carved one by one with Mr. Hamanaka's hands, were also neatly finished.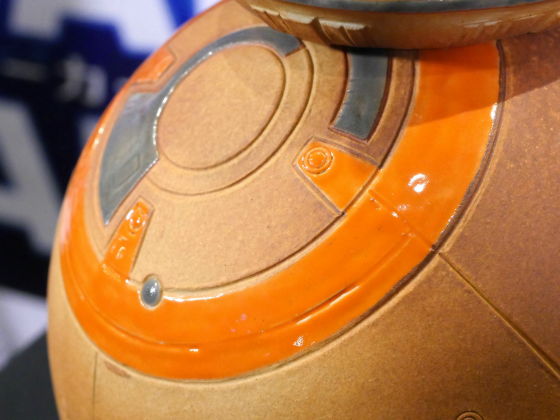 Mr. Hamanaka worked on Shigaraki BB-8 from December 4 (Wed.) to 12 (Thu.), 2019 at
TOHO Cinemas Umeda Main Building
from Friday, December 20, 2019 to 29 ( Until Sun) will be exhibited at the
Last Star Wars Exhibition
, which will be held at Nippon Telehall on the 2nd floor of
Nippon Television Tower
in Tokyo.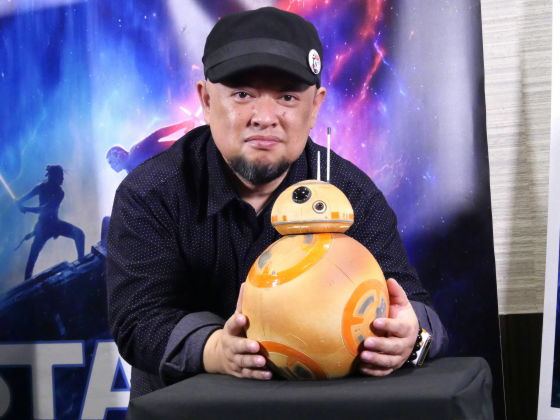 'Star Wars / Dawn of Skywalker' has been released from Friday, December 20, 2019.

'Star Wars / Dawn of Skywalker' Last trailer World simultaneous lifting-YouTube

(c) 2019 ILM and Lucasfilm Ltd. All Rights Reserved.