`` Leonardo DiCaprio has invested in Amazon's forest fire criminal, '' Brazilian President accused, DiCaprio also countered

by
UNclimatechange
It is reported that fires in the Amazon rainforest recorded an 80% increase in the previous year in 2019 and recorded the "most record in observation history". Meanwhile, Brazilian President
Borsonaro insisted
that '
Mr. Leonardo DiCaprio is helping the Amazon fire
.'
Brazil's president claims DiCaprio paid for Amazon fires | World news | The Guardian
https://www.theguardian.com/world/2019/nov/29/brazils-president-claims-dicaprio-paid-for-amazon-fires
Leonardo DiCaprio Responds to Brazil's President About Amazon Fires-The New York Times
https://www.nytimes.com/2019/11/30/world/americas/Jair-bolsonaro-amazon-fires-Leonardo-DiCaprio.html
Regarding the fact that the most fires in the history of observation have occurred in Amazon, President Borsonaro has announced a statement that `` a series of Amazon fires are arsoned by environmental NGOs to annoy the Brazilian government '' .
Amazon may burn at a record speed and have a devastating impact on climate change-GIGAZINE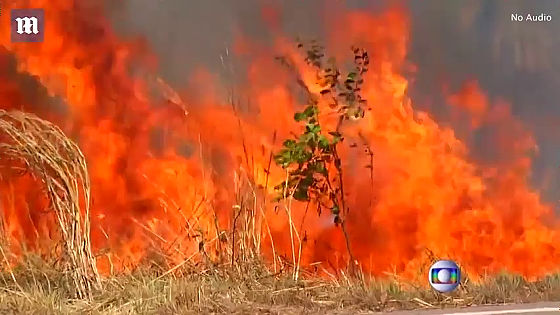 On November 26, 2019, four volunteer firefighters were arrested on suspicion that they "fired Amazon for donation purposes". Police are seizing PCs and documents from the office of the NGO 'Health and Happiness Project (abbreviated as PSA in Portuguese)' to which Borandia and others belonged. On the other hand, the Alter do Chão fire brigade who worked with PSA commented, "Whatever the accusations, their innocence will be revealed," Iwipuragã Indigenous Society, which had received support from PSA, said, "Firefighters Know their sincerity and honesty. ' It was reported that this arrest drama may be caused by "political reasons".

Police raid office of Brazil NGO linked to brigade that helped battle Amazon fires | World news | The Guardian

https://www.theguardian.com/world/2019/nov/26/brazil-police-raid-ngo-office-amazon-wildfires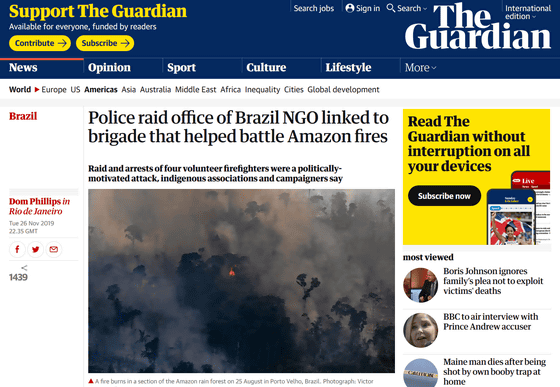 Leonardo DiCaprio is a well-known actor known for leading the
Titanic
, but is also an environmental activist. He is the person who started the environmental protection organization "
Leonardo DiCaprio Foundation
" with his own name and appealed for wildlife protection, climate change countermeasures, and development of renewable energy. To Mr. DiCaprio, Eduardo Borsonaro, the son of President Borsonaro, claimed on Twitter that `` Dicaprio invested $ 300,000 (about 33 million yen) in an NGO that arsoned to Amazon. '' .
Leonardo DiCaprio doou USD 300.000 para a ONG que tocou fogo na Amazônia, a ONG @WWF pagou R $ 70.000 pelas fotos da floresta em chamas.

E Madonna Foram Macron Mais Espertos, So Pegaram Na Internet Umas Fotos Tiradas Decadas Atras De Alguma Floresta Pegando Fogo E Postaram Mesmo. Pic.Twitter.Com/8bPF6jrjPV

— Eduardo Bolsonaro ???????? (@BolsonaroSP) November 28, 2019


Similarly, President Borsonaro accused 'Leónardo DiCaprio is cooperating with Amazon's forest fire' without showing the grounds on Facebook's live broadcast , and said to the supporters who gathered in front of the presidential palace 'Leonardo Dicaprio is a wonderful person, and I will give you money to burn Amazon. "

In response to the series of accusations, Dicaprio denied his suspicion on his Instagram, saying, "I don't invest in the NGOs in question," and "Amazon is facing a difficult situation. I will support Brazilians who are moving to protect their cultural heritage. '



In August 2019, Earth Alliance, co-chaired by Mr. DiCaprio, founded the Amazon Forest Fund, where 100% of the donation will be used to protect the Amazon rainforest. The Earth Alliance has committed to invest $ 5 million in the Amazon Forest Fund.

-Earth Alliance
https://ealliance.org/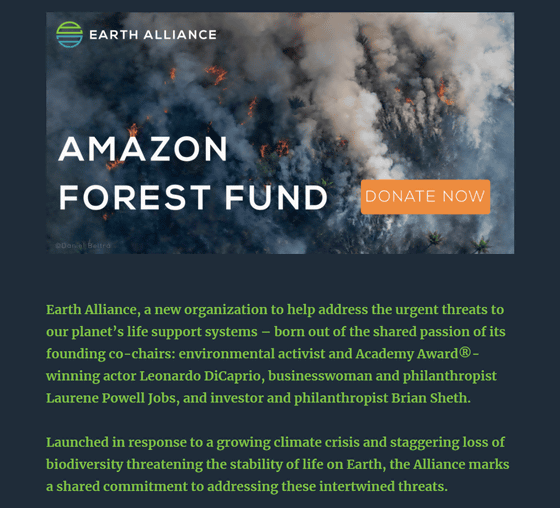 President Borsonaro banned the activities of environmental NGOs, announced that the Brazilian Ministry of Environment would become a subordinate organization of the Ministry of Agriculture, and relaxed the Amazon rainforest protection laws, and reached a multilateral agreement on climate change control. It is known as a person who promised to leave the
Paris Agreement
.
A new Brazilian president called `` Mr. Trump in Brazil '' may destroy the Amazon rainforest-GIGAZINE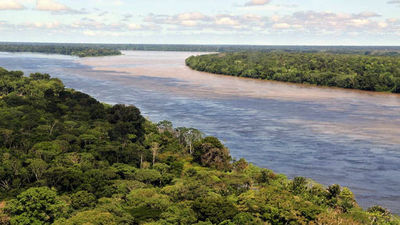 by CIAT


in Note, Posted by darkhorse_log