A new material for wet suits that has actually been chewed by a white shark and confirmed its performance `` strong against shark biting '' appeared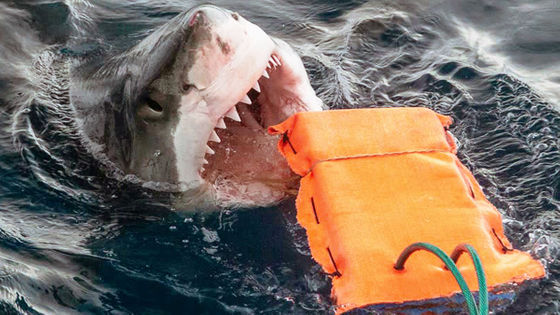 To prevent shark damage, a research team at Flinders University in Australia has recently developed a new material for wetsuits based on fibers. The research team has also confirmed the strength of the new material in a durability test using white sharks.

Effectiveness of novel fabrics to resist punctures and lacerations from white shark (Carcharodon carcharias): Implications to reduce injuries from shark bites

https://journals.plos.org/plosone/article?id=10.1371/journal.pone.0224432
Shark proof wetsuit material could help save lives – News
https://news.flinders.edu.au/blog/2019/11/20/shark-proof-wetsuit-material-could-help-save-lives/
Incidences of shark bites are increasing year by year due to the increase in the number of people going to sea bathing due to global warming. Most of the damage caused by sharks is as minor as the abrasions on the skin, but there have been reports of death.
World shark attack accident, the most in 2015 is the impact of global warming 1 photo International News: AFPBB News
https://www.afpbb.com/articles/-/3076437
A new material that prevents the damage of shark bites is an
ultra-high molecular weight polyethylene fiber (UHMWPE)
that incorporates two types of
chloroprene rubber,
making it lightweight enough to be used in wet suits. The research team conducted a test to push the fixed shark teeth using a machine and investigated the durability of each material.


As a result of the test, it was confirmed that all the new materials were stronger than the conventional chloroprene rubber, and a large force was required to open the cut. Even when the cut was open, the new material was smaller and shallower than the conventional material.

In addition, the research team also carried out an endurance experiment in which the southern bluefin tuna, a favorite of white sharks, was wrapped around the new material and actually bitten by sharks. In the following movie, you can see that the white shark is biting into the new material.

New wetsuit material tested by Flinders marine researchers-YouTube


The wild white shark bitten is a new material created by the research team. The new material is equipped with a load sensor in addition to the southern bluefin tuna that feeds on the white shark, and measures the force when the shark actually bites.

Experiments show that bites by wild white sharks, about 3 to 4 meters, are smaller and shallower than cuts made by experiments with machine and shark teeth, and are new to all types of scratches that white sharks bite by biting The material was confirmed to be superior to the conventional product. From the above results, the research team concluded that "blood loss can be prevented compared to conventional materials", but "further investigation is necessary regarding damage to meat".