Startups that create plastic from waste such as garbage and increase commercial profits have appeared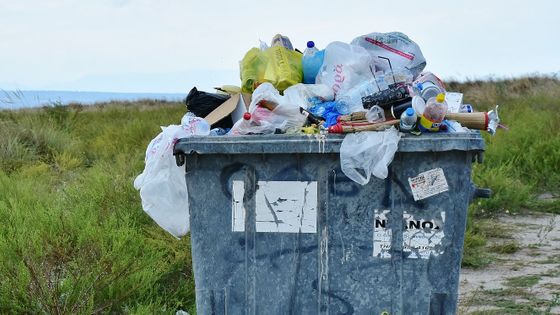 by
RitaE
A startup in Israel called
UBQ Materials
is working on the production of plastic raw materials from
piles of
garbage, including leftovers, paper and plastic. This business not only reduces the amount of garbage sent to landfills but protects the environment, it also secures commercial profits, the US daily newspaper Washington Post interviewed management. It is.
Israeli startup UBQ is turning trash into plastic products-Washington Post
https://www.washingtonpost.com/graphics/2019/climate-solutions/israeli-startup-ubq-turning-trash-into-plastic-products/
It is located in Israel's southern
Tsuerimu
that
kibbutz
in the (current production Social cooperatives of Israel), there is a small factory that UBQ owned. There are several tons of trash in front of the factory, including raw garbage, plastic bags, dirty paper, bottles and containers, broken toys, etc., but UBQ can recycle these trash in a few hours. It can be recycled as plastic
pellets
.
Rather than reusing garbage and unused items as they are, converting them to new materials and better products to increase their value is called "
Upcycling
". The amount of garbage generated around the world is said to be 2 billion tons per year, and up-cycling seems to be very important in seeking to solve environmental problems caused by garbage.
However, it is difficult to convert a large amount of trash into usable materials, and many companies have been forced to withdraw after taking on the challenge. However, UBQ claims that it has succeeded in converting waste, including raw garbage, into raw materials for plastic products, and ultimately has created a technology that provides commercial benefits. "The magic we do transforms all the trash like chicken bones and banana peels," said
Jack Bigio
,
UBQ CEO
.


UBQ's attempt to produce plastic raw materials from a variety of wastes, such as raw garbage and paper, rather than using only selected plastic waste to produce plastic raw materials, reduces household waste sent to landfills. By creating raw materials for daily necessities from waste, we can realize a more sustainable economy that is friendly to the global environment. In addition, comparing UBQ's production of 1 ton of plastic pellets with 1 ton of the same amount of
polypropylene
,
it is estimated
that UBQ's efforts
can reduce carbon dioxide emissions
by
15 tons
.
On the other hand, there are some skeptical views about UBQ technology, but many people have actually touched UBQ technology and changed their minds.
Dr. Antonis Mavropoulos
, a science and technology engineer who is the chairman of the
International Solid Waste Association
, was initially not convinced by the technology of UBQ, but was able to convinced him by actually visiting the factory. "If we want to move to a more sustainable future, we need new business models as well as new technologies," Mavropoulos commented.
Duane Priddy, chief executive of the
Plastic Expert Group
, a plastic consultant, said he had laughed at UBQ's claims with his own members. However, actually speaking with UBQ executives, there seems to have been some change in my heart. "We are still skeptical, but we look forward to evaluating UBQ products, learning about technology, and validating a wide range of applications," said Priddy, UBQ's technology will make a huge difference in the global environment. I admit that it might be.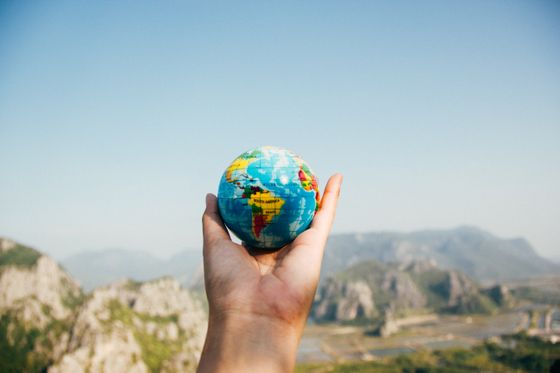 by
Porapak Apichodilok
There
have been several
cases where plastic has been made from garbage in the
past, but UBQ executives have not made public about their technology. According to professor Oded Shoseyov, a biotechnology specialist
at
the
University
of
Hebrew
, who also received consultation from UBQ, by melting waste such as plastic and garbage, a homogeneous material reinforced with organic fiber is produced. I can do it.
The work that UBQ actually does begins with removing large trash such as shoes and coffee machines from the waste pile. Next, iron and other metals are removed by automated equipment, the remaining garbage is crushed into fine pieces, and glass and rocks are removed by a machine. This sorting operation will be adjusted according to customer requirements such as the strength and flexibility of the raw material to be finally produced, and the processing purpose. When used for composite bricks etc., the sorting work is rough and there is no problem, but when
injection molding
etc. using a
mold
is performed, it seems that glass and metal are carefully removed so as not to damage the mold .
Bigio said to the people who visited the factory, "There is nothing to waste in UBQ. The metal and glass removed in the sorting process are also sent to the recycling company. It 's very efficient. "
Several tons of waste that has been sorted and crushed is put into a huge reactor, heated up to 400 degrees, and subjected to chemical and physical treatment developed by UBQ. As a result, the waste is likely to become ash-like powder, and UBQ explains that this powder will be formed into a string and then processed into cylindrical plastic pellets. Plastic pellets can be processed as various products and can be colored to the customer's desired color.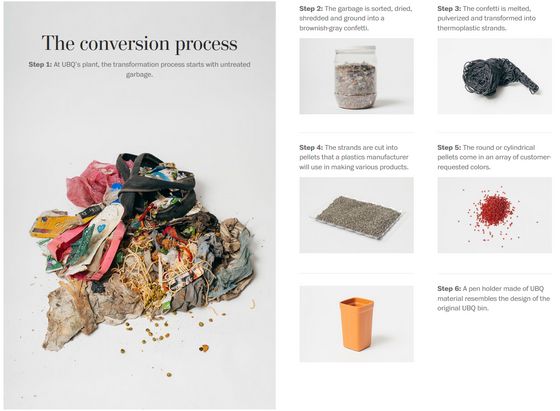 Yehuda Pearl , a prominent Israeli businessman, has provided a large amount of funding to UBQ. Pearl is also known for investing in food company Sabra , and UBQ opened a pilot facility in 2013, enabling scientists and engineers to test technology development and profitability for years. It has been arranged.

UBQ faces a skeptical view, but an Israeli manufacturer Plasgad has already manufactured products using UBQ pellets since August 2019. Mr. Pearl also revealed that UBQ has advanced discussions with a number of large companies and expects UBQ to continue to grow. At the end of 2017, China banned the import of waste plastic, which had a major impact on the world's waste disposal and recycling situation. Under such circumstances, there is an increasing demand for businesses that effectively use waste.

It turns out how China's `` Plastic garbage import ban '' will affect the world-GIGAZINE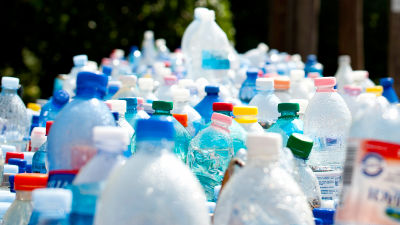 by mali maeder

According to UBQ, plastic raw materials made from waste can be recycled more than six times, and it is superior to ordinary plastics that cannot be recycled after being degraded once or twice. The research team seems to continue to test new application methods and durability properties of plastic raw materials, and import and test waste from all over the world so that it works with various types of waste. Continue to improve.

The factory owned by UBQ at the time of writing the article seems to be able to produce about 1 ton of plastic raw materials per hour, and has a production capacity of 5000 to 7000 tons per year. According to Bigio, the global plastic injection molding industry has a market size of 325 billion dollars (about 35 trillion yen), and UBQ is already planning to build a new factory that can achieve annual production of 100,000 tons That's it. Pearl also believes that UBQ's business can generate profits commercially, "I have found a potential for growth and influence".


by geralt