In the lawsuit that Google and Oracle unfold, the Supreme Court will start a trial on `` whether API is subject to copyright protection ''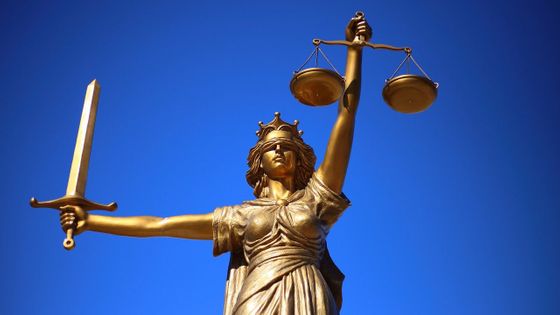 by WilliamCho

Oracle has accused Google of 'unauthorized use of the Java API for Android' and has been fighting for nearly 10 years. Regarding this lawsuit that also attracted attention that the damages amounted to 8.8 billion dollars (about 950 billion yen), a ruling was made in 2014 that `` API is subject to copyright protection '' , Google continued to ask for a review of this point, and it was finally found that the United States Supreme Court accepted Google 's appeal.

Miscellaneous Order (11/15/2019)-111519zr_8n59.pdf
(PDF file) https://www.supremecourt.gov/orders/courtorders/111519zr_8n59.pdf

The Supreme Court will hear long-running Google and Oracle copyright lawsuit-The Verge
https://www.theverge.com/2019/11/15/20946398/oracle-google-java-copyright-lawsuit-trial-supreme-court-request

Supreme Court agrees to review disastrous ruling on API copyrights | Ars Technica
https://arstechnica.com/tech-policy/2019/11/supreme-court-will-review-high-stakes-google-v-oracle-ruling/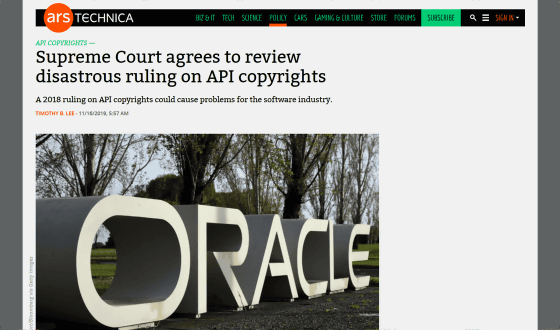 In January 2010, after taking Sun Microsystems, the developer of Oracle, Oracle filed a lawsuit stating that Google infringes the copyright of Java-related patents and Java APIs acquired through the acquisition. It was. Google used the corresponding API on Android, but insisted that it is not subject to copyright protection based on the conventional API concept. In 2014, API was recognized as the subject of copyright protection, but Google won the case in the 2016 trial that disputed whether or not the use of Java API was fair use . However, in the US Court of Appeals for the Circuit in 2018, Oracle has been fighting for many years.

In connection with this lawsuit, Google is asking the Supreme Court to review the question of "whether the software interface is a copyrighted work" and filed a petition on January 24, 2019. Google argues that court decisions that determine the boundaries of copyright law are not only important to copyright law, but also greatly affect the future of software development.

Google submits a petition regarding Oracle lawsuit as the court decision that `` code is subject to copyright '' will affect the future of software development-GIGAZINE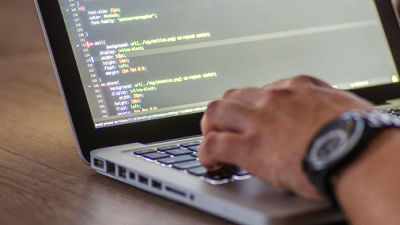 It is not just the parties Google and Oracle that are paying attention to the case. Microsoft, Mozilla, and several other companies support Google's petition, pointing out that the decision of the Court of Appeals for the Circuit destroys the developer's ability to create programs that run on software platforms. Nonprofit public knowledge and the Electronic Frontier Foundation have also expressed support for Google.

Copyright scholar James Grimmelmann expressed his concern as 'the decision of the Court of Appeals for the Circuits threatens the continued vitality of software innovation.' Protecting API copyrights is a new patent that brings lawsuits against people who acquire new software and develop new software, just as Oracle acquired Sun Microsystems and started a lawsuit against Google. There is a danger of creating a troll . Grimmelmann also pointed out that companies might deliberately eliminate compatibility with competitors to avoid getting involved in lawsuits, which could impair user experience.

And on November 15, 2019, the Supreme Court accepted Google 's appeal and announced that it would conduct a trial on API copyright. "We welcome the decision of the Supreme Court to review this lawsuit, and the court will interoperate with software in US competitiveness," said Google 's global senior vice president and chief legal officer. 'The developer should be able to create applications across platforms and should not be tied to specific company software,' commented on The Verge.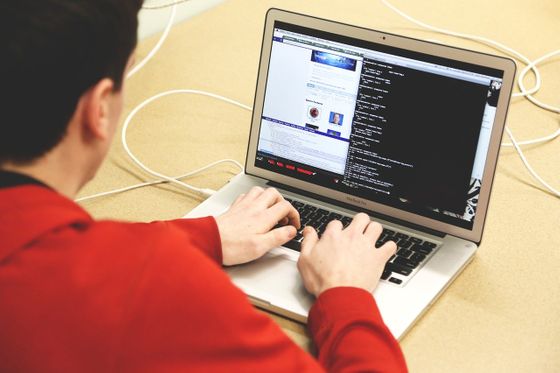 by StartupStockPhotos