TV crashes at Pokemon Sword Shield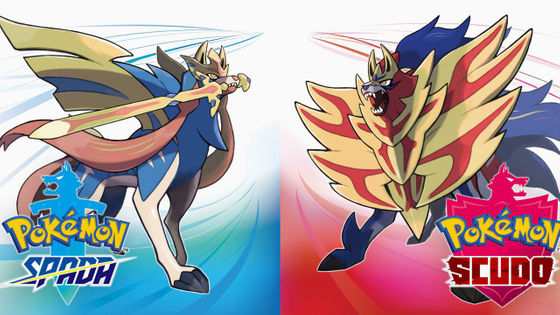 When you play Nintendo Switch game software `` Pokemon Sword Shield '' released on November 15, 2019, Roku compatible media streaming terminals such as `` Roku TV '' of smart TV connected to the Internet, There have been reports of problems with boot loops that repeatedly reboot.

My Insignia Roku TV is stuck in a boot loop.
https://www.reddit.com/r/Roku/comments/dx0lem/my_insignia_roku_tv_is_stuck_in_a_boot_loop/f7ohhtu/

PSA: Pokemon Sword / Shield causes Roku devices on the same network to crash and enter a boot loop: pokemon
https://www.reddit.com/r/pokemon/comments/dxc5yg/psa_pokemon_swordshield_causes_roku_devices_on/

Pokemon Sword and Shield sta causando il crash di determinati dispositivi RokuGaming Today | Gaming Today
https://gamingtoday.it/news/pokemon-sword-and-shield-sta-causando-il-crash-di-determinati-dispositivi-roku/

This issue was quickly addressed by TheBasedSloth , a reddit user at an international bulletin board site. Roku's official account says, `` When you play the latest Pokemon series on Nintendo Switch, some Roku terminals will be posted on The India Roku TV that has been boot looped by TheBasedSloth in the Reddit Roku dedicated forum I'm aware of the affected issue. If I don't use the Nintendo Switch or use it in airplane mode, it should fix the problem, 'he said, but didn't reveal the details of the problem.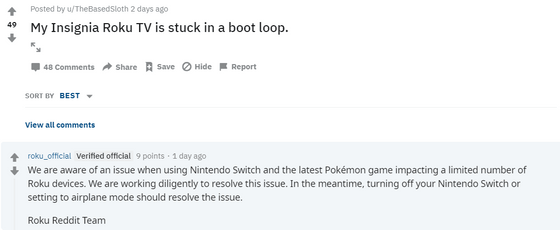 The same problem was subsequently faced by reddit user MazInger-Z . MazInger-Z, who saw an SNS post that was in trouble with Roku's anomaly, actually used two Roku Streaming Sticks, and both of them did not work properly. While MazInger-Z was trying to investigate the problem, MazInger-Z's wife was playing Pokemon Sword on the Nintendo Switch.

Therefore, MazInger-Z and his wife, who are knowledgeable as engineers, decided to investigate the cause in detail. First, when MazInger-Z's wife uses the network analysis software Wireshark and looks at the communication status of Roku and Nintendo Switch, Nintendo Switch playing Pokemon Sword is looking for other players It turns out that packet communication is being sent. When MazInger-Z and others analyzed this communication, it was very similar to the data packet used by Roku.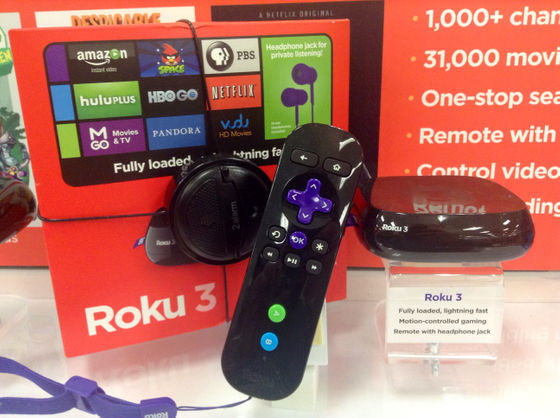 by Mike Mozart

Therefore, "I think this is because the Roku terminal cannot distinguish between its own data packet and the YY data from Pokemon Sword Shield," MazInger-Z concludes. In fact, according to Roku's advice, when MazInger-Z switched the Nintendo Switch to airplane mode, MazInger-Z's Roku terminal started to operate normally.