Pokemon of `` Pokemon Sword Shield '' tried six new Misudos that became donut and drink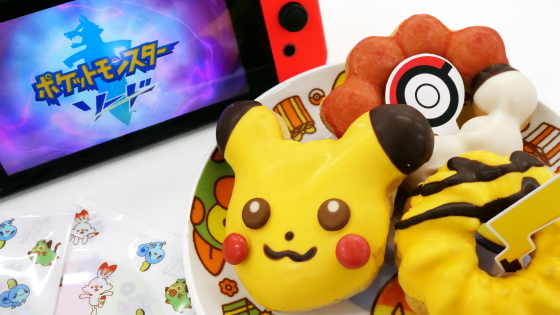 With the release of Nintendo Switch '
Pokemon Sword Shield
', new Pokemon-style donuts and drinks have also appeared on Mr. Donut from November 15, 2019 (Friday). Including Pikachu, a representative character of Pokemon, I immediately ate new products with the motif of Pokemon, which is the first appearance on Pokemon Sword Shield.
Misudo x Pokemon | Mr. Donut
https://www.misterdonut.jp/pokemon/
Arrived at Mr. Donut.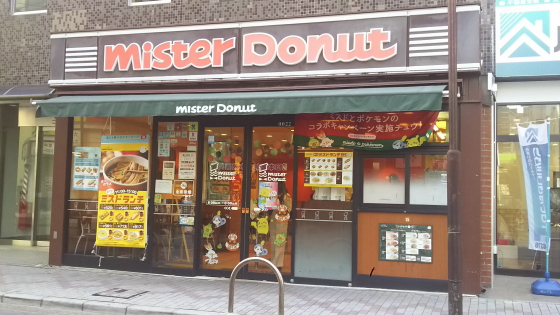 At the entrance, in addition to Pikachu, stickers of Pokemon who appeared in 'Pokemon Sword Shield' released on Friday, November 15, 2019 were affixed.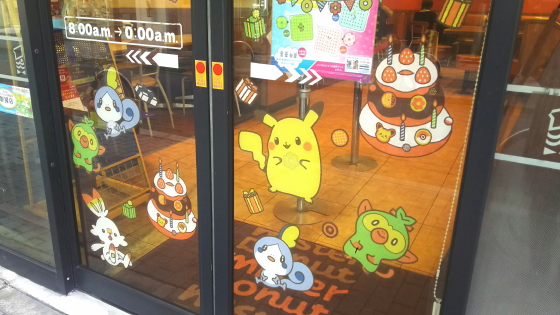 If you buy a set of donuts, you will get goods, so I purchased a set with
an original box.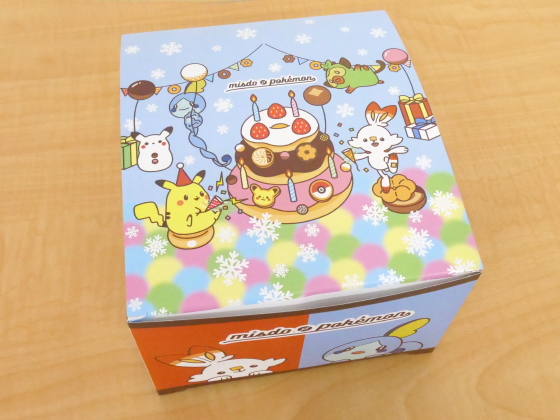 When opened, there were four donut in the center of the Pokemon donut. To get them packed in the original box, you need to purchase a set of one Pokemon donut and three Pont des Rees.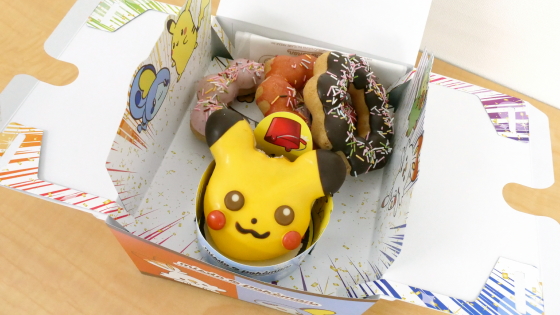 Inside the box is a water-type Messon, Pikachu ...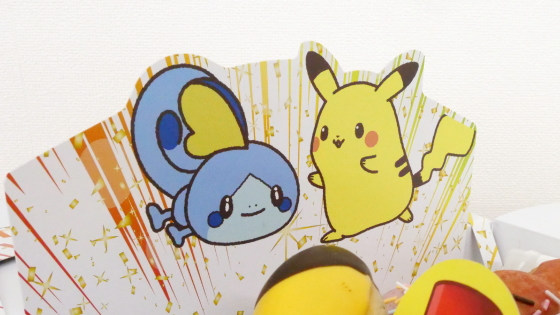 The
skull-
type
Sarnori
and the
hobani
type are drawn.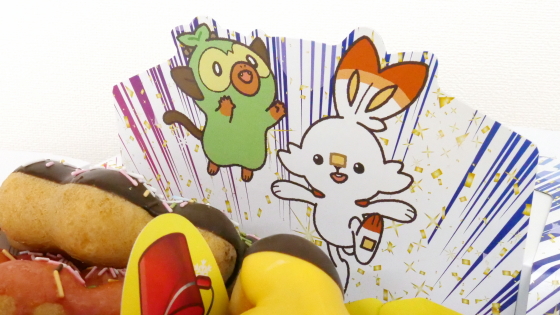 'Pikachu donut'
appeared
in
2018,
but looks more cute in 2019.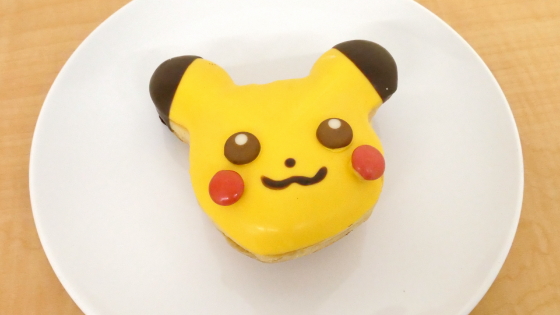 Only the surface is yellow coated with banana-flavored chocolate.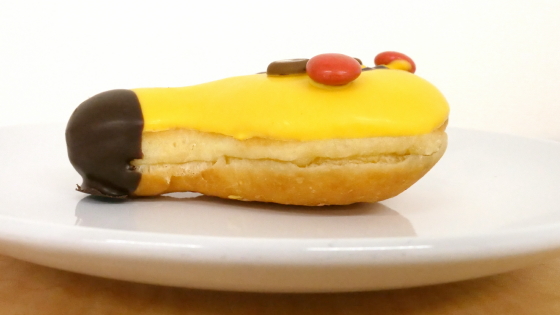 This is about the size of a transportation IC card.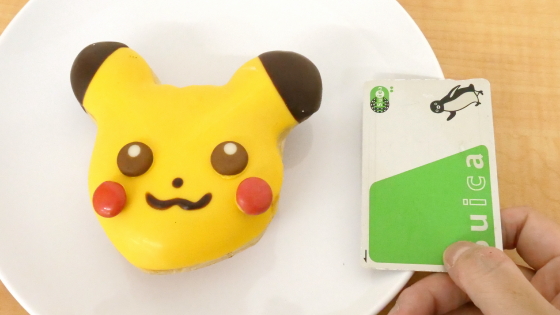 Whipped cream protrudes from the head.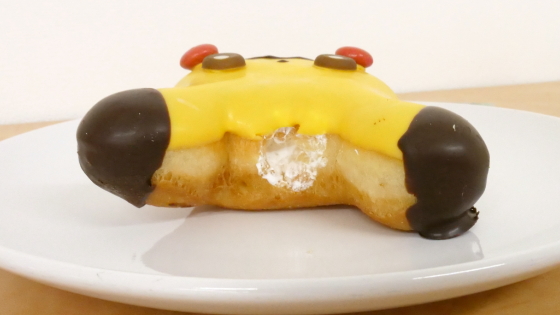 Cut quickly to check for clogged whipped cream.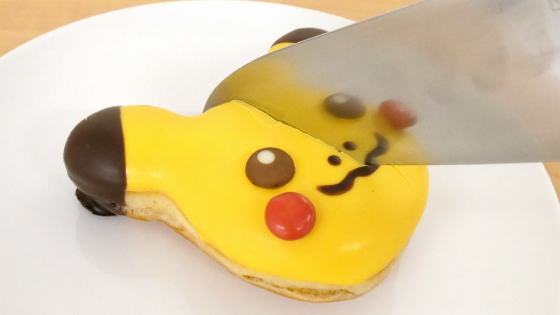 The whipped cream was full.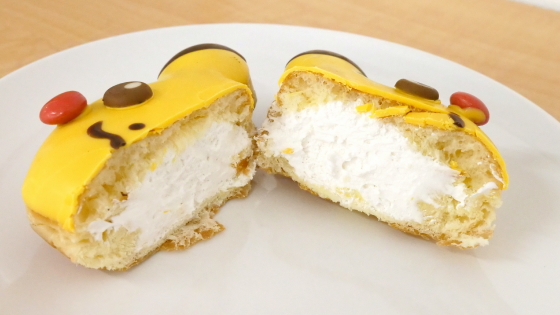 The eyes and red cheeks are made of chocolate and can be eaten alone.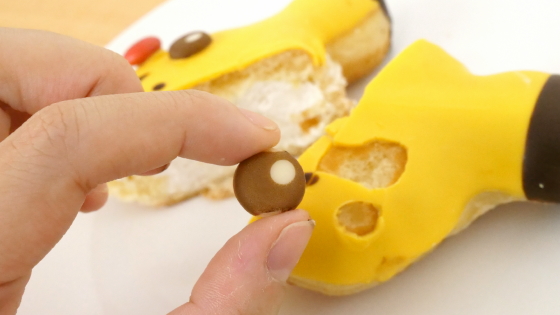 The flavor of bananas used in chocolate is a bit modest. It looks like the milk flavor of plenty of whipped cream is on the front. The combination of fluffy donut and royal road of whipped cream made it easy to eat.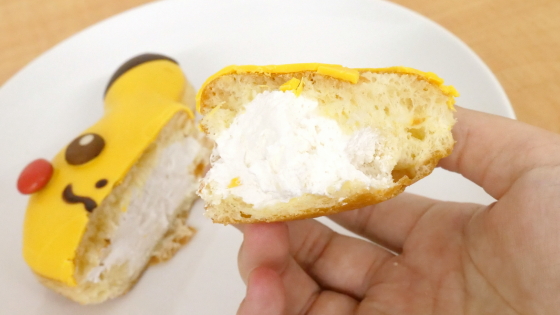 Next, 'Pon de monster ball' shaped like a monster ball. Mr. Donut's classic donut 'Pon de Ring' is coated with strawberry-flavored glaze and white chocolate.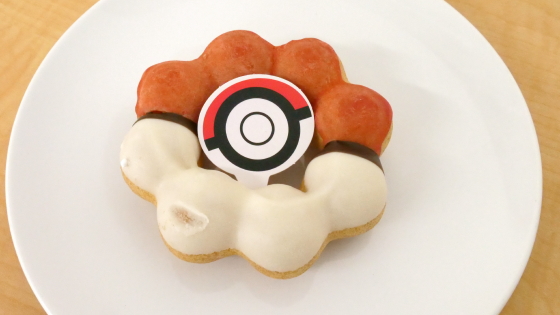 This is about the size of a transportation IC card.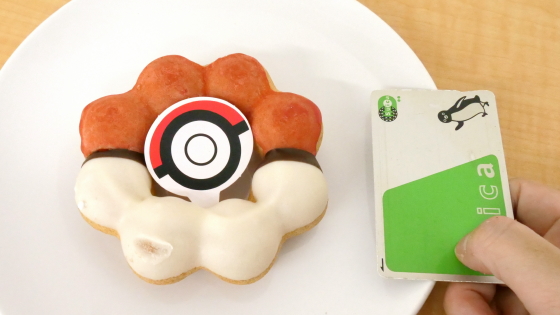 The glaze is crisp, with a slight strawberry taste. With a sticky pon de ring fabric and a glamorous crispness, it is like a donut that you can enjoy texture.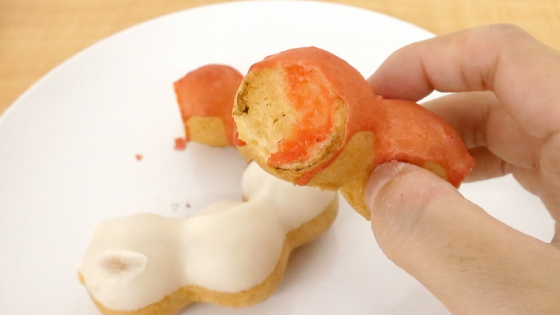 The white chocolate was as sweet as the glaze, but the border between the white chocolate and the glaze was coated with slightly bitter chocolate.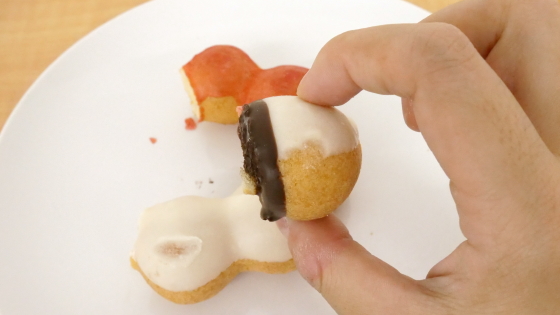 'Pikachu's tail,' which was born as a 'Pikachu-inspired French crueler,' was named after an open call for SNS. Like Pikachu donuts, it is coated with banana-flavored chocolate.



It is about this size compared to a transportation IC card, and slightly smaller than a Pikachu donut and a Pon de Monster ball.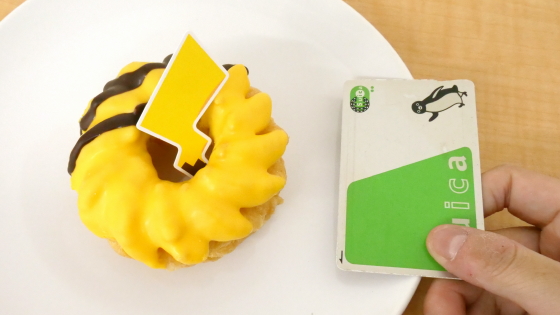 Unfortunately, the tail of the pick cannot be eaten.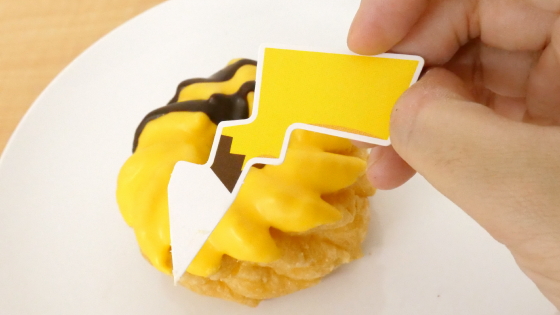 The pattern on the back of Pikachu was drawn with bitter chocolate.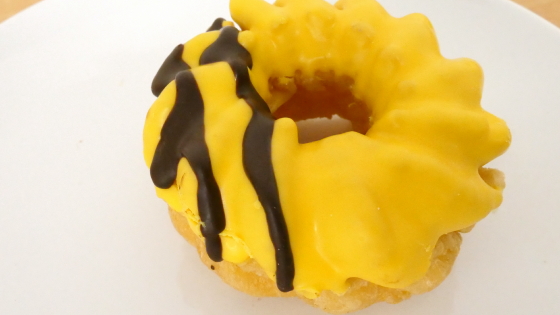 The crisp texture of French Cruller dough has a rustic taste of wheat, and goes well with smooth custard cream. Banana-flavored chocolate was as subdued as Pikachu donuts, and had a finish that complemented the sweetness of custard cream. The bittersweet bitter chocolate is a good accent.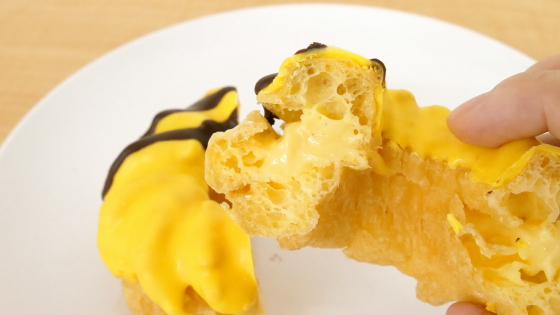 The Pokémon family's drinks 'Hipani's Tapioca Soda Peach', 'Sarnori's Tapioca Soda Muscat Flavor', and 'Messon's Tapioca Soda Litchi' that you can get at the beginning with Pokemon Sword Shield are like this.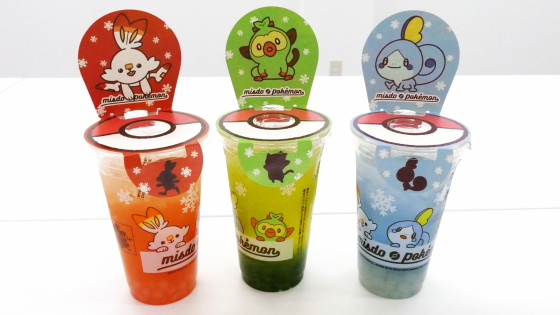 Tapioca is included in soda-based drinks.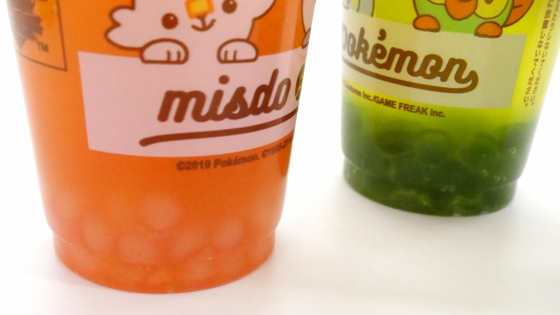 Hiba-nii is a peach-flavored drink that matches the color of Pokemon. Tapioca also had a peach flavor. The texture of the mouth is quite busy with popping carbonated and sticky tapioca and shari-shari ice.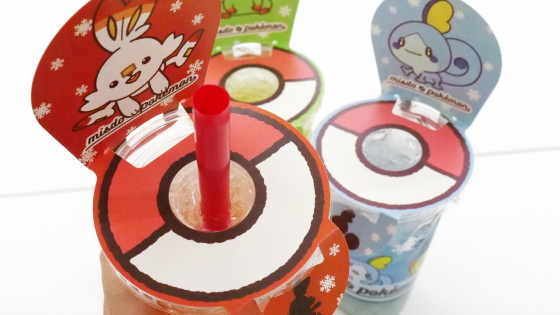 The muscat taste of Sarnori is almost the same in texture as Hibani, but the tapioca itself has a much stronger Muscat taste.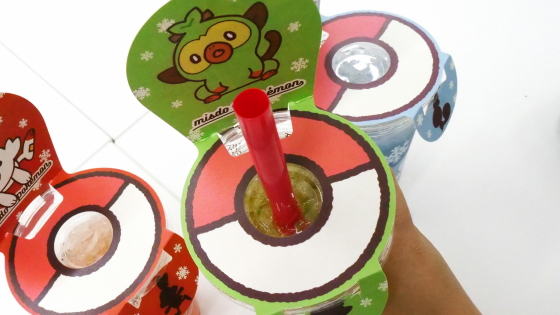 The lychee messon has a thin lychee taste for tapioca and a rumune-like drink for the drink. If you have purchased a Pokemon Sword Shield, you should definitely buy a Pokemon drink of your choice.



You can get a plate or mug and an original coaster if you purchase a set of Pokemon donut and a drink or three Pon de Rees. The following image is a mug.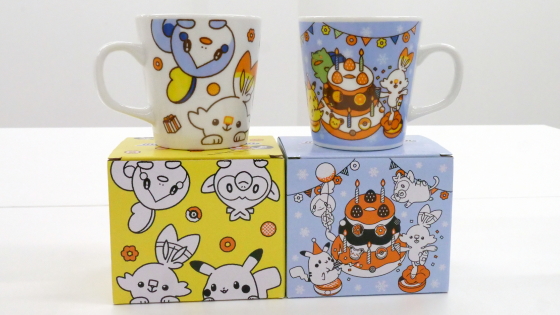 The plate looks like this.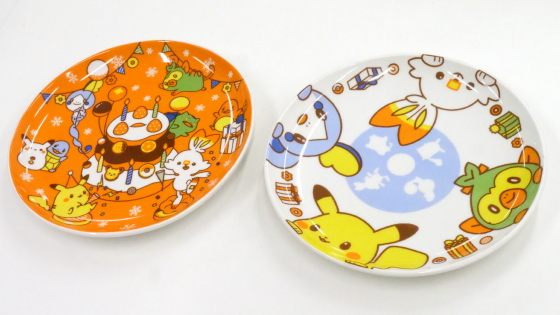 The coaster is made of plastic.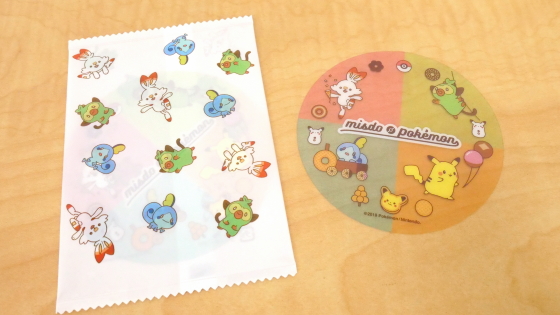 It had a translucent design.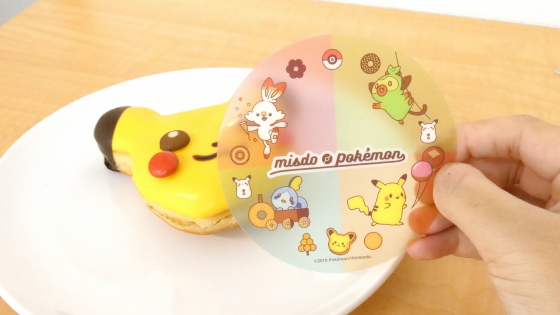 `` Pikachu donut '' is 240 yen excluding tax, `` Pon de Monster Ball '' and `` Pikachu's tail '' are 180 yen excluding tax, drinks `` Sarnori tapioca soda muscat flavor '' `` Hibanny tapioca soda peach '' `` Messon's Tapioca soda lychee is 590 yen before tax. For a limited time from November 15, 2019 (Friday) to late December 2019, it can be purchased at Mr. Donuts nationwide except some stores.