It is clear that iPhone users attach importance to privacy protection but have not moved to actual behavior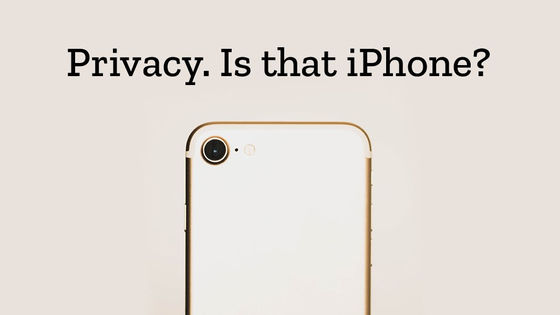 Although many iPhone users attach great importance to privacy protection, it is a fact that non-profit organizations that support the development of web browser Firefox etc. have little understanding of the actual tracking situation on the terminal This is revealed by a study by the Mozilla Foundation .

Smartphone Privacy Settings Are a Priority for Most Americans | Ipsos
https://www.ipsos.com/en-us/news-polls/mozilla-smartphone-privacy-2019

Mozilla Foundation-What Half of iPhone Users Don't Know About Their Privacy: New Poll
https://foundation.mozilla.org/en/blog/what-half-of-iphone-users-dont-know-about-their-privacy-new-poll/

Since the secret system `` PRISM '' that can directly peek at personal information on servers such as Google, Apple, Yahoo etc., it became clear that American government agencies have been stealing information on national privacy over the years, In particular, the movement to review the privacy of technology has accelerated. As a result, many companies are actively working to protect their privacy, and Apple also emphasizes that it is focusing on strengthening the privacy of iPhone.

What does Apple focus on while Google Assistant and Alexa are attracting attention? -GIGAZINE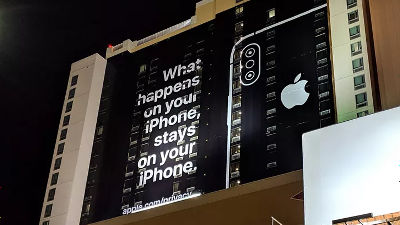 However, the Mozilla Foundation's privacy statement that Apple appeals includes information about the Advertising Identifier (IDFA), an advertising identifier for iOS devices that tracks app activity and sends it to third-party advertisers. It seems that it doesn't exist. The Mozilla Foundation claims that IDFA is an advertising identifier that records and transmits what operations the user is performing on the application, `` IDFA infringes on user privacy '' is.

The Mozilla Foundation is worried about user tracking by IDFA, and has begun to ask Apple to automatically reset the user's IDFA every month. If you agree with the Mozilla Foundation, you can sign from the following page and appeal the reset of IDFA.

Mozilla Foundation-"Privacy. That's iPhone." But is it?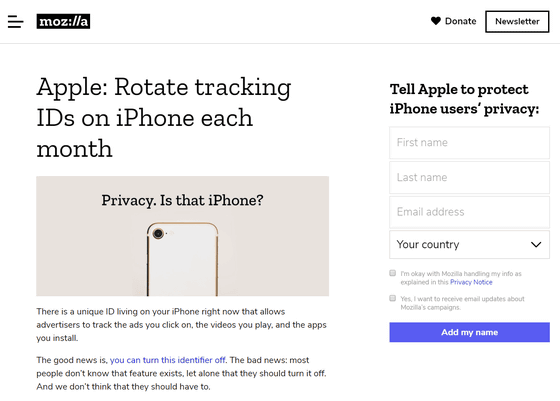 In response, the Mozilla Foundation will collaborate with Ipsos, a market research firm, in October 2019 to investigate 1007 smartphone users in the U.S., whether they like the iPhone or Android, or knowledge about privacy. An interview was conducted.

As a result of the survey, more than half (57%) of smartphone users said they were concerned that third-party tracking of apps downloaded and websites accessed by smartphones. In addition, more than half of iPhone users (61%) cite privacy as an "important point when purchasing smartphones" and 54% of iPhone users regularly use IDFA (at least several times a year). ) I answered that I wanted to reset.

On the other hand, it became clear that 61% of iPhone users who are aware of IDFA do not know how to disable IDFA, and only 20% actually reset IDFA regularly. did.

To disable IDFA, select "Settings" → "Privacy" → "Advertise" and turn on "Restrict tracking ads".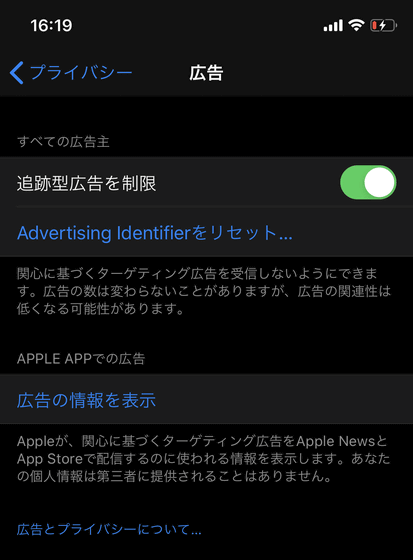 In addition, 38% of respondents indicated that the default privacy setting does not take precedence when purchasing a smartphone.

The Mozilla Foundation points out that 'iPhone users are concerned about privacy, but they don't really know how to disable IDFA.'