`` Adobe MAX 2019 '' booth summary where creativity bursts with unlimited photo shooting and original goods production by professionals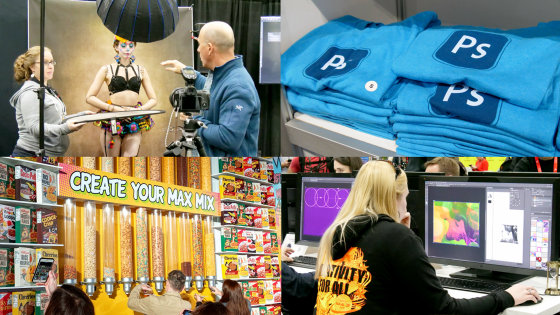 Is a Photoshop of developer Adobe once in the year, a celebration of the creator to be held over three days ' Adobe MAX 2019 in', 15,000 of creators gathered from all over the world, different about the illustrations, photographs, video and design It is possible to touch the latest technology. When I actually participated, I wanted to make original goods as much as I wanted, so I could have a professional photographer take a picture and have a professional photographer tell me the essence of photography directly. It was a heaven for painters and creators that delicious food and hammock for rest were prepared everywhere in the venue.

Adobe MAX 2019 – The Creativity Conference | November 2–6, 2019
https://max.adobe.com/

We were able to hear a valuable lecture at Adobe MAX 2019 where M. Knight Shamaran and Takashi Murakami were on stage, but creative technologies such as the electronic equipment trade show " CES " were exhibited. There were also many booths where you could actually use them. Let's enter 'Community Pavilion'.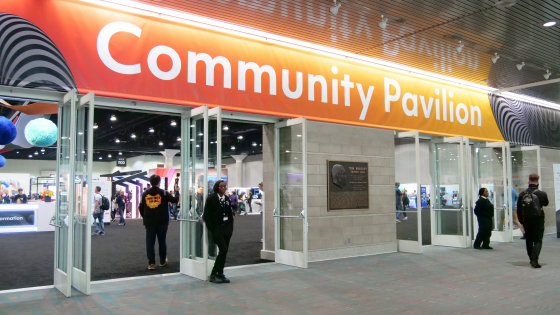 Inside is like this.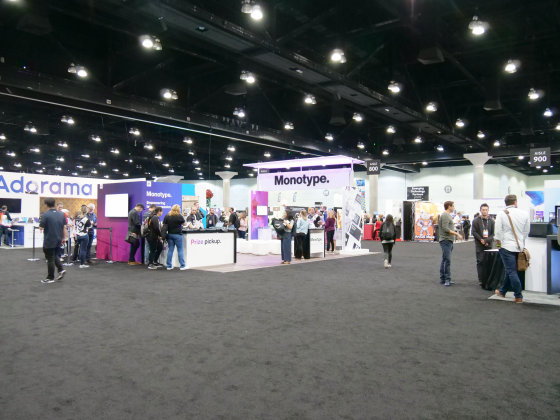 For example, at the booth of the original goods production service " Zazzle ", you can make a bag using your own illustrations on the spot. At the booth, there were people who could run the sewing machine without taking a break, and people who attached the handle.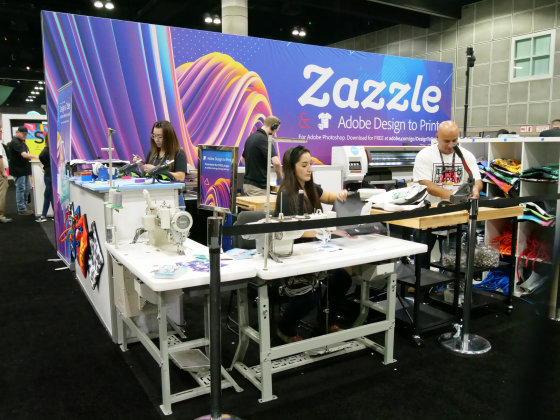 If you want to make a bag, just upload your own illustrations on your smartphone, finish and submit them on the PC in the booth. Zazzle is a paid service and usually requires money to make goods, but no payment is required at the Adobe MAX venue.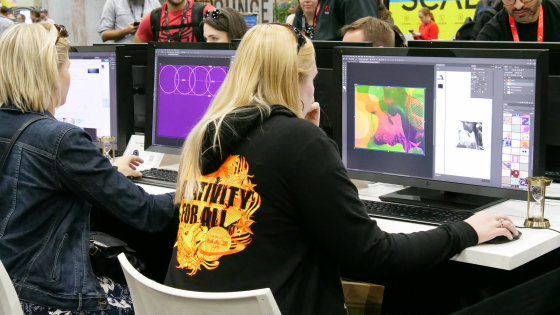 You can make a bag like this.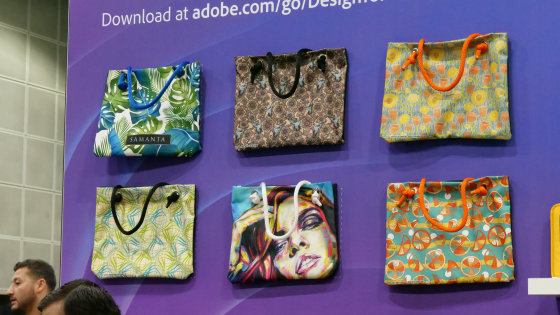 Staff who make bags steadily.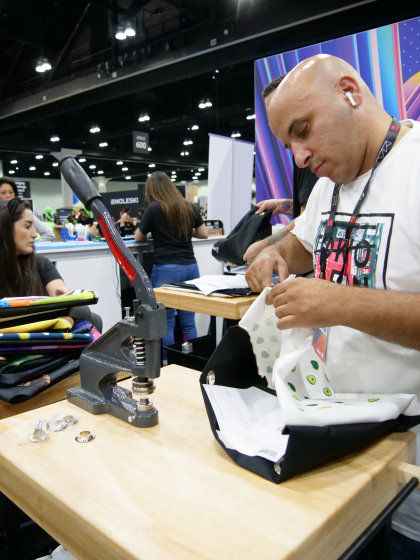 The bags just made are stacked on the desk.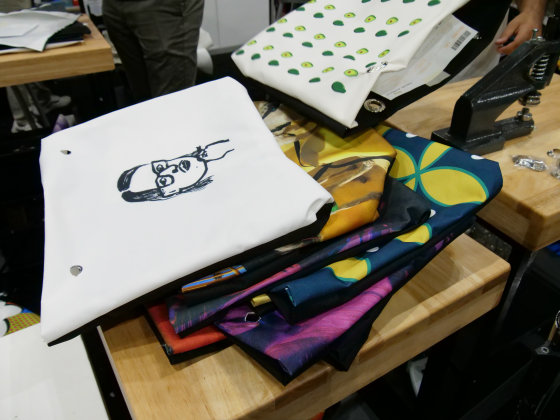 At the following booths ...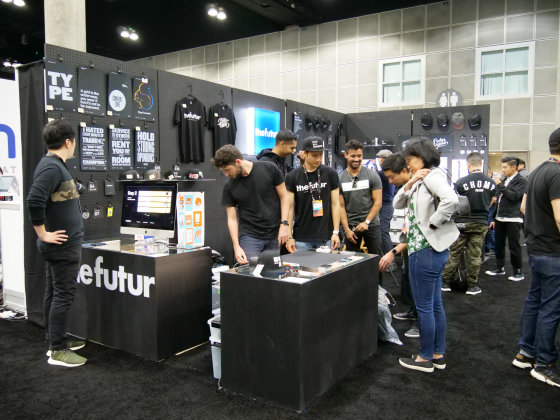 If you show me the message you want to write, you can finish the calligraphy on the spot. Of course, this also does not require payment.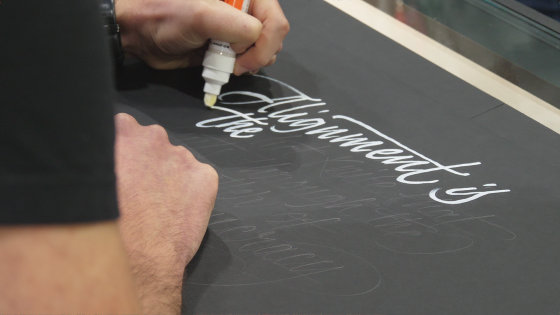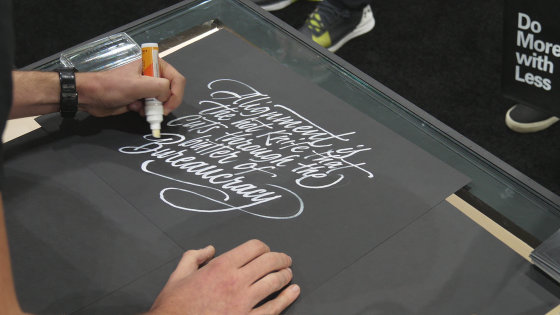 The DELL booth seems to be editing images.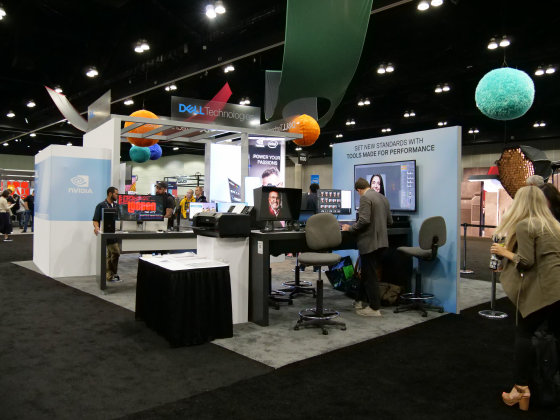 There are sample portraits on the desk.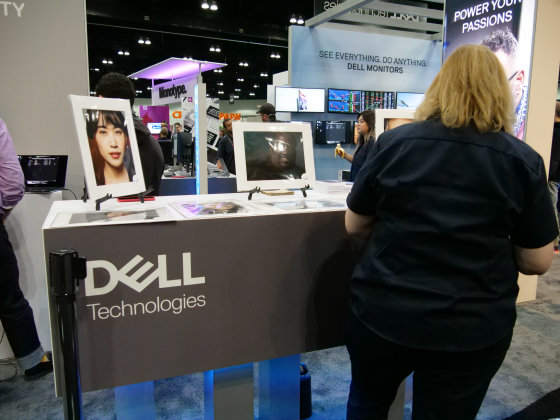 In fact, this is a booth where professional photographers can shoot portraits and receive images that have undergone image editing. Of course, there is no payment at all.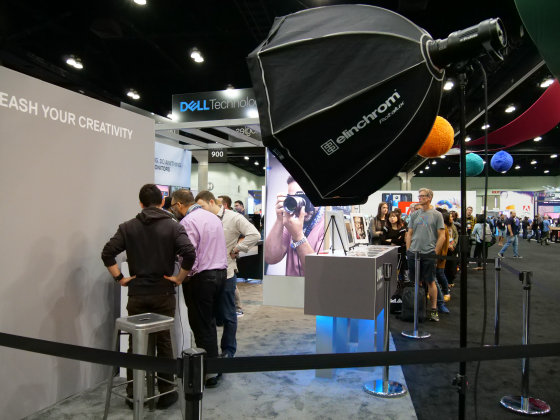 The photographer is Mark Man , a portrait photographer who has photographed everything from actors and actresses to President Obama's portraits. Mr. Mann has a deep connection with DELL, and he seems to sometimes shoot at events like this.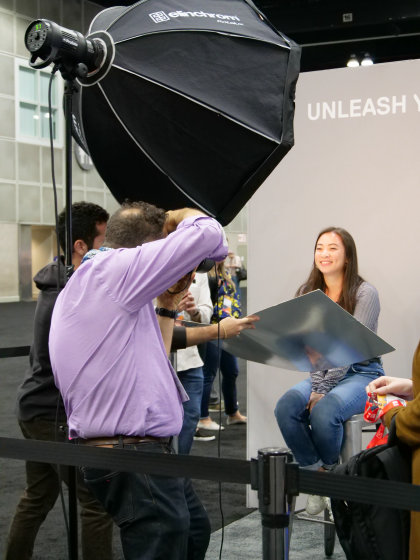 After shooting, you can receive photos that have been edited by professional hands.



There are other booths where there are photographers. At the following booths, professional photographers taught us about shooting techniques and image processing techniques.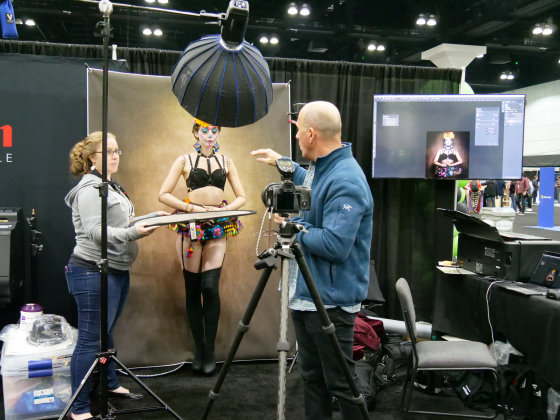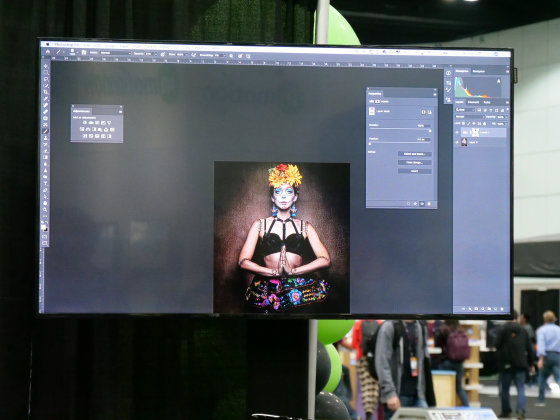 Furthermore, if you go to the booth with the logo of Xperia and nitro coffee " RISE Brewing Co. " ...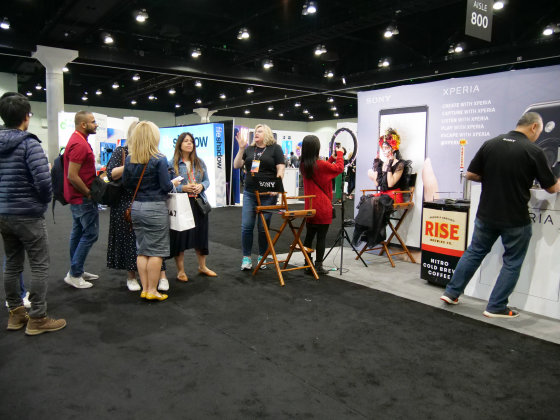 I'm shooting with my smartphone.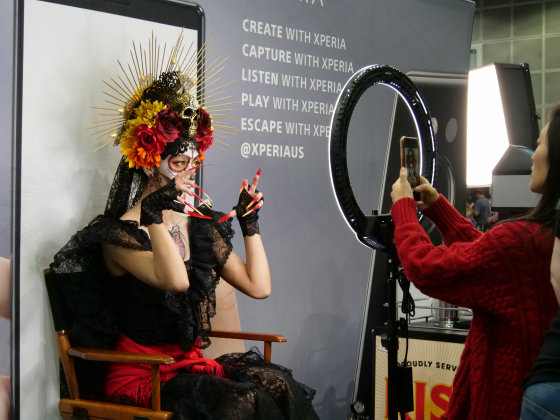 When the photo shoot is over, the coffee maker " Ripples " goes into operation ...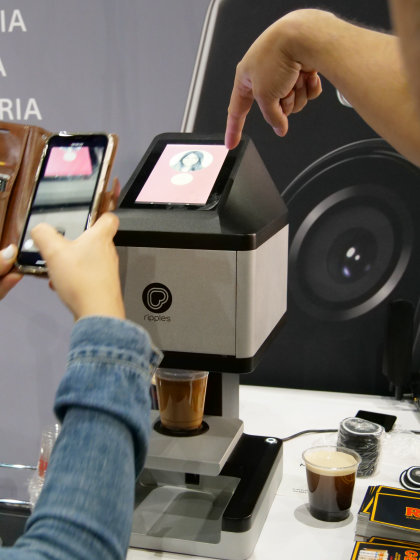 The photograph taken on the bubble of nitro coffee is transferred like this and provided to the participants.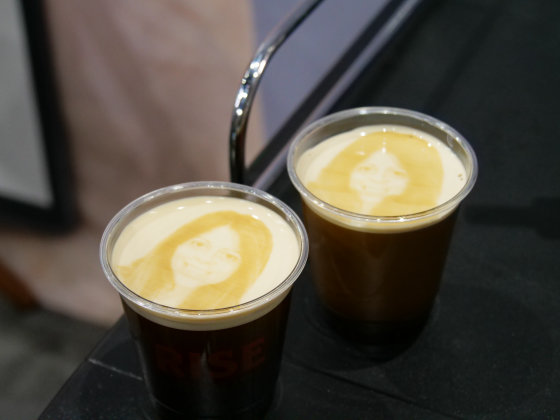 Because Adobe MAX is an event that takes place from morning to night, free food and drinks were provided throughout the venue so that you could not go out for a meal.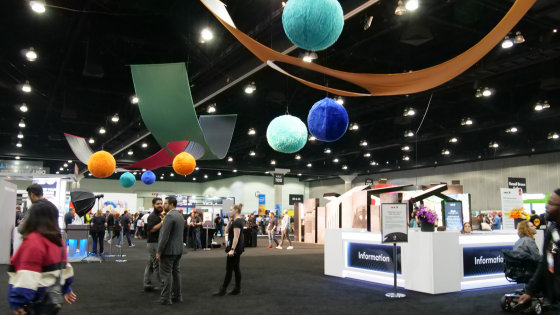 The pot is filled with meat and fries.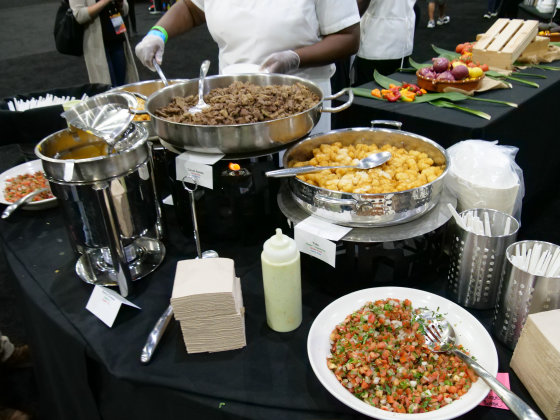 Something like fried spring rolls.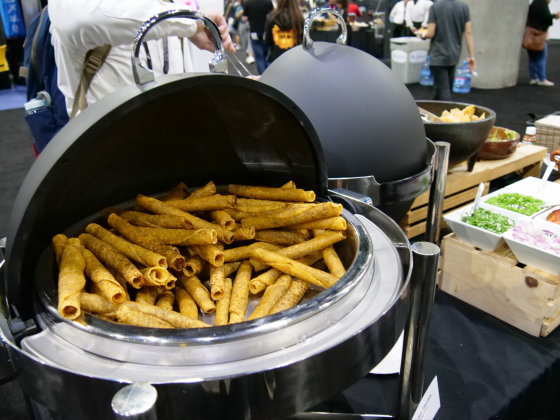 Jalapeno pickles, salads ...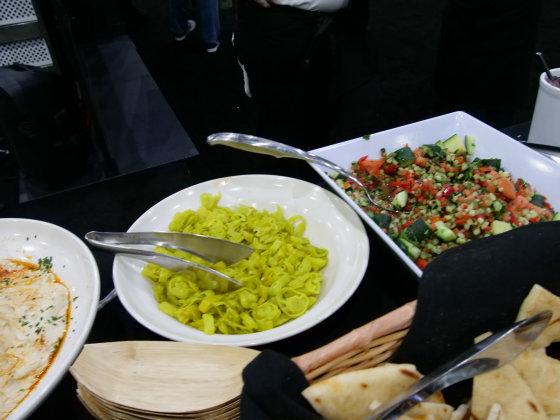 Hummus or black rice. It was a dish with a deep Mexican color.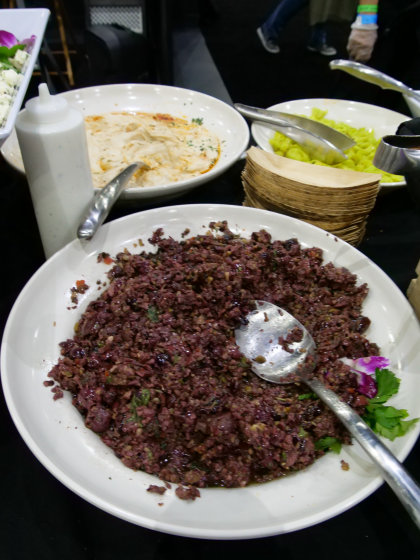 So get beef and french fries, salad with cheese and mayonnaise sauce. I don't know well, but it has a high calorie taste and it's perfect to eat, so it was perfect for Adobe MAX where I had no time to rest because there were plenty of places I wanted to go.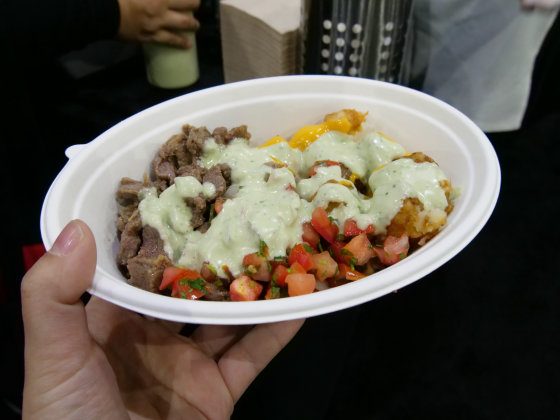 Of course you can also take drinks freely. There was also alcohol.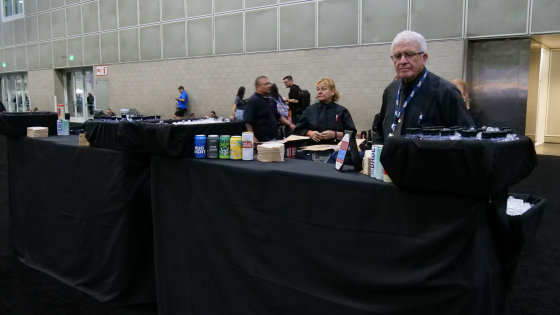 There is also a booth offering popcorn.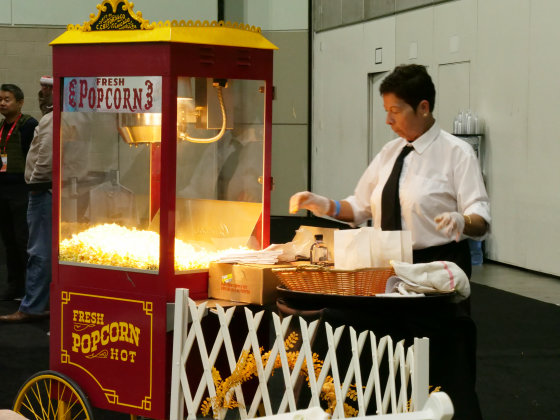 There was also a booth with a lot of brownies.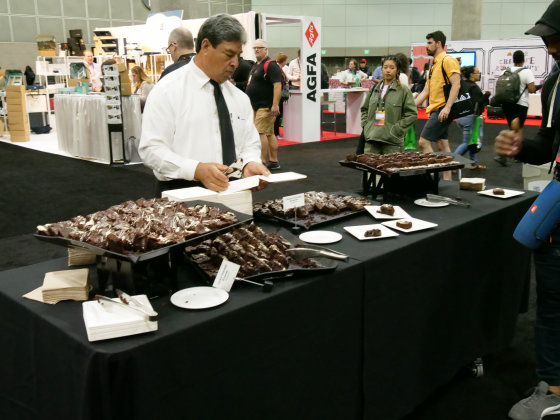 A brownie with a tight and sticky texture delivers sugar directly to the brain.



There is also a booth where the printer for clothing of Anajet acquired by RICOH is placed.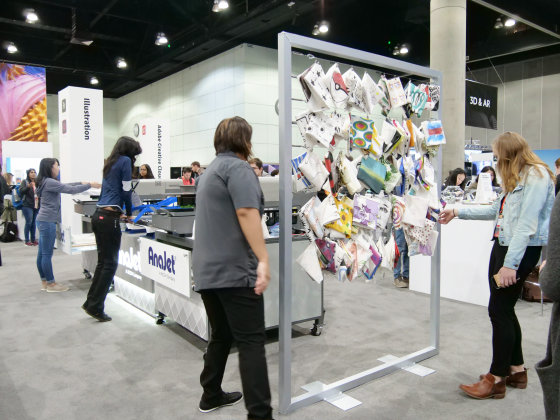 When drawing with Adobe Fresco ...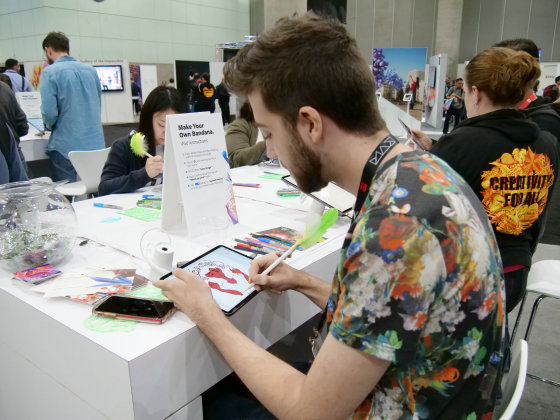 Print out immediately with the RICOH Ri 1000 .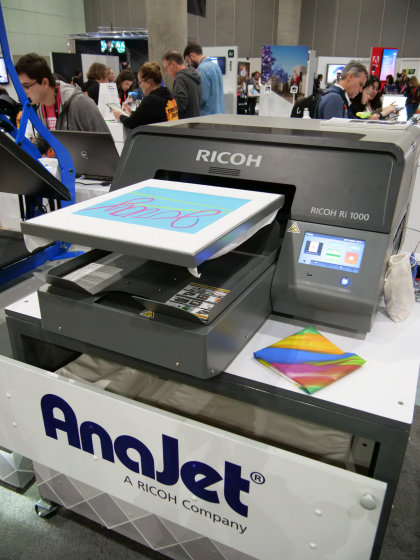 The fabric printed by the participants was displayed like this at the venue.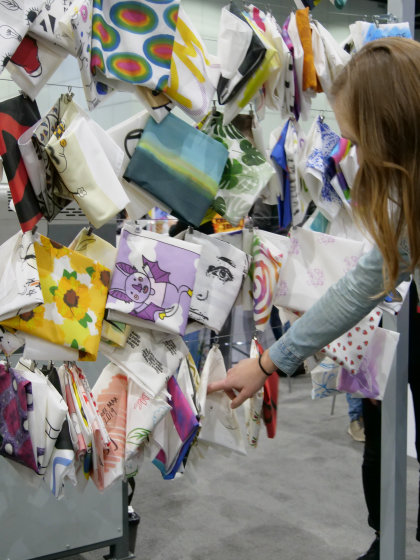 In addition, a booth of " Terminator: New Fate " was also found. Tim Miller said that he continued to edit video using Adobe software at Terminator: New Fate as well as Deadpool .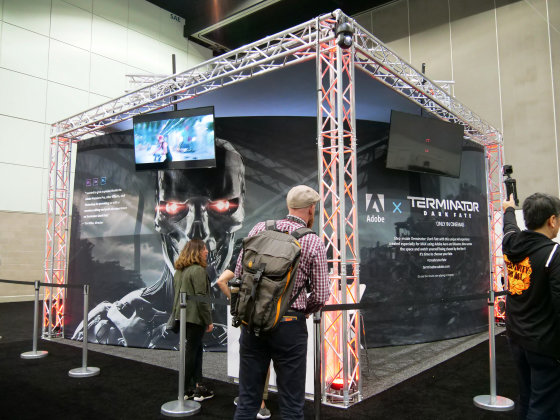 The terminator's view of the world is reproduced at the booth ...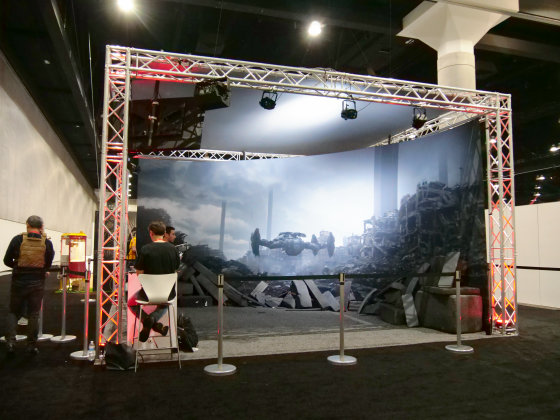 Participants move according to the staff's guidance, such as "Run away!" Or "Shoot!". Participants can't see anything other than the set ...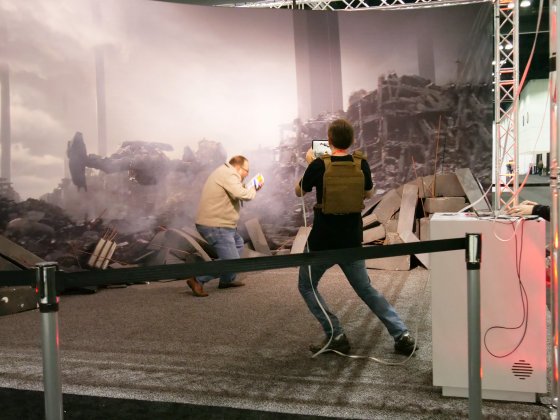 Actually, the video was synthesized by AR in the iPad that the staff set up.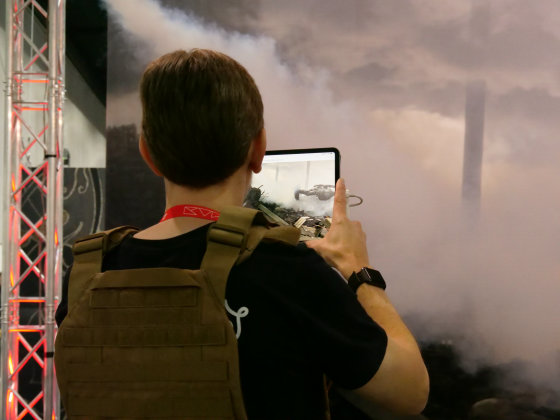 In this way, the video was completed as if the participants were fighting in the movie. Participants can receive this video later.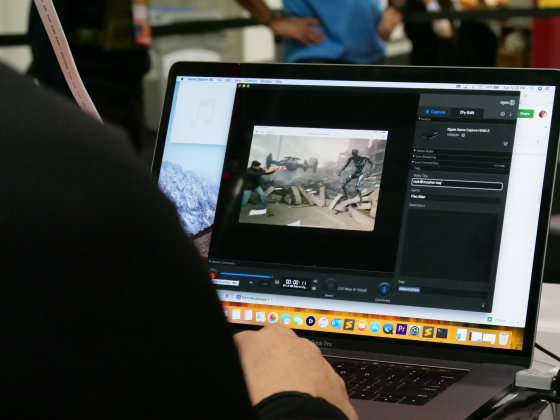 There are break booths everywhere in the venue, and if you get tired you can take a break here.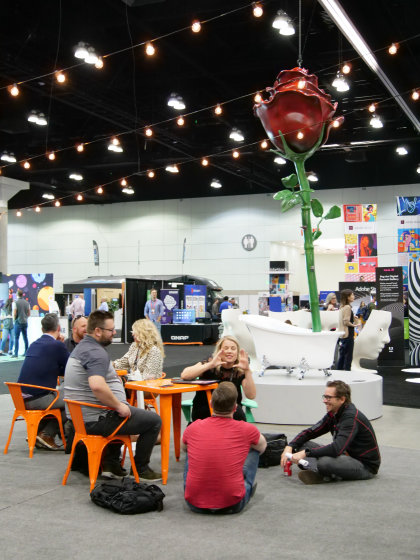 There is also a unique sofa shaped like a human face.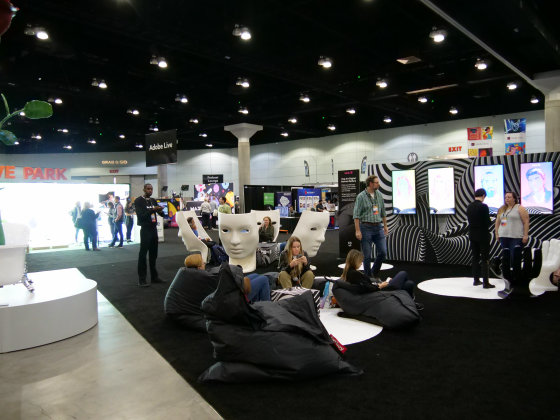 There was also a hammock, and I was able to take a nap when I got a little sleepy after meals.



Also, works using the latest software from Adobe were on display. The following is a work using 'Adobe Aero' that can create AR (Augmented Reality) content . A woman is 3D scanned and trapped in the AR world, and the real bed is projected on the iPad camera, allowing people to play on the bed in real time. Because AR women take action based on actual interviews, they are confining their lives semi-permanently to the AR world.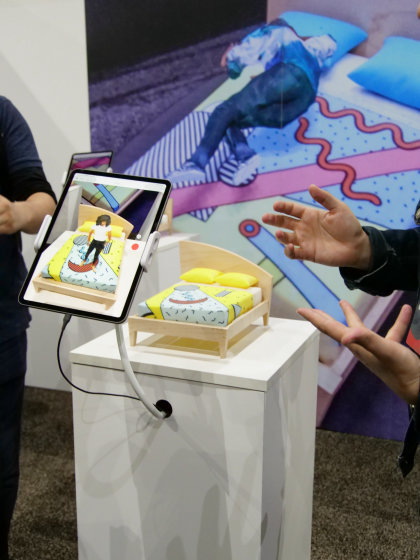 Because it was a woman who "dreamed of snakes", she can see that 3DCG women are also dreaming of snakes in the AR world.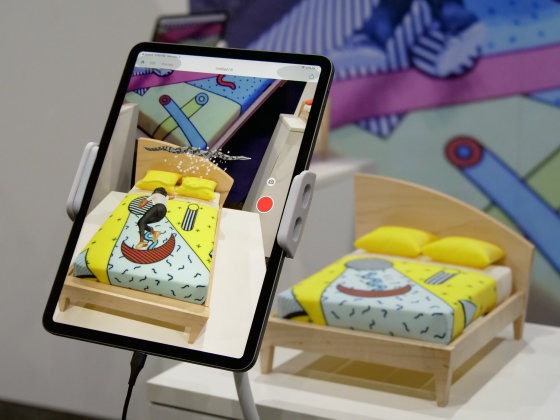 In addition, because there are many people who say "VR video is drunk and does not fit the body", there was also a device that played back 3D VR video in 3D. This is content created using Adobe After Effects and Adobe Premiere Pro .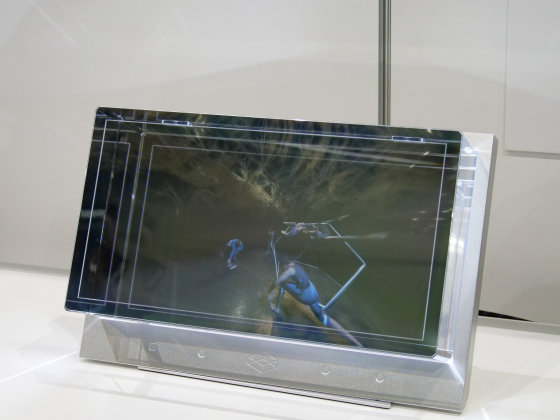 When viewed from the side, it looks like a thick glass, and there seems to be nothing in it, but when viewed from the front, the image is played back in three dimensions.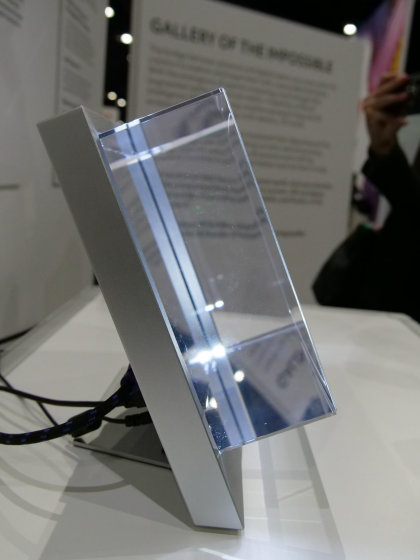 There was also a new form of display that combined physical equipment with Adobe Fresco's illustrations. With a device that has a bonsai tree like this ...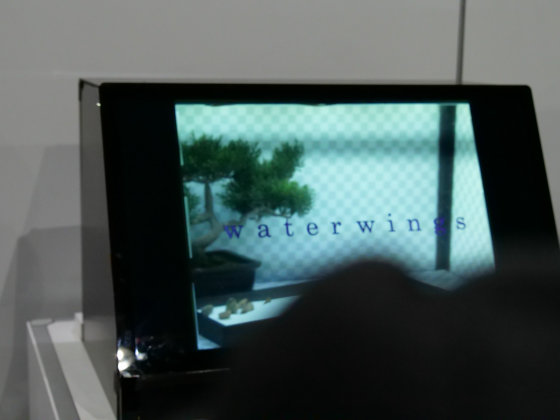 Fresco's illustrations are dynamically displayed on the display and combined with physical bonsai to form a world. You can clearly see that the power of technology has created a new style of work.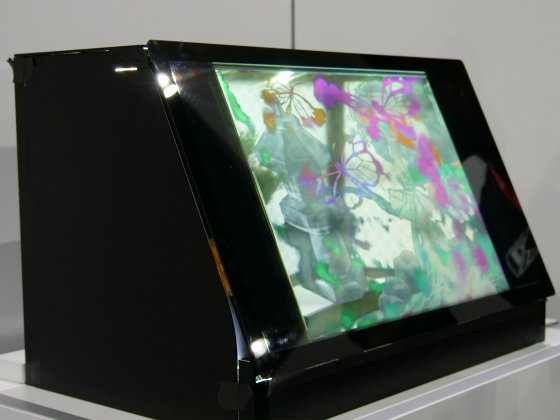 Of course, there was a space where you could try out the latest Adobe software and apps and software under development.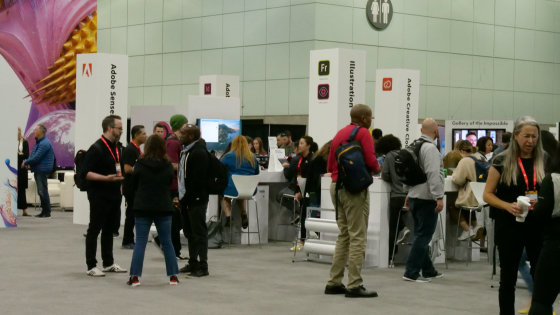 There is also a space where you can use "Photoshop Camera", which allows you to instantly perform high-level image processing as if you were using Photoshop. You can check what the app looks like below.

I tried touching the camera application `` Photoshop Camera '' that instantly processes Photoshop level processing-GIGAZINE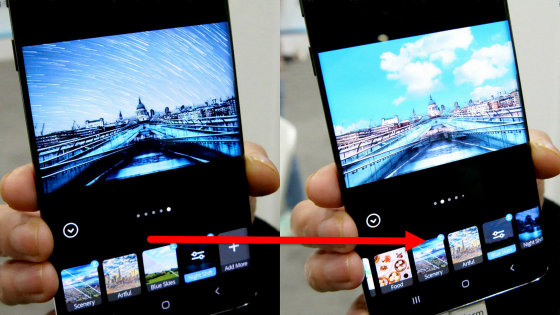 Below is a booth where an exclusive director and a cameraman will be attached to make a video work.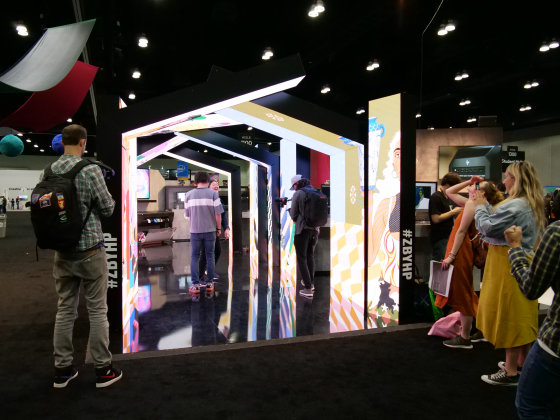 At the Wacom booth, I was able to touch carefully a liquid crystal pen tablet that I usually had no chance to touch, such as " Wacom Cintiq Pro 32 ", which costs about 400,000 yen.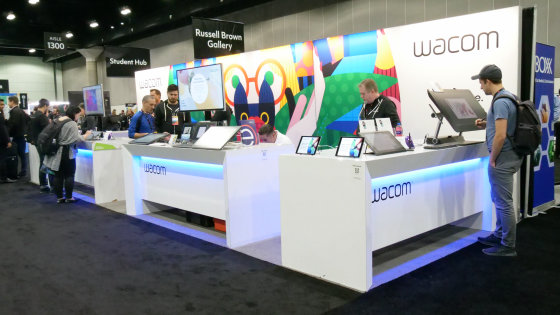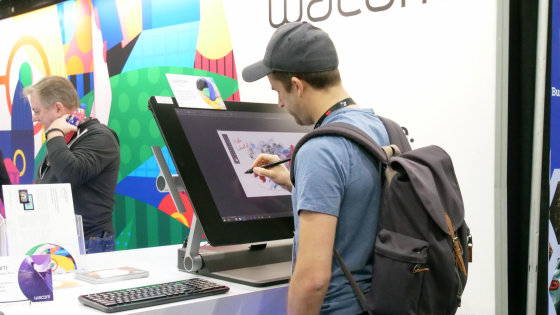 A space where you can try out the plug-in of Adobe XD and ...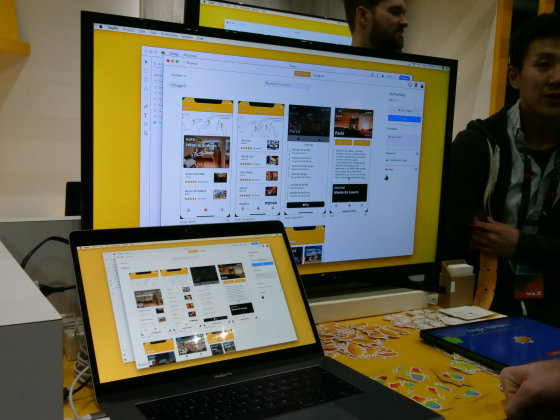 A space where you can touch new GoPro products.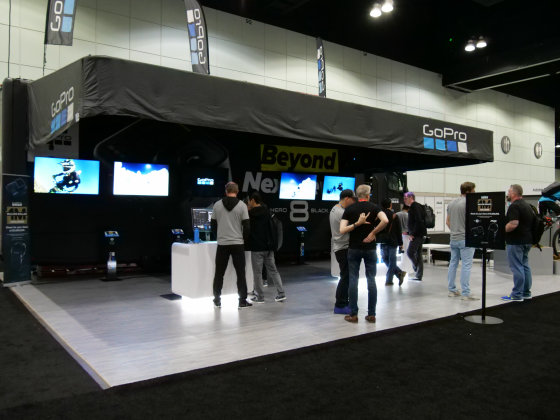 It seems to touch ' GoPro MAX ' and ' GoPro HERO8 Black ' just released.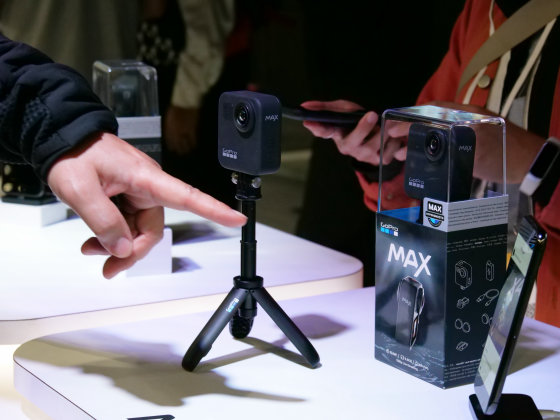 There is also a space where original Adobe goods are sold.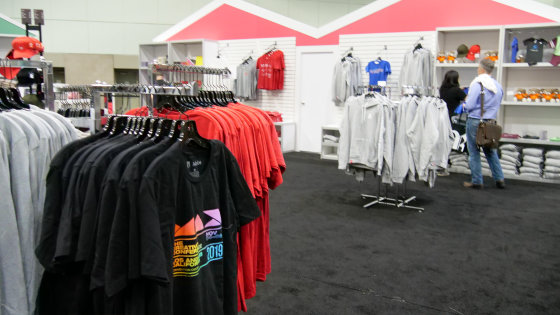 There are cushions and T-shirts in the shape of Adobe software icons. It is said that these goods are not readily available in Japan, but we have purchased some souvenirs and will be releasing them at the end of the year.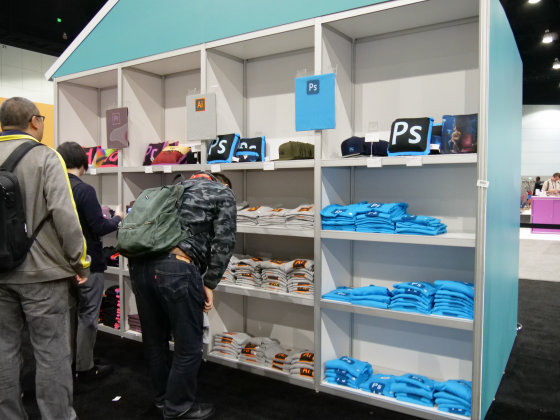 Adobe icons with rounded corners can be used on multiple platforms such as tablets as well as PCs. So far, Photoshop has been the PC version only, but since the iPad version appeared in November 2019, it became a new rounded version.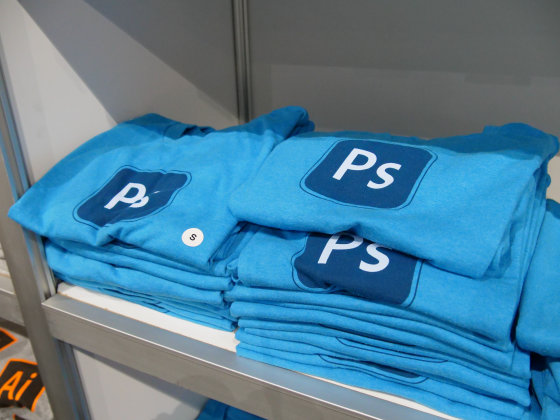 Socks and ...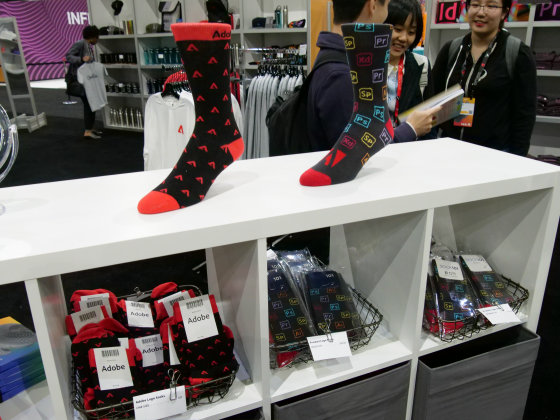 There was also a hat.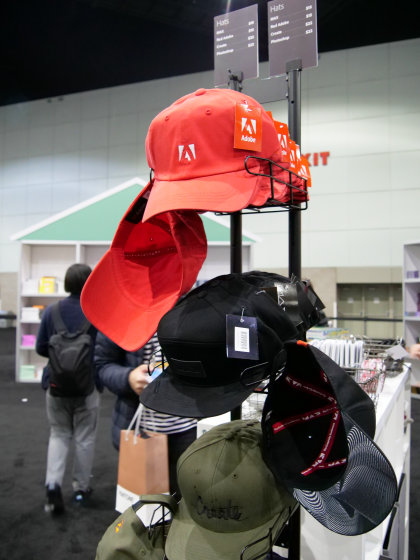 There was a magnet for the software, but Photoshop is the most popular.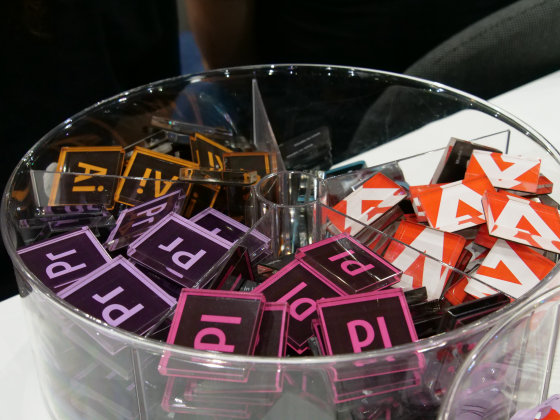 Adobe also has a program called Adobe Creative Residency for the purpose of nurturing and supporting creators. Participating creators of Adobe Creative Residency will be provided with living expenses, welfare programs, and places to participate in the event, and will also have the opportunity to receive feedback from creators active in various fields. Go to the Adobe Creative Residency booth ...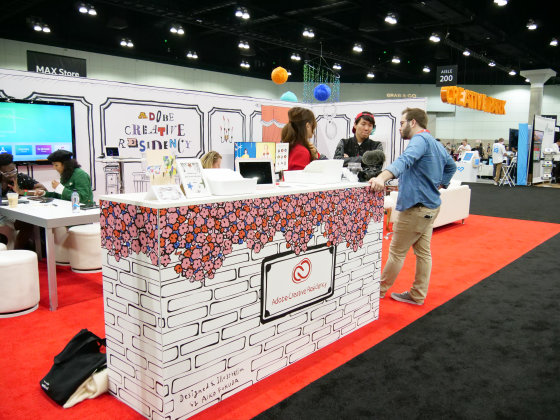 The entire booth was surrounded by a wall depicting the interior of the house.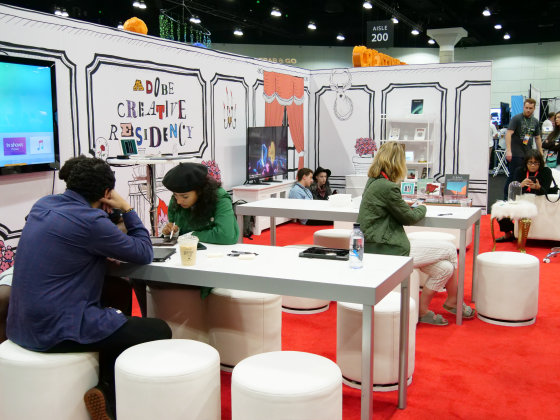 This illustration was handled by Aiko Fukuda who was responsible for the illustration of Adobe MAX 2019 original hoodie .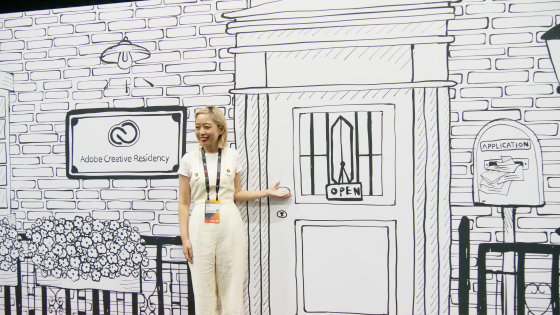 Mr. Fukuda is the first Japanese artist to participate in Adobe Creative Residency and works mainly in Tokyo. The wall illustrations were finished in just 3 weeks.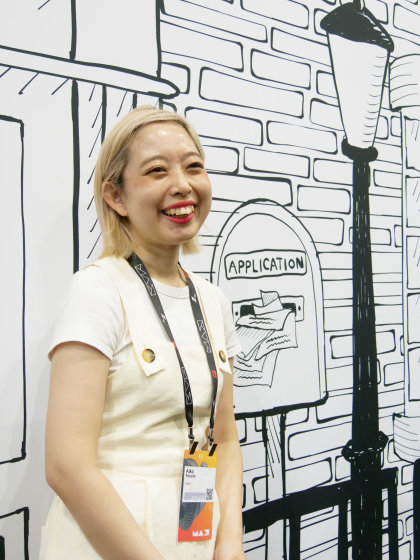 Outside Community Pavilion, where the booths are crowded, various lectures were held in smaller conference rooms. I couldn't attend this time due to the interview schedule, but I looked at what kind of lectures there were.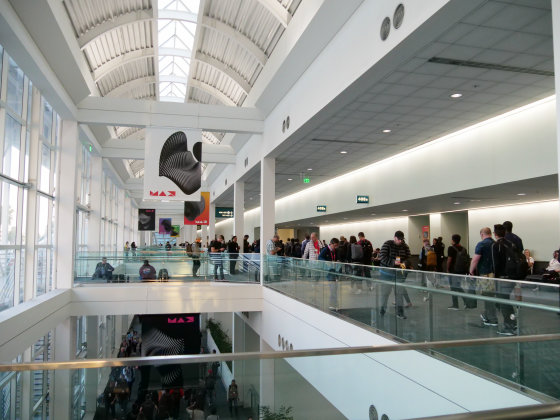 " Lightroom for the Rest of Us" ( Lightroom for ordinary people)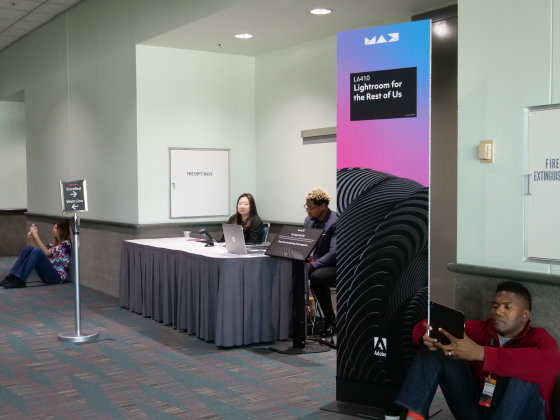 'Essential Photoshop Tools for Designers' (required Photoshop tools for designers) and other contents are available for both amateurs and professionals.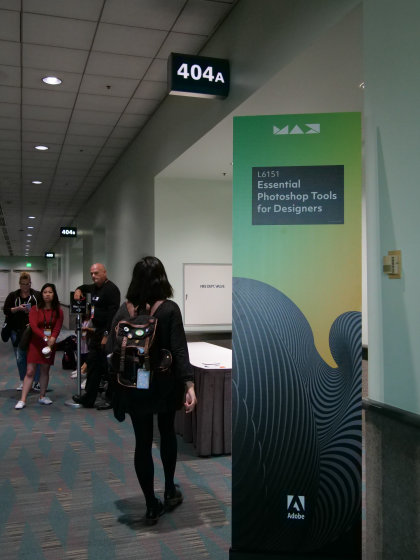 The name of this lecture is "This Could Be Fun".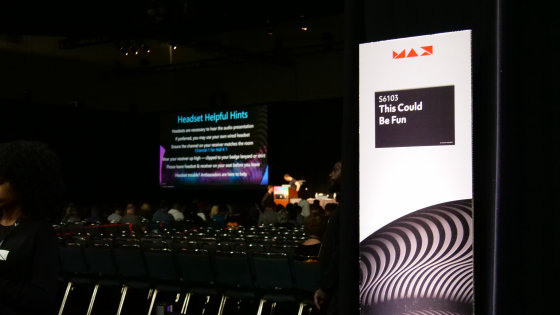 Lectures and booths are until the evening, but at night, there were many stalls outside the convention center.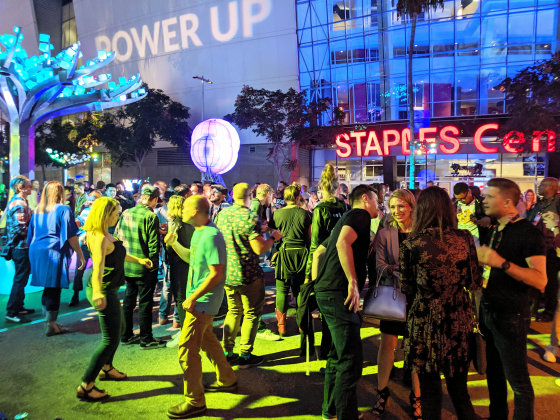 The cloud-shaped swing is also an artist's work. This swing cloud is white when no one is on board, and when it begins to shine, it shines colorfully.



Two of the artists who created the work also met.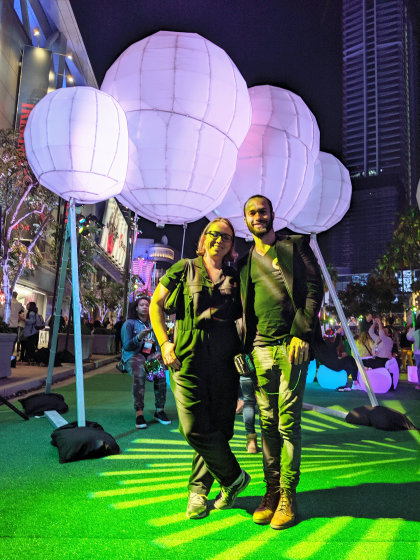 The glittering wall is ...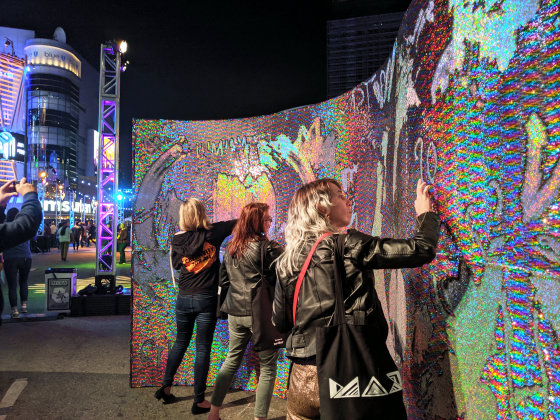 In fact, it was a lame canvas where you can draw illustrations with your fingers.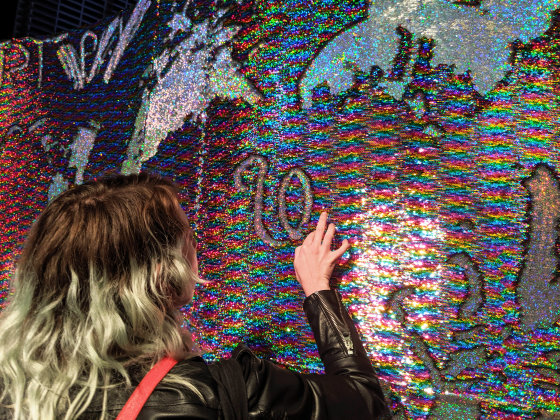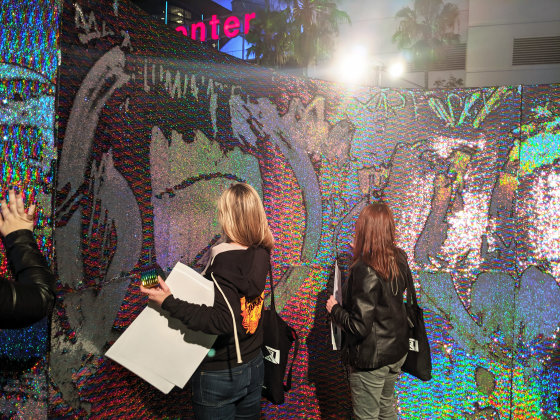 The state of the lame canvas can be confirmed from the following movie.

Drawing on the lame canvas of `` Adobe MAX 2019 '' at night-YouTube


There are shooting spots.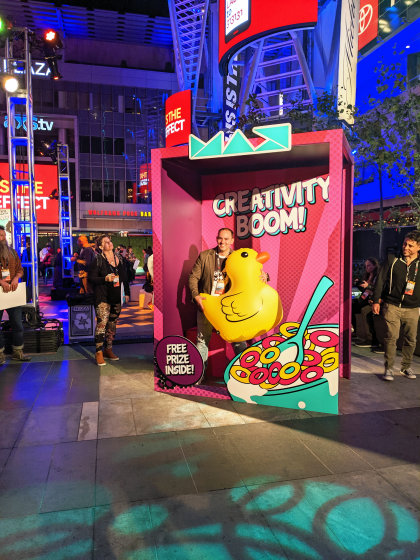 Everyone doodles freely.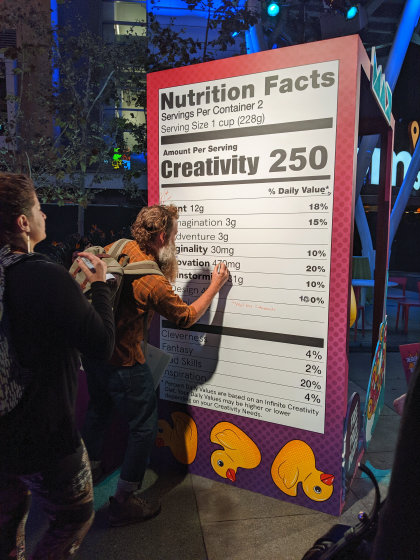 A serial corner where you can feel the atmosphere of the movie " Charlie and the Chocolate Factory ".



Put cereal as you like from a huge tube ...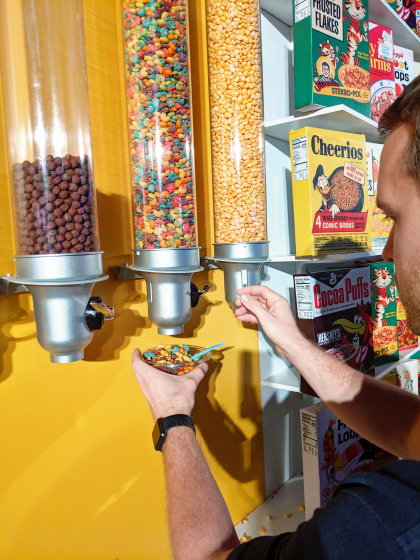 It was a large booth where strawberry milk and cocoa were poured.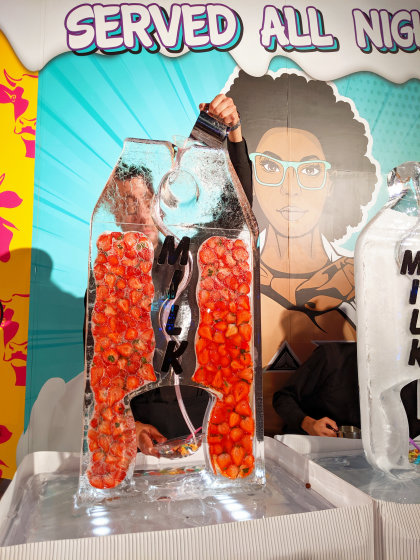 The state of the huge serial production booth can be confirmed from the following.

`` Adobe MAX 2019 '' huge serial production booth-YouTube


Adobe MAX 2019 in the United States has ended, but 'Adobe MAX Japan 2019' will be held in Japan from December 3, 2019.

Adobe MAX Japan 2019-December 3rd creators festival
https://maxjapan.adobe.com/