Microsoft's 2in1 notebook PC with 10th generation Intel Core `` Surface Pro 7 '' photo review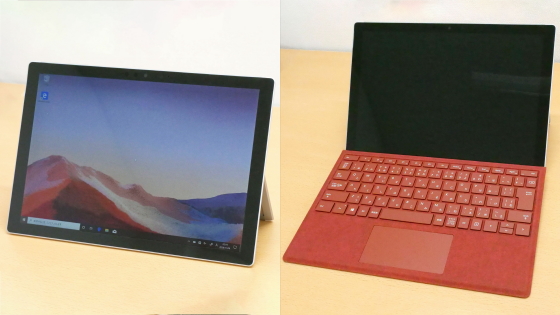 " Surface Pro 7 " announced at "
Surface Event
" held by Microsoft on October 2, 2019, local time has appeared on October 22, 2019 (Tuesday). Compared to the previous model Surface Pro 6, the USB Type-C port is added and the 10th generation Intel Core is installed.
Meet the new Surface Pro 7 – Infinite possibilities in lightness – Microsoft Surface
https://www.microsoft.com/en-us/p/surface-pro-7/8n17j0m5zzqs
The "Surface Pro 7" package looks like this. There are platinum and black colors, and this time we will review platinum.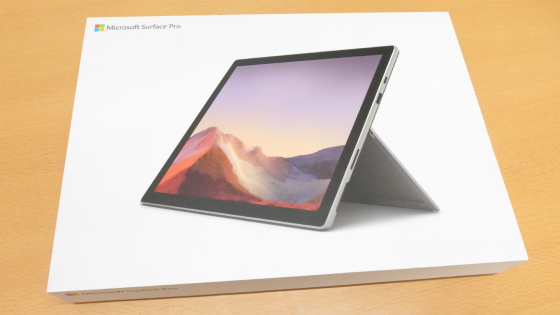 Contents include Surface Pro 7, power cable, power adapter, quick start guide, etc.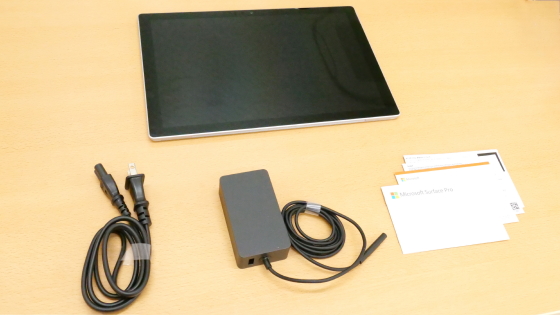 The display is 12.3 inches, the resolution is 2736x1824 pixels, and the aspect ratio is 3: 2. The size is 292mm x 201mm x 8.5mm.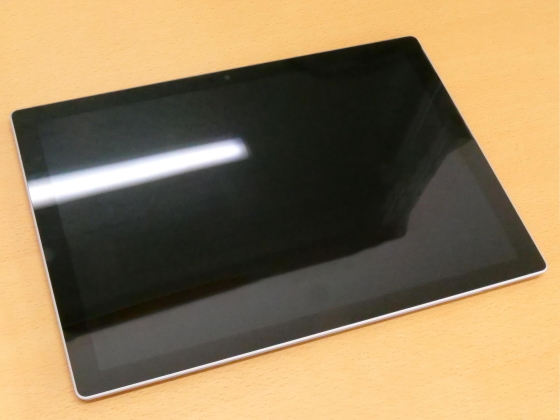 At the top of the screen is a dual microphone, a face authentication camera, and a 5 megapixel front camera. Front camera supports 1080p full HD video.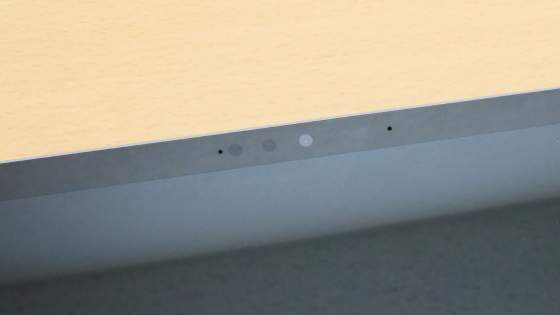 The back is matte platinum color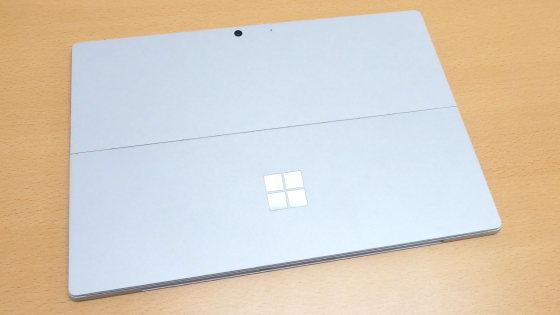 The rear camera with an autofocus function of 8 megapixels supports 1080p full HD video.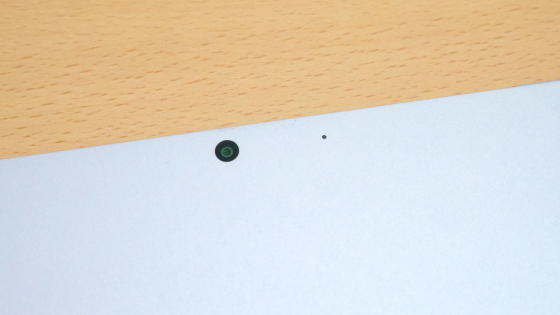 The logo mark is mirror-finished.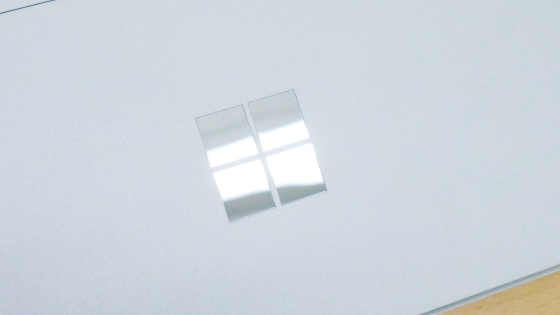 The top is like this.




There is a power button and a volume button.




There is a magnet on the bottom for connecting a keyboard.




The USB Type-C port, USB Type-A port, and Surface Connect port for connecting the power cable at a distance are lined up on the right side of the screen.




On the left side, there is a 3.5mm headphone jack near the top.





If you put your finger on the dents on the left and right sides ...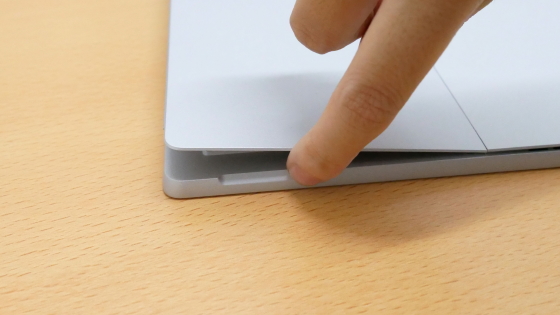 The rear kickstand opens.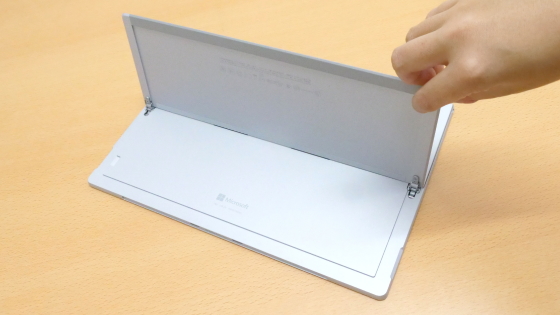 There is a microSD card socket inside the kickstand.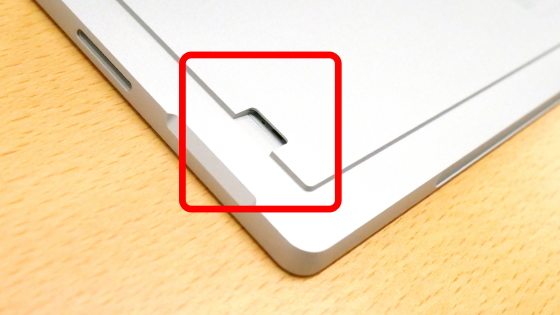 It 's like this when you stand up.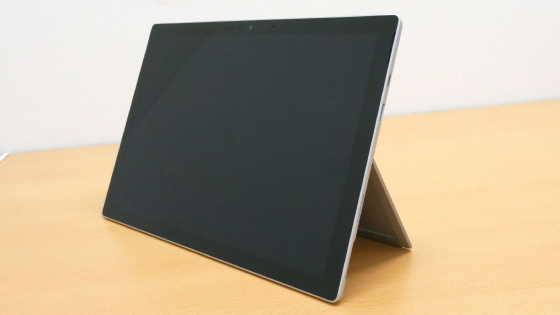 The range of motion is wide, and in the most open state, it looks like the following image.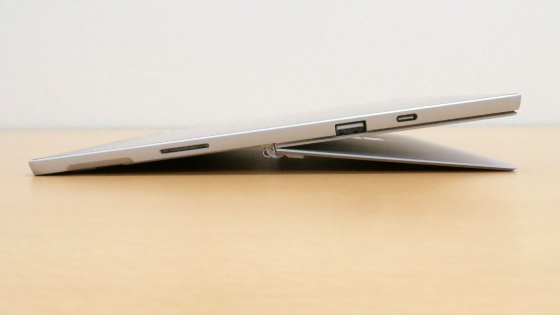 When the power button is turned on ...



The display looks something like this.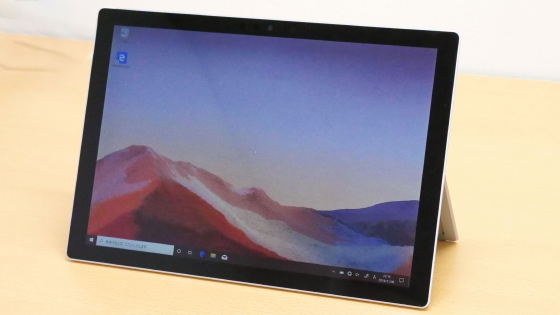 A power cable and power adapter are available to charge Surface Pro 7.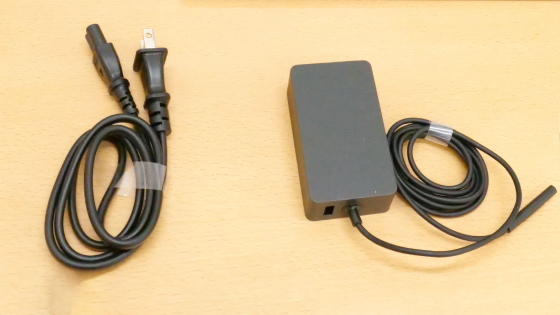 Connect the glasses-type connector of the power cable ...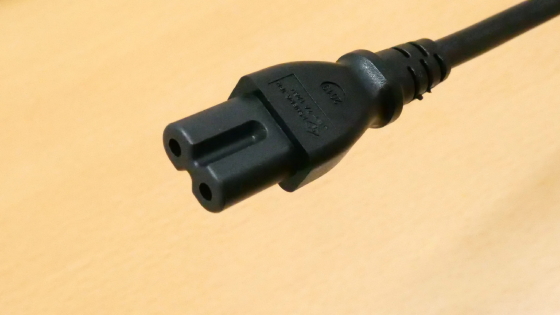 Connect to the power adapter.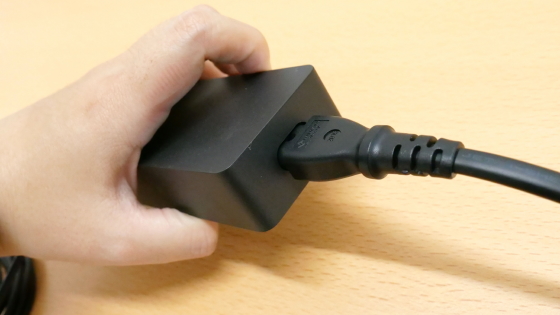 Connect the other end of the power cable to the Surface Connect port on the right side.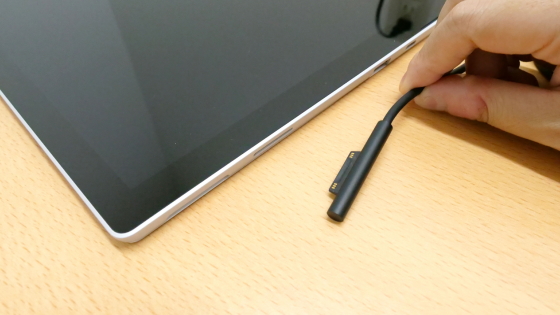 The white LED lights up when the battery is charged. The battery usage time is up to 10.5 hours.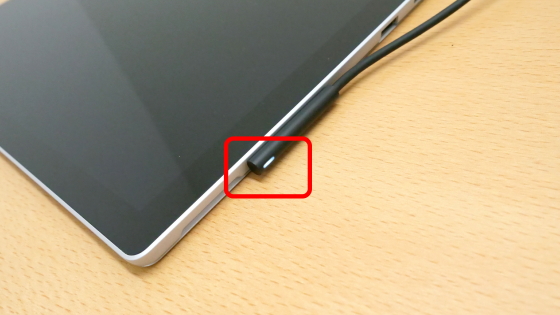 Surface Pro 7 can be charged not only from the Surface Connect port but also from the USB Type-C port.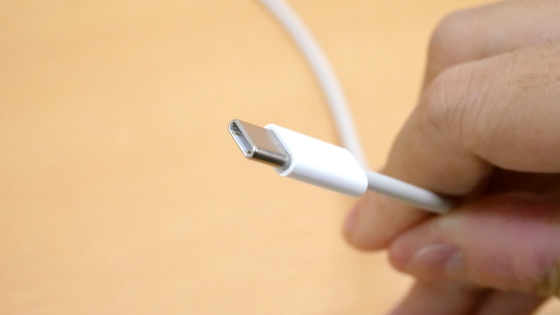 When the USB Type-C terminal is connected to the port ...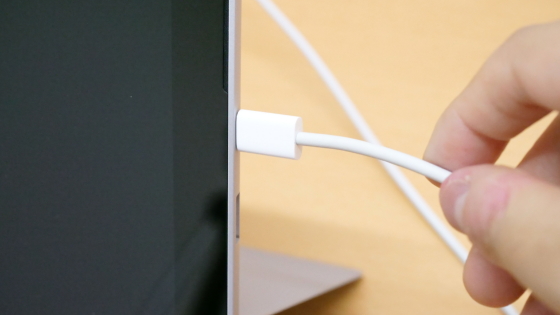 You can see that the charging mark is lit.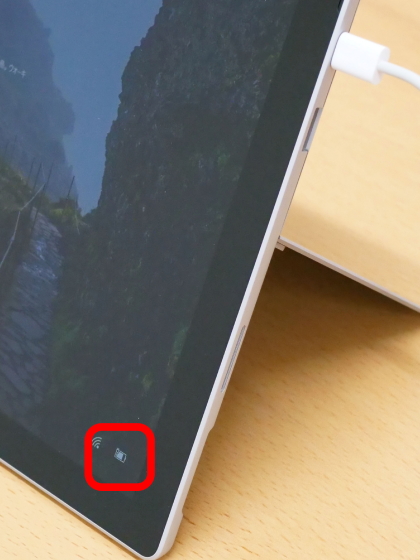 Surface Pro 7 can be used as a tablet, but you can use it like a notebook PC with the optional keyboard '
Surface Pro Signature Type Cover
'. Surface Pro Signature Type Cover is available in platinum, cobalt blue, burgundy, and poppy red. Poppy red is used this time.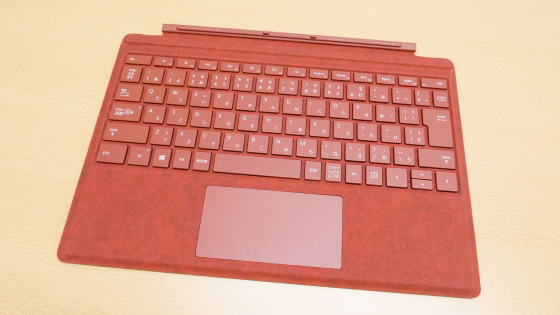 Magnet for connecting to Surface Pro 7.



In addition to the left and right click buttons that function in the same way as mouse buttons, the
touchpad
also supports
touchpad gestures
.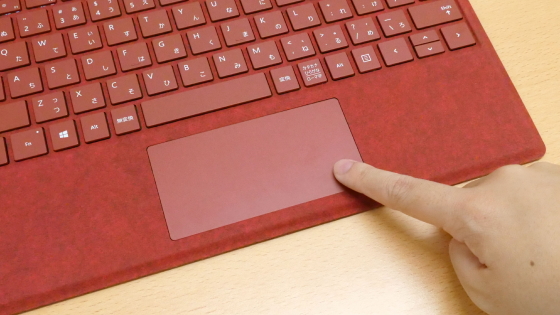 The key surface is smooth and the stroke is shallow.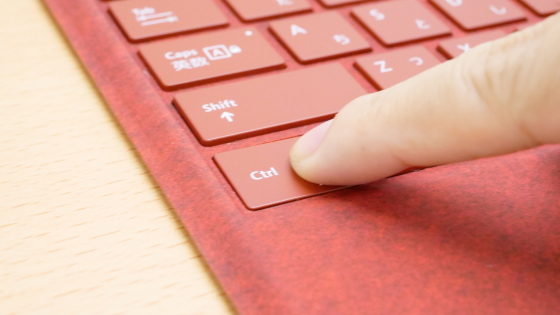 The parts other than the key and
touchpad
are made of a material used in the interior of a luxury car called
Alcantara
, making it feel like a smooth
suede
.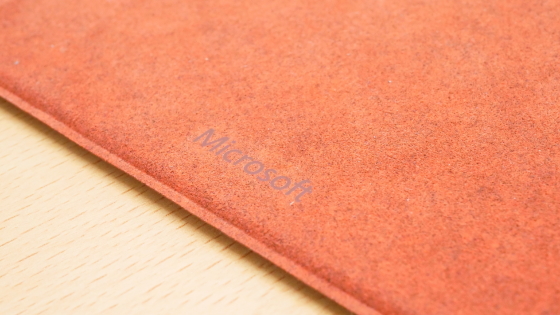 When attached to Surface Pro 7, it looks like this.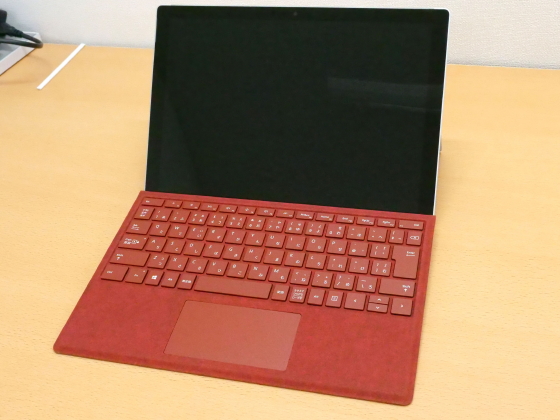 Use the kickstand to adjust the display tilt.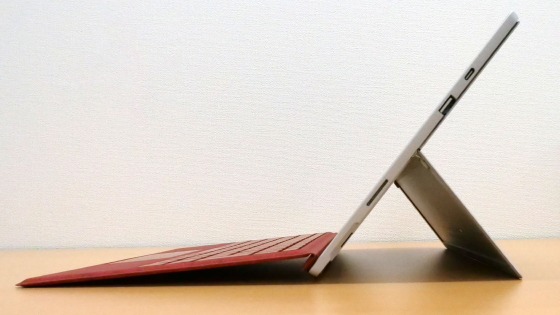 Surface Pro 7 can be input with touch and keyboard, and input with '
Surface Pen
' sold separately is also possible. Surface Pen is available in platinum, black, cobalt blue, ice blue, burgundy, and poppy red. The following images are poppy red.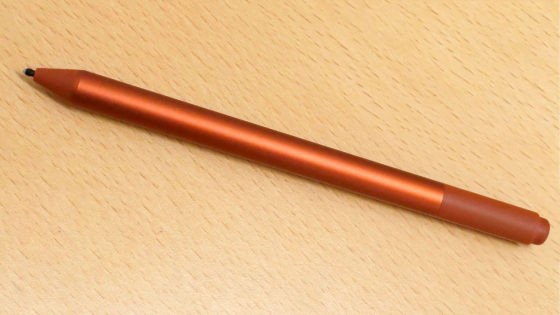 The nib is processed like a felt.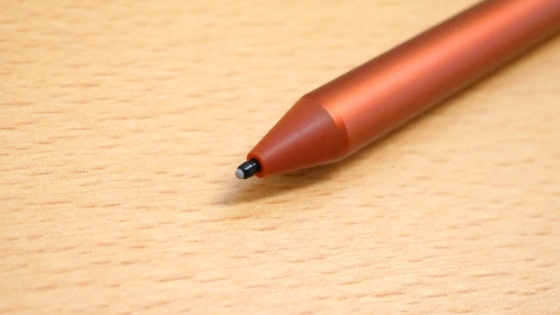 There was a button on the other end.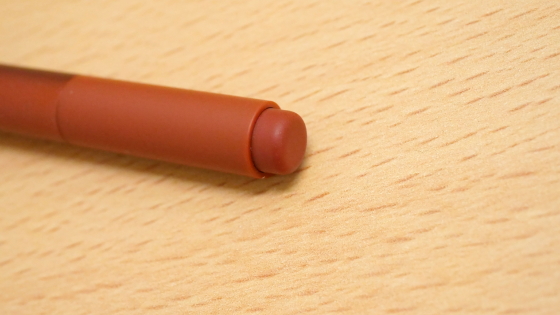 There is a button on the flat side.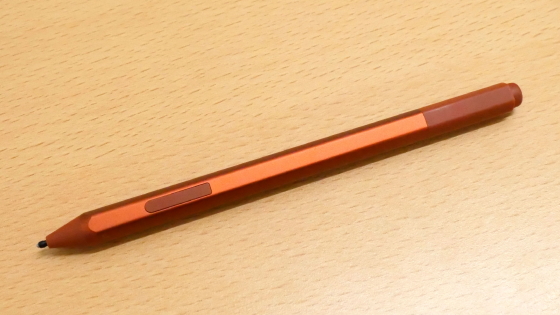 Since Surface Pen has a magnet, it can be attached to the side of Surface Pro 7.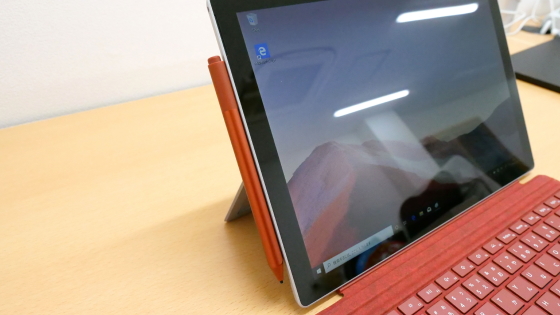 Can be attached to both sides.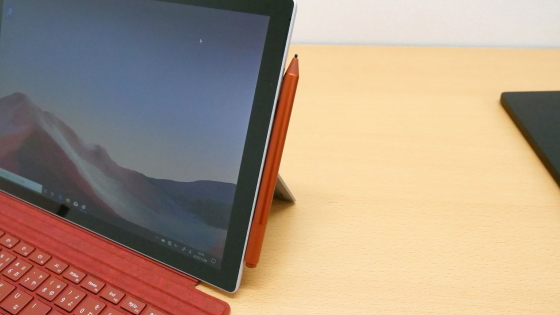 I could n't put it on the top.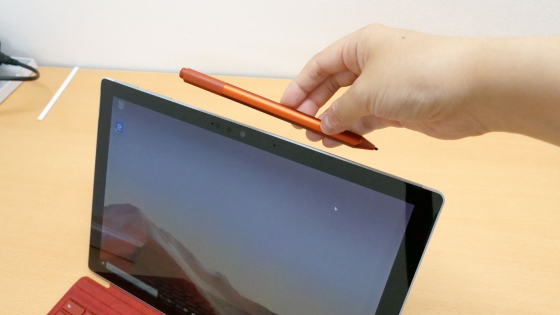 The specifications of Surface Pro 7 are as follows.

Body size: 292mm × 201mm × 8.5mm
Display: 12.3 inch PixelSense display
Resolution: 2736 × 1824 (267PPI)
Touch: 10 points multi-touch
Memory: 4GB, 8GB, 16GB (LPDDR4x) RAM
Processor: Dual Core 10th Generation Intel Core i3-1005G1 / Quad Core 10th Generation Intel Core i5-1035G4 / Quad Core 10th Generation Intel Core i7-1065G7
Security: Enterprise-class security with firmware TPM, Windows Hello authentication sign-in
Software: Windows 10 Home, Office Home & Business 2019
Sensor: Light sensor, acceleration sensor, gyroscope, magnetometer
Storage capacity: SSD (128GB, 256GB, 512GB, or 1TB)
Battery life: Normal device usage time is up to 10.5 hours
Graphics: Intel UHD Graphics (i3) / Intel Iris Plus Graphics (i5, i7)
External terminal: USB Type-C, USB Type-A, 3.5 mm headphone jack, Surface Connect port, Surface type cover port, microSDXC card reader
Camera, video and audio: Windows Hello face-in camera (front), 5.0MP front camera (1080p full HD video), 8.0MP autofocus back camera (supports 1080p FullHD video), dual microphone, 1.6W stereo speakers with Dolby Audio Premium
Wireless features: Wi-Fi6: 802.11ax compatible, Bluetooth 5.0 wireless technology
Button: Volume, power
Weight: i3, i5 775g / i7 790g

'Surface Pro 7' was available for purchase from 103,799 yen including tax at the time of article creation at Amazon.co.jp.


Amazon | Microsoft Surface Pro 7 / Office H & B 2019 installed / 12.3 inches / 10th generation Core-i3 / 4GB / 128GB / Platinum VDH-00012 | Microsoft |