`` Under 18 years old prohibits late-night online games, play only 90 minutes a day '' regulation will be established in China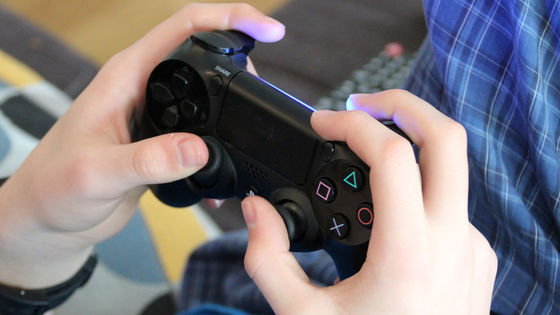 by
monikabaechler
The Chinese government announced on Tuesday, November 5, 2019 that it would place strict restrictions on online gameplay under the age of 18 for the purpose of 'suppressing youth game addiction.' Players under the age of 18 are restricted in length and timing of play time, and are managed by
their
real name and
civic identification number
.
坚决 遏制 沉迷 , 保护 Youth Health Growth——National Xinjiang Publishing Office 有关 负责 人 就 《关于 防 下 年 18 人人 沉迷 网络 游戏 的 Notifications》
http://www.xinhuanet.com/politics/2019-11/05/c_1125194322.htm

90 Minutes a Day, Until 10 pm: China Sets Rules for Young Gamers-The New York Times
https://www.nytimes.com/2019/11/06/business/china-video-game-ban-young.html
The online game industry in China, with hundreds of millions of users, has grown to an annual revenue exceeding $ 33 billion. On the other hand, there is also a strong criticism that "It is because of online games that visual acuity has fallen sharply and school performance has declined among those under the age of 18." Therefore, the following six regulations were announced by the People's Republic of China Newspaper Publishing Office through
Xinhua
, the state-run news agency in China.
◆ 1: Make real name registration for online games more stringent
The mobile phone number and the ID of WeChat, the messenger app, are required for the real name registration method for online games at the time of article creation in China. However, in fact, most minors were logged in using their parent's mobile phone number and ID, and it was pointed out that the real name registration system was not working. Therefore, the Chinese government will register the real name using an identification number called a civic identification number assigned to each citizen.
◆ 2: Limiting online game play time for those under 18
The new regulations stipulate that 'in China, players under the age of 18 must not offer online game services from 22:00 to 8:00 the next day.' Also, young people under the age of 18 on weekdays can play online games for up to 90 minutes, and on holidays, up to 3 hours a day. This time setting is 'reasonable allocation considering the study and rest time that is the student's main business', not only companies that provide online games, but also protect parents to protect their children's time regulations Duty occurs.
◆ 3: Limiting billing for online games under the age of 18
Companies that offer online games are required to regulate the provision of paid services to players under the age of 8. Players aged 8 and under 16 must not be charged more than 50 yuan (about 780 yen), and the monthly charge is limited to 200 yuan (about 3150 yen). The In addition, players who are 16 years old or older and younger than 18 years old will be charged up to 100 yuan (about 1570 yen), and the monthly charge will be 400 yuan (about 6300 yen).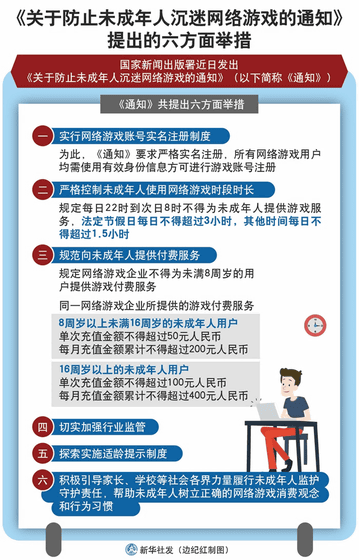 ◆ 4: Strengthen monitoring of game industry
For content that the authorities deem harmful to minors, such as pornography, bloodshed, violence, and gambling, the publisher will be immediately ordered to fix it within the time limit. The authorities have stated that if they do not comply with this amendment or fail to meet the time limit, the associated license may be revoked.

◆ 5: Strengthen rating by age
At the time of writing, there is no rating organization in China. Ten major game companies in China, such as Tencent and NetEase, drafted a rating by age in July 2019.

Forefront | 你 的 年龄 能 玩 什么 游戏? People Network 联合 易 、 网易 等 公司 倡议 游戏 分级 _36 氪
https://36kr.com/p/5219931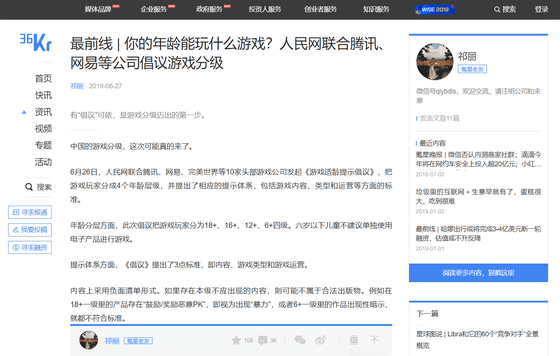 Government authorities have announced that they will strengthen the content monitoring, and at the same time, will give a rating that divides the age at which the game can be played according to the game content.

◆ 6: Social support for minors by parents and schools
Parents, schools, and other social forces are designed to help minors learn the right online game consumption concepts and behavioral habits. It is not clear what kind of system will be established, but `` With the supervision and support of parents, the implementation of the regulatory system in online games will inevitably be greatly reduced. '' The authorities have said.

In addition, this is not the first time China has embarked on online game regulation, but in 2007 it ordered companies to implement `` a system that regulates that under 18 years of age will not play for more than 3 hours a day '' had.

Chinese government announces that if you play online games for more than 3 hours a day, you will deduct points-gigazine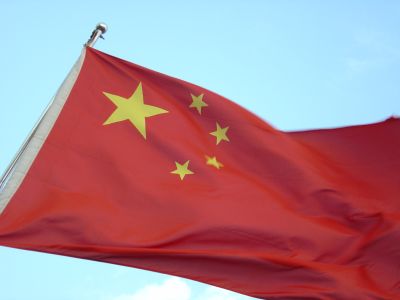 in Game, Posted by log1i_yk