Kikkoman and S & B sold mysterious 'WASABI SAUCE' outside Japan, so I bought it and tried it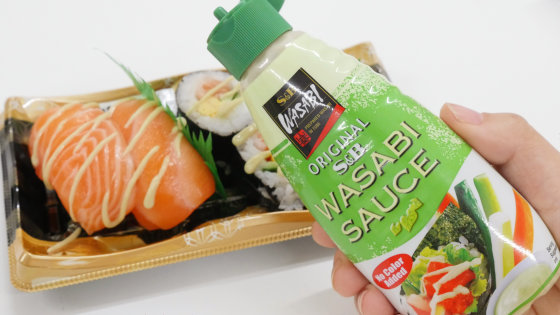 As I walked around the grocery store at a supermarket in Hawaii, I realized that there was an unfamiliar wasabi seasoning with the familiar brand names "Kikkoman" and "S & B". What is the mysterious liquid of pale green written as WASABI SAUCE, which is clearly different from tube wasabi sold in Japan? Is it really wasabi? I was worried, so I tried to eat it slowly.

Kikkomanusa Homecooks: Products

https://kikkomanusa.com/homecooks/products/products_hc_details.php?pf=00700
Explore Wasabi | S & B Foods Global Site
https://www.sbfoods-worldwide.com/wasabi/
This is "WASABI SAUCE" discovered in Hawaii and American Samoa. Kikkoman on the left and S & B on the right.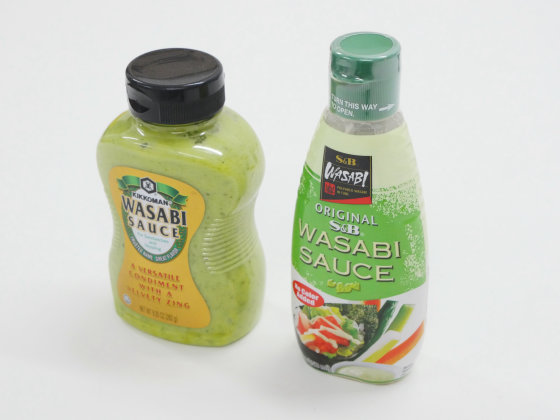 Kikkoman's WASABI SAUCE is a slightly wider bottle.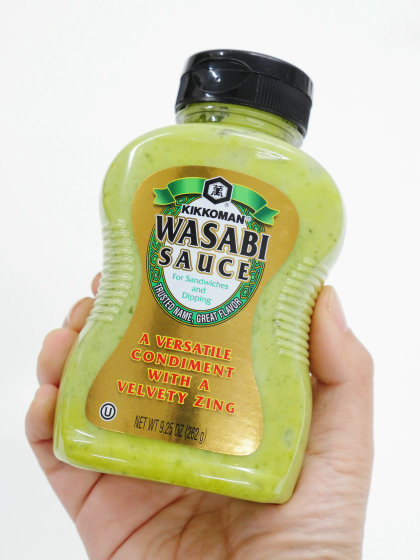 Raw materials include water, soybean oil, root blend (horse radish, wasabi), distilled vinegar, corn syrup, corn starch, sugar, mustard powder, lemon juice, etc.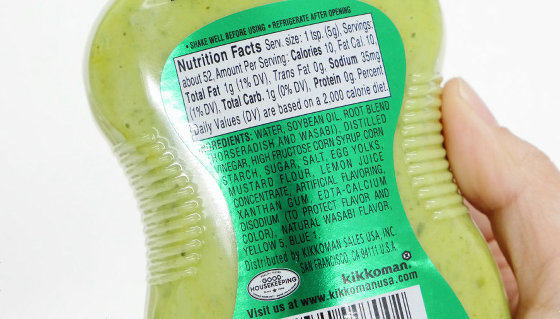 S & B's WASABI SAUCE is long and easy to grip. The content is 158ml. No color added for sale because of "No Color Added".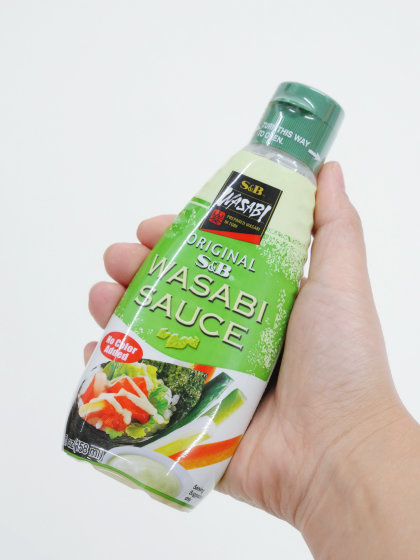 Looking at the back side, the raw materials are lined with water, sunflower oil, sugar, corn starch, salt, dextrin, horseradish, fragrance, wasabi, citric acid, etc., and wasabi is slightly behind.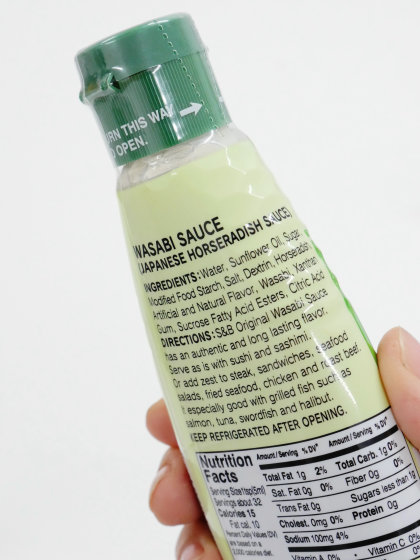 When you open it on a plate, it looks like this. Kikkoman is bright green, and S & B, which sells no coloring, is a beige-like shade.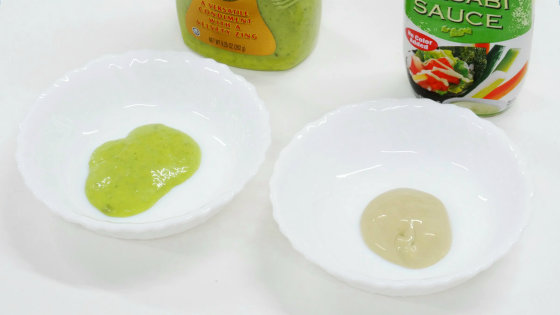 Kikkoman contains something like wasabi grains.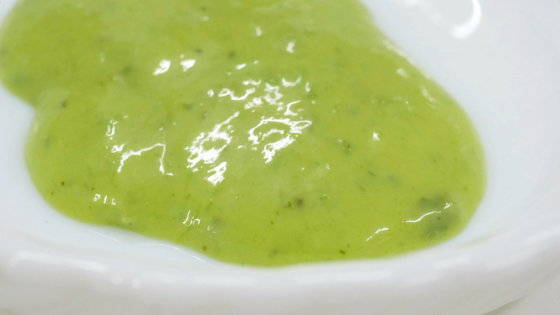 On the other hand, S & B has nothing in particular and looks like mayonnaise.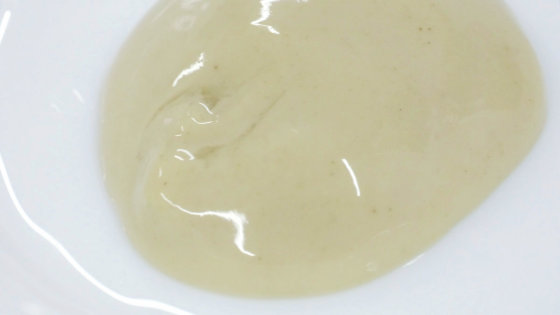 Speaking of wasabi, I first prepared sushi.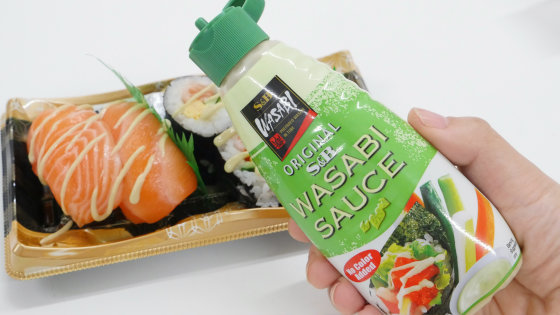 Let's eat with plenty of S & B WASABI SAUCE.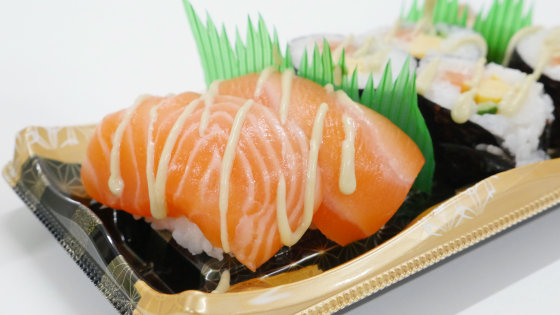 When you try to eat with soy sauce, the unique aroma of wasabi spreads softly, but it's messy. Wasabi's spicy taste is subtle, and it has a mildness like mayonnaise and a subtle sourness and sweetness.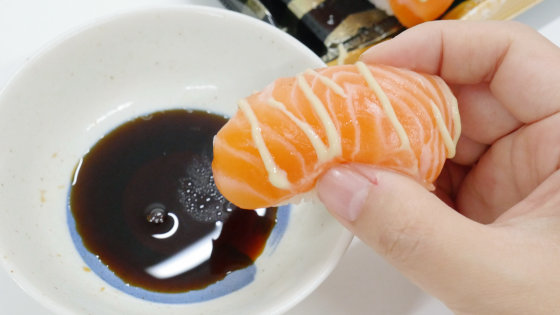 If you just lick it alone, you can feel the tones of stimulation firmly. It's much smoother than the wasabi that you can buy in Japan, so when you say 'I want to stimulate with mellowness!'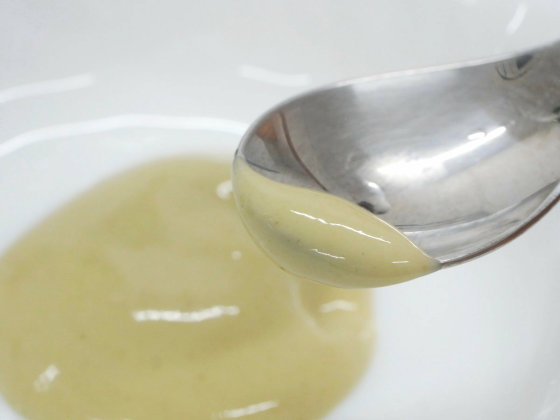 On the other hand, Kikkoman's WASABI SAUCE is equivalent to say that there is almost no spicy rather than mellow. Horseradish (Western Wasabi) tastes stronger than Japanese wasabi, and because it contains distilled vinegar and lemon, sourness is also stronger than S & B. Rather than food that uses original wasabi such as sashimi and sushi, it seems better to combine with sandwiches instead of pickles and mayonnaise. The name was the same "WASABI SAUCE", but the two were completely different.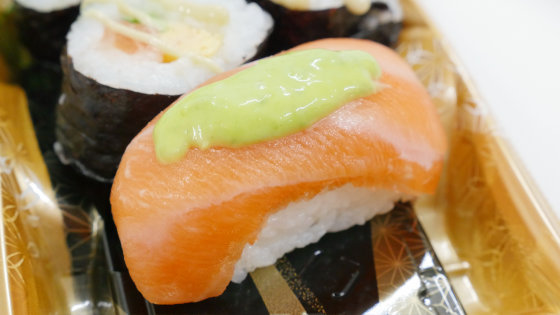 Since the horseradish is stronger, Kikkoman's WASABI SAUCE has excellent compatibility with roast beef. It seemed to be easy to use as a source rather than wasabi, and it seemed to fit chicken saute and roast pork.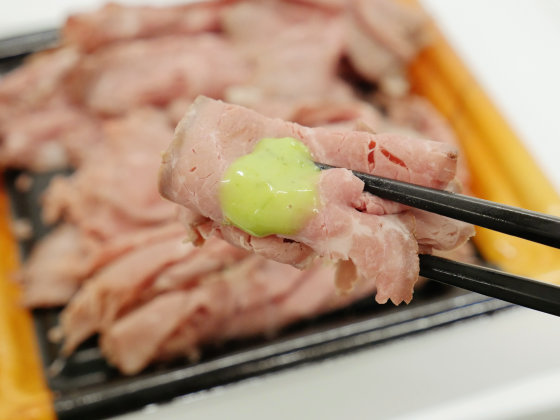 On the other hand, S & B brings "stimulation" to the front rather than "taste", so compared to Kikkoman, you want a bit more saltiness and sweetness to match roast beef.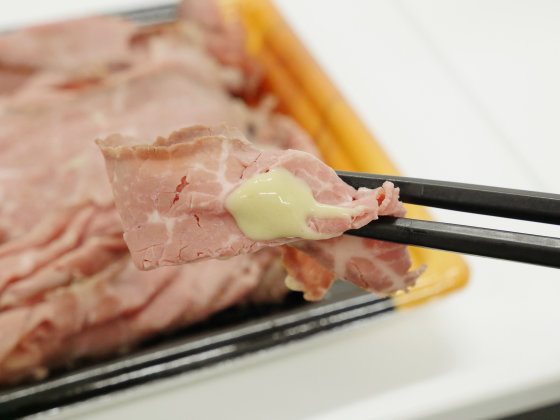 It is OK for fried food, so when I tried compatibility with chicken cutlet, it surely fits. Japanese tube wasabi has a pungent spicy effect, but WASABI SAUCE is instantly stimulated even as a "
tun
", and when combined with deep-fried food, the flavor and junk feel reminiscent of "
wasabi beef
". It seemed to go well with French fries. When you eat with various things, you can see that WASABI SAUCE's "not special for stimulation" brings out the possibility of wasabi that was not imagined from Japanese tube wasabi.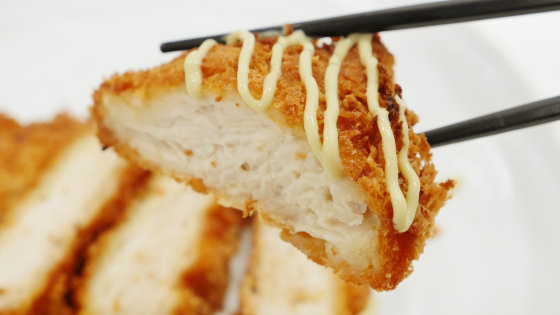 Of course it goes well with avocado. This was a good match for both Kikkoman and S & B.



On the other hand, as a salad dressing, S & B has little umami, so it gives out the blue smell of vegetables. It is different if there are other ponzu, etc., but it seems difficult to use alone for dressing.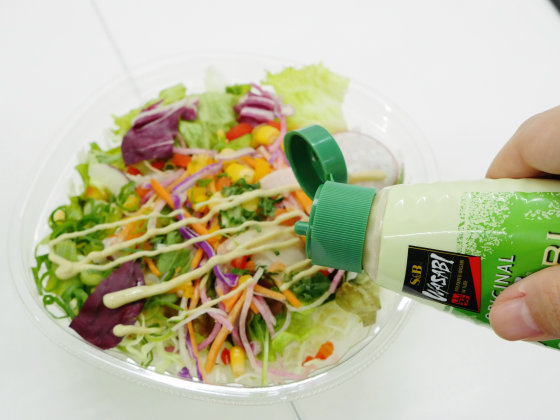 Kikkoman's WASABI SAUCE has a slight balance between the flavor and taste of wasabi, and there are so many people who say 'I lick it as it
is
' in
Amazon reviews
.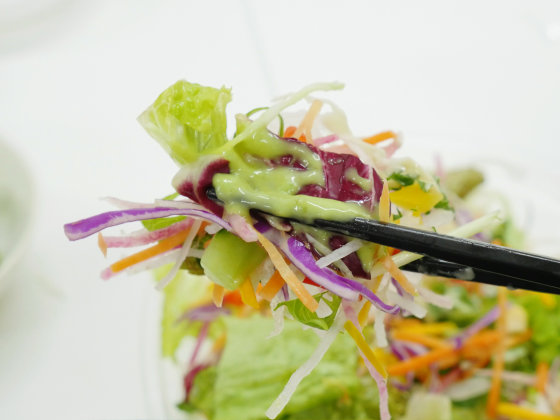 I tried to eat it surprisingly, but when I start eating any sauce, it tastes like a candy in another sense. S & B's WASABI SAUCE is handled in the Americas, Europe, Oceania and Asia, while Kikkoman's WASABI SAUCE is handled in the United States, so please try it if you see it when traveling.