What is the meaning of "Intuit", a tax reporting assistance software company that has defended its interests using legal methods?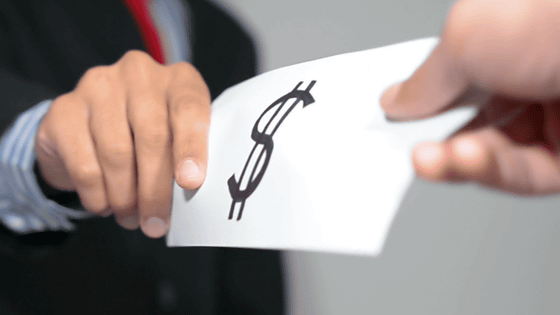 American tax filing assistance software,
TurboTax
, had a lot of
complaints about
'There is a free plan, but I don't know how to use it.' Non-profit research and news agency
publica
for public interest condemns
the way
that '
Intuit
' that provides such TurboTax
has defended its interests
.
Inside TurboTax's 20-Year Fight to Stop Americans From Filing Their Taxes for Free — ProPublica
https://www.propublica.org/article/inside-turbotax-20-year-fight-to-stop-americans-from-filing-their-taxes-for-free
Intuit started in the 1980s. At that time, it was a company that provided software to manage financial accounting and bookkeeping. Intuit will develop software "TurboTax" around 2001 to make tax return easier. Because tax filings required complicated procedures, the demand for online tax filing software quickly expanded, and in 2019, about 40% of taxpayers used this kind of online tax filing software. That. TurboTax is the largest online tax return software, with about 40 million users.
However, there was one serious concern for companies providing online tax return software. That is, 'The US government may officially create an online tax return service.' Of course, if the government provides this type of service, third-party software like TurboTax will not be needed overnight.
Of course, Intuit was aware of this problem. The measures that Intuit has come up with are large-scale lobbying activities. According to Publica, the company sent a number of lobbyists to Congress and hired Intuit officers who had been in the regulatory body after retiring from public office. This is what provided so-called "descent destinations" to officials.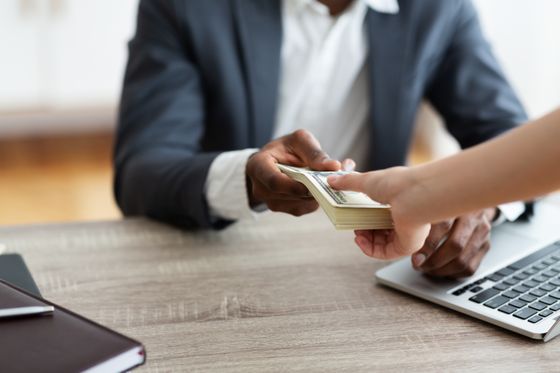 By
Prostock-studio
In addition to lobbying, Intuit submitted a plan called "
Free File
" in 2003 to the
United States Internal Revenue Service (IRS)
, which is equivalent to the
US
National Tax Service. 'Free File' is a program in which multiple companies including Intuit participate to provide 'free tax reporting software' to about 78 million people, 60% of taxpayers. With this "Free File", IRS has decided not to create an official online tax filing service as "it is not necessary to create an official online tax filing service".
Below is a list of "Free File Certified Software" on the IRS official page. You can see that TurboTax is included in the available software.
Free File: Do Your Federal Taxes for Free | Internal Revenue Service
https://www.irs.gov/filing/free-file-do-your-federal-taxes-for-free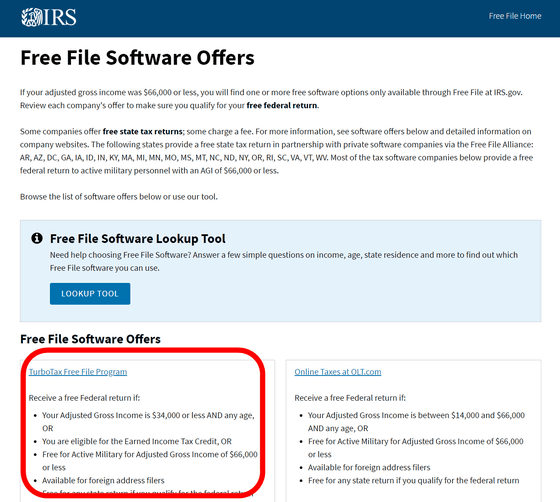 However, while Intuit argued to the government that it "provides free tax return software for low-income people," the reality was far from the claim. According to a survey by a publica, Intuit has found that the HTML tags `` noindex '' and `` nofollow '' were embedded in the landing page for Turbotax Free File and were crafted so that they would not be displayed in search engine search results . We also know that we deliberately "tampered" the site design to prevent customers from finding free plans.

The tactics that Intuit went to hide the free plan are reported below.


Pointed out that there is a net service for tax return support that can not be reached at all in the free plan-GIGAZINE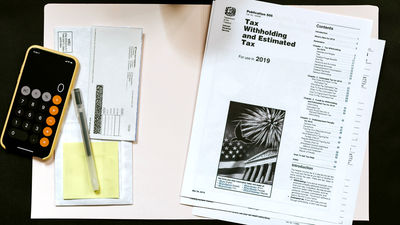 by
Kelly Sikkema
In 2007, Intuit announced the free version of TurboTax, "TurboTax Free", which complained of "free". Of course, TurboTax Free also had a mechanism to encourage users to pay over $ 200. With TurboTax Free, the company has significantly increased its sales and made the industry's largest position a solid foundation. Intuit was ranked 6th in the US "Company Ranking with Excellent Salaries & Benefits" announced in 2014. Microsoft was 18th, Apple was out of rank.
Top 25 announced `` Company with excellent salary & benefits '', Apple is not ranked-GIGAZINE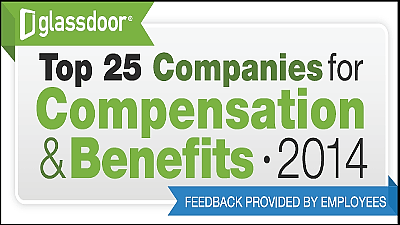 Publica strongly denies the various tricks that Intuit went to protect its interests. As a result of a large number of consumers initiating a class action as being 'fooled by Intuit,' New York and California regulators have begun investigating H & R Block, which provides Intuit and similar software.

New York Regulator Launches Investigation Into TurboTax Maker Intuit and H & R Block — ProPublica
https://www.propublica.org/article/turbotax-maker-intuit-hr-block-new-york-regulator-launches-investigation



According to Publica, Intuit denies fraud against customers and states that it is always "clear and fair to customers". The company announced that its profit in FY2019 was $ 1.5 billion (about 163 billion yen), and the stock price reached the highest. Furthermore, in 2020, the number of TurboTax sold is expected to increase by 10%.


in Note, Posted by log1k_iy