A minor with a counterfeit identification of the movie `` Super Bad Virgin Wars '' is arrested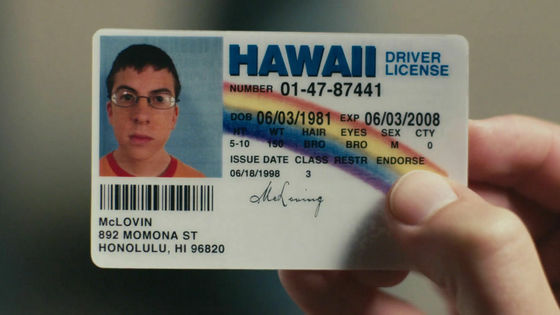 The youth comedy movie that was released in 2007 by a trio of virgin high school students is "
Super Bad Virgin Wars
". In this movie, Seth, one of the main characters, tries to purchase liquor using a counterfeit ID, but because he had the same counterfeit ID used in the movie, Incidents have occurred where adults are arrested.
Seth Rogen responds to underaged kid arrested for his fake 'McLovin' ID
https://mashable.com/article/seth-rogen-mclovin-fake-id-underage-drinking-response/
The movie "Super Bad Virgin Wars" is a popular movie that has hit a box office revenue of over $ 170 million (approximately 18 billion yen). In this work, there is a scene where teenagers purchase liquor using forged ID cards. This fake identity card is named "McLovin" and is very popular among fans, making it a
popular item
that
can be purchased on Amazon
as party goods.
"McLovin" counterfeit ID also appears in the trailer of "Super Bad Virgin Wars".
Superbad (unrated)-YouTube
This is 'McLovin' fake identity card.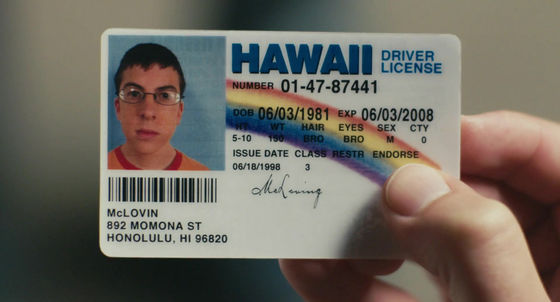 Daniel Alfredo Burleson, a 20-year-old man from Iowa, was arrested on charges of possessing a counterfeit ID because he had a counterfeit ID of McLovin. Burleson was asked to present his ID by the Iowa City police when he was drinking under age at a bar in Iowa City. Burleson refused to present his ID, but was eventually taken out of the bar and reported to be presented with his ID.

At this time, the police seemed to realize that Burleson had another ID in addition to the real ID, and this was a counterfeit ID of 'McLovin'. The police officer had never seen "Super Bad Virgin Wars", so he misunderstood the "McLovin" counterfeit card as a real ID card and asked the dispatcher to verify. In addition, since the identification card of "McLovin" is a fake, it seems that the corresponding identification card could not be found. As a result, Burleson will be arrested for drinking by minors and possession of counterfeit identification.

When this strange arrest drama was reported, Seth Rogen, who was in charge of the script for 'Super Bad Virgin Wars', responded on Twitter that 'My work has finally ended.' This tweet has been retweeted more than 65,000 at the time of article creation and more than 400,000 likes.

My work here is done.https: //t.co/OxlR08Re8u

— Seth Rogen (@Sethrogen) October 16, 2019


It should be noted, of Burleson, which had been arrested by the possession of fake identification mug shot is smiling a big smile, it has been pointed out to 'It is proudly'.

look how proud he is pic.twitter.com/Ttp7VUIYCO

— La virgen spiderman (@zeyvstheworld) October 16, 2019