Interview with Hiroo Nakamichi & Sugorokuya Koji Maruta, the original authors of 'After School Saikoro Club', these people are expanding the circle of people who enjoy board games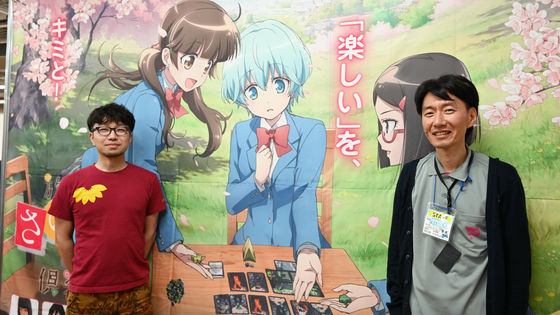 The TV anime '
After School Saikoro Club,
' which began broadcasting in October 2019, depicts the appearance and growth of high school girls who deepen their friendship through games under the
slogan
'Board games make everyone in the world smile.' In the story, many board games will appear in the works.
Hiroo Nakamichi
, the original author of this work,
and
Koji Maruta
, a board game shop in charge of supervising the work, about the work and the expansion of the circle of 'people who enjoy board games'. I've heard a lot of stories.
Mr. Nakamichi & Mr. Maruta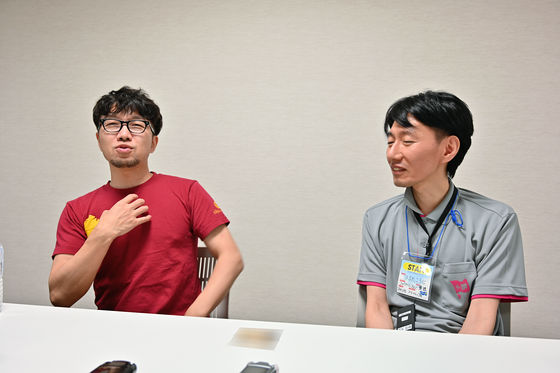 GIGAZINE (G):
In an interview with 'The
Desk of a Manga Artist in the Digital Age,
' Mr. Nakamichi said, 'Without Eva, I might not have gone to the manga road.' Was Eva the reason for becoming a manga artist?
Hiroo Nakamichi (hereinafter referred to as Nakamichi):
I don't think this was the clear reason for becoming a manga artist, and I think the environment is great. I'm from Kyoto, but I grew up in a remote area in the mountains, which takes more than an hour by car, not in the city, so entertainment was limited. As a generation, the game was developing steadily with Famicom and Super Famicom, and at the same time, at the time when Weekly Shonen Jump was selling 6 million copies, I was naturally looking forward to weekly jumps and Super Nintendo. Is about junior high school and high school.
G:
So that's it. The activities of Shogakukan are the main activities, including the 'After School Saikoro Club'. Did you also apply for the Shueisha Award?
Middle way:
Of course, I'm growing up as a generation by jumping. However, there are so many people like that, so the competition is fierce. So, when I brought it to Shogakukan because the route might be a little different, the person in charge at that time told me to do it together.
G:
So that's it. I would also like to ask Mr. Maruta for the opportunity to work. Mr. Maruta, who was involved in the 'MOTHER2 Gig's Counterattack' series at Ape and the 'Kazerai no Shiren' series at Chunsoft, has been programming since he was a child. Was it an extension of this programming that went into the gaming industry?
Sugorokuya Koji Maruta (hereinafter referred to as Maruta):
'Making a game' is the first, and programming is one of them. When it comes to board games, it's not the modern German game that we have today, but it starts with the sugoroku game that Bandai put out, and when it comes to computer games, the Invaders are just the mindset before the NES. It's the generation that came out when I got there. Of course I liked playing, but I originally liked making something, so when I looked at my PC, I was like, 'Can I make a game? If so, I'll make it.'
G:
I see, it feels like it has progressed naturally.
Maruta:
When I was in junior high school, I decided to 'become a game developer', so I thought it was meaningless to go to an ordinary high school / university, so after graduating from an industrial high school, I tried to join a company called Microcabin in Yokkaichi. However, it didn't work, and while feeling like a job hunter, I decided to move to Tokyo and go to a video game developer school. After that, 'There is something interesting', so it became a form to be picked up by Ape and people in the neighborhood.
G:
Did you get into the position of an evangelist who spreads board games from video games to board games?
Maruta:
The influence of board games was great in the process of making video games, so for me, there isn't much difference between the two. However, when I started playing Sugorokuya, board games didn't have an environment where people could get the products they made, and I thought, 'You can't make a train even if you don't have rails.' .. First of all, I think we have to lay a 'rail (= environment)' that 'good products made will reach people properly'. You can make a 'train' only after laying the rails, and it doesn't have to be a full-scratch train by ourselves, it can be a train that someone can run. .. When I released '30 selections of fun paper pen games for adults', I was told, 'If you make something like this, everyone will be able to play with things around you and the products will not sell.' Board games can't be a job unless you spread awareness by telling people how great the games you play with.
G:
Mr. Nakamichi said that he bought 'Gokiburi Poker' because of Mr. Hikari Ijuin's radio. Did you already know 'Sugorokuya'?
Middle way:
The name 'Sugorokuya' appeared on the radio, and I remembered only the name vaguely, so I think I went to find out 'Where could I buy it ... Is it' Sugorokuya '?' ..
Maruta:
Originally, I had a connection with Mr. Ijuin, so I was picked up on the radio.
G:
After that, Mr. Nakamichi began to attend Sugorokuya, and at the 'After School Saikoro Club', the name of Sugorokuya has been included in the production cooperation. Looking at Twitter, I get the impression that Mr. Nakamichi and Mr. Maruta often interact with each other, but how often do you play?
Middle way:
Is it so involved on Twitter? (Lol)
Maruta:
LINE is leaking (laughs) If I have a chance, I play about once a month. I also do it from 9 pm to 6 am.
G:
It's pretty tight (laughs)
Middle way:
I've been indebted to you all the time, and I've been studying a lot.
G:
'After-school Saikoro Club' is based on board games, so games come out one after another, but is there a case where the game introduced by Mr. Maruta was so interesting that it appeared in the work?
Middle way:
Of course there is. How much is it in proportion ...
Maruta:
I don't think there are so many. I think it's like letting it lie down for a long time, ripening it, and then serving it as if it were nourished.
G:
It doesn't mean that it will appear in the work immediately after playing.
Middle way:
Board games don't feel like 'playing fashionable things now.'
Maruta:
You never treat it like '
Saumaumau
'.
Middle way:
'Saumaumau' has been asleep for a long time (laughs) I wondered if that would be the nutrient. Saumaumau is good (laughs)
Maruta:
'Saumaumau' is a game that both of us really like, and it's really interesting. But I don't think I'll deal with that because it's sober ...
Middle way:
Well, I don't know yet, but I might do it. Let me say 'maumau'.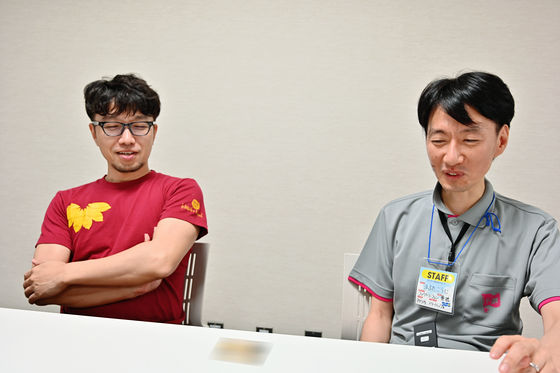 G:
What kind of relationship does Mr. Maruta have with the work as a production cooperation? There are times when I write a column in a book.

Maruta:
I never thought of introducing a game for manga, I never suggested 'by all means', I just like Nakamichi-san's way of enjoying the game and I feel like I'm playing with him. is. When Mr. Nakamichi makes a story, I think it is very difficult to relate the game to the story, so I will not talk about it, and in the form of supervision, 'The expression of the game is okay.' I'm just watching.

Middle way:
I ask you to check it before inserting the pen every time, but if there is, it's about the rules.

Maruta:
Yup. Mainly.

Middle way:
I get advice such as 'This is easier to understand' and 'It's easier to understand if you express it like this'. I'm a business person, so it wouldn't be strange to say 'put this game out' (laughs), but it's not at all.

Maruta:
It doesn't make sense to do that.

G:
At 'After School Saikoro Club', I get the impression that the game progress and the emotions of the characters are intertwined, and the game progresses politely. We were playing and I thought it was a strange time. Do you match the game based on the story when making the work? Or are you building a story for the game you want to draw?

Volume 5 where 'Pandemic' appears



Middle way:
I drew 'pandemic' a long time ago, so how was it ... (laughs) I remember knowing that there is a company that plays mahjong at the final interview, and that's because people who are strong in mahjong It was a story that the company had the ability to seek the human resources it wanted to hire. I think it was a story that started from a situation, not a game or a character, because I thought, 'That's an ant.'

G:
First of all, it is not decided what to base on.

Middle way:
I agree. It may be made from either. At the beginning, when I played the game, I think there were many times when I thought, 'This is the story of this game.'

G:
As the story progresses, isn't it difficult to say, 'I want to make a story like this with these characters, so make a game that suits me'?

Middle way:
'No!' (Laughs) For example, 'If you include a love episode between two people, what kind of game would suit it? ... No!' (Laughs) I feel like it's okay to play this game ... It's really hard to choose a game.

G:
As the series of 'After School Saikoro Club' on board games continues, I have the impression that the number of people playing board games is increasing these days. At the talk event of 'Sugorokuya Festival 2019', Mr. Nakamichi said that the recognition has increased from about 'Dominion', but Mr. Maruta is doing Sugorokuya and 'This has increased the number of people. Did you find something that made you think?

Maruta:
The story that the board game population has increased often talks about the contrast with digital games such as video games, but it seems that everyone is doing 'Mario' while doing 'Uno' instead of either one. .. The reason I started the shop was the story of Rail, who said, 'There is such an interesting thing, and you must love it, but there is no place to tell it.' I thought it would arrive as long as I laid the rails. I think that the increase in the playing population is due to the great power of the media and the Internet, and it has become possible to 'connect and play' mainly in urban areas. Also, old board games are very interesting for children to play, but there aren't many games that adults can enjoy, so they finally came out in Germany in the 1980s. It is said that it finally came to Japan, saying, 'I see, board games are interesting.'

G:
For Mr. Maruta, trains, that is, interesting games, are made here and there, so I was convinced that it would be okay if I pulled the rails. Is it the place where the train has finally started to run well?

Maruta:
I agree. However, I don't think I have enough rails yet, and I think it's useless if there are about 40 stores. I really feel it when I go to rural areas, but I think that 'board games are popular' is an illusion only in urban areas. Efforts are still needed to spread it to rural areas, and we must continue our activities in the future. That's why I feel that 'After School Saikoro Club' is helping.

G:
At the start of 'After School Saikoro Club,' which is one of the rails that conveys interesting games to users, did you have a consultation like 'I'm thinking of drawing such a manga' from Mr. Nakamichi?

Maruta:
Wasn't that the first time?

G:
At first, Mr. Nakamichi was trying to draw everyday cartoons, and from the editor ...

Middle way:
Yes, I was told to play a board game. So, by the time I went to Mr. Maruta, I was thinking of drawing a board game manga, but I think I was in a state like that.

Maruta:
I think it was like 'I'm dealing with board games, how about it?' I was happy to think that this was really good. Board games sometimes appeared in manga, but there was no such thing as telling the board game to the main, so I thought that a good work would come out.

Middle way:
I was quite surprised when I went to Mr. Maruta. He's a divine person because it was a game he had actually played, such as 'MOTHER2' and 'Kazerai no Shiren'.

Maruta:
I didn't make it in the center (laughs)

Middle way:
At first, I was worried about whether I would agree with drawing a board game manga. If you think that you should not be prepared to be told, 'You shouldn't do that' or 'It's not like that' ...

Maruta:
'Please' (laughs)

Middle way:
I was like, 'Why don't you try it?' (Laughs)

Maruta:
There is no reason to make it look great.

Middle way:
I was nervous and stiff, so I was scared of what to do if I got angry at the first meeting. However, at the meeting after the first episode was published, when I asked 'Did you read it?', He put together the cutouts of the magazine in a binder, and when I saw that, 'Sa-Maruta !!' I opened my heart (laughs)

Maruta:
I thought this should be taken. After that, the editor said, 'You don't have to do that!', And magazines and cutouts came to be sent.

G:
I'm not talking about it, but I would like to ask Mr. Nakamichi about the work environment. It seems that your workplace is open to the public at the
Nico Nico Workshop
and you are working in full digital using an iPad and a PC. How did you get into the full digital environment?
Middle way:
I'm an analog person, and when I joined the assistant, I was analog, and I've been working in analog for a long time, and it was about 6 or 7 volumes of 'After School Saikoro Club' that became digital. At the beginning, I took in the hand-drawn manuscript and worked digitally only for finishing, but it took a lot of time and effort ... It is troublesome to remove dust after taking it in, and it is also troublesome to adjust the line so that it looks beautiful when it is binarized. If I saved the trouble, it would naturally become full digital.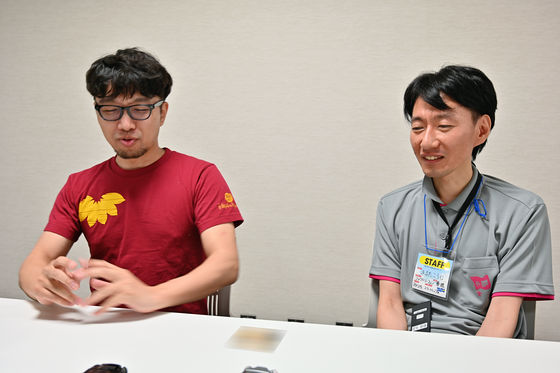 Maruta:
Isn't there a technological development? The touch of the pen has finally disappeared.

G:
Terminals are also evolving steadily.

Middle way:
That is also big.

G:
Did you get recommended by a manga artist you know?

Middle way:
There were many people who recommended it, but I didn't believe it. I thought I couldn't get the analog drawing taste. But digital is better, at all.

G:
The image of many Sunday and Monthly Shōnen manga artists is that they are open to how they make manga.

Middle way:
I think it's about half digital in my own experience.

Maruta:
Didn't you always look up digital information?

Middle way:
Many people are using it around me, so I naturally hear stories like 'I like the tablet over there' and 'Digital is easy'. It's like 'El Dorado'.

Maruta:
I thought it was 'again' (laughs)

Middle way:
I used to hate it without eating it, saying, 'There are things that can only be done with analog, right?', But it's convenient.

G:
Is it a pain to be told to go back to analog now?

Middle way:
It's tough, or it takes about three times as much time. We have to hire a lot of people, and it becomes a human wave tactic.

G:
That means that there are quite a few assistants now.

Middle way:
Currently there is only one assistant. At the time of the previous serialization, there were two assistants, and another one was asked for help, but it is said that it is all done by myself and the assistant, which is exactly analog. It's tough, isn't it? It's like a traditional craft, and you put stickers on the manuscript. Looking back now, I can't believe it, I was wondering, 'Why do I have to put stickers to draw manga?'

G:
There was also a story that I hate G-pen ...

Middle way:
Yes, I couldn't make friends with the G-pen. It's a one-shot game, and the screen tone residue is amazing.

G:
Now you can edit the pen tool yourself as you like. Are all colors digital?

Middle way:
The color was also analog. The cover of the book 'After School Saikoro Club' was also analog, but it was finally from volume 13 or digital. I'm thinking about throwing away the paint. When I was doing analog, it took about three times as long because everything was hand-painted from line art.

Cover of the time when it was analog production (Volume 1)



G:
It seems that you are benefiting from digitalization, but do you spread it to anyone?

Middle way:
I don't say anything because I don't have a missionary spirit at all and I just want everyone to like it.

G:
Even though I'm drawing a manga that spreads the goodness of board games (laughs)

Middle way:
Unlike Mr. Maruta, I don't think 'let's spread board games to everyone', I just want to say 'the story of people who play board games is interesting, isn't it?' Of course, I'm glad to hear that you read 'After School Saikoro Club' and bought that game, but that's not what you're aiming for.

G:
You're not drawing manga to do board game missionary work, but you're dealing with board games as the subject of an interesting story. Mr. Nakamichi originally wanted to draw a detective thing.

Middle way:
Did you say that? (Lol)

G:
There is a story that it was difficult for detectives to try it, but I felt that the experience was alive when drawing a tense situation in the game like 'pandemic'.

Middle way:
I think it's everywhere.

G:
Is there anything you are careful about in the way you draw or direct when you draw a scene where you are lying or trying not to pretend to be a lie?

Middle way:
Hmm ... I wonder. I'm not really aware that the answer doesn't come out at once. Be careful of your facial expressions, or something like that.

Maruta:
You mean that you enjoy drawing. What you need to be careful about is that you have to be careful because you will do something different, so being made natural without being aware of it makes it fun and natural. I think it means that there is.

Middle way:
Oh, that's it! (Lol)

G:
Even if you read it, you can feel whether the person who draws it enjoys drawing.

Middle way:
You can see, 'This person is drawing with a slapstick right now.' And you can see that I'm drawing in pain.

G:
When I read 'After School Saikoro Club', I basically get the impression that it's sick. All the characters seem to be lively and fun.

Middle way:
There were times when I struggled. When I reread the manga, there are things that I think 'I can draw this time with a slapstick', but there are also things that 'This time was hard'.

G:
If you struggle, do you struggle with storytelling? Or are you a drawing person?

Middle way:
There are both. I'm highly motivated when I find this story interesting, but it's quite hard to draw a picture thinking 'I could have made it more interesting' somewhere. Assuming that the work period is 20 days, the name is the work of the first 5 days, so if you make a mistake at the beginning, the next 2 weeks will be difficult.

G:
Did you make any requests or instructions for the animation this time?

Middle way:
I participated in a lot of meetings. Unlike manga, animation involves a lot of people, so it doesn't make sense to say too much detail, and since the people who make it are also professionals, I think it's smoother to leave it to me, so I have some requests. I told you, but I'd like to leave it to you as much as possible.

G:
Did you have something like 'I want you to play this game only'?

Middle way:
I asked only 'Goita'. It was decided that the scriptwriter would overdo it, but I think that it was well organized, although the flow was different from the original. I'm glad I asked for that.

G:
I heard that I went to see the dubbing several times.

Middle way:
At first, I was 'impressive', and after watching it several times, I got used to it, and this time I came to realize the greatness of the voice actor. I'm an amateur when it comes to acting, so I'm listening to it thinking 'I'm really good at it,' but when a professional asks me, 'Please do this more.' It is a tremendous technique to listen to the request, reflect it immediately, and return it by acting.

G:
Did you have an image of the character's voice when you were drawing the manga?

Middle way:
After becoming an anime like this, I realized that I was a person who couldn't imagine that kind of thing at all. On the other hand, I was asked to speak, so it was fun to hear the voice actors talking when I was drawing, saying, 'Aya talks like this.'

G:
Did the movement of the character you draw change when you heard the voice and got an image?

Middle way:
In that respect, since you are acting according to the movement of the animation, there is no blurring in the movement itself. It feels like the character's voice has come to be heard in my head.

G:
I think there will be some reaction from the animation, but is there any voice saying 'I want you to play that game'?

Middle way:
It's not in the form of a fan letter, but when you look at Twitter, there are a lot of them.

G:
It's fun to see which episode of the original is animated, but do you have a favorite episode in the original?

Middle way:
I also like the 'Goita' episode and the 'Inca Golden' episode, where Maki-chan first appears in the first half. I think I was able to talk about myself using board games, including punch lines. Also, when I played 'Terestation', I immediately came up with the story, but I had a hard time finding someone who was not good at drawing. Everyone can draw quite a lot, and there aren't many people who are 'painters'. Finally, when I returned to the countryside, I had my father draw it.

G:
How (laughs)

Middle way:
I am grateful to my father for being praised for 'laughing a lot' at that time.

'Golden Inca' and 'Terestation' appear in Volume 2



'Goita' appeared in Volume 3



G:
Previously, a recommended game was mentioned in the postscript of the book, and in the talk show of Sugorokuya Festival, 'Murder mystery game' was mentioned as a noteworthy game, but something like 'This was good' is newly mentioned. Did you meet?

Middle way:
Except for 'Murder Mystery', the one who climbed the mountain was good.

Maruta:
Is it HABA's 'Mountains'? However, if I started drawing 'After School Saikoro Club', I think that this title would not have been named as 'good thing', isn't it?

Middle way:
As a result of doing various things, that kind of thing may be interesting ...

G:
From Maruta's point of view, is there any change in the tendency of games that Nakamichi likes?

Maruta:
I think the range has expanded. At first, it seemed that the emphasis was on those who were rational and apt, but I think that they are now enjoying things that are not.

G:
Is it an image that the range expands as the number of games played increases?

Maruta:
I feel like I have an age. It's like 'I start crying when I see a child's story,' maybe.

Middle way:
Maybe so (laughs)

Maruta:
Some people don't change, but I think it's the people who are playing with various people that change. Mr. Nakamichi is playing with various people, so I think he may be seeing more things like 'There is such a way to enjoy' and 'The same thing is different'.

Middle way:
There is it. Even if you play the same game, the impressions you have after playing it will be completely different depending on the people you play with. There is a good direction, and I understand that 'this person shouldn't play this game' (laughs) There is a great deal of compatibility between people and games.

G:
So that's it. Does Mr. Nakamichi have any good or bad compatibility with the game?

Middle way:
Ogiri game is not good. It gets harder and harder to say something interesting. I'd like to say something good about my profession, but I can't say it well ... However, when I played a game of Ogiri with the people of Osaka, it was really interesting and I thought, 'Osaka people have great potential.' Actors also enjoy playing Ogiri games very much.

G:
Of course, winning or losing the game is important, but it is also important to know how much you can immerse yourself in the play and how much you can do it.

Middle way:
There is. Therefore, people who are particular about winning and losing may get angry. That's why compatibility and games to play are also important, but the members' faces are also important.

G:
How can we get good members to play board games? There are games that you play alone and games that you play with two people, but if it is a game where a large number of people is better, it may be difficult to gather members.

Middle way:
I have no choice but to play with various people to find this.

Maruta:
However, I think it's not a good thing to have a connection just for playing board games. As one of the things like 'Let's go to the movies' or 'Let's go to eat', I think it's better to think that there are some good opponents to play board games and create opportunities to play. It's impossible to say, 'Let's make friends only for board games.'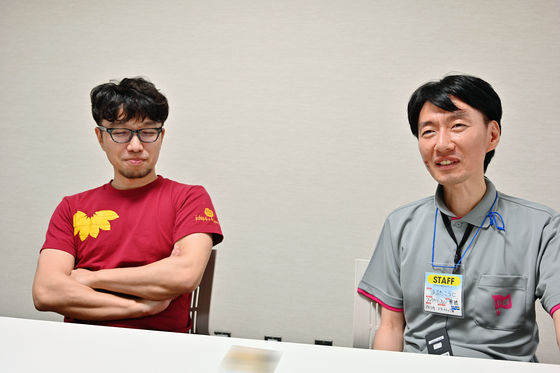 Middle way:
If you want to meet the desire to play with a large number of people, I think you should go to a board game cafe. It will match you. However, as Mr. Maruta said, it may be difficult at a cafe when it comes to socializing side by side.

Maruta:
A board game cafe is like going to an izakaya alone.

Middle way:
Might be so.

Maruta:
Therefore, I have the impression that the people who gather at the board game cafe are not people who are looking for Bodge friends and Bodge friends, but people who say 'I'm fine with myself'. However, I can't deny it because sometimes a connection is made at a board game cafe. The connection is quick, and it's a good entrance.

G:
How long does Nakamichi-san's board game play in a month?

Middle way:
When it comes to meeting people, it's about two days a month. There are more if you include the app, but in the months when you don't go crazy, you only have one day to play board games. Plus, my friends live in the neighborhood, so I sometimes go out and do a little. But they're not heavy gamers, so they're just light.

G:
Do you include good play in your work hours?

Middle way:
I used to do it when the staff came, but now that I have children, they don't play anymore (laughs). I have them give priority to taking care of their children, and I play with the app alone. I also play when I have a meeting with the person in charge.

G:
You can do it by yourself with the app.

Middle way:
That's why board game cafes are appreciated by people like me. Because you can go alone and play games.

Maruta:
I think it's important to have the opportunity to play and talk with people who don't know the game. It would be great if we could broaden the range of sensibilities that people who don't know at all would find interesting by using the game. Occasionally, I hear people tell me that they want me to see the game I made, and at that time, the standard question is, 'Did your mother play it?'

G:
With 'After School Saikoro Club' as a trigger, it becomes easier to casually say 'I have a board game like this, why don't you try it?', And even people who were not interested until then can easily start. Then I'm happy. I hope that the board game population will increase further with animation. Thank you for today.

From October 2019, the TV anime 'After School Saikoro Club' will be broadcast on ABC every Wednesday from 26:11, TOKYO MX and BS11 every Thursday from 24:30, and AT-X every Friday at 21:30. During. In addition, the d anime store has an exclusive advance distribution every Wednesday from 27:00, and it is also distributed on other video distribution sites every Sunday after 24:00.

The third episode, 'Hitoto Chaukara,' which will be broadcast and distributed sequentially from October 16th (Wednesday), is one of Nakamichi's favorite episodes, 'Inca's Golden'.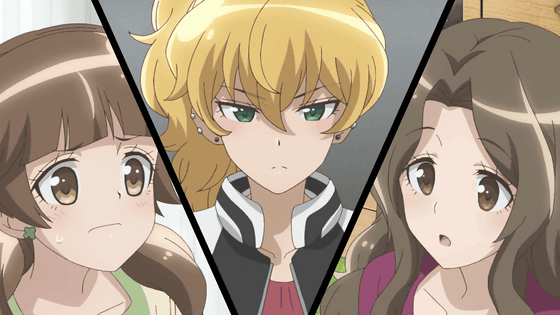 © Hiroo Nakamichi / Shogakukan / After School Saikoro Club Production Committee