The novel `` Japan Sinking '' depicting an unprecedented natural disaster is first animated as `` Japan Sinking 2020 '' by director Masaaki Yuasa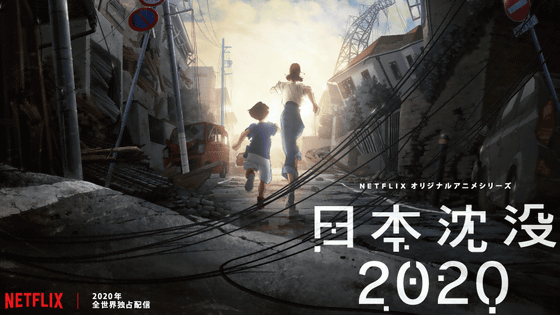 The best-selling novel "Sank Japan" by writer Samatsu Komatsu will be animated for the first time as "Japan Shark 2020" by Director Masaaki Yuasa,
who won the Grand Prix of Annecy International Anime Film Festival Feature Film for the first time in 22 years since Director Isao Takahata.
It was.
Japan Sinking 2020 Official Website
https://www.japansinks2020.com
"Japan Sinking" is a novel published in 1973 and is a best seller with a cumulative total of 4.7 million copies. Later, the movie directed by Shiro Moriya, who worked on "Hakkodayama", became the biggest hit in Japanese film distribution revenue that year, and in 2006, it was re-filmed by director Shingo Higuchi, starring Takeshi Kusanagi.
The animation will be in charge of `` Lou no Uta to Dawn '' released in 2017, since director Hayao Miyazaki (1993 `` Red Pig '') and Isao Takahata (1995 `` Heisei Saga Battle Pompoko '') Director Masaaki Yuasa, who won the Crystal Award (Grand Prix) in the feature film section of the Annecy International Animation Film Festival.
The first achievement in 22 years since director Isao Takahata, director Masaaki Yuasa won the Grand Prix at the Annecy International Anime Film Festival with 'Lou no Uta to Dawn'-GIGAZINE


This work will be produced as a Netflix original animation series. In 2018, Yuasa sent out "DEVILMAN crybaby" as an original Netflix animation, which was highly acclaimed by the original author Go Nagai.


Interview with Go Nagai & Director Masaaki Yuasa about 'DEVILMAN crybaby', 'It became something that held down the essence of Devilman,' a drum-GIGAZINE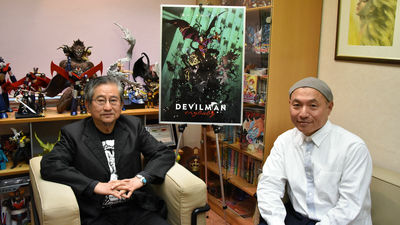 The original was published in 1973 as described above, but in this work the stage was set immediately after the 2020 Tokyo Olympics. It is said that 'very ordinary family story' that was not drawn so much in the visualization of 'Japan sinking' so far will be drawn.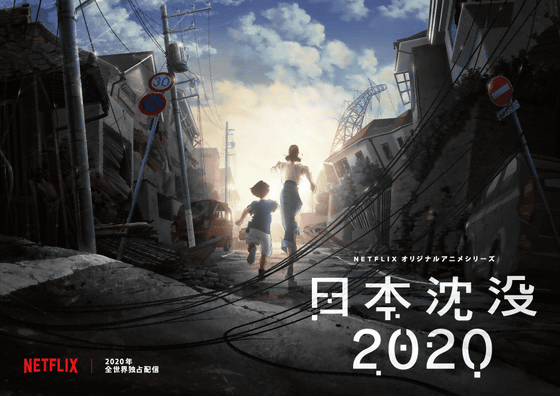 Director Masaaki Yuasa:
What is a country? What is Japanese? What is determined by the place of birth and the environment there? Isn't it decided?
I will challenge this big title to answer myself, who was wondering when I was a kid!
We will focus on one family who evacuates from the natural disaster that occurred in the Olympic Year, which is related to the existence of the nation, and the people who happened to be there and the people they meet. Please stay tuned.

Mimori Komatsu (original author, Sakyo Komatsu second son):
The anime "Japan Sinking 2020" is quite different from the movie, TV drama, and comics derived from "Japan Sinking".
The focus is on life-sized Japanese families living in the age of peace, who have been thrown out in a blindfold without knowing the details of crustal deformation, the government's response, and support from abroad.
Sakyo Komatsu put it into the "Sinking of Japan" – "Because of the Japanese who survived the terrible crisis, they can contribute to solving various crises faced by human society, reconsidered in the world, and playing a special role in the future The desire to "do it".
"Sinking Japan 2020" is enjoyed by people all over the world as a work that makes full use of Japan's proud animation technique, and at the same time, "the warning bell for disaster" and "breaking the future beyond the crisis" I hope you receive the message.

"Japan Sinking 2020" consists of 10 episodes and is scheduled to be distributed exclusively worldwide by Netflix in 2020.

◆ "Japan Sinking 2020" work information
・ Synopsis
In 2020, a sudden big earthquake hit Japan, which had just finished a big national project called the Tokyo Olympics.
An ordinary family living in Tokyo, the Muto family Walk When Tsuyoshi Sisters and brothers begin escape from Tokyo with four families in a turmoil, but the Japanese archipelago that sinks momentarily continues to chase the members of the Muto family. Choice of life and death, encounter and farewell faced in extreme conditions. In the face of tremendous reality, the Muto family sister and brother, Ayumu and Tsuyoshi, believe in the future and acquire the strength to survive hard ...

·staff
Original: Sakyo Komatsu "Sinking Japan"
Director: Masaaki Yuasa
Series Director: Yasu Konomi
Screenplay: Hisao Yoshitaka
Music: Kensuke Ushio
Character design: Naoya Wada
Color design: Ken Hashimoto
Director of Photography: Toshikazu Kuno
Acoustic director: Eriko Kimura
Edit: Kiyoshi Hirose
Animation production: Science SARU
Official website: https://www.japansinks2020.com/
Official twitter: @ japansinks2020
Production: "JAPAN SINKS: 2020" Project Partners
© "JAPAN SINKS: 2020" Project Partners


in Anime, Posted by logc_nt