An animation that shows a lot of work that can be said to be 'work is also a game' Series composition of 'After school dice club' Interview with Satoshi Maekawa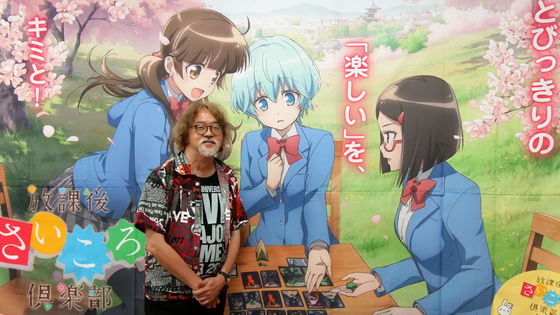 From October 2019, the anime broadcasting and distribution of the manga " After school dice club " with the board game theme started. Mr. Maekawa worked on the series composition. As with this work, it is known that it is also responsible for the composition in the `` Yu-Gi-Oh! '' Series, which is the main game, so how to connect episodes and how to make episodes in the original ant's work I asked him if he had assembled it.

Anime "After School Dice Club" Official Website

http://saikoro-club.com/
GIGAZINE (G):
Maekawa talked about himself as a board game player during
a talk event at the Sugorokuya Festival
. What was your encounter with the board game?
Maekawa Makoto (hereinafter Maekawa):
I used to participate in a board game party before ... But I started to do it in earnest since another team started to do it for two to three years. That was about a while ago.
G:
Is it before meeting this project?
Maekawa:
It is before. Rather, I met a producer here at Bodge. I was just a game mate at first. That eventually led to this work.
G:
It was at the meeting of Bodge that you met a producer as a board game.
Maekawa:
Yes. I thought that it would be a game to try (laughs)
G:
It 's like a hobby has led to a profit.
Maekawa:
That's right. Thanks to this, it can be said that 'Because playing games is also work'.
G:
The game was played after the scenario meeting.
Maekawa:
After all, there are places where we can't write without knowing the game, so we play games that appear in the work with screenwriters and directors other than me.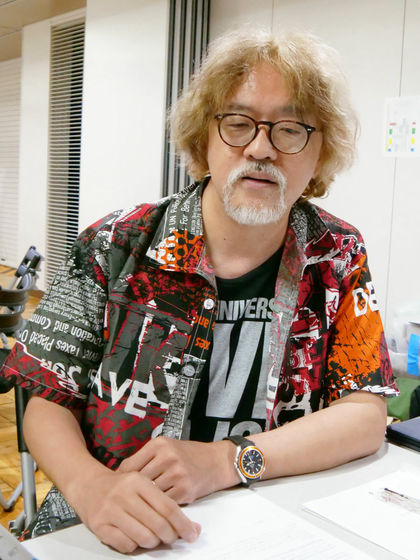 G:
I hear that the way the anime staff is determined is not always the same. What was the timing of Maekawa's participation in this work this time?

Maekawa:
It was rather early to get a talk. I think that he was also able to afford.

G:
There are cases in which the number of volumes in a book has not yet appeared in the animated version of the original manga even when the anime broadcast started. In the case of "After School Dice Club", 14 volumes were released in May 2019, so it seems that there are relatively many people, but was it difficult to do this volume as "series composition"?

Maekawa:
I can't say 'how many volumes' I can say yet, but I can't say that, but since the original work continues, first decide 'how far' and then how much each episode, I will go to this point in the first episode and so far in the second episode.

G:
So that's it.

Maekawa:
Of course, some of them say that this episode is a little difficult to animate, so we proceeded with a bottom-down feeling in order, taking into consideration such a place. At other sites, I've also experienced that there aren't enough originals to do the original episode, but this time it was the opposite.

G:
I was worried about which episodes to include in the anime.

Maekawa:
Yes, I feel that the main task was to choose it.

G:
There are various games in the game, but did you have anything like 'Let's make this game entertaining'?

Maekawa:
In the original, the game basically appears in a form that involves the story, so I think that there was no way to select only a specific game from this side because "I like this game". As a premise, after thinking that the original flow conforms to the flow of the original as much as possible, it seems that the part that needs to be changed due to various circumstances, such as 'Let's arrange it like this'.

G:
I took a look at the video as a reference, but I felt that the original was faithfully dropped into the anime.

Maekawa:
No, I think the site was tough. It appears on PV, but all the games that come out have textures attached. I also worked on '
Yu-Gi-Oh!
', But I think that it would be tough even with that card alone, but there might be things other than cards that come out in board games, so that would be quite difficult. We are letters, letters (laughs)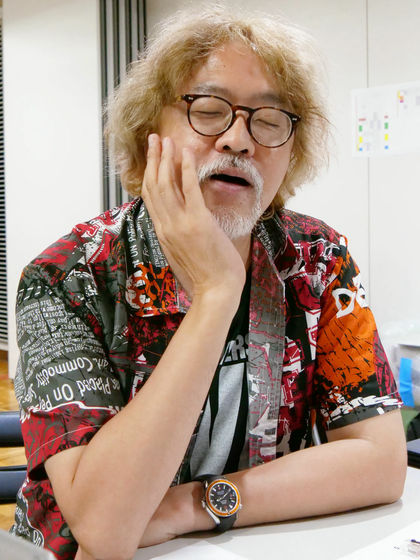 G:
(Laughs) But if you write with only letters, you need to imagine it, isn't it difficult?

Maekawa:
What comes out is the "game record" that the staff makes.

G:
Oh, it was also made by the Duel of "Yu-Gi-Oh!".

Maekawa:
It is impossible for an amateur to make a duel for "Yu-Gi-Oh!". First of all, we have a professional staff with the role of "Duel Examination" write down the flow of the duel. I'm working on dropping it into the screenplay while watching it. This time, "After School Dice Club" also made the entire game flow in the same way, and cut out and used the phrase "I play this part now".

G:
That's what it is.

Maekawa:
I think manga is safe even if there is a gap between frames. However, since the flow can be seen in the case of animation, the flow of the game must be made from the beginning to the end. However, if you put out all the flow of the game, time will be taken, so what part is used well?

G:
Isn't it good because of the staff's efforts to make the game while matching the original and the story?

Maekawa:
From the first round, from which hand it started, I made a lot of effort and made it firmly.

G:
Maekawa-san has also worked on series such as 'Yu-Gi-Oh!', '
Prince of Tennis
', '
Fresh Pretty Cure!
',
And
'
Digimon Adventure 02
', and works on morning and evening works more than late-night animation. There is an image.
Maekawa:
Certainly, my work has many works for children, and I don't work very late at night.
G:
Is that the reason you want because you are good at kids anime?
Maekawa:
"Because that work has come" (laughs) The debut as a screenwriter is "
Dragon Ball Z
", and because of the fact that it was a Toei animation work, I started to work on Toei animation, and get to know them on the spot People often also work on close works, so they happened to be standing in the field for children.
G:
There were many works of similar genre because it was an "on-site relationship".
Maekawa:
That's why I don't do so much late-night animation.
G:
When I first saw the name of the staff, I was imagining whether Maekawa-san was appointed because some game elements such as "Yu-Gi-Oh!" Would lead to this work.
Maekawa:
(Laughs) But there are certainly similarities in how to make them. But in fact, I'm not conscious of things like "for children" or "for adults" in the first place.
G:
I am not conscious.
Maekawa:
The development of the story and the basics of the drama have not changed, and there may be a slight difference between "for children" and "for adults" as a way of showing. In the case of "After School Dice Club", there is no extreme depiction just because it is a late-night animation, and there is no appealing scene, so the difference is particularly small. On the writing side, there is not much difference in consciousness when writing "Fresh Pretty Cure!" Girls and when writing Miki-chan of this work.
G:
Oh, I see.
Maekawa:
As expected, I will not transform in this work (laugh), but one side is different from the story of a girl who transforms, the other is a story of a girl who plays a board game, but I worry about relationships with friends and family, Because it is a problem everyone has.
G:
Certainly, that is a universal problem.
Maekawa:
"Fresh Pretty Cure!" Is an animation for preschool children, but I'm going to make it a little more interesting for older generations. There are things such as "from 4 years old" and "from 6 years old", so I think that such children can be seen. Although there are time issues, I think it would be nice to have your child see and see the Bodge fan base expanded.
G:
It's a gifted education (laughs)
Maekawa:
Originally, the original is easy to read, but it is easy to read while handling the game, so it is not strange that it is broadcast on Sunday morning.
G:
There is it. How did you coordinate the image with Director Kenichi Imaizumi this time?
Maekawa:
This time, I was in front of me, so I told the director about the image and heard from the director that he wanted to do this. Both directors and I have their own images, which is the same for every work. Nonetheless, since it is the original ant this time, it will not be so far between the two (laughs). Despite the differences in points that stick to each other, it wasn't like moving away from the image, as I saw the video that was made when I went to the post-recording site. I don't know if the same age as the director is related (laughs), but I think it's a good site.
G:
The words dedicated to the writer's aspirations from writers from Scenario Center
are published, Maekawa-san said, "First, write. Second, ask them to read. Whether the script is interesting or not interesting. It 's what I think. " However, I think that the writer also has "this is about this time". For example, 'This is the score for this work' ...
Maekawa:
I don't know the score (laughs), but strictly speaking, 'screenplay' is a 'draft'.
G:
Leg color.
Maekawa:
Not only in this work, "There is an original and it is made into a script" is "draft", and if you can do it as it is, there are places where you can not do it for various reasons. First of all, I will think about what kind of story to say if it is an original script, but since there is already that part if it is the original one, `` where to use and where to cut '' `` here It can be said that it is a kind of editing that thinks about what will change when you turn off.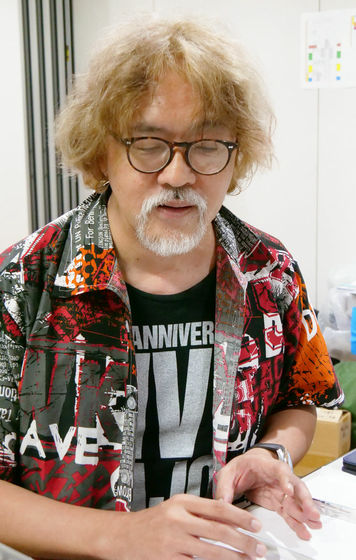 G:
surely.

Maekawa:
In the original of "After School Dice Club", the encounter of three people is first drawn carefully, and the first game "Marrakech" comes out in the third episode. But in anime, I want one game to appear in each episode, so what should I do to do that?

G:
I felt it was well arranged.

Maekawa:
"How far to play the game" came out many times in the initial meeting. It is a part of the game instrumental, so-called explanation, but there was also a story that it was put together in the ending or mini-corner, but after all it was decided to incorporate it into the main part, seeing the main part and the minimum rules Has come to understand.

G:
So that's it.

Maekawa:
Rather, I think that the production was harder in terms of the game coming out. Of course, I'll write 'I will explain this' so that I can convey the image of what kind of picture to make at the time of the script. So, when I was watching the first PV and playing a game, I was impressed that 'Oh, I'm playing properly'. Of course, this is a work, so it is natural. "Gekiburi Poker" is a card-only game, so it 's the same as "Yu-Gi-Oh!", But "Marrakech" and "Inca Gold" also have small items ... 'I'll do this for each episode ...' (laughs)

G:
(Laughs)

Maekawa:
Even if a new card comes out with 'Yu-Gi-Oh!', It's only a card, but 'After school dice club' changes with each game. I think that the site is really amazing, and that is the point that you should pay attention to in the anime.

G:
Even if Mr. Maekawa, who has been writing the script for over 20 years, sees it as "I'm not doing my best at the site".

Maekawa:
Even PV alone feels that way. I don't think there has been a board animation that has been animated so far. There 's no point in doing that. I think it would be a live-action shot if it is normal (laughs) But since this work is the main, it means that we are working on it. I really hope that more people will be interested in board games and seeing this game.

G:
It is just like you said. Thank you for today.

The TV anime "After School Dice Club" is airing on ABC, TOKYO MX, BS11, and AT-X. In addition, exclusive pre-delivery is available at d anime store, and distribution will also start on other sites after October 6th (Sunday).