Microsoft announces a program that can receive security updates even after the extended support of Windows 7 ends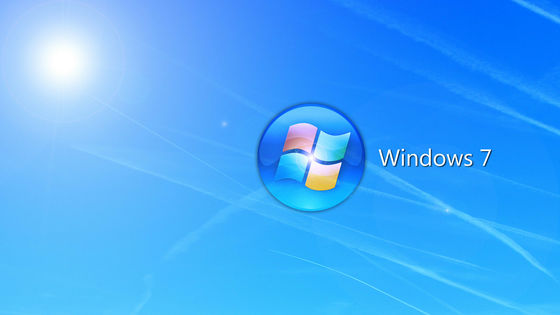 by
Sandy McCallum
Extended support for
Windows 7
will end in January 2020
. When support ends, bug fixes and security patch distribution will not be available, but Microsoft has announced that it will provide an extended security update for Windows 7 SP1 for all companies using
Software Assurance
until 2023 .
Announcing Paid Windows 7 Extended Security Updates-Microsoft 365 for Partners
https://www.microsoft.com/microsoft-365/partners/news/article/announcing-paid-windows-7-extended-security-updates
Microsoft announces yet another Windows 7 support extension (for SMBs)-gHacks Tech News
https://www.ghacks.net/2019/10/02/microsoft-announces-yet-another-windows-7-support-extension-for-smbs/
Just as a third of companies continue to use Windows XP in 2019
, not all Windows users are using the latest version of Windows 10. According to research company
NetMarketShare
, Windows 10 has the largest share of Windows versions
as
of
September 2019,
but Windows 7 still accounts for more than 28%.
For Windows 7 still used by many users, Microsoft
announced a
service for enterprises in September 2018 that can extend the support period for up to three years. Although the price of this service is available from $ 50 per user (about 5400 yen), the price doubles every year, so in the third year of support, $ 200 per terminal (about 20,000) 1000 yen) is required. Only users using Windows 7 Professional and Windows 7 Enterprise can receive support.
Other than the PC used in the 2020 US presidential election, this program had to be used for extended support after January 2020. However, Microsoft has announced an enhanced security update that will be available to companies of all other sizes. The enhanced security update will be offered to companies using Software Assurance until 2023, with pricing deferred from the program offered for Windows 7 Professional and Windows 7 Enterprise users.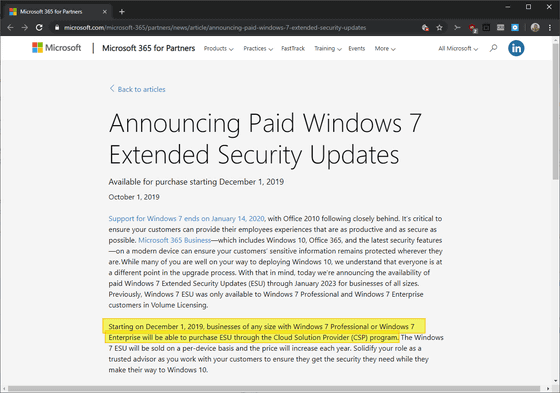 Enhanced security updates are sold per device, not per user. The selling price varies depending on the product used. The prices for the 1st, 2nd and 3rd years are shown in the table below, and the unit is dollars.




From December 1, 2019, companies will be able to purchase enhanced security updates through the cloud solution provider program for Windows 7 Professional or Windows 7 Enterprise.