Experts criticize 'WeWork' where Softbank made a large investment but failed in IPO & CEO retired on a large flame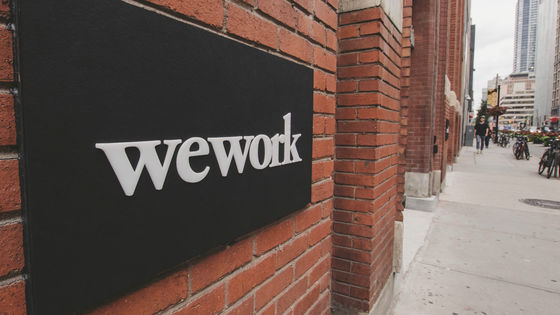 by
Eloise Ambursley
In the United States, in order to conduct an initial public offering (IPO), you must submit a securities registration statement called "
S-1
" to the Securities and Exchange Commission. This is the first hurdle for companies aiming for an IPO, but there are companies that have become flaming off due to this.
Wework and counterfeit capitalism
https://mattstoller.substack.com/p/wework-and-counterfeit-capitalism
"WeWork", which provides
coworking space
, is a company that Softbank made an
additional investment of
3 billion dollars (about 320 billion yen) in 2018. Although preparations for IPO were underway, the business content disclosed in the information disclosure was so bad that it was criticized by investors and experts and was in
great flames
. In addition, the exposure article "
Is WeWork a fake?
"
Raised the
topic, and eventually the founder Adam Newman (Neumann)
retired as
CEO.
A series of uproars at WeWork 'shows the failure of integrity in American business and shows that it is becoming increasingly impossible to produce the critical systems necessary to maintain civilization,' It is written by
Matt Staller
who works at the
Open Markets Institute
of media by journalists, researchers and lawyers.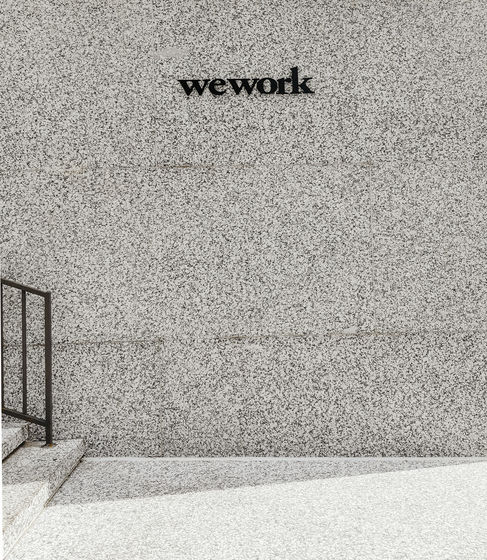 by
Ariann Laurin
Staller wrote about WeWork 's flaming case: "The capital market is an example of the increasingly common trend of funding companies that generate losses." Such cases are called "counterfeit capitalism" and are said to be frequently spoken among the new generation of management consulting. The rise and fall of Mr. Newman at WeWork can be an important lesson in modern political and economic philosophy.
WeWork is a service that uses the advantages of a collaboration culture and offers the flexibility to expand and shrink workspaces as needed, using the power of a global community at low cost. In other words, WeWork was "lending the office space to lend to companies".
The following figure shows the business model that was disclosed when WeWork disclosed information for listing.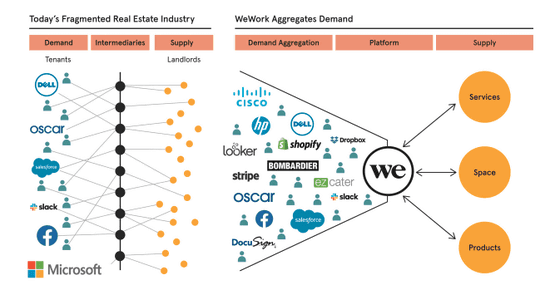 The left image shows the structure of an existing real estate industry when it lends general office space to a company. The figure on the right shows that WeWork functions as a platform for providing service space products to customers. This figure was created to raise more funds for the IPO, but it is a criticism for the lack of content.

Not all the work we have done was wasted, the actual coworking space provided by WeWork is very high quality, small companies and teams that need office space It was popular. However, it is very difficult to scale the business of coworking space that can rent offices in smaller units than before, `` It seems that there is no way of large-scale monetization, '' Mr. Stoller pointed out doing. In fact, he points out that WeWork has
lost a lot of money
as it expands its business.

by
Jp Valery
It was also a problem that Newman, a very important person for WeWork, had a huge trust, but had never clearly demonstrated its qualities. At the timing of information disclosure at the time of the IPO, WeWork said, "Our future success depends heavily on the ongoing service of co-founder and CEO Adam Newman," he said. I leave a comment that tells me the size.
However, after that, Newman gathers topics in a bad sense of repeated
mischief
. The contents are 'Newman's wife who was hooked on spiritually fired the employee because he doesn't like the aura of this guy', 'Marijuana party with private jet', ' The party is too flashy.
In addition, Mr. Newman withdraws a large amount of 700 million dollars (about 75 billion yen) from the company, purchases personal properties under the name of `` lease to WeWork '', and rides around the world on a private jet Mr. Stoller criticizes that such actions are neither "quirky" nor "charismatic" nor show that they have "unorthodox leadership" The
Mr. Newman who finally retired from the CEO, the question is why such a person was responsible for managing hundreds of billions of yen capital and managing thousands of employees That is. Mr. Staller said that Newman's virtual image was created by 'JPMorgan Chase's James Dimon' and Softbank's Masayoshi Son, who have invested heavily in WeWork.
Mr. Staller criticized Mr. Daimon as 'a firefighter who pretended to be a firefighter', 'if you know his actual reputation, it is not surprising.' As for Son, "Softbank's general approach is to lock out competitors from the private capital market in cash." According to Staller, SOFTBANK hopes to reduce the value of competitors in the coworking space market and gain profits after establishing WeWork's market position.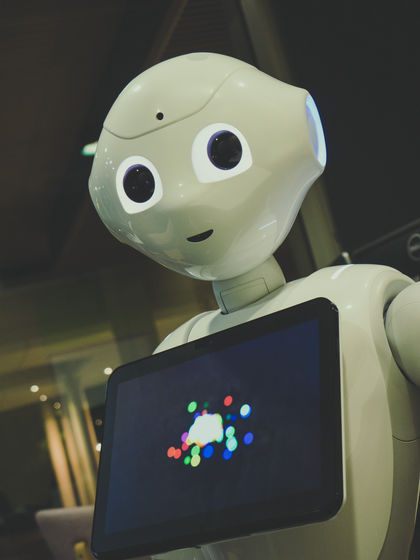 by Owen Beard

It seems that Softbank and WeWork's method of "providing services at a lower price than competitors and finally controlling the whole market" is the same strategy that Amazon has taken in the process of growing. This strategy has created many imitators besides WeWork and has accelerated investment in ventures. As a result, the goal of venture capital and investors has been to "find a large market and invest in one company that can lower the price of the service until it becomes dominant in that market". Mr. Staller. As a result, financial firms are able to end all competition and devour the profits of surviving monopolies.

Such a strategy was once illegal, and was known as ' sacking pricing '. The behavior models of Mr. Newman and Mr. Son of Softbank, etc. are just predatory pricing itself, where market power is gained by cost-setting pricing, and the deficit is compensated by financing. Many companies as well as WeWork continue to manage with the same model, scooter maker `` Bird '' is not making money , and the business of dispatch service such as Uber and Lyft is not profitable . These strategies are devastating for competitors who need to make money.

In addition, the market monopoly strategy using Amazon's predatory pricing is summarized in detail in the following article.

What is the strategy to monopolize the market using Amazon's "law loophole"? -GIGAZINE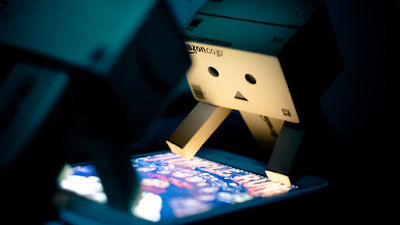 Mr. Stoller points out that such counterfeit capitalist strategies can lead to dangerous economic consequences and could lead to economic crises such as the subprime mortgage crisis and the failure of WorldCom . Also, the counterfeit capitalist trend is a change of Gresham's law. And fake "leaders" like Newman will be praised, and real leaders who can create and manage things will be treated as exaggerated. "

Stoller said that good public policies such as "Establishment of the Securities and Exchange Commission" helped stop counterfeit capitalism, and in the case of WeWork, disclosure of information at the time of the IPO played a role, "Jamee Dimon, Masayoshi Son and Adam Newman have been stopped. " According to Staller, restoring legislation on predatory pricing and centralized financial management is an effective way to eliminate counterfeit capitalism models.

・ Continued
WeWork resigned as CEO after retirement due to failure to raise funds officially withdraws listing application-GIGAZINE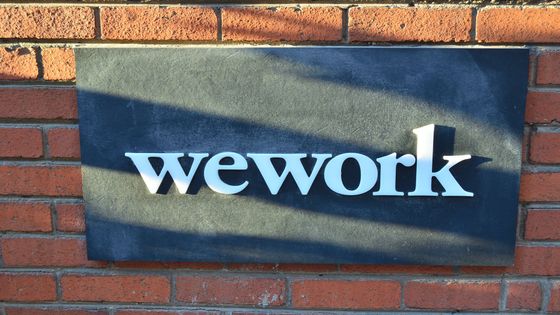 in Note, Posted by logu_ii