The government secretly installed an AI-equipped camera that detects smartphone driving on the road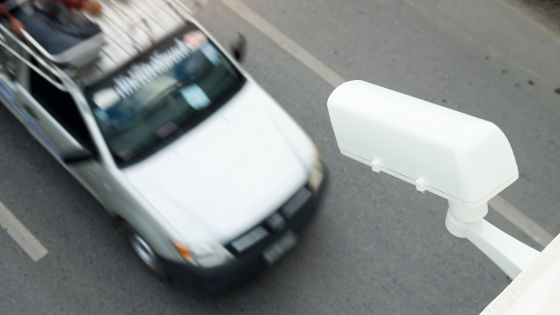 by
sarawutnirothon
Driving while using smartphones in recent years is
said to be
more dangerous than drunk driving, and some experts point out that using a smartphone while driving will quadruple the chances of an accident. So, in order to crack down on smartphone driving, the Australian state government revealed that it had installed the latest camera on the road to detect the driver touching the smartphone.
Mobile phone technology-Mobile phone use-Staying safe-NSW Center for Road Safety
https://roadsafety.transport.nsw.gov.au/stayingsafe/mobilephones/technology.html
Mobile phone detection cameras to be rolled out across NSW roads by December-ABC News (Australian Broadcasting Corporation)
https://www.abc.net.au/news/2019-09-22/mobile-phone-detection-cameras-rolling-out-nsw-december/11536664
Australia uses new technology to catch drivers on phones-KTAR.com
https://ktar.com/story/2754759/australia-uses-new-technology-to-catch-drivers-on-phones/
Andrew Constance, Minister of Transport, New South Wales, Australia, was equipped with the latest technology to crack down on smartphone driving in New South Wales, Australia, the most populous country on Monday, September 23, 2019 Announced that a camera was installed.
The unit installed on the road is equipped with two cameras: a camera that shoots a license plate and a camera that detects what the driver has in his hand. This unit is equipped with artificial intelligence and drivers who do not touch the smartphone will be excluded from shooting. In addition, the 'suspicious photo' taken by the unit is finally confirmed by humans, and a violation notice that imposes $ 232 (about 25,000 yen) as a fine will be sent to the driver. A total of 45 camera units will be installed in New South Wales by December 2019.
This is the picture that was actually taken. The truck driver is touching the iPhone with both hands.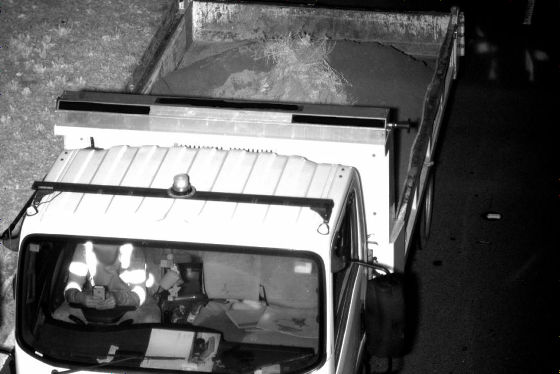 Some men drive while talking with one hand.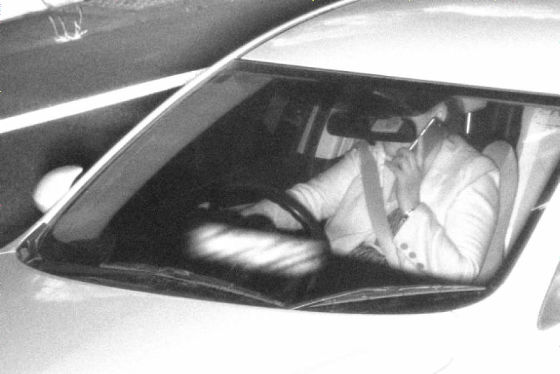 From January to June 2019, the camera was in test operation, 8.5 million cars were checked and about 100,000 drivers were detected. Some drivers used both iPhones and iPads while driving, and also had smartphones in both hands, leaving passengers to drive.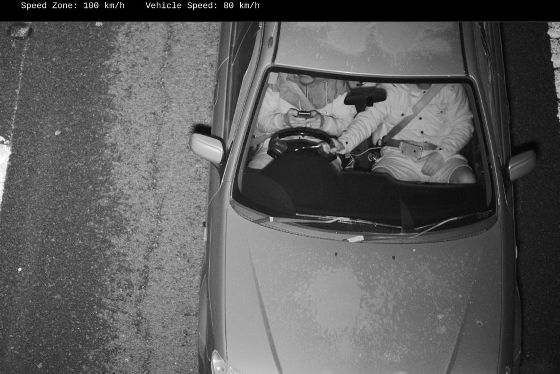 However, the installation of the camera unit was done without notice to the driver, and it has been accused by Peter Khoury, the PR of the National Roads and Motorists' Association (NRMA), which provides transportation services. NRMA acknowledges the importance of cracking down on smartphone driving, but states that the driver should have been notified that a camera is installed in the area. Constance also acknowledges this point, "I regret that I had to use the surprise element to make people feel 'always watched.'" I wanted people to change their behavior. This is not a problem of profit but a problem of human life. '

In Australia, smartphone calls using Bluetooth are allowed, but it is illegal to touch a smartphone while driving, and this applies even when the vehicle is stopped at a red light or when there is a traffic jam. Based on the trial results, the government is expected to expand the program and it is expected that 135 million vehicles will be checked by 2023.

in Note, Posted by logq_fa