"Kyo-mafu special stage just before broadcasting" report after the excitement of the board game "Captain Reno"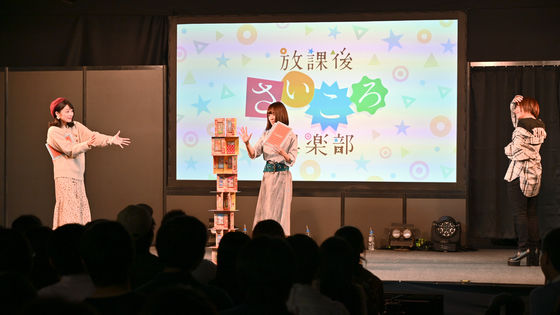 A stage event by the cast of the anime ``
After School Dice Club
'' that
will start broadcasting from October 2019
is ``
Kyoto International Manga Anime Fair (Kyo Mafu
) held on September 21 (Sat) and 22 (Sun) 2019
) 2019
'was held. In the second half of the event, a battle with Captain Reno was held, and three cast members developed a hot battle.
Kyo Mafu special stage just before the TV anime "After School Dice Club"
http://kyomaf.kyoto/stage/open_stage/#stageModal-eventname01-07
The stage event was held at the open stage on the 1st basement of the Miyako Messe, Kyoto City Kangyokan. Of the stage events for "Kyo-mafu", "Kyo-mafu Stage" requires a pre-lottery ticket, but "Open Stage" can be viewed with an admission ticket.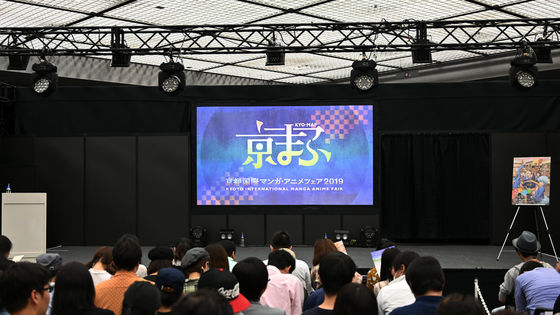 From the left, Aya Takayashi, Marika Takano , Miki Takekasa , Saki Miyashita , Akira Ohno, and Miyu Tomita entered the event. Miyashita is from Nara next to Kyoto. When I was a student, I had come to Kyomafu to play, so I was impressed that I was on stage.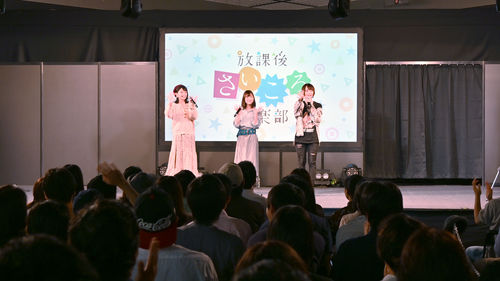 In addition to the three, M. A. O, who plays Emilia, a transfer student from Germany, received a video message.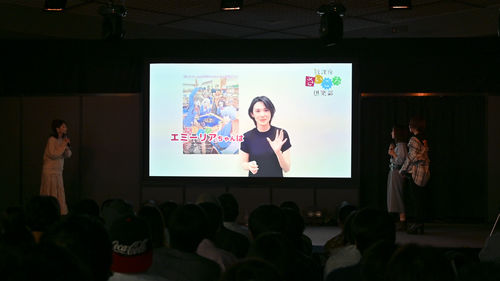 Because it is a work that deals with board games, following the event at the game market in May 2019, this time the battle will also be held on the stage with ' Captain Reno Giant Edition '.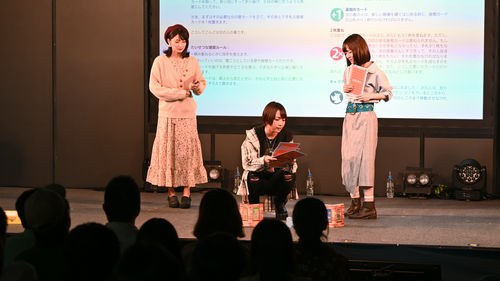 "Captain Reno" is a game in which you use a folded card as a pillar, build a high building with your hand as the floor, and quickly reduce your hand. The game market was a fast one-minute battle, but this time, the foundation reached the 6th floor in a hard mode with one card.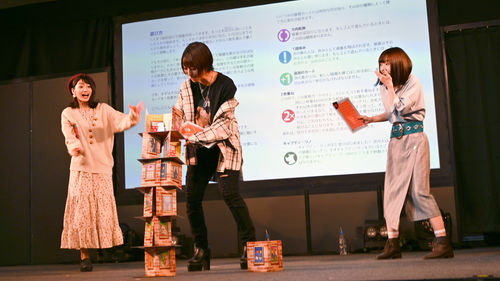 However, the distortion that had already occurred at the time of the second floor became obvious, and there was also Reno that disrupted the balance of the building, so Tomita's turn collapsed the building. To the victory of Mr. Takano and Mr. Miyashita from the remaining hand.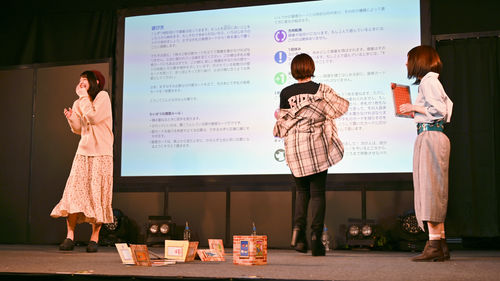 Because it was a lot of trouble, when we entered the second game, we started with two cards this time, so the building is fairly stable.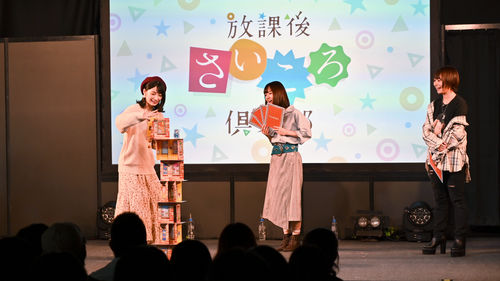 Mr. Tomita quickly reduced his hand in such a situation, so Takano-san and Miyashita-san started consultations, although it was originally a personal game.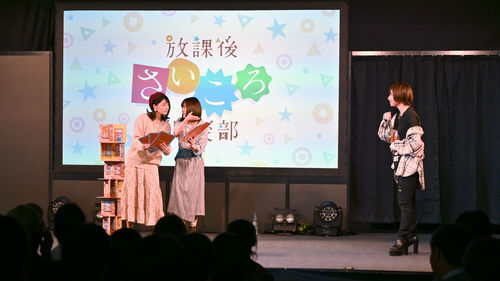 Mr. Miyashita decided to turn to Tomita with a fairly strict balance.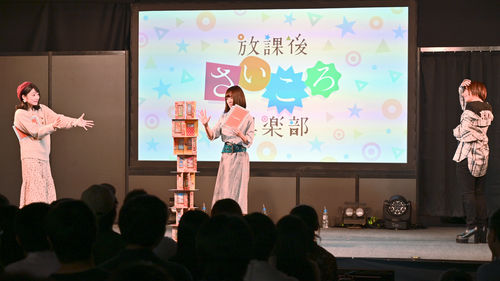 Mr. Tomita said that if he survives with only one card remaining, he will win. I went up to the second pillar, but the building reached its limit and collapsed again at Tomita-san ... As a result, Mr. Takano, who reduced the hand most, won.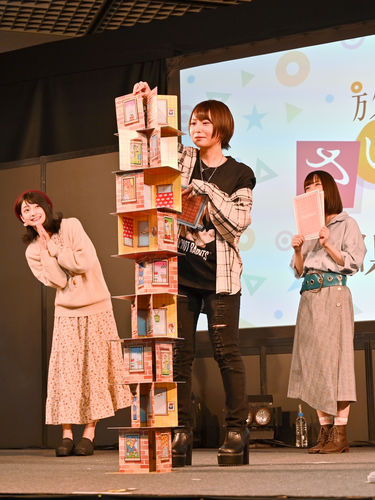 The stage event of the exciting "After School Dice Club" ended with a catch-and-call call-and-response form with the customer in a catch-and-call "exciting" fun ", Kimi!" It was.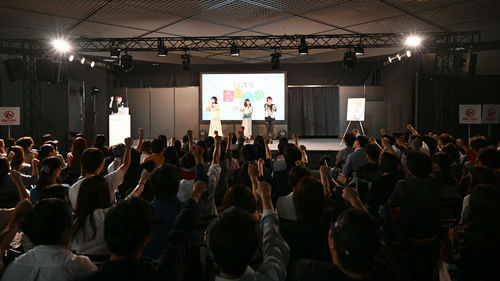 Kyo Mafu, the open stage just before the "After School Dice Club" broadcast has ended! ! Thank you to all of you who watched it ???? ✨Please look forward to the airing of anime‼ ️ ????

— TV anime "After School Dice Club" starts broadcasting in October ???? (@saikoro_club) September 21, 2019
# Dice Club # Kyoto Azabu Thank you for stage (*'◒` *) ❤️✨

I wanted to play more games! ! ! Board games are fun because there are dynamic things from table games! Please try 'Captain Reno' too ???? ☀︎

Thank you also for the animation from 10/2 (Wednesday) ????‼ ️ pic.twitter.com/Nkj7DXUvUH

— Marika Takano (@ marika_0222) September 21, 2019
# Kyoto Azabu # dice Club Thank you for your stage!

No way to lose 2 times Reno ????

There is room for growth. maybe.

Anime broadcasts are coming soon!

Thank you! pic.twitter.com/Da9BAwsgtB

— Miyu Tomita (@miyju_tomita) September 21, 2019


Miyashita, who plays the role of a beautiful princess, started off on a trip to explore various parts of Kyoto that appear in the work under the title of " Bodo Walk ". The situation will be posted later, so please look forward to it.