Google's sister company `` Wing '' starts trial operation of unmanned delivery drone, delivery not only from online orders but also from pharmacies etc.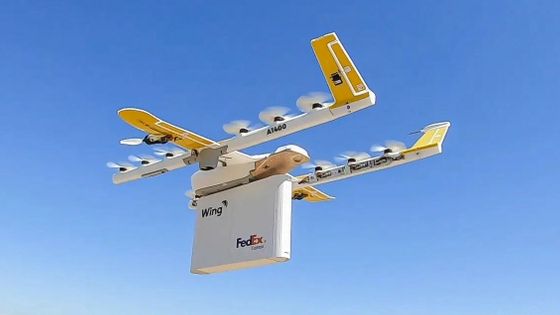 The drone delivery company " Wing " has started trial operation of unmanned drone delivery service in Virginia, USA. This service delivers not only FedEx courier but also medicines and sweets purchased from local retailers.

Wing Unveils Plans for First-of-its-Kind Trial with FedEx and Walgreens
https://medium.com/wing-aviation/wing-unveils-plans-for-first-of-its-kind-trial-with-fedex-and-walgreens-7f17350daa09

Google Wing launching US drone deliveries with FedEx, Walgreens — Quartz
https://qz.com/1712200/google-wing-launching-us-drone-deliveries-with-fedex-walgreens/

Alphabet's Wing drone delivery service to launch test program in Virginia-CNET
https://www.cnet.com/news/alphabets-wing-drone-delivery-service-to-launch-pilot-in-virginia/

'Wing' is a company under Alphabet, the parent company of Google. Wing has been testing home delivery services in Australia and Finland since April 2019.

Drone delivery service `` Wing '' started commercial service in Australia, operated by Google's brother company-GIGAZINE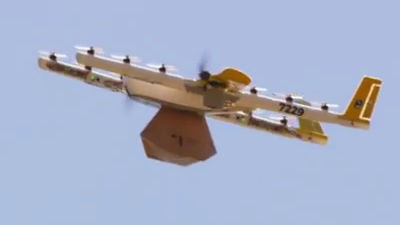 The drone test operation, which began in October 2019 in Christiansburg, Virginia, was the first unattended drone delivery service to be approved by the US Federal Aviation Administration (FAA). It is in partnership with US logistics service giant FedEx , American pharmacy chain major Walgreens , and Virginia retailer Sugar Magnolia . According to Wing, it is possible to receive home delivery by drone using the application in the trial operation, medicines such as cold medicines and allergic medicines and sweets such as gummy snacks from Walgreens, sweets from Sugar Magnolia, They will deliver home-purchased items such as stationery and paper products.

FedEx packages are transported in the following packages: You can see that there is something like a drone handle on top of the package.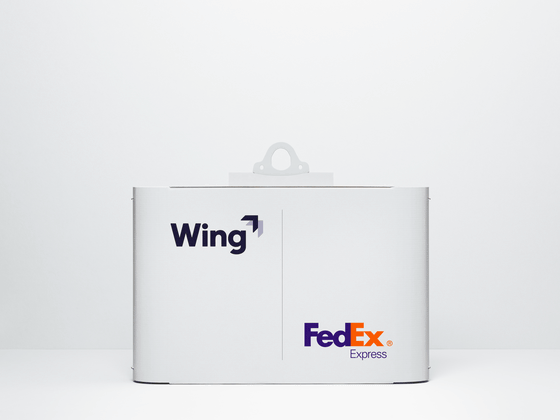 Products purchased from Walgreens are delivered in this package.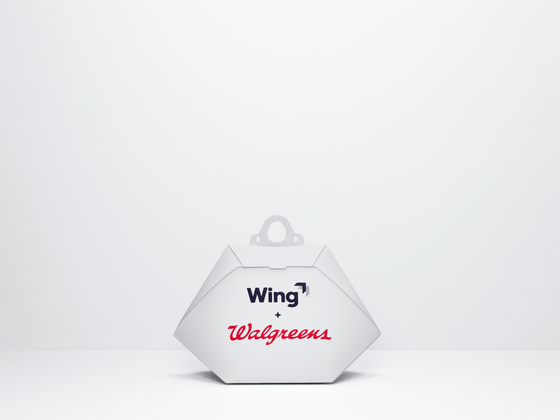 The drone used for the home delivery service can travel a distance of about 9.7km, the speed is about 97km, and the transportable weight is about 1.4kg. Upon receipt of the order, the drone will take off from the service center nearby, hover over the delivery backyard or entrance 7 meters, and unload the cable. In addition, when the cable gets tangled with a tree or building, it is equipped with a function that detects pressure and removes the cable to fly away. The cost of delivery by drone is free during the trial period.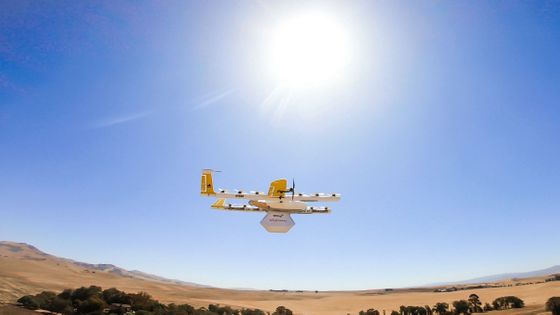 In addition to Wing, companies that have transportation services are making numerous trials to realize home delivery services using unmanned drones. Amazon is developing an unmanned home delivery drone delivery service called 'Prime Air' ...

Amazon's drone delivery advances one step toward realization-gigazine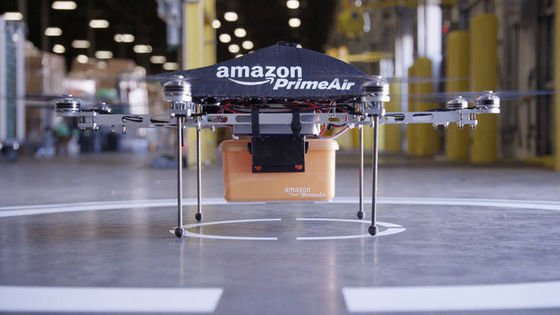 Ford is developing an unattended home delivery service using a biped robot called "Digit".

Ford announces a two-legged walking robot `` Digit '' that carries luggage to the entrance to realize `` fully unattended home delivery ''-GIGAZINE