I have eaten the new autumn menu at Tully's, including `` Mont Bramping Tart '', which is a fusion of rich Mont Blanc and Custard caramel pudding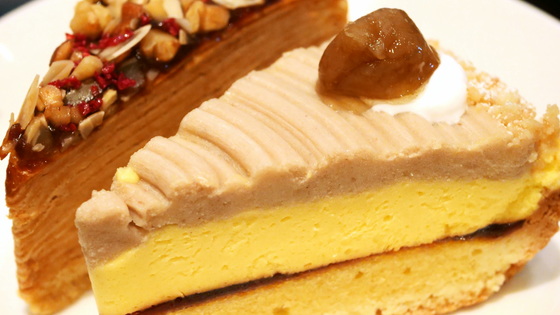 New sweets `` Monblamping Tart '', `` Caramel Milk Crepe Almond & Walnut '', `` Brussels Waffle Pear Salty Caramel '' will be available on Friday, September 13, 2019. did. Among them, "Mont Bramping Tart" is a luxurious sweet that can be enjoyed together with Mont Blanc, which is a cake that represents autumn, and custard pudding.

Press Release (August 22, 2019) | Press Release | Company Information | TULLY'S COFFEE-Tully's Coffee

https://www.tullys.co.jp/company/pressrelease/2019/08/marronlatte.html
Arrived at the store.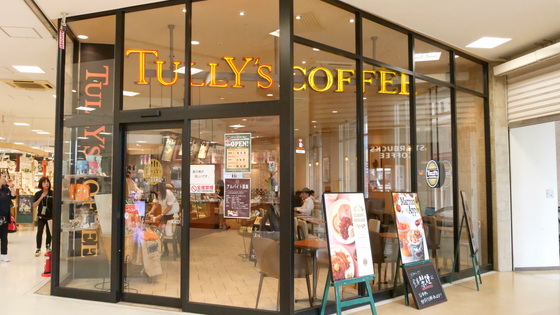 I ordered Mont Bramping Tart, Caramel Milk Crepe Almond & Walnut, Brussels Waffle Pear Salty Caramel. Waffles are said to take time to make, so two cakes came out first.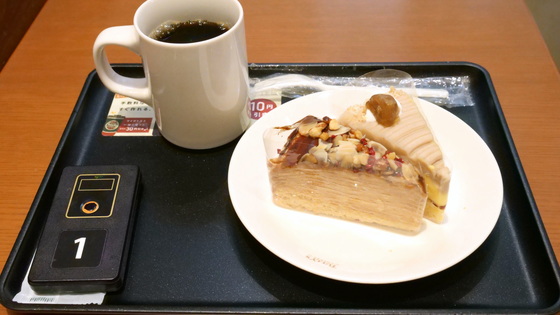 Mont Bramping Tart is 490 yen including tax, and Mont Blanc cream using custard pudding-flavored cream and Western chestnut is decorated on a sponge.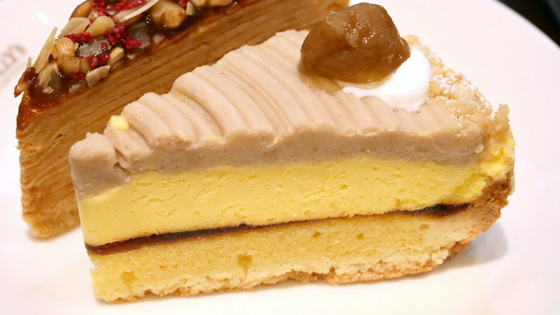 Next to
Marongrasse
is a
crumble
that looks like a cookie dough.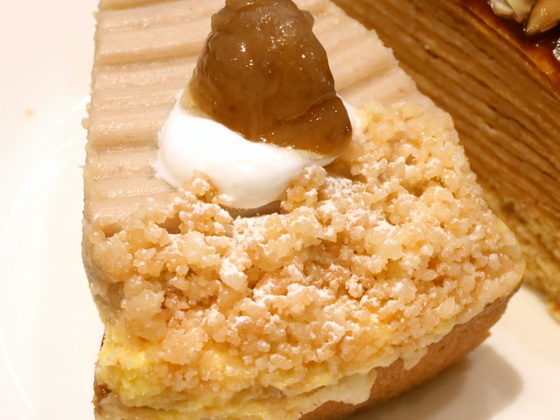 When I eat it, I think that the rich chestnut taste of Maron cream spreads in my mouth, the strong bitter taste of caramel sauce sandwiched between sponge and custard pudding cream, the sweetness of Maron cream Is tightening. The custard pudding-flavored cream had a light taste with a slight egg taste, and it had an exquisite taste without fighting with the malon cream.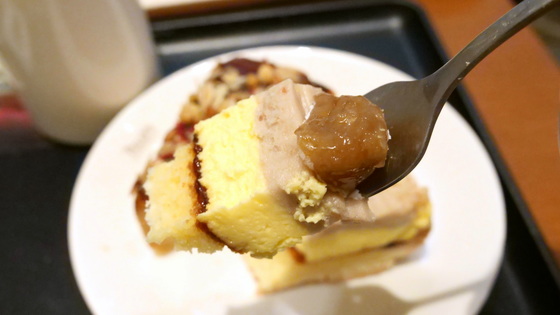 Caramel milk rape almond & walnut is 490 yen including tax, the same price as Mont Bramping tart.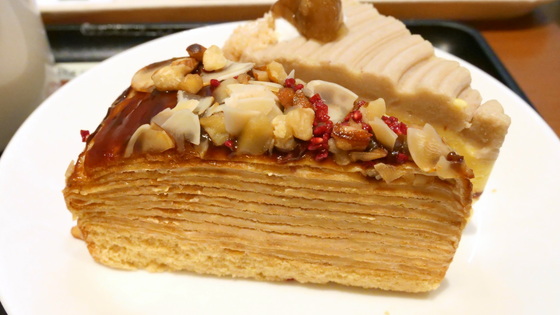 Milk crepe with 10 layers of crepe on a sponge base.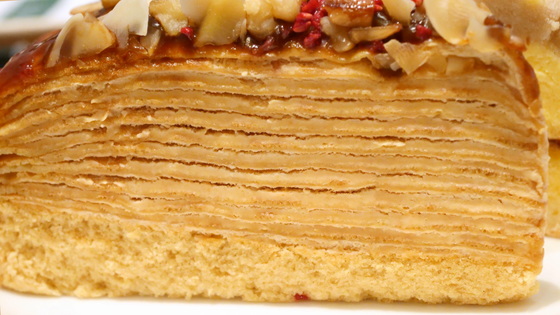 Above it was topped with almonds, walnuts and cranberries.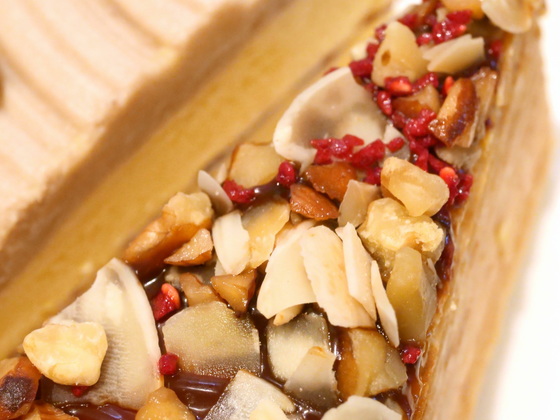 The creamy milk crepe seems to be sweet at first glance, but when you eat a bite, the bitter taste of caramel cream sandwiched between crepes is strong, and the aftertaste feels soft and sweet. The crunchy texture of the nuts was an accent, and the sweetness of the caramel cream and the fragrance of the nuts were perfect for eating with coffee.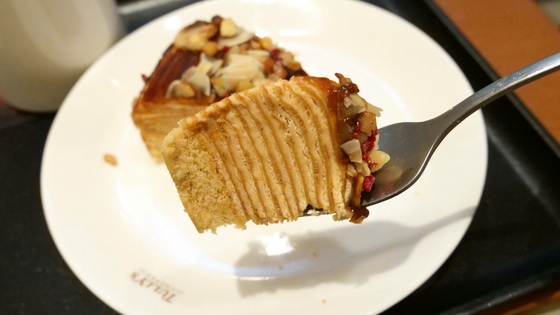 Brussels waffle pear salty caramel arrives about 5 minutes after ordering. The price is 780 yen including tax.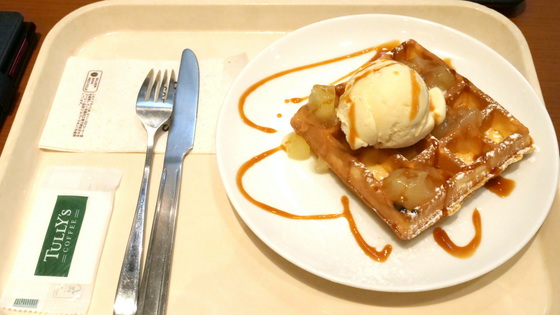 The waffles are at room temperature, so you don't have to worry about the ice melting while you eat.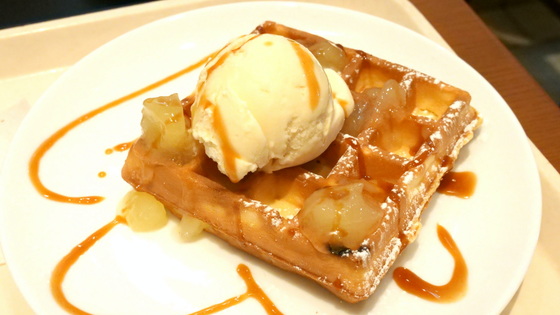 A sweet scent drifts from the thick pear sauce.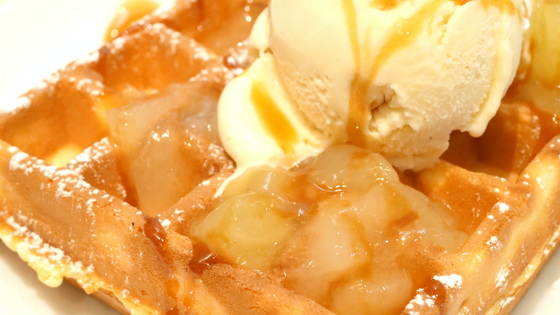 When put in the mouth, the pear's rich fragrance is lost in the nose, and the salty caramel adds to the sweetness of the pear. The compatibility with vanilla ice cream is perfect, and the waffle fabric with a rustic taste is just the right balance with sweet pear and ice cream. Since the pear sauce is plenty, it didn't happen before the waffle was eaten ... I was able to taste the pear luxuriously until the end.



Mont Bramping Tart (490 yen including tax), Caramel Milk Rape Almond & Walnut (490 yen including tax), Brussels Waffle Pear Salty Caramel (780 yen including tax) nationwide except for some stores from Friday, September 13, 2019 Can be purchased with Tully's Coffee.