Phishing scams to macOS exceeded 5.93 million in the first half of 2019 alone, surging twice more than the previous year

by
Bram Naus
Kaspersky, a security company, reported in a statistical report on macOS that the number of phishing attacks on macOS users exceeded 5.93 million in the first half of 2019 alone. In the first half of 2019 alone, phishing scams are rampant at a rate comparable to the number of detections in 2018, `` If the attack continues as it is, it is certain that it will exceed the previous year by the end of 2019 '' I told you.
Threats to macOS users | Securelist
https://securelist.com/threats-to-macos-users/93116/
On September 11, 2019, Kaspersky released statistics on phishing scams targeting macOS detected by its products. A graph summarizing the number of phishing scams detected over the past four years shows that the number of phishing scams has increased since 2015. The 2019 records are for the first half only.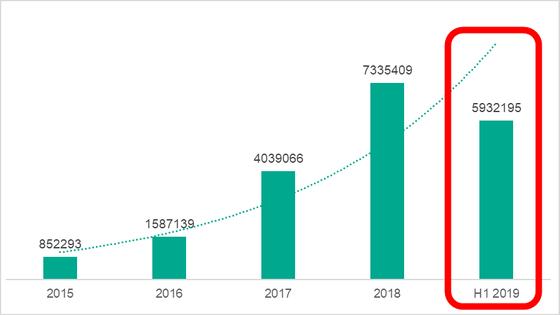 According to Kaspersky, "The annual record for 2018 was about 7.3 million, but in 2019, more than 5.93 million phishing scams were reported in the first half alone. If current trends continue, the number of attacks will continue until the end of 2019. "Is expected to exceed 16 million," he pointed out that phishing scams are taking place more than twice as fast as 2018.

Among these phishing scams, "Phishing scams pretending to be Apple" has shown a particularly strong growth. In the first half of 2019 alone, about 1.62 million records have been recorded, which is well above the annual record of about 1.5 million in 2018.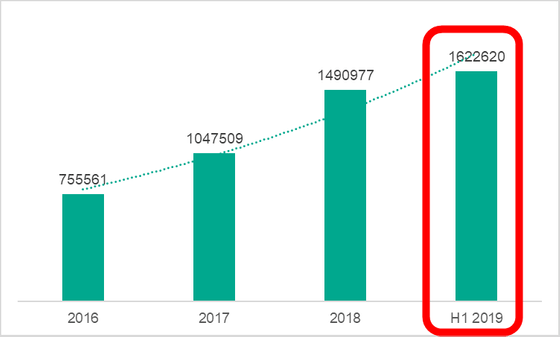 Phishing scams pretending to be Apple are mainly done using fake phishing sites that mimic Apple's official website. The following image is an example of a phishing site, but at first glance it can only be seen on the login screen to the Apple official website.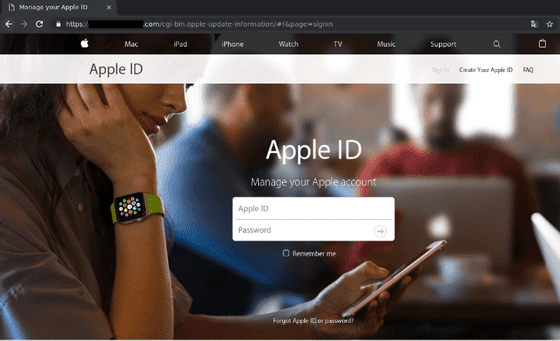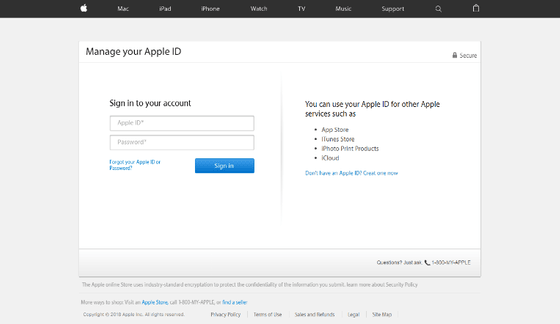 Phishing scams using e-mail are also popular. In the following email posing as Apple's support team, a fraudulent site with a text that threatens `` If you do not click on the link in the email within 48 hours and the account information is confirmed, the account will be locked '' A link button to guide you to is installed.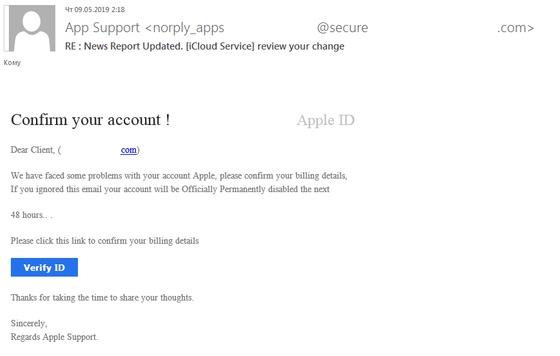 Also, instead of intimidation, "Thank you for purchasing Apple products!", It is confirmed that it is as if to confirm the purchase of the product. MacOS users who don't know try to log in to Apple's official store via email to cancel the purchase, so the account ID and password are extracted there.

In addition, classic tricks have been reported to tell you that you have detected an infection with malware and to contact a fake support team or to download fake antivirus software loaded with real malware .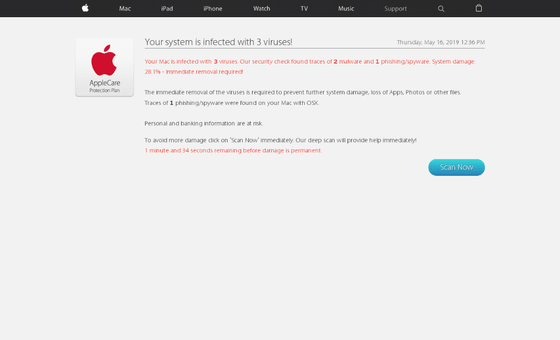 If you look at the graph below that shows the number of malicious and unwanted files detected between 2004 and 2019, you can see that not only phishing scams but also software attacks are intensifying. The number of detections in the first half of 2019 is less than half of the number of detections in 2018, so the momentum of the increase itself is calming down, but from 2014 to 2018, it has increased almost twice each year The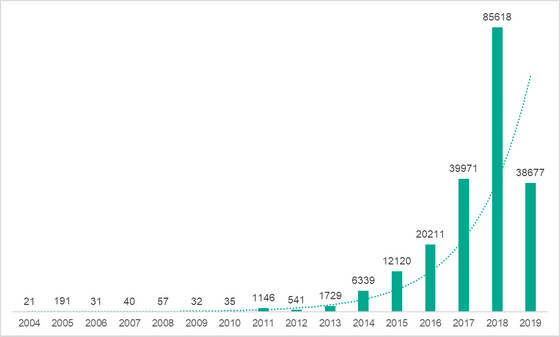 The following image shows the percentage of areas where software attacks were detected by country. Comparing the first half of 2018 on the left with the first half of 2019 on the right, Japan was 2.7% in the first half of 2018, but it increased by 2 points in the first half of 2019 to 4.7%, ranking 9 You can see that it 's rapidly rising from 6th to 6th place.




The top type of software attack by type is
Trojan-
type malware, but overall
adware
stands out. According to Kaspersky, the vast majority of adware does not cause any direct damage, but some of them encourage the installation of malware, so guarding is forbidden.



Kaspersky recommends four ways to protect macOS users from these threats:

-Keep macOS and all apps up to date.
-When downloading and using software, be sure to download it from the Mac App Store or an authorized distribution site.
・ When accessing iCloud, such as when searching for a lost smartphone, make sure that it is the official website.
・ Use highly reliable security software such as Kaspersky Internet Security .

Kaspersky says that it is most effective to protect itself with the basic method of installing security software and updating the OS and apps without fail.

Kaspersky said in the report, " Our MacBook and iMac owners are like Linux users when it comes to security. Certainly, there are fewer devices with macOS installed than Windows, but macOS is becoming more popular. 'The situation is changing,' he said, and warned that macOS users are not immune from the threats lurking on the Internet.