I tried eating a fantastic standing soba `` Toranomon Minatoya spicy chili oil soba '' loved by exquisite island cultivation with oat oil and sweet bonito stock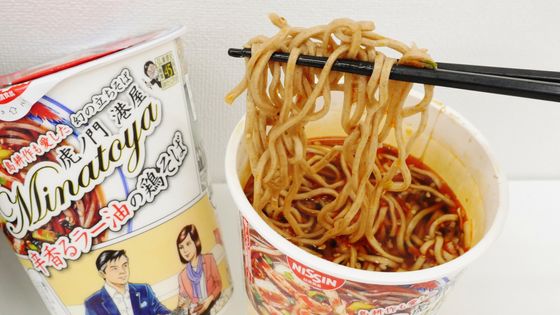 `` Toranomon Minatoya '', which was called `` Standing Eat Soba Shop in Japan, '' was a popular shop where this
souvenir
model appeared several times in the manga ``
Shima Kosaku
'' series, but in 2019 On February 4, 2012, the
store was suddenly closed
. About half a year after that, Nissin Foods and the former owner of Minatoya, Takeshi Kikuchi, jointly developed ``
Illusional Standing Soba Toranomon Minatoya Spicy Fried Chicken Soba I also loved Shima Kosaku
'' was released, so eat it Saw.
'Phantom standing soba loved by Shima Kosaku Toranomon Minatoya spicy roasted chicken soba' (Released on September 9) | NISSIN FOODS GROUP
https://www.nissin.com/jp/news/8033
The package of "The fantastic standing soba loved by Kojima Shima Toranomon Minatoya Spicy Chicken Soba" is like this.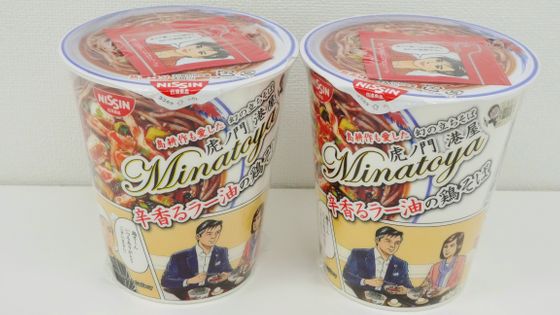 The original illustration of the package illustration was drawn by
Kenji Hirokane,
the creator of the Kosaku Shima series.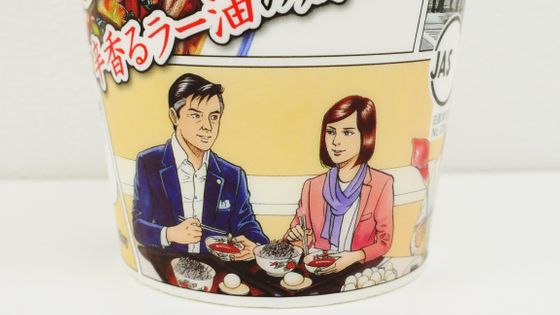 'Thank you very much for the island sa-n!' Kikuchi-san also appeared.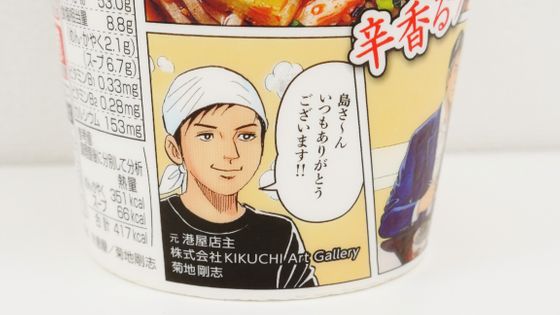 The illustration drawn by Mr. Hirokane is also printed on the spicy chili oil that stuck to the lid.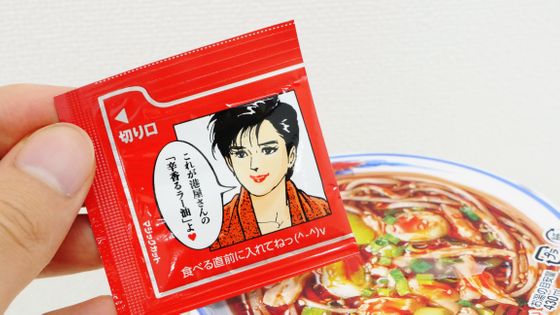 At first glance, it looks like a spicy cup noodle, but the 'spicy level' is 1 out of 5.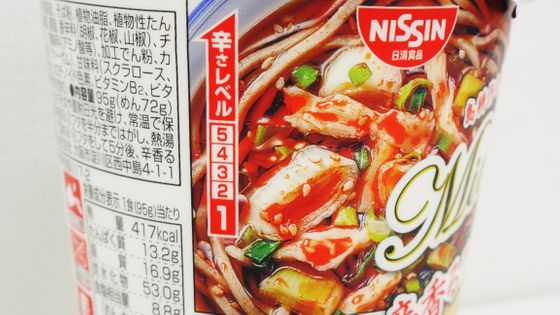 Looking at the raw material names, spices such as 'pepper,' '
sansho,
' and '
pepper
' are lined up in the soup items, and the flavors include 'sesame,' 'seasoned chicken,' and 'green onions.'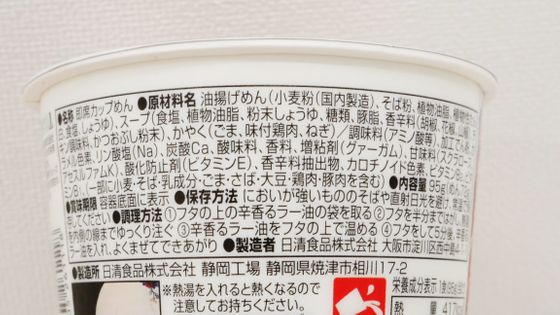 The calorie per meal is 417kcl, and the amount of carbohydrates is 53g.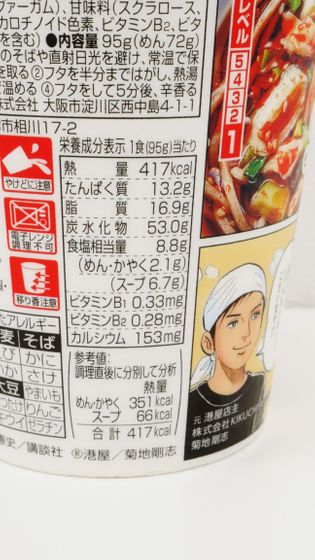 When the lid is opened, there is a spicy scent of pepper and pepper.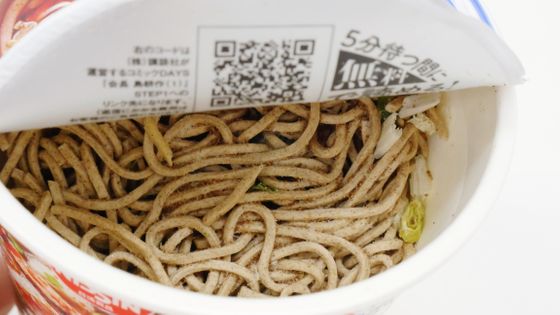 Add hot water and warm spicy chili oil on the lid for 5 minutes.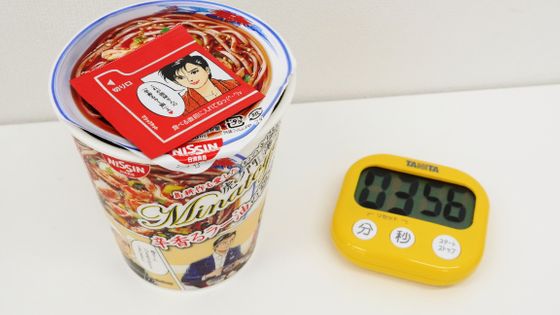 After 5 minutes, open the lid and add the spicy chili oil ...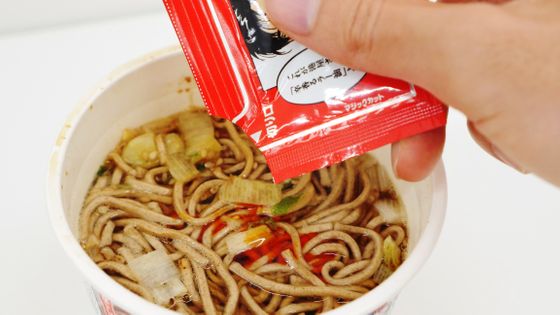 If mixed well, spicy chili oil soba is completed. The savory and stimulating aroma of chili oil spreads, and the appetite is inspired.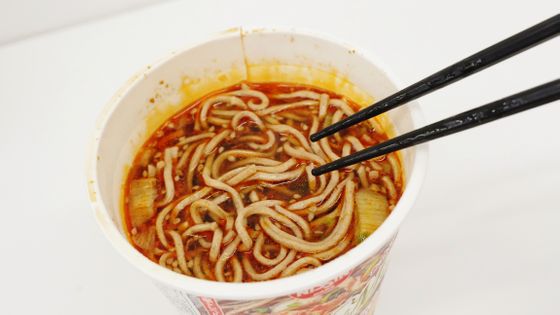 As soon as you try it, you will notice that the newly developed thick soba is entangled with soup and chili oil, and you can feel the spicy spiciness and umami of the soup.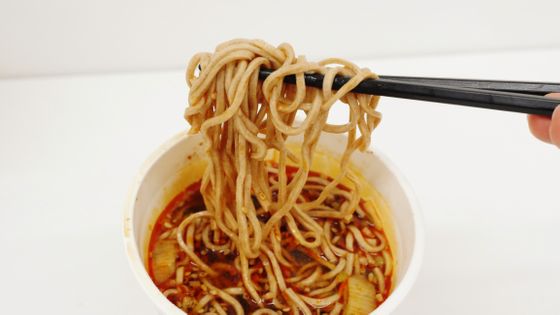 The bonito dashi soup, which is the base, has a strong sweetness, but the spiciness of sansho and pepper gives it a deeper taste. The scent of sesame, which is contained in a very large amount, is also a good accent.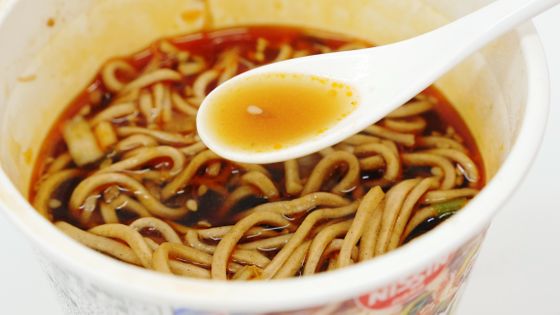 Despite the spicy level 1, it contains plenty of chili oil and spices, so sweating comes out when eating. Still addictive taste spreads in the mouth that can not stop sipping.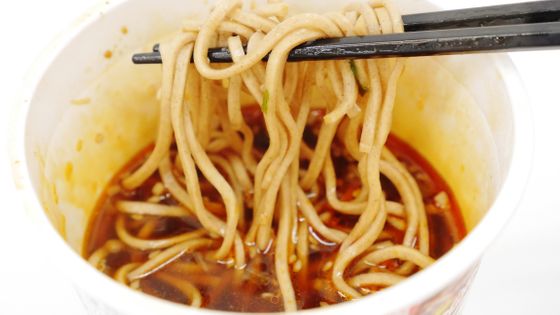 The suggested retail price of 'Toranomon Minatoya Spicy Chicken Soba Chicken Soba, also loved by Shima Kosaku' is sold at retail stores nationwide at 228 yen, excluding tax. At the time of writing the article, 12 pieces were 2753 yen including tax at Amazon.

Amazon | Nisshinjima Kosaku loved the fantastic standing soba Toranomon Minatoya spicy chili oil soba 95g x 12 pieces |