'Night mode' for night shooting is implemented on iPhone 11, what is the power of the camera with triple lens?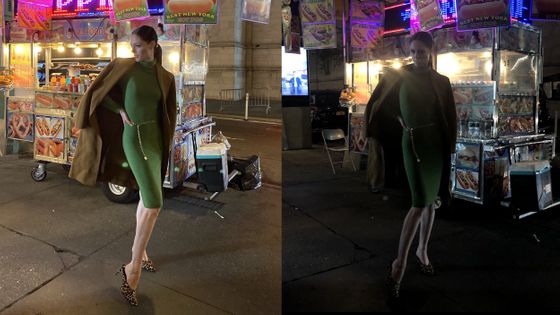 By Coco Rocha

The iPhone 11 has enhanced camera functions over the previous model, and the " Night Mode " that automatically corrects photos even at night is now implemented. The person who actually used iPhone 11 posted an image that shows at a glance the difference in night shooting ability between iPhone 11 and iPhone 10.

Night Mode and New Cameras in iPhone 11 and 11 Pro Shown Off-MacRumors
https://www.macrumors.com/2019/09/12/night-mode-iphone-11-demo/

iPhone 11 Night mode camera tested in first real-world images-9to5Mac
https://9to5mac.com/2019/09/12/iphone-11-night-mode-camera/

The comparison photograph of iPhone 11 and iPhone 10 posted Coco Rocha, the founder and model of a model office called Nomad Management Modeling Agency in the United States. If you look at the image that Rocha took at night, you can see the difference in the night shooting ability between iPhone 11 (left) and iPhone 10 (right). The iPhone 11 photos look as bright as evening, while the iPhone 10 photos are so dark that you can't see the face.

Not Ask Me Do How But I Got My Hands On The New IPhone 11 Tonight! ???? Swipe Through To See The Difference Between The 11 And The X In Low Light. ???? #Notsponsored #Butapplecansponsorme #Callmypeople #Timapple # iphone11promax #iphoneevent # iphone11 pic.twitter.com/wZHn6ugRQv

— Coco Rocha (@cocorocha) September 12, 2019


The newly developed image processing software and the new processor "A13 Bionic" are used for the night mode of iPhone 11. The mechanism uses optical image stabilization to capture multiple images at once, discarding the blurring portions of the multiple images and merging the sharp portions, and contrast, color, noise, and detail of the image. It will adjust automatically. In addition, iPhone 11 detects ambient brightness and automatically turns on night mode.

Apple also posted images showing the power of triple lenses on official Instagram. Click the arrows on the left and right of the following instagram image part to switch images. 'Ultra Wide' is an ultra-wide-angle lens, 'Wide' is a wide-angle lens, and 'Telephoto' is an image taken with a telephoto lens only on the iPhone 11 Pro.




All iPhone 11 series support portrait mode, smart HDR, portrait lighting. In addition, nine photos are instantly shot at the moment the shutter is released, the nine photos are automatically combined, and the texture, detail, noise, etc. are optimized for each pixel to create the "best one" 'Deep Fusion' will be implemented.