What is "100 Thieves", the most successful company in the esports industry?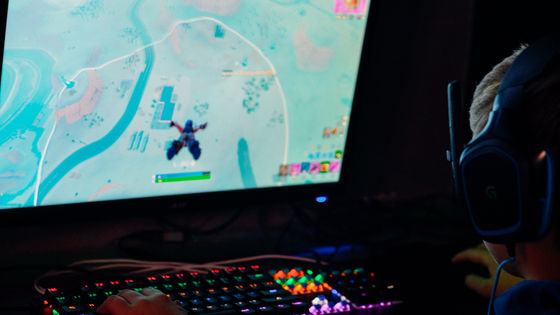 by Alex Haney

The Verge of overseas media chases how ' 100 Thieves ', an e-sports organization and game-related apparel company, has become the world's best entertainment company in the esports field It is.

How 100 Thieves became the Supreme of e-sports-The Verge
https://www.theverge.com/2019/9/5/20849569/100-thieves-nadeshot-esports-supreme-drake

eSports is a fast-growing field, but it is also an uncertain business. ESports, which has been around for decades, has become so popular in recent years that a world-class professional league has appeared. However, I still don't know if professional leagues can continue in the future. 100 Thieves is one of the most successful companies in such a constantly changing e-sports landscape.

100 Thieves is not only an e-sports group but also a very competitive company as a game apparel. The Verge is so popular that enthusiastic fans purchase items such as limited sweatshirts, T-shirts, hoodies, etc. and record sales of over $ 500,000 (about 53 million yen) in 5 minutes It is expressed as "reminiscent of an established street brand like Supreme ".



100 Thieves was established in 2017 by former professional gamer Matthew Hague, also known as "Nadeshot". Mr. Hague began his career as a professional gamer and later became a celebrity on YouTube. Mr. The Hague used his own experience to launch 100 Thieves as an entertainment company linking different fields of esports, YouTube, streaming and apparel.

John Robinson, who has worked for major game publishers Electronic Arts and NEXON in the past, has run his own game studio and is now president and chief operating officer at 100 Thieves, "If you want to explain us, Los Angeles Lakers and Barstool I think it 's similar to Sports , Supreme . "

Many e-sports organizations, like regular professional sports teams, plan to contract with many players, win the tournament and increase sponsorship. However, Mr. Hague told Robinson that he intends to "reinvent" such common sense as an e-sports organization. The new eSports organization that Hague thinks is not just winning the competition, but also a huge fan base where many people have access to the content and social media channels they have created. It seems that it was. It's easy if it's just a word, but Robinson says, 'Matt (Hague's nickname) had the reliability to actually do it.'

Matthew Hague, the founder of 100 Thieves, is on the lower right corner

Up Today Ran With The Squad. #SuperstarKO In # Madden20 #EAambassador Pic.Twitter.Com/2TjLPpp31p

— 100T Nadeshot (@Nadeshot) September 5, 2019


100 Thieves first made a big success in the second half of 2017. Just like the esports team backed by a well-known company, you will be competing in the League of Legends professional league. Later, 100 Thieves also became popular e-sports teams such as Fort Knight and Call of Duty, and expanded the company's three axes "Game", "Content" and "Apparel" in their own ways. .

In June 2019, former Dota 2 pro player Jacob Toft-Andersen became VP of e-sports at 100 Thieves. In July of the same year, Doug Barber was pulled out of the street brand Reigning Champ and appointed as the VP of apparel for 100 Thieves. It wasn't just that we pulled out the people involved, but Jackson Thiel, the first employee hired by 100 Thieves, is a leader in the entertainment department that handles content such as YouTube, Twitch, and podcasts. It seems to be.

In October 2018, the popular rapper Drake became the co-owner of 100 Thieves.

Thieves Raises Series 100 A, Drake and Scooter Braun Join As Co-the Owners. Https://T.Co/PeXbqdhefs Pic.Twitter.Com/tzy9A1zNLt

— 100 Thieves (@ 100Thieves) October 23, 2018


100 Thieves may have had a clear vision of developing a business centered on three things: games, content, and apparel from the beginning, but it did not necessarily provide excellent ones from the beginning. The Verge writes. The initial apparel goods of 100 Thieves were a little better than those of other companies, and the video content was not particularly new, although it was a documentary-style tension.

"In the beginning, we were desperate to approach the standards of the team that created the best content in the esports industry, because they were creating really narrative-like content. After months, we started thinking about what the gamers really wanted to see and how they would focus on esports. '

Popular in the game field is live play, but there is no live play of popular content such as Fort Knight and Minecraft on the 100 Thieves YouTube channel. This is the result of 100 Thieves exploring its own direction. The 100 Thieves YouTube channel handles content that focuses on the personality of people and players, not the game itself, such as talk shows between professional gamers and interview videos with businessmen who are active in the entertainment field. The 100 Thieves is based on the personality of Mr. The Hague, a popular personality on the Internet. Mr. Dahl said, "It would make sense for us to expand content in the direction of emphasizing the current personality. 'Comment. The goal is to create an expansive content, like a live show or a professional gamer version of the Marvel Cinematic Universe .

As a result, the number of 100 Thieves YouTube channels registered at the time of article creation exceeded 500,000.

100 Thieves-YouTube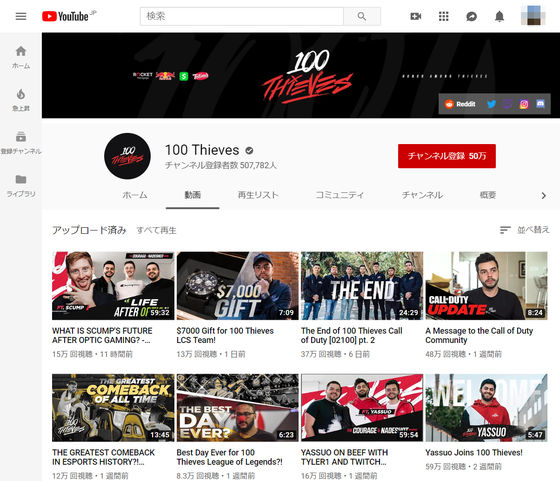 The 100 Thieves icon, Mr. The Hague, his professional gamers and creators are all wearing 100 Thieves apparel goods. For this reason, 100 Thieves apparel goods are attracting a great deal of attention and are often sold out in a few minutes.

Mr. Barber is a human resource hired to strengthen the apparel department of 100 Thieves, but it seems that its role is not only in clothing design, "I am overseeing the entire 100 Thieves brand." . Mr. Barber was a Reigning Champ, from clothes design to brand management to retail supervision, and the same role is required for 100 Thieves.

It seems that Barber's goal is to make the 100 Thieves apparel phenomenon bigger and more sustainable, "Apparel is one of our top initiatives. Building a true lifestyle brand This is one of the main goals of the brand for the time being: we are not only trying to create products to support the esports business, but also want to create a real apparel brand. I believe that is the way to differentiate 100 Thieves from other esports organizations, "he said.

100 Thieves Air Custom Max 1S, Created Via The AttoNike Bespoke Program Exclusive To 21 Mercer. Pic.Twitter.Com/IV4jhYyZTN

— 100 Thieves (@ 100Thieves) August 16, 2019


The main source of revenue for 100 Thieves outside apparel is sponsor revenue. Since 100 Thieves owns an esports organization, it is possible to put the company logo on the uniform when your team is competing. The company that wants to put the logo pays a sponsor fee to 100 Thieves, which is a big source of income. 100 Thieves sponsors include Cash App , Red Bull and Totino's . These sponsors are "the biggest source of income," says Dahl.

The bubble in the esports market is said to burst soon, so the existence of multiple revenue sources is very important considering the future growth. 100 Thieves has sent professional teams to multiple game competitions, but currently only has League of Legends and Fortnite professional teams, and teams that have been active in other games have stopped working for various reasons. I did it. One of them is Clash Royale, and Robinson explains why it didn't apply to our brand.

The most shocking thing was that 100 Thieves withdrew from the Call of Duty. Hague is a former Call of Duty professional gamer, and it's amazing to see that 100 Thieves had a professional team that had won two major Call of Duty titles. The reason that 100 Thieves withdrew from Call of Duty was that Callis Duty publisher Activision launched a new Call of Duty pro league concept and it took too much money to enter the league. It seems to be.

In addition, 100 Thieves is the withdrawal reason from the Call of Duty movie well described in, it has published and documentary movie of the trajectory of the past.

THE GREATEST COMEBACK IN ESPORTS HISTORY ?! [02100] pt. 1-YouTube


Even though 100 Thieves has withdrawn from the Call of Duty, Toft-Andersen, VP of eSports, says he plans to participate in more titles in the future. "We don't approach esports in the same way that many other teams do, which means they do n't compete in almost every competitive title," he commented. Still, the fact that they could not keep the Call of Duty team, which was a competitive esports team, was a big pain for 100 Thieves, who has a source of income in addition to the esports field.

One of the major initiatives that 100 Thieves will do over the next few months is to build a new headquarters in Los Angeles. At the time of writing the article, 100 Thieves offices are scattered throughout the country, so distributors and professional gamers are working at home and in various office spaces. Construction of the new headquarters is scheduled to be completed by the end of 2019. The new office will have a practice room and editing room for players, a studio for distributors, a design studio for apparel teams, and even a retail space for selling apparel goods.