What is the "black allegation" surrounding the world's largest meat maker with annual revenues exceeding ¥ 5 trillion?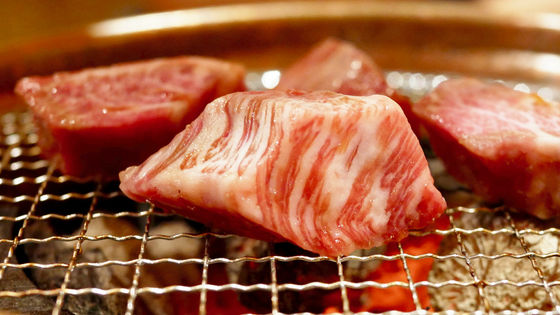 by
Jun Seita
Headquartered in Sao Paulo, Brazil,
JBS
is known as the world's largest meat manufacturer. JBS processes 13 million animals daily into meat and is said to have annual revenues of $ 50 billion (approximately ¥ 5.5 trillion). However, following the report of the 2017 bribery case, it became clear that JBS had various "suspicions".
The Bureau
, a British collaborative research network, summarizes scandals surrounding JBS.
JBS: The Brazilian butchers who took over the world — The Bureau of Investigative Journalism
https://www.thebureauinvestigates.com/stories/2019-07-02/jbs-brazilian-butchers-took-over-the-world
JBS is a meat processing manufacturer founded in 1953 by Joseon Batista Sovereign, a Brazilian pastor. The company name JBS is derived from the initials of its founder Jose Batista Sobrinho. Since Josley Batista and Wesley Batista, the children of Jose Batista Sobrinho, have become JBS CEOs, JBS has aggressively moved into the United States and adopted a strategy to enter the global market.
◆ Corruption case
In 2007, JBS acquired Swift & Company, an American food processing company. In 2008, it acquired Grupo Vertin, a Brazilian food processing company, and Pilgrims Pride, the largest chicken processing manufacturer in the United States. As a result, JBS has grown into the world's largest processing manufacturer of beef, pork and chicken.
However, JBS has invested a lot of money as a bribe to the Brazilian government in the back of rapid growth. In 2017, the investigation began with the allegation that JBS was illegally financed by the Brazilian National Economic and Social Development Bank (
BNDES
). Among them, CEO Josley testified that bribes were paid to many politicians, including former President
Michel Temel
. The recording of Joesley and Wesley's testimony as a judicial transaction was released by a major Brazilian newspaper.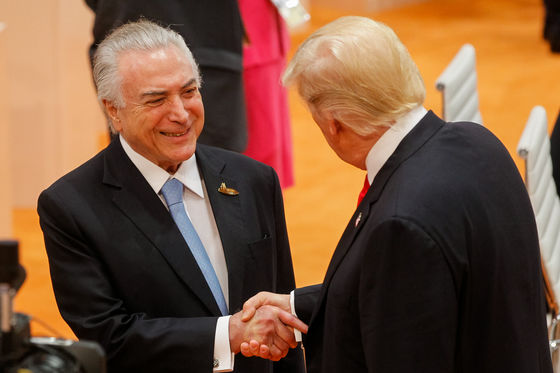 by
Michel Temer
In the investigation of the corruption case, a video of the former President Temel's aide carrying a suitcase filled with $ 150,000 (about 16 million yen) of cash was also announced. In addition, JBS officers testified that a total of about $ 250 million (about 27 billion yen) of bribes was paid to 1829 politicians including candidates. Reported globally as the largest corruption scandal in Brazil's history, JBS's stock price plummeted nearly 9% the day after the news became known, greatly affecting the Brazilian stock market. Because it was too large corruption, it seems that the investigation of scandal continues even after two years from the report,
and
President
Jair Borsonaro,
also called
``
Brazilian Trump '', is 200,000 real (about 5.1 million yen) It was
reported that he was
receiving election funds from JBS.
◆ 'Dirty meat'
In addition, it was also clear that JBS sold beef past the expiration date, inspected meat was insufficient, and counterfeited meat exports when a corruption scandal entered the investigation scandal in 2017 It came out. Originally, meat hygiene management is a part that is strictly regulated by law, but in Brazil where corruption is infested, it was natural that the regulation was escaped by bribery.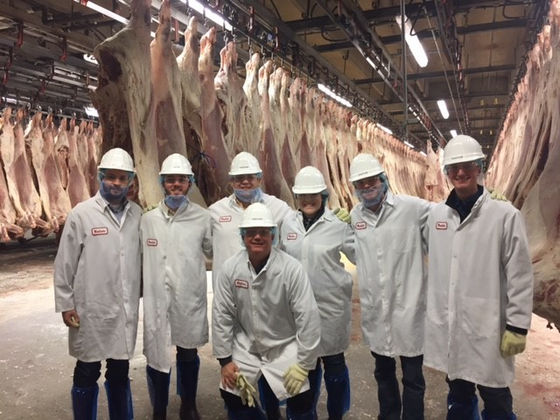 by
CAFNR
In 2018, the US Centers for Disease Control and Prevention (CDC) announced that 'ground beef processed by JBS was infected by
Salmonella
, a pathogen of food poisoning.' According to a
report from the
Japanese Food Safety Commission, the beef used in this minced meat was also processed by an affiliate of JBS. Similar cases have been reported for chicken, and Brazilian meat, including JBS products, is being banned from importing worldwide.
Meat fraud in Brazil-Ministry of Health, Labor and Welfare
(PDF file) https://www.mhlw.go.jp/file/06-Seisakujouhou-11130500-Shokuhinanzenbu/0000197142.pdf
A survey published in July 2019 revealed that Salmonella-contaminated chicken had been exported from Brazil to Europe over the past two years.
◆ Deforestation
In 2017, JBS purchased cattle from ranchers operating on land where deforestation is prohibited and was fined $ 7.7 million by Brazilian environmental regulators. . Environmental groups have published several reports that make similar claims, but JBS denies them all.
According
to a
survey
conducted by The Bureau in July 2019, JBS is still buying cattle from ranches that are raising cattle in land where illegally rainforests have been cut. A reporter from The Bureau witnessed cattle that were actually grazed in the banned area, and that cattle from the ranch were being delivered to the JBS slaughterhouse and official state documents.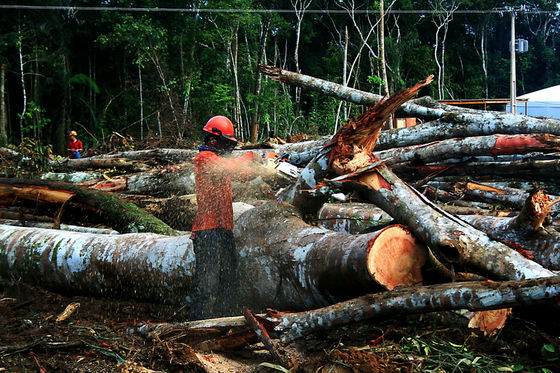 by
Eduardo Santos
JBS responded to this report: "99.9% of cattle purchased by JBS meet social and environmental standards. New procedures covering all links in the supply chain are being implemented and illegally harvested in the rainforest. We are working to stop the purchase of cattle raised in the area. '
◆ Slave labor
A survey of The Guardian and local media revealed that the farm contracted with JBS had employees working in a 'modern slavery' situation. According to police documents, the farm reported 'inhuman and degrading condition' and found a male employee who was forced to live in a state where shelter, toilets and drinking water were inadequate. It is. JBS cancels the contract with the farm in question immediately after the investigation by the police, and declares `` I will not buy beef from farms related to slave labor as listed on the Brazilian government list '' .
◆ Price agreement
In 2018, Cisco and US Foods, the largest food distributors in the United States,
claimed
that major meat producers, including JBS, intentionally stopped supplying chicken to raise wholesale prices. In April 2019, an American rancher accused a beef processing manufacturer, including JBS, that he had negotiated to reduce the price of meat since 2015.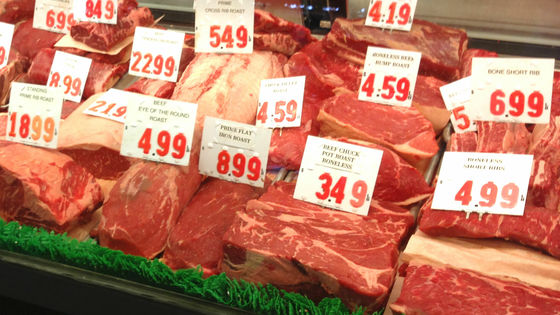 by Phil Denton

◆ Animal Abuse
The American Humanitarian Association (AHA) reported that slaughterhouses contracted by JBS are overkilling chickens and pigs and processing meat in an inhumane manner. We also released a movie showing how JBS employees castrated piglets without anesthesia. In response to the AHA report, JBS announced that it has stopped shipping pork from the slaughterhouse and started an internal investigation. He also stated, "We will not tolerate or participate in any kind of animal abuse."

The Bureau said, "JBS beef has traveled thousands of kilometers from Brazil to the British supermarket. During that time, the connection between farms, ranches and retailers is not clearly visible, so where does the meat come from? And the average consumer can hardly understand how much the Earth's nature and environment pays for its cheap meat. '