Why was the green stone produced by the nuclear test named "Trinitite"?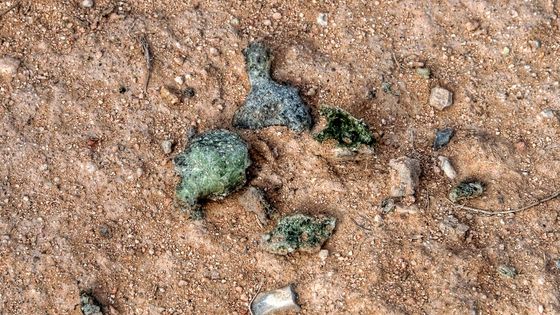 by
Joel Deluxe
On August 6, 1945, the United States dropped the atomic bomb '
Little Boy
' on Hiroshima City in Japan, and a large number of casualties and exposed persons were born. The nuclear test conducted before the launch of such an atomic bomb was the
Trinity experiment
, and an episode related to the artificial mineral '
Trinitite
' that was born along with this experiment is published on the Smithsonian Museum website.
A Chunk of Trinitite Reminds Us of the Sheer, Devastating Power of the Atomic Bomb | At the Smithsonian | Smithsonian
https://www.smithsonianmag.com/smithsonian-institution/chunk-trinitite-reminds-sheer-devastating-power-atomic-bomb-180972848/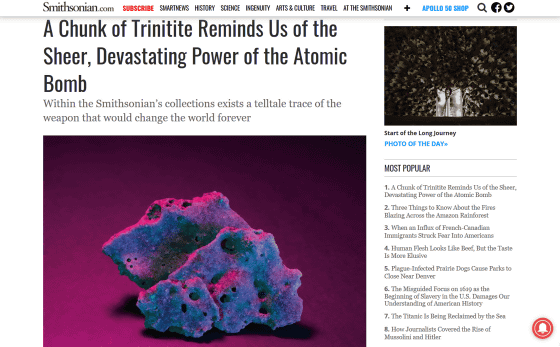 During World War II, the United States and other nations implemented a
Manhattan project
aimed at producing atomic bombs to compete with Axis countries such as Nazi Germany. The research team led by
Robert Oppenheimer
, who was in charge of science, will finally conduct the world's first atomic bomb explosion experiment in July 1945.
The
explosive
experiment
, called the
Trinity Experiment
, took place at a test site located 48km southeast of the city of
Socorro
,
New Mexico
. Researchers set up an atomic bomb named '
gadget
' on a 20m tall steel tower. The experiment was originally scheduled to be held at 4 am on July 16, but the temporary plan was stopped due to a thunderstorm and waited for the weather to improve.
Eventually, the weather stabilized and the atomic bomb was exploded using a detonator around 5:30 am on July 16. The nuclear chain reaction that occurred inside the
plutonium
sphere, which was only about the size of a baseball, brought about an explosive force equivalent to 19,000 tons in
terms
of
TNT
, and the steel tower evaporated to a scaffold to create a mushroom cloud.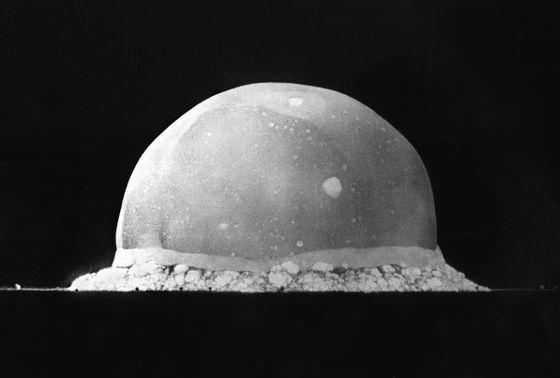 by
Berlyn Brixner
Inside the crater generated during the Trinity experiment, desert sand, mainly
silicate
, melted and turned into a bright green glass. Although a large amount of glass was left in the nuclear test site, it was originally said that it was not mentioned behind the magnificent experimental results.
It became famous after the Second World War about green glass, and visitors began to bring it back as a souvenir for the Trinity Experiment Station. In a September 1945 article, Time magazine explains the "green lake of the lake" and how the glass is scattered. At first there is no fixed name for this glass, it is named from the nearby city
Alamogordo
and is called `` Alamogordo glass '', or it is named from the atomic bomb and is called `` Atmosite '' It was said that it was eventually named "
Trinitite
" derived from the Trinity experiment.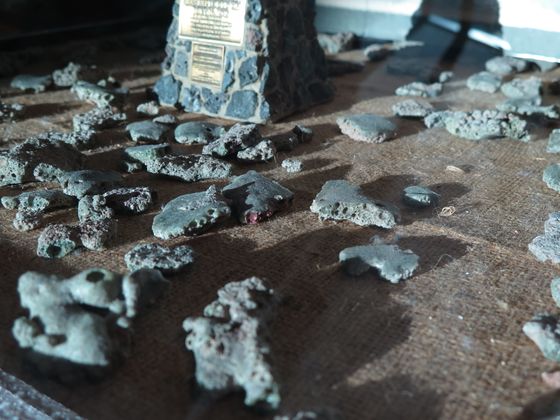 by
Kelly Michals
One question that arises here is why the name of the nuclear explosion experiment was given the "
Trinity
"
trinity
, a Christian teaching. Oppenheimer is said to have created the name Trinity Experiment, and
Leslie Groves
, the chief military officer of the Manhattan Project, later told Oppenheimer, "Why did you name it Trinity Experiment?" I asked in a letter.
Oppenheimer responded, saying, 'I don't know why I gave this name.' However, following this, "But I know what I was thinking in my mind at this time. I was left before the death of
John Dunn
(an English poet of the 16th and 17th centuries), `` I like my poetry, '' I thought when I named it, `` West and East are one (like me) on a flat map, death is also touching the resurrection (As West and East / In all flat Maps-and I am one-are one, / So death doth touch the Resurrection.)
Oppenheimer, who quoted this poem, said, "This alone will not be a Trinity. However, Dan 's famous hymns include" Batter my heart, three person'd God ". Please do not have any further clues. "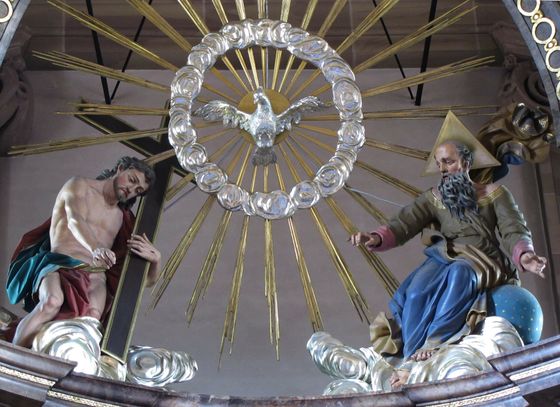 by 12019

It's unclear if Oppenheimer really didn't know why he named it Trinity Experiment, or if he didn't mention it on purpose, but the green glass left at the Trinity Experiment Station is now called Trinitite . At that time, trinitite was distributed among mania as a new kind of ore.

From the 1940s to the 1950s, many people entered the test site without permission and collected trinite. However, in 1952, the US army reclaimed the test site and made it illegal to collect trinitite. However, possession and trade of trinitite collected before it is illegal is not illegal, so it seems that it can be purchased at local dealers and Internet mail order sites even at the time of article creation.


by Sascha Grant