Interview with Director Koya Nakaya who made the movie `` VAMP '' with his brother Chiaki Konaka, confirming `` humans really have this kind of place '' by drawing up to `` the limit that people can not be ''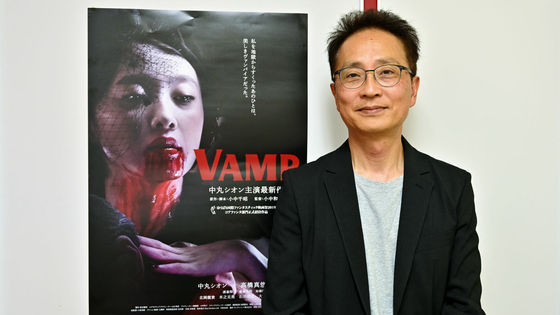 The opening screening of
the 6th Summer Horror Hallows Festival 2019, which
began on August 23, 2019, is Amami's dark fantasy movie "
VAMP
". This work is written by Chiaki Konaka, who is active as a screenwriter and writer for drama, movie, and animation such as 'Scarious story that really happened', 'Ultra Mangaia', 'serial experiments lain', and 'GHOST HOUND'. The director is Chiaki Konaka's younger brother who is in charge of various genres such as 'Ultraman Nexus', 'April Mystery', and 'The Future I Will Be Executed'.
This time, I asked Mr. Konatsuya about various works about 'VAMP', about making works with his brothers, and about the works he has worked on so far.
GIGAZINE (G):
How did you make this work "VAMP"? As the director's movie, the previous work was "
Akadanburi Koi
" in 2013, and drama etc. have been worked on in the next 6 years.
Director Koya Nakaya (hereinafter referred to as Konaka):
As a project, I have been moving from "Akadanai Koi" without leaving much space, but there is a place where it took a while to get a bit.
G:
When did you start moving?
Small and medium:
It was around 2014, after a while after the release of "Akadanburi Koi", the project was brought to King Records.
G:
It wasn't an offer that said, "Would you like to do such a plan?", But Director Konaka wrote a plan and brought it with him.
Small and medium:
Well, I brought it because I wanted to do horror with my big brother. I made my debut when video companies started making movies, so there were many patterns of bringing plans to video companies. "
April Kaidan
" was produced by JVC, and "
Kuma-chan
" was brought to Pony Canyon. During this time, the so-called "V-cine" things that video companies make movies are decreasing, but King Records is a company that works hard. In particular, the producer Yukihiko Yamaguchi loves horror and sends out various works. But I had never worked with my big brother or me, so this time I approached Yamaguchi-san thinking about taking his brother's original horror project. The content was this story from the beginning. The title was different.
G:
What was the first title like?
Small and medium:
The title was "
Blood Sobae
" at first. When written in Kanji, "Yuki" is a "play" of "Yu", which is actually an old word meaning "excited by seeing blood". However, it is a word that has nothing to do with vampires, and it means that when a sword cuts a person, he sees blood and gets excited.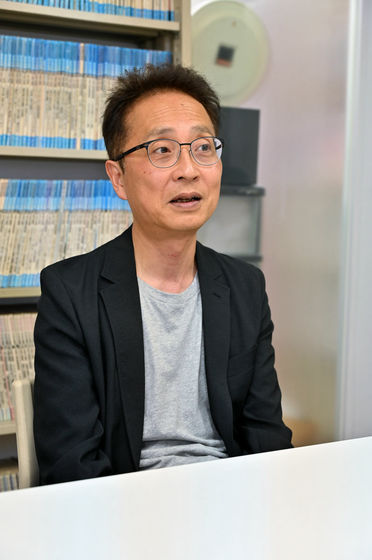 G:
That started from that point. The plot is almost the same from the beginning.

Small and medium:
That's right. It was based on an older brother's short story. Certainly, in one of the vampire anthologies written by various writers, `` Hematophilia who can not help rinsing blood tries to abduct a girl and soothe the blood, but the girl becomes the second generation It was a basic idea. It started from trying to make this a feature.

G:
I don't think it's likely that the first draft of the script will go as it is, but did you rewrite the script several times in the original work?

Small and medium:
Although it was rewritten, the story or the flow has not changed. Since I knew a lot at the plot stage, I haven't messed with it since I became a screenplay.

G:
Mr. Chiaki Konaka, who has come out as "big brother", is in charge of the script for this work. Mr. Chiaki Konaka was interviewed at the Japan Film Street Forum in 2007, and answered 'I've been getting along for a long time.' It was Did you get along well in the past?

Small and medium:
Well (laughs) No, I think it's normal. When it comes to making movies, we were working together. When I was an elementary school student, I wrote the screenplay in a collaborative form, and my brother was the director and I was the performer. That is the first work, "Invader". When I started making it, I was a 4th grader and my big brother was a 5th grader.

G:
2 years! ? That's amazing.

Small and medium:
In the first year, I became a par because the film wasn't spinning (laughs), but when I entered junior high school, I got a film-making companion at school. So I started making movies with Krysmate.

G:
Did you say, "Let 's make a movie!" From Director Konaka?

Small and medium:
Take a good friend and film a movie, 'Let's take a movie because there is a camera.'

G:
That's amazing.

Small and medium:
That is my debut work called "CLAWS". Although it is a debut work, it is a work where a cannibal bear appears in the parody of 'Jaws', but I took 4-5 friends to go to Mt. Takao for shooting. Then in high school, I entered the "Seikei High School Film Research Department" where Mr. Tezuka was a senior, and at Rikkyo University there was a movie production circle called "Rikkyo SPP" with Kiyoshi Kurosawa at the top. was. My brother was a big brother, and I was in the light music department of Seijo University. At the time of "The Bear who fell to the Earth", I asked my big brother for special makeup, but there was some cooperation.

G:
Somewhat (lol)

Small and medium:
The bases to make were different. At first, my big brother was going to be a professional and went to the production company for a while. However, because I was a perfectionist, I thought that my personality might not fit in the direction. Production is an existence that must be compromised on site. Then I thought it would be better to write only the script and complain (laugh)

G:
(Lol)

Small and medium:
So when my brother became a screenwriter, I became the director and my brother became a screenwriter, and I started to work. Before "Kuma-chan", I was doing a video drama called " White Girl Story " starring Noriko Sakai.

G:
Also in Hollywood, Christopher Nolan 's brother Jonathan Nolan is a screenwriter, and `` Dark Knight '' and `` Interstellar '' are works made by brothers, but how do you usually touch Is that?

Small and medium:
Because you are brothers, you sometimes meet at home. As for work, we were working with Tsuburaya, but we didn't form a team.

G:
Is it just like the timing is off?

Small and medium:
Maybe it was like that.

G:
Is reading Chiaki Aki's script different from when you collaborated with other screenwriters?

Small and medium:
Oh, that's not the case. I've been watching my brother's work for a long time, and the things I've grown up in the first place are together, so I can really understand what I want to do. There is no need to talk so much even at the meeting, so if you say 'Kodo', you can go into the main subject rather than 'Koka', so meeting is easy. For other screenwriters, it's hard to explore.

G:
What does "exploration work" mean?

Small and medium:
Even if you spend words on what you are aiming for and what you like, you may not know if you are communicating properly. So, it is often the case that after discussing various things, understanding each other, then finally the main subject. But in the case of an older brother, you can skip it. To some extent, we know the world we want to do with each other, and we know that it is not really true. I'm a director, so if I don't hire it, it won't be established, so I think my brother has stopped by me. I think I understand the worldview I want to do. However, there are "big brother elements" that I do n't see when I work alone or with other screenwriters, so my brother 's sensation is close to me. (Laughs)

G:
It's like a little closer to each other.

Small and medium:
That's right. However, "Which one is better" depends on the work. I think this VAMP is quite intermediate.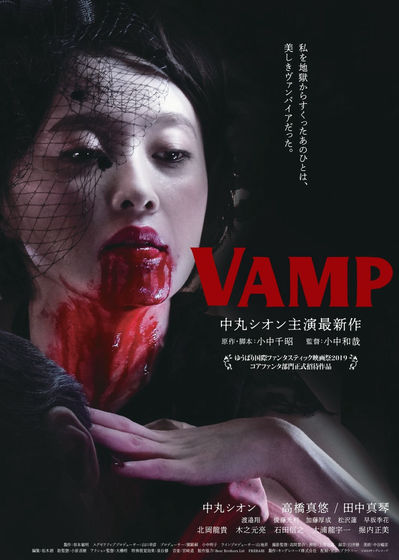 Small and medium:
The horror that my brother wants to do now enters from the kind of `` what kind of world view '', but I do not have much interest in the horror of each promise, I draw a human being by borrowing the shape of the horror, `` Human I want to make something that is the most scary and interesting. " In that sense, my older brother also had the feeling that "a horror that is only scary is good", and until now I thought that "What should I do to be really scary?" It's not. It was this story that came up with an idea of what was interesting. The first project book was about "abnormal psychology".

G:
Abnormal psychology?

Small and medium:
'What does it mean to kill a person?' There are many bizarre incidents in the world, but people try to convince themselves by cutting them off as "abnormal people". However, when I go into the psychology of the side called "abnormal" a little, I wonder if there is an inevitable necessity. We use a factor called vampire to solve it. Vampire is a promise that you can't live without sipping blood as promised, but when you make it the main character, you can't deny 'spilling blood'. But there is some kind of sadness. Vampire stuff is a genre that sympathizes with those who must live by stealing their eyes as a shady person.

G:
It 's a very popular genre.

Small and medium:
So, you can draw from the perspective of the anomaly and without leaving it out. However, I didn't want to make it a genre-like "vampire thing". When I try to elucidate the existence of the promised vampire a little deeper, the most human part of human beings is the marginal part of the border, or the `` limits that humans can not do '', but here I will draw a boundary line that people are included, and I think that is the horror. This is also my brother's idea. By drawing it, it is confirmed that "human beings really have this kind of place" .... Due to extreme human beings, human qualities come out. In a certain kind, it is a genre like "laboratory" I think.

G:
When you actually saw 'VAMP', you had the impression that you put out one foot somewhere in the so-called 'horror' genre.

Small and medium:
Even those who are shooting do not think that it is a genre `` horror '' (laugh) Separately, I am not conscious of `` I'm scared '', `` So that's how humans are '' Vampire I am more aware that I can draw by borrowing the shape of things. There is a person who says, 'I wanted to kill a person' as a motive for the murder case, but 'Why do you know that you want to kill and know that you are caught?' At first it was from such interest. While I was doing it somehow flew away (lol)

G:
(Laughs)

Small and medium:
When I saw the character, I ended up talking about that character (laughs). At first, it was a plan that says "Let's do vampire stuff to draw abnormal psychology" as an outer frame. That was what I was talking about while I was writing the plot.

G:
Is it rather that it becomes different from the outer frame while writing a plot?

Small and medium:
I'm thinking so while writing Noh, but it's often misplaced when I actually start. (Laughs)

G:
There are quite a lot of horror genres, and some of them have first-class products, while others may think 'What is this ...'. As an impression of seeing 'VAMP', it may be a rude way of saying, but I felt that it was taken properly compared to other works. Are you doing something different from the ones in the world?

Small and medium:
I would be grateful if you could say that. But what is different (laughs)

G:
Is there anything like being careful when shooting?

Small and medium:
I try to keep things like tension and tension uninterrupted. The frame is low budget and the shooting period is short and there are many restrictions, but because of this story, if the actor's tension is not serious, everything will lie. So I did a lot of rehearsal about the seriousness in advance, and in this reading, everyone unified the interpretation. In particular,
Nakamaru Zion
and
Shingo Takahashi
did their best this time. In order to make the role your own, with Zhongmaru Zion, one word and one word "After all, let's do this, let's do it," and elder brothers packed together finely, instead of Takahashi Shingo not saying such a thing Anyway, it was a type that entered, and I was getting used to the role on the spot. It was an actress who urged the actors around me to say, "If you do that, this way".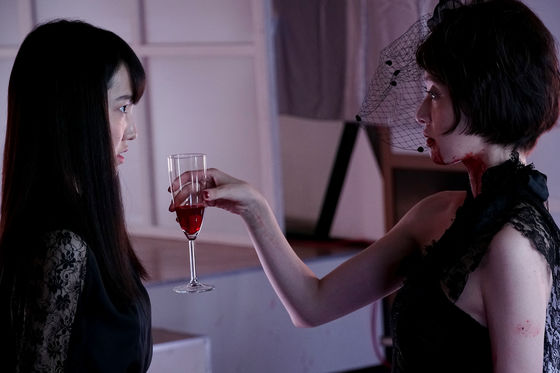 G:
Nakamaru-san and Takahashi-san, as well as the supporting characters, especially the men, all had a great presence.

Small and medium:
That's all familiar actors who have a relationship with the past.

G:
Is Konaka speaking out?

Small and medium:
'This role will surely fit and you will understand.' Everyone understands the character and position and plays properly.

G:
There is a scene that returns to the apartment room at the beginning. Passing casually, it was an instant, but there was a lot of things on the piano, and it was very lively. It was very real on the desk as well, but is that a set?

Small and medium:
The room of Aoi decorates a set of borrows, but Miina's room is actually my daughter's room (laugh)

G:
That is why the room is full of reality.

Small and medium:
There are circumstances simply because there is no money (laugh)

G:
I felt that painting was really amazing, and I was surprised that Zion Nakamaru was playing the role of 17 years old. When I was thinking, "Did you bring someone who looks exactly the same?", He posted a photo on his blog, saying, "
I was 17 years old when I turned 35.
"
Small and medium:
That's all ok. Compared to when Ichikawa Jun made Mineko Takamine a female student when he was a member of the
Inugami Family
.
G:
(Laughs) This work is 'R15 +', is this a rating that was planned from the beginning? Or does it feel like it has become a result?
Small and medium:
It was a story that would have been established without eroticism, but there was originally a good "R15 +". In addition, as a Yamaguchi producer, it was decided that it would be necessary to take off elements to convince the company. At first, I didn't have to emphasize the lesbian scene so much, but I think it was a good love story. It was made clearer by making a bed scene where there was originally a love story element between a woman and a woman.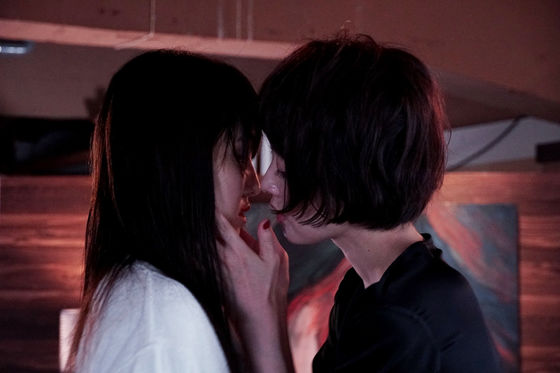 G:
That was the background. The director tweeted on Twitter that "Akadanburi Koi is a project that I started to work on the lyrical inner fantasy that is my starting point", but what is the "lyrical inner fantasy" that the director points to? Is it?

"Akadanburi Koi" is a project that began to tackle the lyrical inner fantasy that is my origin. The meaning of Yumi Arimori's participation is also included. I would like to talk about that behind the scenes at a talk event.
Please come to the theater! https://t.co/7PyjVaTdtB

— Small neutralization (@kazuyabear) October 1, 2016


Small and medium:
"Fantasy" is not like "swords and magic", but "images of human borders", or fantasy elements as a container for drawing humanity. In `` the country beyond the starry sky '' I use SF logic called parallel world, but I use SF logic to draw my heart in `` Story of the journey of heart '' that meets a fate as a first love story The "April ghost story" is a solid story in a sense that the importance of life is realized by becoming a ghost, and uses the fantasy element of a ghost to draw a human being. 'VAMP' also uses a vampire as a tool for drawing humans, and although it can be a drama with a realistic setting to 'draw the heart', it is like a deeper deep psychology or 'the edge of the human heart' I think that the fantasy vessel is very effective in drawing some places. "Akadanburi Koi" uses the setting of a ghost in the same way as "April Mystery", making it a darker shade and thinking of young people today. The direction you want to do is the same.

G:
Was this "use of fantasy to draw the inside" oriented from the beginning of making movies in elementary school? Or did you realize that this is the way to go while making various works?

Small and medium:
As a movie fan, I grew up in a monster movie, and I grew up in a boy drama series.

G:
Which works have the greatest impact on the work you saw at the time?

Small and medium:
After all the 'Ultra' series is big. I like monster movies, but after all Ultra thinks that the screenplay and drama were solid. I was rather not interested in professional wrestling with monsters after transforming, and I liked it until it transformed. Even in the format of "defeating monsters", Ultra had a strong theme in the drama. I didn't understand when I was a kid, but it was interesting, but when I started to repeat, I started to realize that it was very deep from a different perspective, and at that time I was filming a movie, so I naturally 8mm Reflected in the movie. As a countermeasure against what is said to be 'How long do you see the monster thing?' That is common among special effects fans like us, 'No, in fact there is a deep theme in Ultra,' theoretical armed By doing (laughs), including that kind of thing, there was an analysis of Ultra from the perspective of adults. Because it is about the descendant of the first generation of otaku.

G:
I see (laughs)

Small and medium:
There may be places where this analysis was reflected in my movie.

G:
Later, Konaka will be working on the Heisei Ultraman series, but there is a major break in the Ultra series. How did you view that era as the descendant of the first generation of otaku?

Small and medium:
That was the time I forgot once. If you look back at ' Ultraman 80 ', I think the special effects are amazing, but you feel like you're separated once. So, as a movie fan, go in a different direction from Kurosawa. At the time of the independent movie, special effects are difficult, so I do not want to imitate Ultra, but in `` the country beyond the starry sky ' ' and `` April ghost story '' thinking about what fantasy is not costing, either For example, I made it with reference to the boy drama series . After that, is it around the end of my twenties? I started working with Tsuburaya at " Lightning Superman Gridman ", and for the first time I was in a position to put myself in the field of special effects, and I felt that I returned to Ultra.

G:
I see, that kind of flow.

Small and medium:
About that time was when the staff who grew up in Ultra, including me, came to the forefront. That's why Heisei Ultra had such a maniac part, "Children who grew up in Ultra became staff and make" I Ultra "".

G:
Ah, that 's the "Heisei Ultra" series. Now, it came out the story of glanced money, elementary and junior high coach is woven with the story of 'what it takes money in the voluntary planning is difficult as long as there is no recovery of the guarantee', 'in the flow is only this digital equipment There are things that can be done because they are evolving. ' Is the benefit of digital equipment great in this work?

Small and medium:
That's right ... For example, if you take 'VAMP' with film, you need more than double the budget.

G:
Is it twice?

Small and medium:
Because it is digital, you can do it on a low budget. When it is `` the country of the starry sky '', labor costs are almost not excluding Yumi Arimori , but since it was made with film, it costs 5 million yen only with actual expenses. .

G:
Just the actual cost?

Small and medium:
Film production costs are almost labor costs. I think that the number of shooting days was rather less than 'the country of the starry sky', but 'April Kaidan' took about 33 million yen. That's the case when labor costs are minimally given to professionals, and labor costs haven't fallen since that time, but if you compress the film parts, you can shoot at about half the price.

G:
In Hollywood, there are people who say "film is good!", Like Christopher Nolan, while others say "digital is good". If you're a digital native, you're familiar with digital, but it's no wonder, but what about directors from small and medium, whose film history began in the film age?

Small and medium:
I grew up with film work, so my attachment to the film was very strong. In the case of special effects, it wasn't until recently that digital finally caught up with moving the miniature with slow motion in high-speed shooting. But the strong part of the film has been technically overcome, so there is no reason to reject digital anymore. Rather, the digital supporters say that digital is fine because it is overwhelmingly cheap.

G:
Speaking of not filming, I think that "Lightning Superman Gridman" was rarely a video shoot at that time.

Small and medium:
I think it was unreasonable at that time (laughs)

G:
Others were still films.

Small and medium:
That also had money problems. Although it was not a budget for special effects, it was a work about what to do with the plan, and there were still many restrictions on doing it with video, but I did it with video. In that sense, it was a big challenge.

G:
The opening that goes through that tube is still "gridman" when you see it now, so I thought it was in line with the production.

Small and medium:
Although it was called "digital world", it was a mysterious view of the world where dust plastered buildings were knocked down (laughs) However, in the miniature shooting part, high speed shooting was not possible with the video at that time. , I think I'm slowing down in editing, but I don't think it's really good, but it wasn't so bad because it was a picture that said, 'That's it.'

G:
As a result, due to budgetary reasons and other factors, the video was shot, and it looked like that.

Small and medium:
However, the accumulation of the results of doing Gridman is utilized in Ultraman Tiga and others. From Tiga, we shoot with film and edit digitally. The first Ultraman with CG was Tiga, and the on-site staff, including the directors, was almost with Gridman. So I don't think Tiga was born without Gridman's experience.

G:
It was connected to such a place ... In a conversation with Owarikara's Takahashi Hyori in December 2016, there was a topic of Gridman, "That was also what Gridman was wearing Ultraman X wearing data armor." In his words, Director Konaka said, "At that time, the Internet was not so popular, so the settings like home appliances connected to the Internet were not pinned at that time. "I'm finally able to understand the meaning.", "After that," Gridman "is very easy to get hooked if you remake it." Actually, " SSSS.GRIDMAN " was broadcasted from October to December 2018. At that time, did you know the existence of the project?

Small and medium:
I didn't know at that time.

G:
Have you actually watched anime?

Small and medium:
I'm being looked at early, but I haven't seen it yet. I think Mr. Hasegawa has written a screenplay, but I'm busy with various things.

G:
In the director's work, there is " ULTRAMAN2 " which has been discontinued. It is said that this work was canceled one week before crank-in, is that something rather? What kind of circumstances will it be canceled one week ago?

Small and medium:
This is the only thing in the history of Ultra, but it is common in the industry. The situation is 'various circumstances that cannot be listed' ...

G:
If you are in the position of director, you will encounter various hardships. I think the production of "ULTRAMAN2" is also canceled, but what happened to you that you have been a director for a long time and this is hard?

Small and medium:
It's an original work like 'VAMP', it's free to make anything, and because it's its own world, there is no point in what anyone says, but when remaking existing characters, each of the staff said `` This character There is a way of love that says 'This is the way', and sometimes the ideal image is scattered. As a director, the guideline is 'This time is this time', but after all there is an ideal image, everyone is not absolutely obedient, it is difficult to disagree with 'Is this not it?' Ne

G:
What will the director do then?

Small and medium:
The only way to do this is to keep saying 'This time is this time' as a job.

G:
In the case of remake works, there are parts of the fans who think "I want to change this place", but in the first place, there are conflicts among those who are making "I want to do this".

Small and medium:
Sometimes it turns positive. "Ultraman Tiga" was the first work by enthusiastic creators, and screenwriter Shinichi Hasegawa was the art staff of the decoration department in the first course. Mr. Hasegawa likes Ultraman, Godzilla, and Gamera and is a person who participated in a monster movie from the standpoint of art, but at the Tiga site, he caught the producer saying "What a life-long screenplay! He was a preacher, and then he became a screenwriter from 'Let's write it.'

G:
That was the screenwriter debut ...

Small and medium:
This is an example of power creating talent.

G:
When looking at the making of a movie, what you find interesting in the production stage varies from director to director, but what is the process that directors like to find interesting?

Small and medium:
That's right ... The site is still difficult to control, and the site is fun, but there are many hardships, so finishing is easier. The moment when the work is completed and it becomes a movie is the work of putting in sound after editing, and finally the final form of the movie can be seen, so the work of `` adding music '' is witnessed at the moment when the movie is completed It is interesting in the sense.

G:
There are many people who can't see their work calmly right after completion, but how about director Konaka? Can I see it out of the way?

Small and medium:
No, no. Because I watch it over and over again, I can't see it objectively. Once you have forgotten and forget it, you can see it flat, but immediately after it is completed, you will understand all the thoughts of "I want to do this, ah".

G:
I see, it 's difficult to see objectively even if you 've been a director for a long time. Now, I have talked about putting in a sound, but in VAMP, the sound of the piano remained in my ears. When did you place an order for 'I want this kind of song' for music?

Small and medium:
This time after editing. At the stage when the rush came up, we had various meetings with Mr. Miyazaki, who showed us the music, and we went into details from where to where and what kind of music was put.

G:
Do you have an image of "this scene will sound like this" when you are shooting?

Small and medium:
I'm imagining where to put music. Depending on whether the music enters or not, the way you shoot changes, and you can take plenty of places where you want to put the music and show it comfortably.

G:
At that point, do you have a specific musical direction or do you hear music in your head?

Small and medium:
It's not so specific. However, music is creating a sense of the world, and this is especially the case, but it may be the same editing and the same video that makes it cheaper or not. Music is like an interpretation that creates a world, and I am very careful because it seems that Moro is trying to show this.

G:
I see.

Small and medium:
Mr. Michihiro Miyazaki, who is in charge of music this time, was Mr. Naoshi Miyazaki, who worked on music for ' visitors in the eyes ' and ' his motorcycle, her island ' in the early days of Nobuhiko Obayashi's work. This is my son. I've been acquainted with them before, but this is the first time I'm working as a work person and a person who writes a wide range of music, so I started out asking where to go. This time we're talking about vampires, and in order to create an extraordinary world with music, it sounds like a little gothic horror, but it's not classical or vampire, but what kind of neighborhood is good, minimal music in modern music That was the first keyword. While repeating the same phrase, it's a kind of aesthetic and emotional music, but don't go too far into it. Feeling is absolutely necessary, but if you include it too much, it will become too much " New Cinema Paradise ".

G:
There is.

Small and medium:
I want to play a lot of good emotional music, but I need a bit of a sense of distance, so in that sense Michael Nyman. Contemporary minimal music, Ryuichi Sakamoto, is a little closer, but it's a good phrase, but it's a kind of minimalism, and it's like a snuggle up and down. Including the keyword of Philip Glass, I would like to name the people who are "minimal but quite emotional" and try to do it on that route.

G:
This time, there was a feeling that the sound of the piano remained with the video. Is the director's suggestion to use the piano among various instruments?

Small and medium:
I think that the piano is the biggest instrument that makes the sound of a singing sound stand out. The problem was whether to use a solid piano or take a little distance, but I thought it was a 'must play the piano'.

G:
After all it was a mast. Was the director consciously listening to film music from an early age?

Small and medium:
As I watched the movie repeatedly, I liked movie music and bought a soundtrack.

G:
Do you usually watch many other people's movies?

Small and medium:
I think that it is a person who sees relatively. I don't go 100 a year, but I watch about 5 a month.

G:
Is there a movie you saw recently that was interesting?

Small and medium:
The German movie " We got on a train named hope " was good. It is a story about resistance of post-war students in East Germany, but a little political.

G:
Do you read books outside of movies?

Small and medium:
I read it. I am currently working and making documentaries, so I read philosophy books.

G:
It may be strange to ask a movie director about this, but do you have any other hobbies besides movies?

Small and medium:
Well ... I don't think so much (laughs)

G:
Looking at Konaka's career, it seems that he has been working constantly, such as shooting movies and taking dramas, but on the other hand, like this work, he makes a plan and brings it in It is How do you balance the workload?

Small and medium:
It may not be a balance, but if I have time, I make a proposal to make the next preparation.

G:
This time, "VAMP" will be released as a piece of "
Summer Horror Hallows Festival
", but if you have any doubts, you would n't think it 's horror. How was the reaction at Yubari International Fantastic Film Festival?
Small and medium:
Rather than horror, I think it was a reaction that seemed like a human drama. In Japan, "horror" is a good and bad atmosphere. While there is an image that there is a shelf in a video shop with citizenship, there are people who never go to the shelf, and it is a genre that clearly separates likes and dislikes. However, it is a strong genre that will never disappear, so it's a good place but it doesn't have any spread. So, we call it `` Dark Fantasy '', but then it seems difficult to advertise in the `` Summer Horror Hallows Festival '' (laughs) As a content, I think that even people who are not good at horror are okay However.
G:
Certainly (laughs) I'm not a person who sees horror so much personally, but I was really excited as a drama, and I was surprised that there was so much action in the second half.
Small and medium:
'Slightly different at the entrance and exit' is also a kind of theme this time. There are places that cross genres. The same is true for "Akadanburi Koi", but the first half is rather simple. I don't think I could end it here, but from there, the elements of the vampire as a genre movie became stronger, and even the action was done. It 's aimed to be "that?" (Laughs)
G:
That means you've been put on the aim (laughs)
Small and medium:
All the actors out there have played the characters exactly and have a good play, so I would like you to see them. Especially for Nakamaru Zion, I was playing the heroine of
Ultraman Nexus
, and some of them came out after that, but this time there was an intention to 'make a movie that brings out the best of her.' In Nexus, it was a horror story that it was killed by the enemy to be the hero even though it was a heroine and was alive as a living doll without being aware of it, and it was noticed in the middle of the time . At first, you need to be a pretty girl that comes out as an ordinary lover to fool the viewer, but on the other hand, there is a scene where you notice that you are dead and panic. I had to do that, so I auditioned to give the scene a script and play it. This person was the best of them.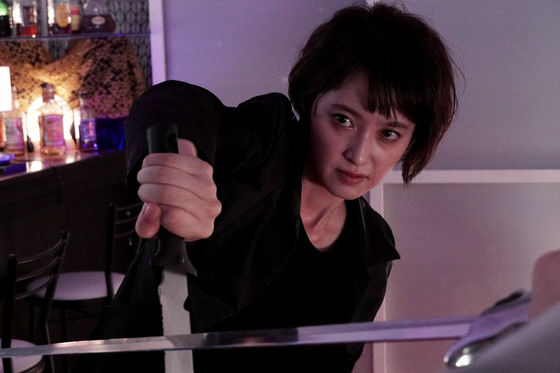 G:
(Laughs)

Small and medium:
Because I knew her potential, I think it was great to be able to shoot a movie that fully exploited it. Normally, you can do it nicely and you can do heroines, but because of the width, you can go in other directions. Takahashi Shinji was originally an idol. Although she made her debut as a protagonist in the movie "The
Witch of the West is dead,
" she is an amazing actress who quits due to physical condition and enters
an unnamed cram school
when she returns to work seriously. With the teachings of Tatsuya Nakadai, the approach to the role is very serious and I dig deeper. There is an actress soul who seems to play the role as his own, and this time I think that it was a role that I was abused by my father, but I think that there was a hard part, but that contributes to enhancing the reality of the work I think you are doing it. I hope you will enjoy the whole experience with these two people at the center.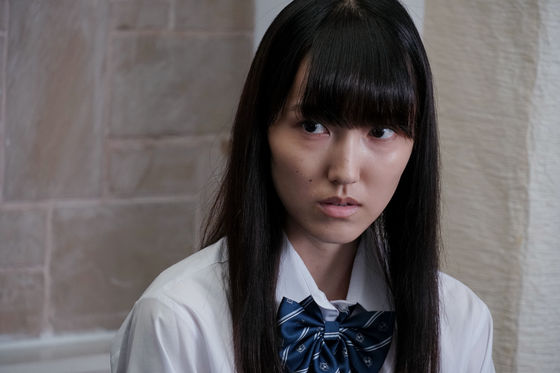 G:
I see. Thank you for a long time today.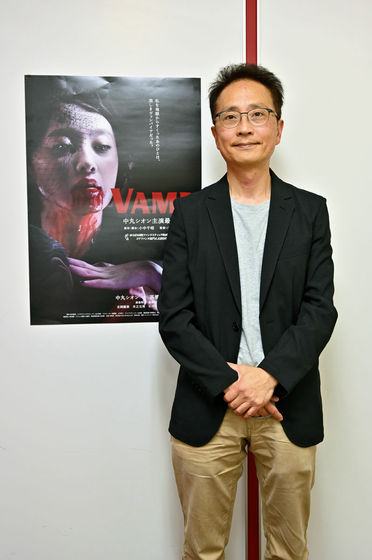 The `` Summer Horror Hallows Festival 2019 '' will be held from August 23 (Friday) to September 12 (Thursday), 2019 at Kinneka Omori, and from August 24 (Saturday) at Nagoya Sinescore and Osaka Theater Seven. It would be held.

8/23 released `` VAMP '' trailer _ `` Summer Horror Hallow Festival 2019 ''-YouTube