Intel Announces 10th Generation Core Processor 'Comet Lake' for 6 Core 12 Thread Mobile PC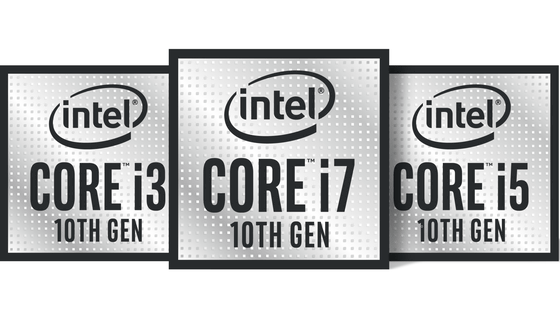 Intel announced the 10th generation Core processor (development code name: Comet Lake ) for mobile PCs.

Intel Expands 10th Gen Intel Core Mobile Processor Family, Offering Double Digit Performance Gains | Intel Newsroom

https://newsroom.intel.com/news/intel-expands-10th-gen-intel-core-mobile-processor-family-offering-double-digit-performance-gains/
Intel's line of notebook CPUs gets more confusing with 14nm Comet Lake | Ars Technica
https://arstechnica.com/gadgets/2019/08/intels-line-of-notebook-cpus-gets-more-confusing-with-14nm-comet-lake/
Comet Lake announced by Intel is a CPU of the 10th generation Core processor, which is a new generation, and is characterized by achieving 6 cores and 12 threads even though it is a mobile CPU.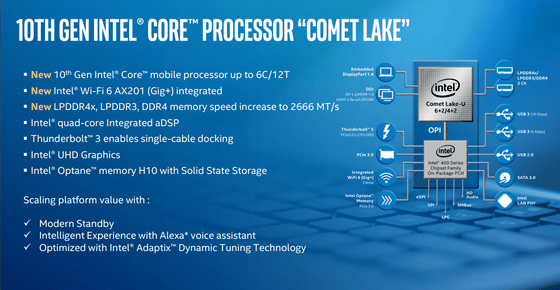 Intel officially announced, "The 10th generation processor Comet Lake achieved an overall performance improvement of up to 16% and an Office 365 processing performance improvement of over 41% compared to the previous generation and the U series. '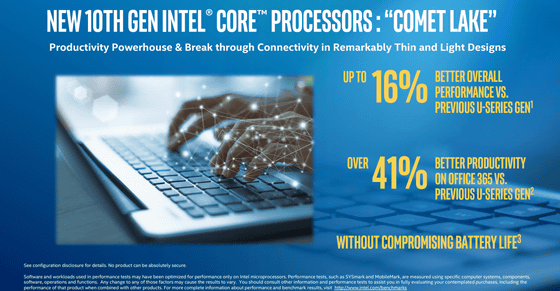 Intel announced "Ice Lake" on August 1, 2019 as the same 10th generation Core processor. Ice Lake is manufactured in a 10nm process and has Iris Plus on the built-in GPU, while Comet Lake is manufactured in a 14nm process and has 6 cores and 12 threads.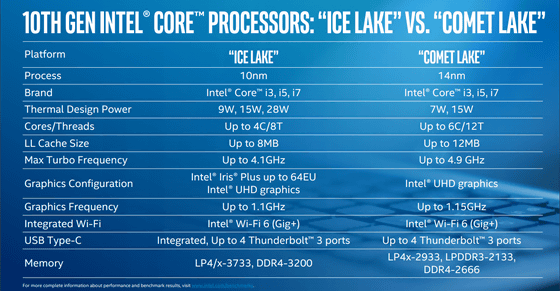 In common with Comet Lake and Ice Lake, there is a U series of normal models and a Y series of power saving models, while Ice Lake's minimum
thermal design power
(TDP) is 9 W, while Comet Lake The minimum value of TDP of Y series is 7W, and Comet Lake can lower TDP to 4.5W by setting, and Comet Lake is excellent in terms of power saving. On the other hand, Come Lake's built-in GPU is superior to Intel Lake in terms of graphics and Intel UHD graphics.
Common to Comet Lake and Ice Lake is that it supports modern standby, Intel Adaptix Technology,
Thunderbolt 3
and Wi-Fi 6 as standard. In the official announcement, Intel emphasizes the standard support for Wi-Fi 6.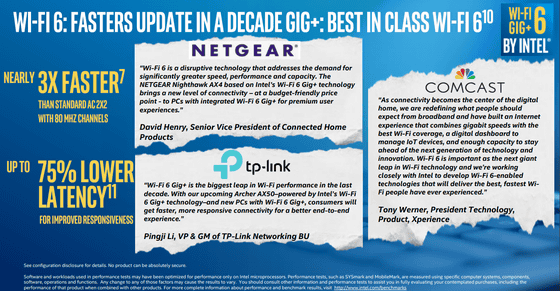 The lineup of Comet Lake series is as follows. U series and Y series are announced 4 products each.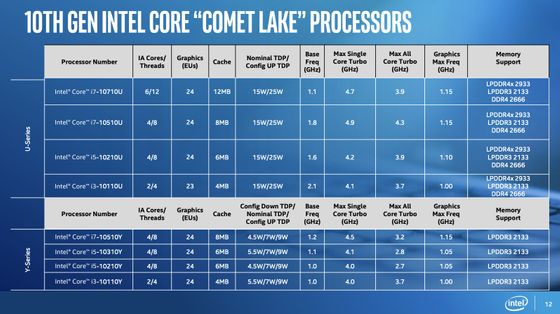 Intel has also announced the naming convention for 10th generation processors. The first two digits following 'Intel Core i7' indicate the CPU generation, and the third and subsequent digits from the beginning are the CPU classification number (
SKU
). The alphabet following the number is the processor type.