Sony acquires Insomniac Games, the developer of Marvel's Spider-Man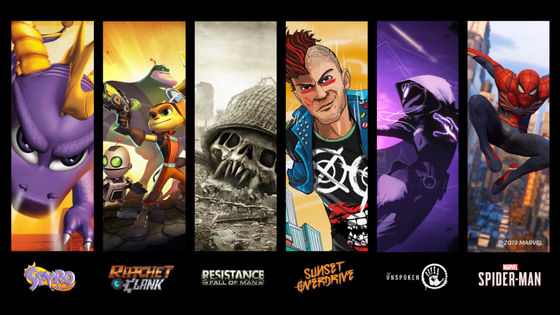 It was revealed that Sony acquired Insomniac Games , the developer of Marvel's SPIDER-MAN, which was distributed as an exclusive title for PlayStation 4 and achieved the highest sales of superhero games .

A Message To Our Fans | Insomniac Games
https://insomniac.games/a-message-to-our-fans/

PlayStation has bought Spider-Man developer Insomniac Games? Eurogamer.net
https://www.eurogamer.net/articles/2019-08-19-playstation-has-bought-spider-man-developer-insomniac-games

Sony Buys Spider-Man Developer Insomniac Games
https://kotaku.com/sony-buys-spider-man-developer-insomniac-games-1837378300

Sony to acquire Insomniac Games-Polygon
https://www.polygon.com/2019/8/19/20812654/sony-buys-insomniac-games

Insomniac Games is a game development company founded in 1994 and has developed a number of game titles over 25 years. It was revealed that Insomniac Games will be part of Sony Interactive Entertainment (SIE), which owns the PlayStation brand.

Insomniac Games states that it feels like "returning home" when it comes to SIE 's umbrella because of four PlayStation consoles, more than 20 titles, and six franchises over the past 20 years. Explains that we have partnered. "We have worked closely with SIE since the release of Spiro the Dragon in 1998."

The official acquisition of Insomniac Games has also been announced from the official Twitter of the PlayStation brand. Insomniac Games will join SIE Worldwide Studios . At the time of writing, there is no Insomniac Games name on the official SIE Worldwide Studio page.

Big news: @InsomniacGames is joining PlayStation's Worldwide Studios! We are honored and thrilled to join forces with this legendary developer.Please join us in congratulating our friends and partners at Insomniac! Pic.twitter.com/hhhqhxZE7k

— PlayStation (@PlayStation) August 19, 2019


Insomniac Games said, "Our vision is to create an experience that has a positive and lasting impact on people's lives. Join the SIE Worldwide Studios, looking to the future. It will give you the best opportunity to achieve our vision on a larger scale, and that SIE will have a positive impact on the lives of players and employees, and the entire gaming industry. I believe they share a similar vision. '

According to Insomniac Games, the studio will be maintained in two locations in Durham, North Carolina, and Burbank, California, and will continue to cultivate its own culture.


in Game, Posted by logu_ii