We have searched the back side of data recovery from dangerous engineers who boast the industry's top technology

Speaking of data recovery, I often hear stories such as "smartphone data recovery impossible" and "sSD data recovery difficult", but depending on the contractor, media data recovery services that are considered "impossible" and "difficult" Offers. Therefore, with a digital data solution that provides the best data recovery rate of 95.2% in Japan and the data recovery service and digital data recovery that boast the number one domestic sales share in data recovery services for 11 consecutive years, "Smartphones can really recover data. In order to thoroughly investigate the back side of data recovery, such as "Is it?", We talked directly to engineers working in the field.

Digital Data Solutions Co., Ltd.-DDS Inc | Digital Data Solutions Co., Ltd.
https://www.digitaldata-solution.co.jp/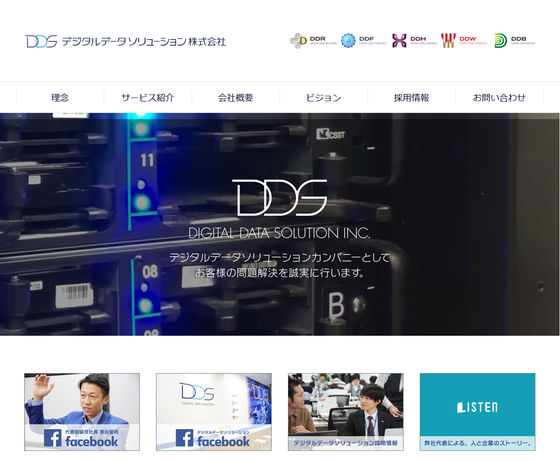 So I came to the headquarters of Digital Data Solutions.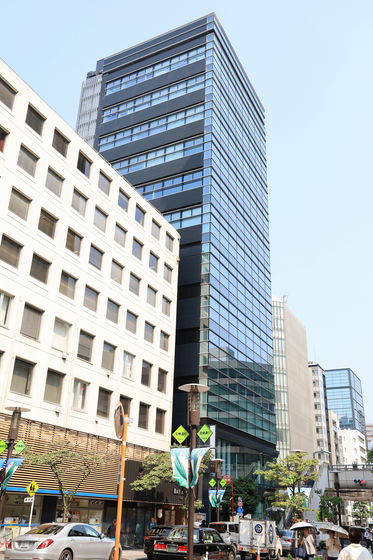 The interviewers who responded to the interview this time are the logical team leader Satoru Yanagida, the physical team leader Masanobu Asai, the memory team engineer Mankuyu, and the memory team engineer who worked in the digital data recovery engineer group. Four of Mr. Kitataka. In addition, Mr. Teppei Kato, a marketing group, also participates as a moderator.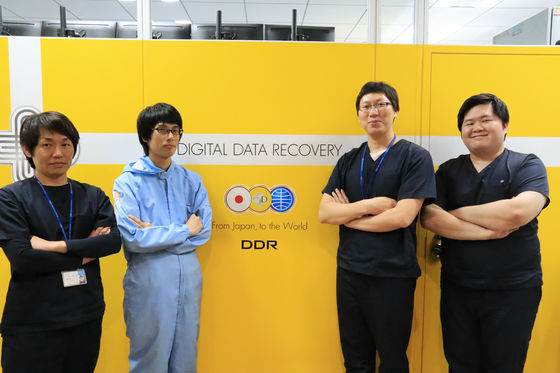 Marketing group Teppei Kato (hereinafter referred to as Kato):
In digital data recovery, engineers are divided into four specialized teams to carry out recovery work, so we gathered specialists from each department. I hope you can hear the voices of the engineers who are actually doing the recovery work and know the other side of data recovery. So let's start with the physical team. The physical team is responsible for data recovery from physical failure of the HDD. Examples include the most severe failure in HDD platters, "Recovery from scratch symptoms" and "Restoration of equipment damaged by disasters" such as heavy rain and fire. For example, in the case of heavy rain in July 2018, which occurred mainly in West Japan in 2018, there was a request for data recovery of a submerged NAS. More than a week has passed since the submersion and the equipment was lifted, and the HDD was also muddy and unable to be energized, so from the customer's perspective, it was like this could not be recovered anymore. However, we have succeeded in data recovery.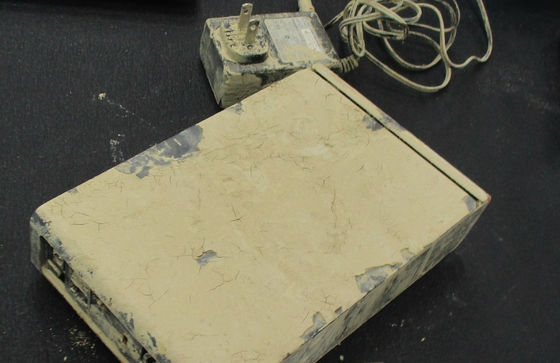 Physical team head Masanobu Asai (hereinafter Asai):
I remember this case well.

GIGAZINE (G):
Do you mean that you were responsible for the recovery yourself?

Usui:
I agree. Some people tried it in addition to myself, but no matter what they did, it wasn't working. There was mud on the HDD platter, so cleaning the mud and checking if data can be read is repeated over and over again, finally recovering somehow This is a successful case.

G:
Washing mud doesn't mean just washing with water, right?

Usui:
That's not true. Special technology is used for cleaning mud, and this is a completely original development part, so I can not talk in detail, but as an image it feels like dropping mud on the platter instead of melting it is. I think it's close to the ultrasonic cleaning that the memory team is doing.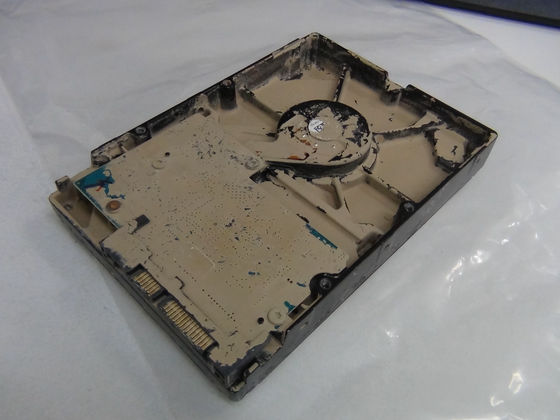 G:
Is it an image like taking dirt off?

Usui:
I agree. There are still stains that do not come off. In such cases, manually remove the mud on the platter.

G:
I heard that it was repeated many times before the recovery, but how long did it eventually take?

Usui:
It took about 1-2 weeks. About 80% of the projects are completed within 2 days, but this project took a long time.

G:
Has there ever been a case where HDD has become muddy in the past?

Usui:
Sometimes. A common case is dropping the HDD ...

G:
After all, if the platter mud drops, can you recover all the data stored on the HDD?

Usui:
Although not 100%, a significant percentage of data has been recovered.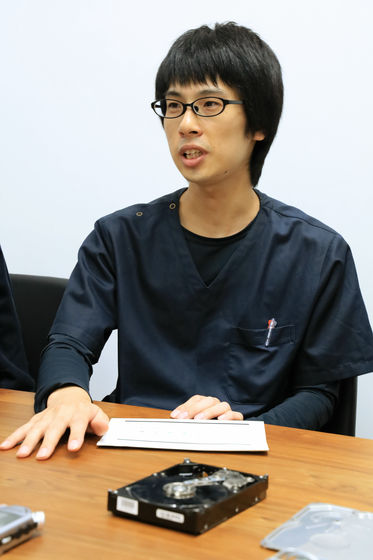 Logical Team Leader Satoru Yanagida (hereinafter Yanagida):
In the first place, when there is a physical abnormality in such a platter, taking a copy of the data itself is a miracle. So, of course, I have never been able to recover 100% of the data, but even if it is several tens of percent, there are cases where the data can be rescued almost completely by the work of the logical team depending on the part that was recovered So I am very pleased. Even if it is something that cannot be recovered at all by other companies, I think our strength is to challenge data recovery as much as possible at tens or 100%. It seems that there are many cases like "0 or 100" in the case of other companies.

Usui:
The platter failure is the most important physical failure, and most of the companies say that it is impossible if there is any damage.

G:
In the case of a submerged NAS HDD, mud was on the platter, but was it scratched?

Usui:
In this case, mud was placed on the platter, making it uneven and data could not be read. HDD is because the head is moving on a completely flat platter.

G:
It's out of the question if there is mud.

Usui:
Since it was a visible level of mud, I was able to see that the head was lifted up and damaged or the condition worsened. It's important to see how perfectly it can be restored. Other physical team tasks include checking if the HDD head is compatible when it is replaced, whether there is a firmware repair technology, and whether a copy can be made properly. . After that, the logical team will have to work hard.

G:
It is said that "I will do my best" is quite easy, but the part of the logical team is also very important.

Usui:
I leave it to you because of its technical capabilities. (Lol)

G:
Why did Mr. Asai join the physical team?

Usui:
When I first joined the company, I worked as a logistics team in the warehouse area. I was here when I noticed it.

Digital data recovery has many requests for data recovery every day, and it seems that 30,000 cases are handled annually. From now on, the equipment that will perform the data recovery work will be received, and the work to ship the data that has been recovered will be in the loading / unloading area. Here, the work to remove the storage medium from the equipment is also performed at the same time. Engineers are beginning to experience the logistics team in this storage area and learn from the structure of the equipment.



Kato:
Mr. Asai has talked a lot about the physical aspects of data recovery, such as parts replacement. Actually, he is a very good engineer in terms of firmware (HDD operation program) and system recovery. In cases where other companies replaced parts but did not fix it, the firmware was slightly repaired. When we interviewed TV at "Boiling Word 10" last year, it was taken up as blackjack in the data recovery industry. (Lol)

G:
Are there many submergence projects listed in this case?

Usui:
There are several cases per year. Especially during typhoons.

G:
Submerged is the image of being out as soon as it falls into the water, but it is a bit surprising that it can be recovered even in this case of muddy water. For example, if water leaks on the HDD due to a leak, isn't it muddy because it's not mud?

Usui:
Well, it 's still good. Because rainwater does not contain much impurities.

G:
Then, isn't it wrong to have something in the water? If you spilled coffee etc.

Usui:
That 's bad.

Yanagida:
Occasionally hard-burning HDDs also come in.

G:
What happened?

Usui:
Because it burns in a fire, and even water is fired in a fire.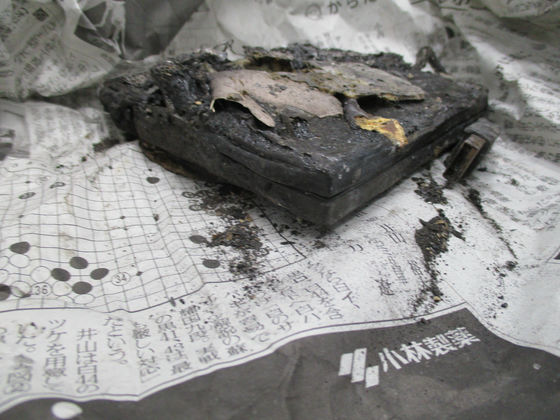 G:
It 's like double bitterness. Our company had a fire , and Kyoto Animation was also damaged. Mr. Kyoto Animation was reported as ' successfully collecting server data ', but there are one case of 'exposure to heat', 'soot on top' and 'watering' Is it a bad day?

Usui:
It 's hot. If data changes due to changes in magnetism, there is no way to recover.

G:
Is it a feeling that you can still manage if it is soot?

Usui:
There is no problem as long as it is on the lid for a while.

G:
Is there a possibility that it looks like a pretty bad look? If it 's frustrating with heat, is n't that good enough?

Yanagida:
It is difficult if the internal platter is completely deformed.

G:
Is it burning with fire?

Usui:
The color of the platter has changed. I sometimes come in. In such special cases, there are many cases where other companies do not respond, and if our company refuses, there are cases where customers do not have a place to go. That's why we are doing our best in any situation.

G:
In the case of Kyoto Animation, isn't she wearing a gazoline? What about water, mud and organic solvents like gasoline? Have you ever seen such a case?

Kato:
I also have experience as an engineer, but when I was working in the physical team, I encountered something that had become an oily HDD.

Usui:
There was! What is black and sticky ...

G:
Is it possible to recover data even if it is covered with such oil?

Usui:
Of course it is possible. In this case, basically, the platter is returned to its original state as much as possible, and the head is adjusted to work properly.

G:
In terms of what you are talking about, is it more important in terms of physics than whether the head is safe or not?

Usui:
That is important. Because platter cannot be replaced.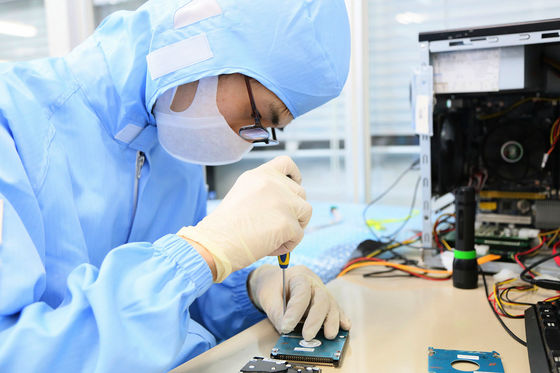 G:
So the deformation caused by heat is the worst. You said that Digital Data Recovery is also working on recovery from scratch, but if the platter is scratched, isn't it already out? Based on the previous story, it feels completely out.

Yanagida:
In the case of scratches on platters, customers often contact other data recovery companies and start working to some extent, but data recovery is impossible and often returns. In the end, there will be a request to us, but there are many cases where other contractors say `` I can not recover because the platter is scratched '', but I can recover it .

Usui:
Of course, there are cases where the damage is severe and difficult, but I will challenge the ones with subtle lines if I can do it. There are many cases in which data was successfully recovered after successfully recognizing and copying, even if it wasn't ticking when you first responded.

G:
Does the physical team feel that the scratches on the platter have been physically restored?

Usui:
I agree.

G:
When repairing a scratched item so that it can be read normally, I think that either I can think of it as either shaving or heaving, but it seems that it can be read somehow on the surface Wow?

Usui:
The image is that you should be able to read with special processing, or make the worst head work somehow. If the head passes over the wound, it will not be recognized because it will be impossible to read and write. So I feel like reading the platter so that I can continue reading and writing to the head.

G:
It's not an image of dealing with scratches on the platter, but an image of reading data well from something already scratched.

Usui:
Also, in the case of HDD, you must be sure to repair the firmware. I remember that I repeated head replacement and firmware repair many times, and when I couldn't get the data, I changed the head and repaired the firmware again ... for about 7-10 days.

G:
Repair the firmware, replace the head, read the data, and repeat this when it stops coming out. If you repeat that work multiple times.

Yanagida:
Some of them are simply replaced by parts. However, there are still many companies that cannot repair the firmware, and I think there are many places where it stumbles. So, it is our great strength to be able to repair the firmware. Firmware restoration plays a very important role in HDD data recovery.

G:
I see. You can really recover your data by continuing to challenge patiently without giving up.

Yanagida:
Of course, it is assumed that you have knowledge and know-how. It seems that customers were really impressed with the data recovery of the submerged NAS.

Usui:
There was really some tears flowing. Just listening to the side where the person in charge other than me is calling with the customer, and listening to the voice of the customer's joy, "Good!".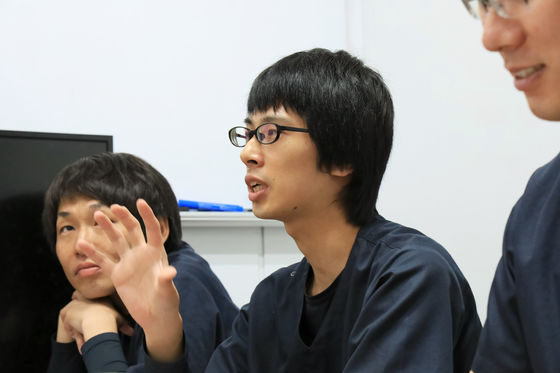 G:
It is a feeling that the shoulder load will get off or will be rewarded. It may be noisy to hear such a thing, but isn't it that something that was brought to another supplier and made "unrecoverable" would come to Digital Data Recovery? In extreme cases, are there cases where other vendors can damage the platter to prevent data recovery by competitors?

Usui:
I can't tell you where it is, but I don't think that is the case. However, there are quite a few cases where wrong measures are taken due to misdiagnosis, and then brought to our company. To put it simply, it is a case like "The patient had a cold but had surgery".

G:
Do you feel that the platter was scratched or the symptoms worsened after another company opened the storage medium?

Usui:
If a result of "No data recovery" is obtained by another company, some work is always being done by the other company. Mostly head replacement. However, in HDD data recovery, firmware must be restored, but there is a possibility that it is probably not done, and there are many cases where symptoms are further worsened by trying copying in that state I guess.

Yanagida:
It feels like the head, platter, and firmware are moving out of compliance and the platter is scratched.

G:
That's why firmware repair is necessary. Just opening and closing it doesn't mean it will hurt.

Usui:
However, there are some HDDs that cannot be recognized just by opening and closing.

G:
What is the cause of this?

Usui:
I think that the environment inside has changed.

G:
Is it something enclosed inside?

Usui:
Recently there are HDDs filled with helium gas. The HDD is basically sealed, and that is the basic environment, so once you open it, the environment will change. I think the degree of floating of the head has changed. Since a hypothesis can be established, it is like repairing the firmware based on it.

Yanagida:
So, it is also assumed that you work in a clean room.

G:
I see. That leads to the story of Digital Data Recovery's in-house clean room. Do not put extra things inside the HDD.

Mr. Asai's physical team will work on dismantling HDDs in a clean room with equipment equivalent to an operating room, which is required to wear dust-proof and anti-static clothing.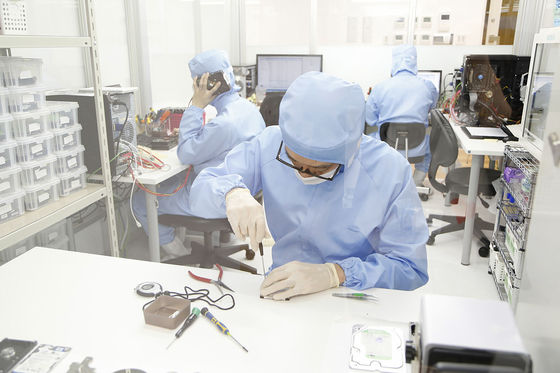 G:
I have heard about the physical team case, so the next question is about the logical team case.

Kato:
Basically, when the work of the physical team is finished, it becomes a form of transition to the work of the logical team, but there is also a pattern that physical recovery is not necessary from the beginning. In such a case, the logical team will respond to the logical recovery of the system. In recent recovery cases, there is recovery of 45 HDD large RAID.

G:
First of all, "45-group RAID" does not boil the image at all, is it quite large?

Yanagida:
It 's the bigger one. There are 100 groups of larger ones, but dozens of them are not so often seen. In the case of RAID projects, most of them are ordinary TeraStation, so basically 2 or 4 groups. On the other hand, in this case, analysis of three servers and 15 HDDs was required to accurately reproduce the RAID configuration before the failure occurred.

G:
Isn't it great with a 15-piece set? If this is the case, what do you start with?

Yanagida:
First of all, regarding the diagnosis, ask the physical team to see if there is a physical failure. However, if there is no physical failure, the failure will be investigated while analyzing all HDDs. In the case of a RAID that was originally built, it is a feeling that it is determined by looking at the data on the hexadecimal binary number how it is built.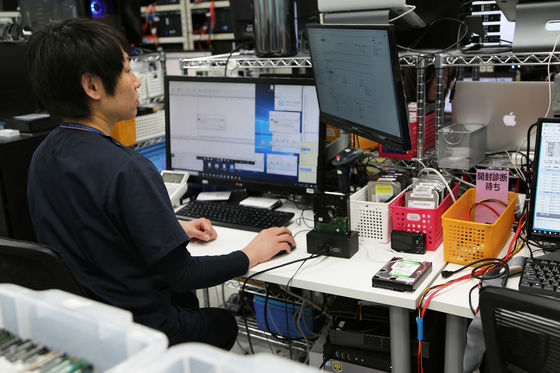 G:
What is it from there? Not only hearing from the client, but actually looking inside.

Yanagida:
Of course, there are also procedures that you can listen to and omit, so I would be grateful if you had as much information as possible. However, there are surprisingly few customers who know exactly how RAID is assembled.

G:
Do you come to the request with an ambiguous feeling like 'It seems to be such a RAID ...'?

Yanagida:
There are many people who know about the RAID level, but for example, how much width it is divided, whether the disks are arranged from the left, whether it is from the right, random, etc. There are few people. In an extreme case, it was said that there was one disk, but it wasn't one at all, but RAID was built with multiple units.

G:
Usually, it is only accessed from the system, so there are few people who know the physical configuration accurately. Surely I don't go out to see servers. At first it seems that you will look at the binary like that and examine the RAID configuration etc., but how do you understand why this is logically strange here?

Yanagida:
It's not all, but it's logical information. For example, you should see that this must be included here or that the value here is strange. There is pinpoints and important information, so it is like checking it.

A large number of monitors are installed in the working area of the logical team as shown below. This indicates whether the HDD data has been read normally. The part displayed in green is the part that can be read normally, and the damaged part is displayed in red so that anyone can visually check the progress of data recovery.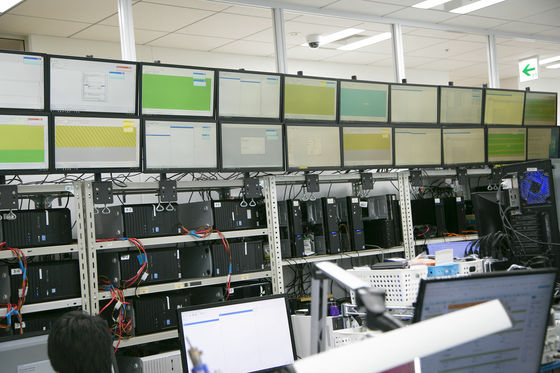 G:
What was the reason for the failure in the 45-group RAID?

Yanagida:
The direct cause was that the server enclosure itself was broken. The part of the box that contains the HDD is broken, which causes the internal information of the disk to be lost and a failure to occur.

G:
Is it the image that the case itself is damaged and the written data and the read data are misaligned?

Yanagida:
There may have been some impact and the chassis may not move physically, and some information may have changed at that time.

Kato:
After accurately reproducing the original RAID configuration while checking the binaries, you can clone it and restore the data as safely as possible.

Yanagida:
Remove the HDDs that make up the RAID one by one and repeat the insertion to copy the data. In the case of 45-group RAID, it took about 8 days to copy only. There were 15 TB 1TB HDDs and 15 TB 2TB HDDs.

G:
The capacity is also different.

Usui:
By the way, the creation of this clone is the responsibility of the physical team. Therefore, the physical team and the logical team have a long-standing relationship in recovery.

G:
By the way, how much has the largest capacity in the past?

Yanagida:
In terms of capacity or number, it was 108 units.

G:
It seems like a number of annoyances. Is the number more important than the capacity from the restoration side?

Yanagida:
The number of units is also difficult, but eventually the data is taken up from the HDD, transferred to another medium and transferred, so the larger the capacity, the longer the data migration will inevitably take. It 's hard.

Kato:
By the way, in the case of this 45-unit RAID, it was a recovery including a business trip diagnosis. In other words, it is work that goes to the site.

Yanagida:
I went to a business trip diagnosis yesterday. There are many requests for business trip diagnosis in a hurry. There was a request for a 45-unit RAID project around the morning of the day, and I headed to Hokkaido within that day and came back within that day.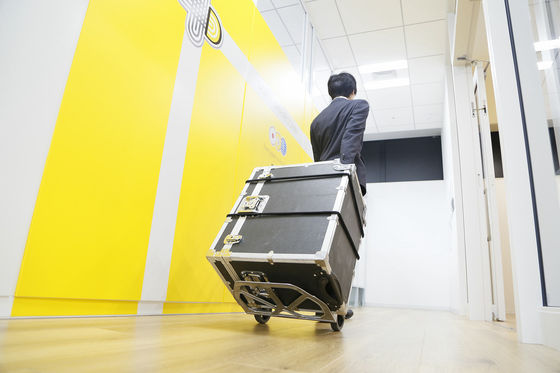 G:
That's amazing. Did all the data finally recover?

Yanagida:
In this case, almost 100% of data was recovered.

G:
It's something that goes back to the original.

Yanagida:
It was a server at a certain university, but research data was accumulated and was important data.

Kato:
In the case of RAID data recovery, there are almost all requests from corporations, and there are many cases of rushing. If you don't have the data, your work will stop. So, I went on a business trip as soon as possible and took measures to recover.

G:
A message came out saying that the HDD gave an error and removed it from the NAS, and that has continued for four consecutive units of the same model number over the past year. When you receive a request, do you ever think 'Is this HDD again!' Or 'Is this system again?'

Yanagida:
There are quite a few. I can't say that in detail, but it's like a combination of RAID, not simple RAID, RAID 5 , or RAID 6 . For example, if you build RAID 0 with 5 units, if you have 15 HDDs, you can build 3 RAID 0. It's like building a RAID 5 with the three RAID 0 fixed areas. The data of such things is very difficult to fix.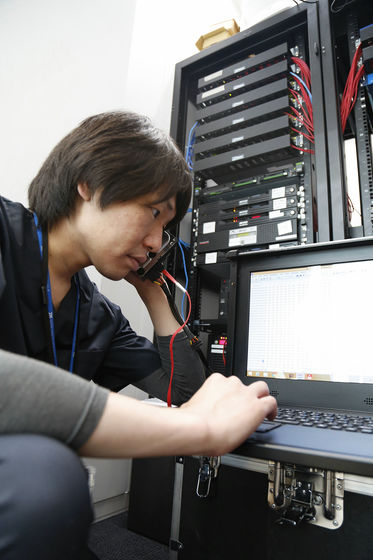 G:
There are people who make such a system. That means that if you build a dangerous system with in-house RAID, it will be difficult if it breaks down.

Yanagida:
I agree. The more complex it is, the longer it takes to analyze it.

G:
If something like RAID 1 is simply broken, it's easier to repair.

Yanagida:
I agree. It is easy to fix at all.

G:
Why is it such a bizarre system?

Yanagida:
I think that these are basically a specific model or a manufacturer's default rather than being installed by the person in charge, but it is unclear why.

G:
Rather than RAID 1 or RAID 10, etc., the mysterious original RAID created by the manufacturer is dangerous.

Yanagida:
It 's dangerous.

G:
There are many cases where such original RAID is described as "speed and capacity can be guaranteed", but is it recommended that normal basic RAID be recommended?

Yanagida:
I agree. There is flexibility to expand and contract, but when it actually breaks, there are cases where special things are different from normal RAID and the start of RAID writing is shifted. The width is usually constant, but the original RAID may be changed freely.

G:
If it is still brought in, do you have to do your best?

Yanagida:
It 's quite difficult, but anything can be recovered. That is my mission as an engineer.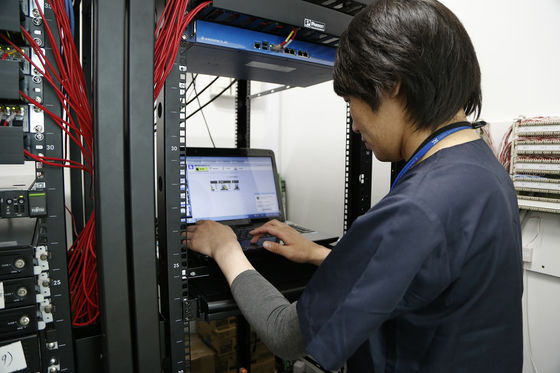 G:
Next, I would like to ask about the memory team to which Mr. and Mr. Kitano belong. What is this memory team?

Memory team engineer Kotaka Kitano (Kitano):
The memory team is basically responsible for devices with flash memory. Mainly smartphones and USB / SSD.

Kato:
I think that you often look at smartphones that have cracked screens, but the memory team recovers data from such memory media. Of course, not only physical failures but also deleted data can be recovered. Regarding data recovery for smartphones, it was also an article in some media, with the indication that "the companies that claim data recovery for smartphones are malicious companies". Smartphone data recovery is difficult enough for such articles to appear, but our memory team will respond as much as possible even if other companies throw out.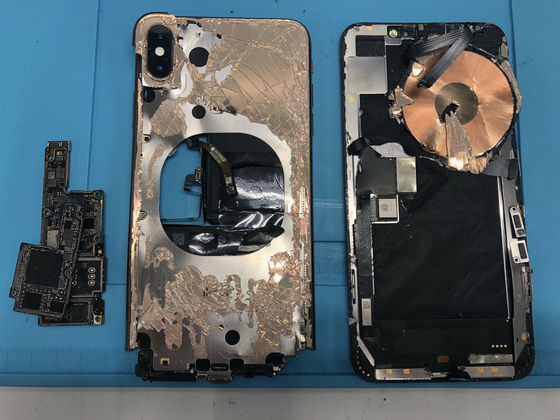 G:
In the case of smartphone data recovery, in extreme terms, would it be manageable if NAND memory remains?

Kitano:
That's not surprising. In the case of smartphones, security is applied in terms of hardware rather than software, or encryption is applied. So it doesn't make any sense to have only memory alive. Of course it depends on the model.

G:
What about the iPhone?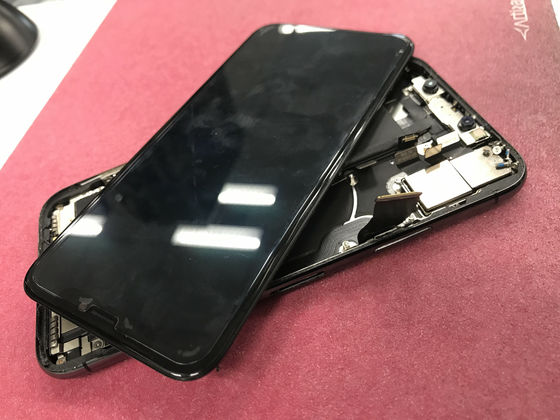 Kitano:
In the case of the iPhone, if there are some links on the board and some parts are missing, the data cannot be confirmed even if the memory is transplanted. The data itself cannot be extracted unless certain parts are operating properly.

G:
Even if only NAND memory is alive.

Kitano:
I agree. So there is a condition that multiple parts must be alive.

G:
It's different from HDD.

Kitano:
I agree. It can be said that it is completely different.

G:
In the case of smartphones, there are many cases where other companies say that "data recovery is impossible", but is recovery of smartphones quite complicated?

Kitano:
Depending on the symptoms, a smartphone with physical symptoms may require multiple IC chip transplants. IC chips are not only simply soldered, but there are many cases where strong adhesive is used, so if you try to remove them forcibly, the pins will peel off and will not work properly. Even after removal, there is a detailed work process to transplant the IC chip to another board, so the work difficulty is high, and recovery takes a lot of time. We ask you to restore the data by deleting or initializing the data, but the data being written is subject to complicated encryption, and working from the memory chip is currently difficult. Therefore, data is extracted from an area that can be accessed using special software. I can't say much details.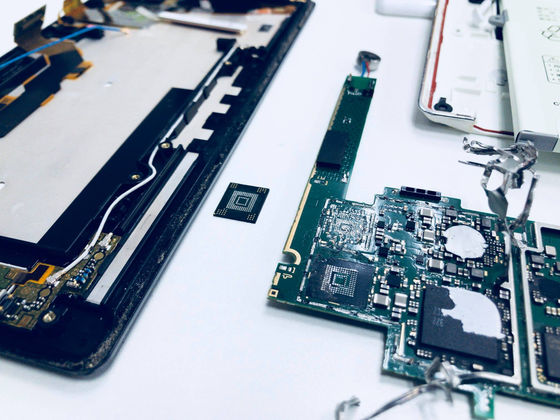 Kato:
Smartphone data recovery is of course technically, but may be difficult in terms of cost. It takes time, and it is quite expensive because parts must be collected from all over the world, replaced and repaired.

G:
Is the cost simply not worth it?

Kitano:
It may be so. Because there are few corresponding suppliers.

G:
Isn't iFixit disassembling electronic devices such as smartphones apart? Will it break down so that it doesn't break one by one like that?

Kitano:
I agree. However, since we are recovering data, we need to remove the board inside. Since this is not a repair, parts that are not necessary for recovery are not removed.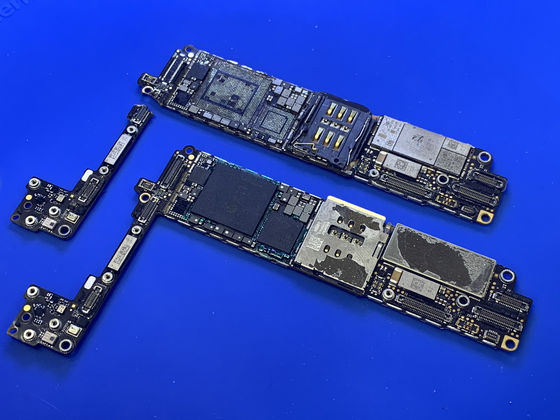 G:
Is it possible to recover even a submerged smartphone?

Kitano:
It is possible. The most common case of submergence is when the circuit is short-circuited. If it is mild, it is possible to identify the cause of the short-circuit and extract data by temporarily replacing some parts. It is not good to make a big change from the original state, and it is ideal to extract data with as few exchanges as possible.

G:
Is it basically an image of exchanging a normal board with a bad board and extracting and recovering data somehow?

Kitano:
It is such an image.

G:
It seems that it will take a lot of time just to ask ...

Kato:
In the area of engineers, we are actively introducing technologies from overseas, but this is especially important for the departments in charge of the memory team. We need cutting-edge technology.

G:
Do you peel off the substrate while looking at something like a microscope?

Kitano:
I always look through the microscope. Most work.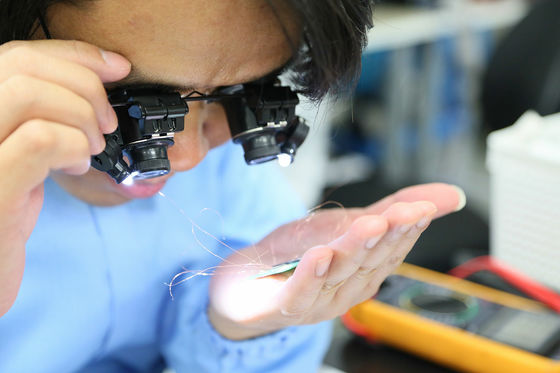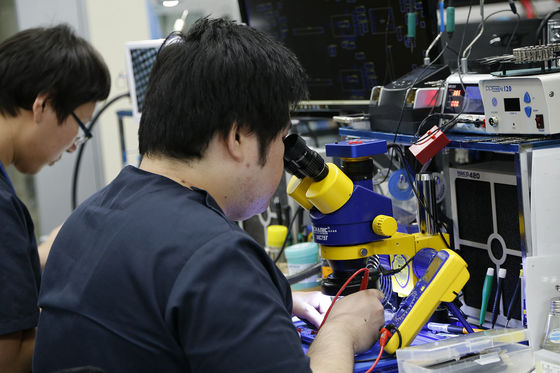 G:
It is a story that transplanting parts of the same model is like a board.

Kitano:
Of course, it depends on the model, but because recent models simply remove memory, it is not possible to extract data.

G:
New smartphones are coming out more and more. Is data recovery becoming stricter each time?

Kitano:
I agree. The contents are getting more and more complicated, and it takes time and effort from dismantling.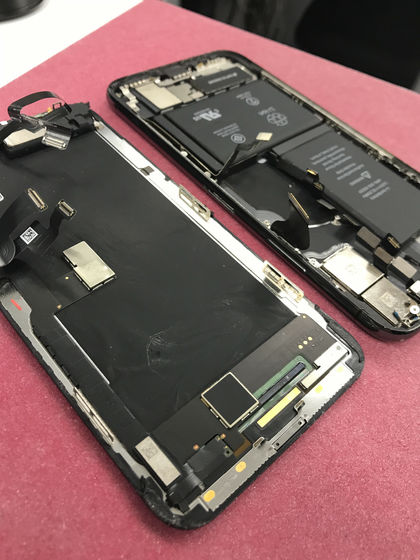 G:
For example, even if you drop your smartphone, you don't know what's going on inside, so amateurs don't know if data recovery is possible. On the other hand, is there a case where it is impossible to extract data even though it looks like the original model when viewed face up?

Kitano:
In most cases, not only the appearance, but also the board, it seems that there is no abnormality at the stage of looking at it. Even if it is mildly submerged, there are many cases in which abnormalities cannot be confirmed by visual inspection.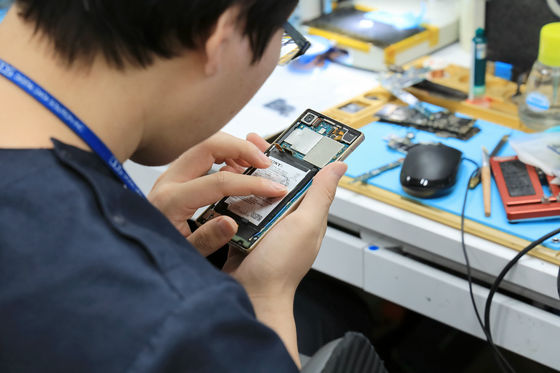 G:
Next, I would like to ask you about SSDs that have a high level of difficulty in data recovery.

Kato:
First of all, SSDs equipped with flash memory are different in data recording method from HDDs and have the feature that data is stored in distributed locations. When reading data, it is necessary to decode the data so that the location where the data is stored is accurate. As a result, recovery of the SSD becomes difficult. Since data recovery from flash memory is simply difficult and requires high technology, some companies do not accept data recovery. For this reason, as with smartphones, some media reports that it is difficult to recover SSDs, but even with SSDs that are difficult to recover, our memory team uses technology from overseas. Supports recovery. There are an increasing number of notebook PCs equipped with SSDs, and SSDs have a common part with smartphones. Some PCs use a small chip, the same size as an SD card called e-MMC , as storage.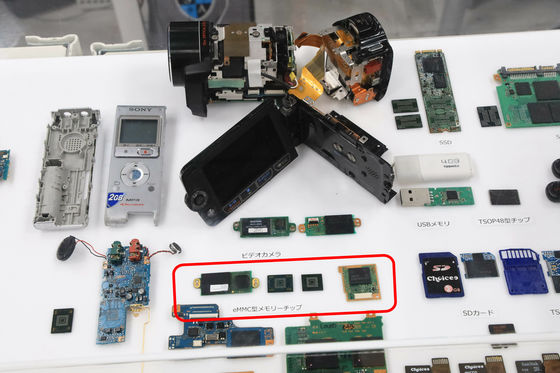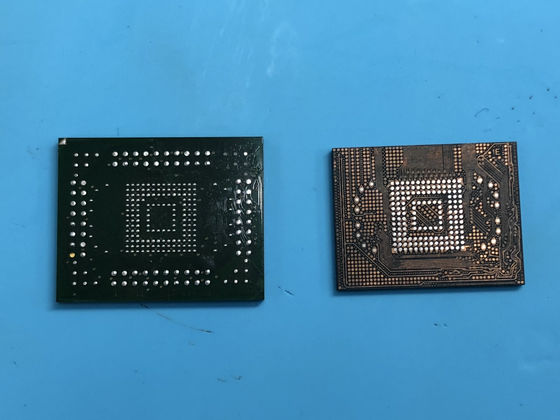 G:
Like these smartphones, is there a case where "it takes out encryption when taken out from the housing"?

Memory team engineer Mankuyu (hereinafter 10,000):
In particular, hardware encryption is applied to the type in which the memory chip and the board are integrated. Even if the memory chip is removed, the data area cannot be accessed.

G:
Is encryption applied when the memory is removed?

Ten thousand:
That's right. Originally, even when the memory is attached to the board, the encryption itself is applied, but it can be accessed by hardware authentication. If you remove it, you will not be able to authenticate it, so there will be no way to read it even though it contains data.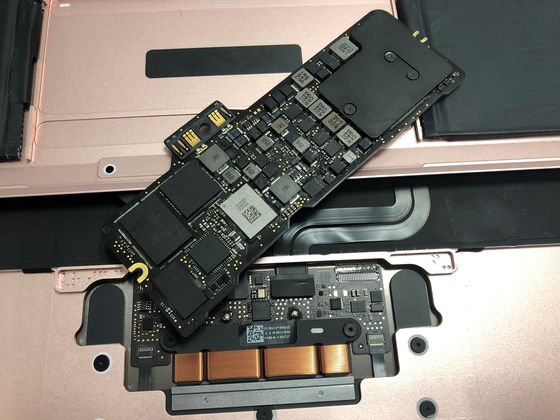 G:
Just like a smartphone, you can't just pull out the memory.

Ten thousand:
In the case of old notebook PCs, in most cases, the HDD could be taken out first and recovered using the technique that Asai and Yanagida talked about earlier. But now things are changing. Some of the latest models are all encrypted on this type of hardware, making data recovery increasingly difficult.

G:
You mentioned the introduction of technology from overseas, but is the technology more advanced overseas?

Ten thousand:
Overseas, various information is collected from all over the world, and tools exist. On the other hand, it seems that Japanese people are not interested in broken equipment, so if it breaks, buy a new one. For this reason, I think overseas data acquisition and repair technologies are more advanced.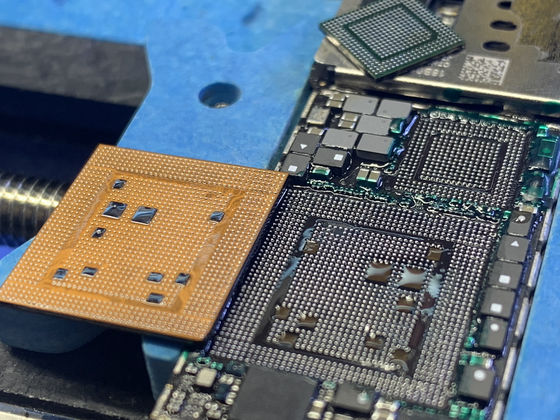 G:
Surely overseas people want to dismantle or try it out themselves.

Ten thousand:
There are many engineers related to electronic equipment overseas, and we always share information with them for research and development.

G:
If you encounter an SSD integrated with a board, is it out of data recovery if the board is broken?

Ten thousand:
Not so. Depending on the broken part, there are quite a few cases that can be recovered by repairing the board.

G:
As with e-MMC, is it impossible to remove just this part?

Ten thousand:
That's what e-MMC is on in recent smartphones. The data area cannot be accessed even if it is removed.

G:
It's the first time you're stuck on the board and you're starting to recover. There are multiple new versions of PCs with integrated memory and board, but is the image that the contents have changed greatly each time?

Ten thousand:
Yes. In the case of a new one, the standard changes every time. Every time it becomes a new one, there will be an epidemic at that timing, so we will do research first. So, for the latest model, we can't say that this will be fixed.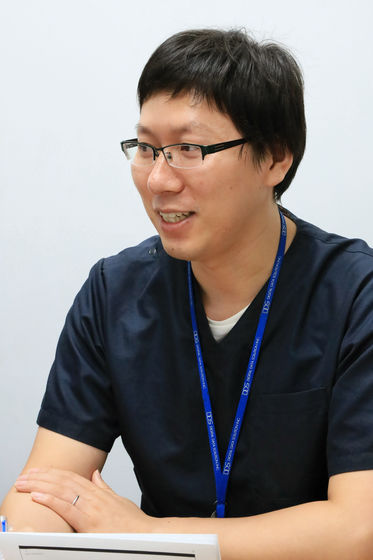 G:
Is the difficulty level going up when it becomes the latest?

Ten thousand:
I agree. There are also patterns that include a manufacturer's own chip, and the situation changes daily.

G:
That's why other contractors don't accept SSD repairs. If you want to do that, you will need a lot of technical skills. By the way, why is Mr. Man and Mr. Kitano doing this kind of work?

Ten thousand:
It's a hobby.

Kitano:
Because I wanted to actually do the recovery work. However, it doesn't mean that you will be able to do the recovery work from the beginning, so like Mr. Asai, you started with the logistics team and appealed.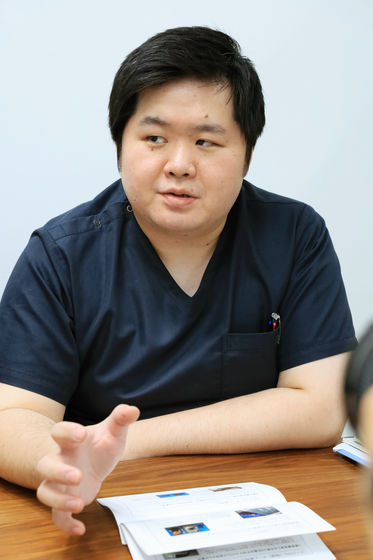 Yanagida:
Kitano is amazing. Engineer soul is amazing.

Kato:
I ask the customer about the symptom of the storage medium from the sales, and then give an estimate of how much from that, but say, "It looks interesting, so I want to recover and do my best!"

G:
What are some interesting criteria and interesting examples?

Kitano:
That's right ... I do a lot of analysis during the initial diagnosis, 'Isn't this bad?', But I make predictions that I should do this depending on the symptoms and how they break. I'd like to test that prediction, and how can I measure my competence as an engineer?

G:
There was a story that the newer it becomes, the more difficult it will be, but there has never been brought in until now, but is there a project like 'Is this finally here?'

Kitano:
There is. It is really fun when you actually challenge and see the clues of recovery or actually succeed in recovery.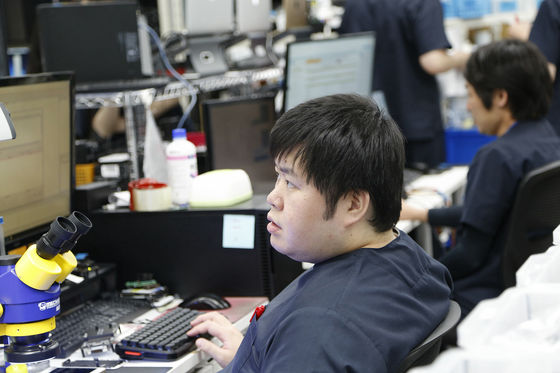 G:
I think this is a job that requires experience, but who do you think is suitable for a data recovery engineer?

Yanagida:
I think people who like PCs are addicted. Someone who makes a PC by himself.

Usui:
It's a mechanism or something like that. Interest, mechanism, problem solving.

G:
That's why you need high technical skills. What wondered is that it is necessary to have high technical skills, but what does it mean that there are some suppliers without technical skills? Why is the difference in technology from Digital Data Recovery born?

Kitano:
I think this is because we invest a considerable amount of equipment and technical information. I don't mind investing in technology.

G:
The image that geopower is working?

Kitano:
I agree.

Kato:
I think the number of projects is also large. We have received more than 180,000 consultations so far. I don't know if I have to take a look to know the problem. If there are similar cases in the past, the next can be corrected more accurately, so it is clearly our strength that engineers are experiencing various cases.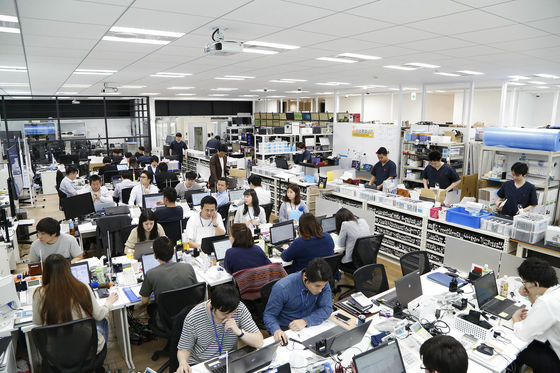 G:
I see.

Kato:
I haven't heard much about other companies working on data recovery by setting up teams for each symptom and device. So we may have the strength that our organizational system is solid. A specialist for each device and each symptom will respond properly.

G:
If you are told, you will certainly not hear. Do you share information in the company?

Usui:
There is of course information sharing. However, since each engineer has experienced various teams, I think the difference from other companies is that it is easy to grow multi-engineers. This is because all teams in the engineer group conduct training before the assignment.

Yanagida:
For example, the logical team doesn't have to know about physics, but the physical team knows about logic, and the work changes.

Usui:
It's a story about HDD copying earlier, but since I had received logical training, I understand that this file system should be used to extract such data. In fact, the speed of copying will increase, so it is important to have knowledge in areas other than your team.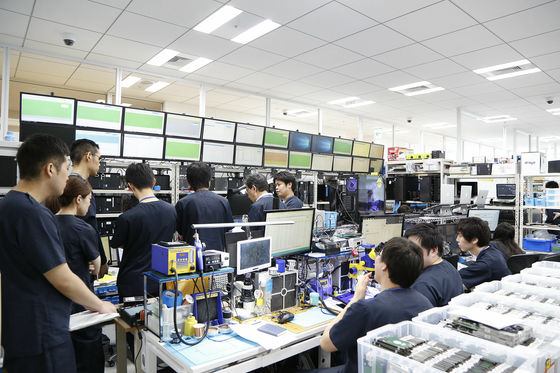 G:
By the way, I was overwhelmed, how did you decide to get assigned to the logical team?

Yanagida:
I started off from the logistics team.

Kato:
When I joined the company, Mr. Yanagida felt that the logical team was very important, so I was surprised to be in the warehouse area.

G:
Data recovery makes you imagine a completely digital world, but in reality it's completely like a craftsman's world, not completely automatic. The people who work there are very important, so if you study hard every day by introducing technology from overseas.

Kato:
I agree. Only commercially available recovery software and on-surface systems can restore only really simple ones, so engineers themselves are working hard every day to refine their technology.

G:
That's exactly what it is. Thank you for your time today.

Data Recovery.com [Digital Data Recovery] | Data recovery service with a recovery rate of 95.2%
https://www.ino-inc.com/