Official illustrator talks about narrative and inspiration hidden in Pokemon card illustrations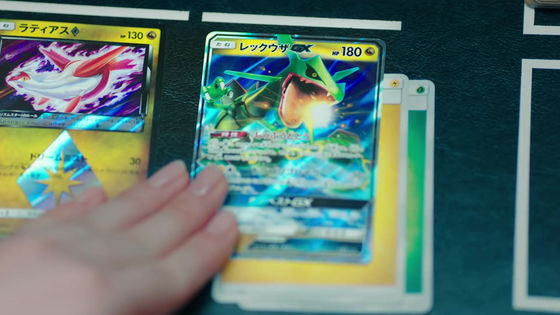 In Japan's first trading card game '
Pokemon Card Game
', which started in 1996, artist
Mitsuhiro Arita
who has participated as an official illustrator from the early series, created his own creative activities and Pokemon Cards on
GameSpot
, an overseas game media. He talks about stories hidden in illustrations.
The Hidden Stories And Inspiration Behind Pokemon Cards-GameSpot
https://www.gamespot.com/articles/the-hidden-stories-and-inspiration-behind-pokemon-/1100-6468906/
If you choose the most memorable game or toy you played in your childhood, many people will have trouble. Game Pot's
Will Potter
chose "Pokemon Card Game" as a result of his worries and wrote, "The memory of the first booster pack, the best holographic card, and the card exchange that I always regretted." The Pokémon card game where Potter got stuck in his childhood started in 1996, the same as "
Pocket Monster Red / Green
", the first work of the series, so he already has over 20 years of history at the time of writing the article. Multiple expansion packs have been released in the past 20 years, thousands of cards have been released, and
some Pokemon cards worth over 6.5 million yen
exist, and some people collect cards as a collection That's right.
Mr. Potter, who has been playing such a Pokemon card game since 1999, interviewed Mr. Mitsuhiro Arita who has continued to provide beautiful illustrations as an official illustrator of the Pokemon card game, interviewing the source of illustration inspiration etc. It is.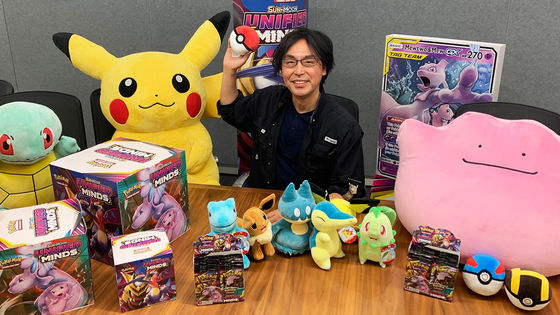 Arita-san has handled more than 600 illustrations of Pokemon cards. Therefore, if you have played with a Pokemon card game, it is very likely that you have seen Arita's illustrations. From early Charizard to the latest tag cards, Arita's illustrations can be seen in every series.

Many series of Pokemon have appeared so far, and the latest '
Pocket Monster Sword Shield
' is scheduled to appear in November 2019. When the latest work of the series is announced, the first to appear is an official illustration by game freak
Ken Ken Sugimori
. On the other hand, Pokémon card games are created by
Creatures
and there is little collaboration between the two companies. However, Arita said that he would like to enjoy collaboration with Pokemon-related artists including Sugimori.
[Official] Pokemon card game CM (Suzu of Hirose Sound of battle)-YouTube
Furthermore, when asked about the source of inspiration for Arita-san, "It's actually very good to see the real world. The illustrations naturally reflect the artist's view of the world and creativity. "It 's not good to stimulate your own free thinking and thinking." Arita does not receive inspiration from the work of peers, but seems to be inspired from the real world of a completely different field, he says that he is watching a lot of BBC's nature documentary series and movies .
As a result, Mr. Potter writes that Arita-san's Pokémon draws realism like a living creature in the real world. Potter also mentions that Arita had drawn many sketches on Twitter at a European museum.
Sketch at 1/4 @britishmuseum pic.twitter.com/jqMTAvrno8

— Mitsuhiro Arita 7/5 Remix Bout (@MitsuhiroArita) July 22, 2019


"Pocket Monster Sword Shield", the latest in the Pokemon series, is set in the "Galal region" based in the United Kingdom. Therefore, Mr. Potter thought that Arita-san's sketches in Europe would affect the Pokemon cards of Pokemon Sword Shield, which will appear in the future. Arita-san said, "I am inspired by the knowledge of the environment and architecture of European countries, especially the sense of scale of architecture." It seems that details of the Pokemon card game of Pokemon Sword Shield version that may be released in the future were not disclosed, but `` It is said that Arita's trip to Europe will have some influence on the illustration of the future Pokemon card game Obviously, "Potter wrote.

Arita-san is an illustration of "Pikachu & Zekrom GX", "Reciram & Charizard GX" and "Mewtwo & Mew GX" implemented in the recently released Pokemon Card Game expansion packs " Tag Bolt ", " Double Blaze " and " Miracle Twin " I am in charge. In addition, the illustrator side only specifies Pokemon to be paired to the last, and he does not have the right to say which Pokemon will be tagged.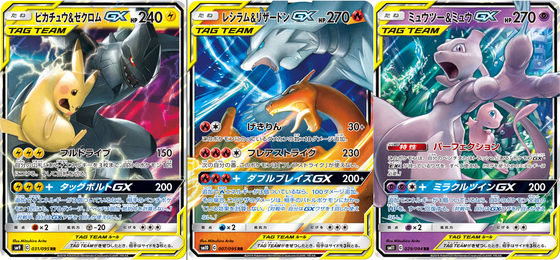 Arita explained, "The top priority is a request from a game designer at Creatures, and they are thinking about how Pokemon will function in an actual card game." Arita says that
Pokemon Co.
,
Ltd.
may have some influence on "which Pokemon will be tagged" depending on the popularity of each Pokemon.
About this, Potter said, 'Yadon and Kodak's tag team is the best Pokemon card I have ever thought, apart from whether it can be used in actual play,' from these card combinations However, we expect that there will be a lot of opinions about the tag team from Pokemon.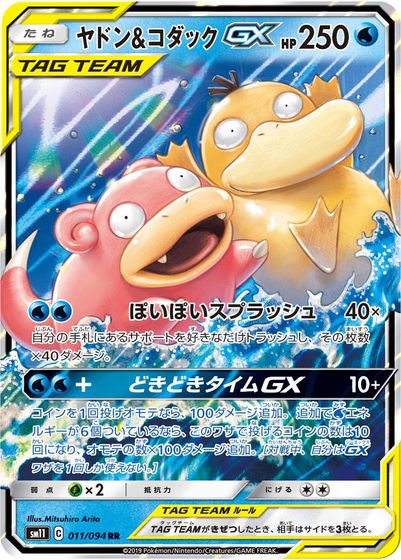 Regarding the "Mewtwo & Mew GX" of the expansion pack "Miracle Twin", Arita said, "There is a story behind this card". As a continuation of the secret rare card ``
Mewtwo GX
'' of the expansion pack ``
Hikaru Legend
'' that Arita was in charge of, `` I may have already noticed if you have sharp eyes '' Mr. Potter , He pointed out that it was possible to speculate that Miu helped Mewtwo, who had been captured in the laboratory, and became an illustration of 'Mewtwo & Mew GX'. The story hidden on the Mewtwo card that Arita was in charge of illustrations was not created by Creatures, but was inspired by Arita's inspiration.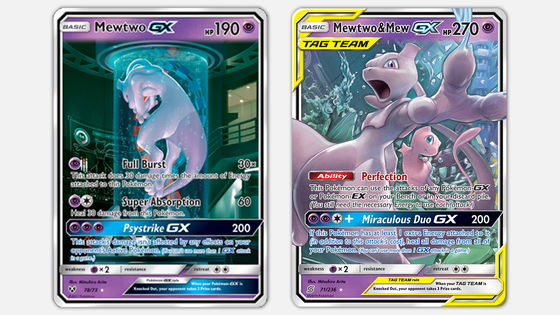 Mewtwo's card is not the only example of Arita's theme and story behind the Pokemon card illustration. In the `` Blackie '' card recorded in the `` Aquapolis '' set, Arita-san was in charge of illustration more than 15 years ago, Blackie seems to be on the roof of the building opposite the unique clock tower . On the other hand, in the starter set TAG TEAM GX ' Blackie & Darkry GX ', Blacky and Darkry are standing in the place like a clock tower in the illustration 15 years ago. Arita commented, "Fans are obsessed with the story hidden in the card illustrations and inflating their own stories in their heads. This is how to design user-participated card illustrations."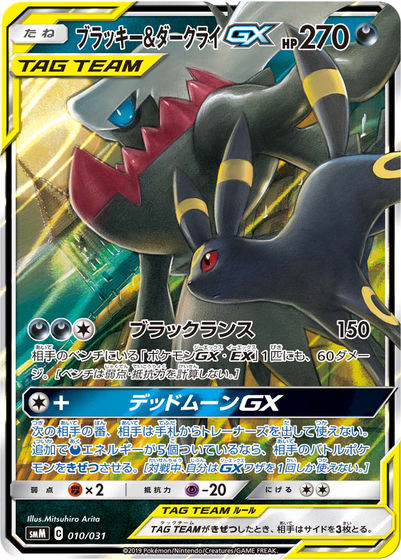 In addition, it seems that it is difficult to create a tag team card illustration because it contains a lot of text information on the card. Arita-san gave an example of "Lucario & Melmetal GX" drawn with the expansion pack "
Full Metal Wall
", and "Everyone knows Lucario and knows what it looks like. You don't have to show the statue, whereas Melmetal is huge and difficult to fit in the card, but I thought it was a new Pokémon and I needed to show it as much as possible. 'What was the Pokémon?', He said, and revealed that he was thinking about the composition of the illustration in consideration of Pokemon's awareness.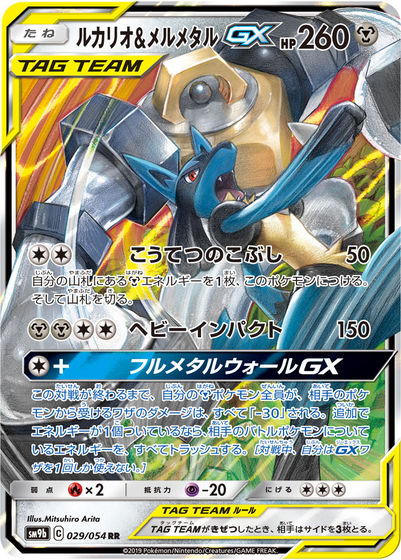 Mr. Potter was fascinated by Arita's latest illustrations, but he couldn't help but ask questions about the Pikachu cards that appeared in the early days. The recent Pikachu looks pretty slim and smart, but when it first launched Pokemon, it looked more "chubby".

Arita-san commented, "I like round Pikachu," when asked if she prefers the current smart Pikachu or the old chubby Pikachu. However, when drawing digitally, it explained that it was very difficult to reproduce the perfect roundness of Pikachu, and conversely, it revealed that it was easy to reproduce the old `` soft touch '' Pikachu .

In addition, Mr. Potter who felt that Pikachu drawn by Arita had many playful and happy illustrations asked, `` It is not limited to Pikachu, but in general Pokemon is dark or negative, depressed "Pokemon is happy and fun. I express it with a card."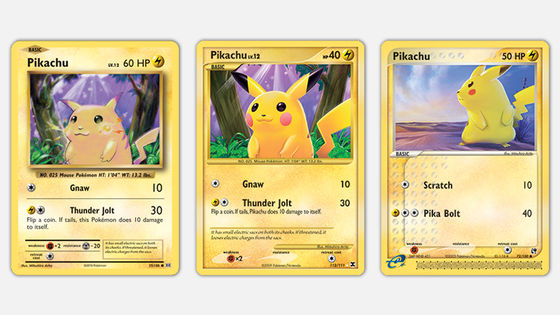 Potter said, `` Every time a new expansion pack is released, make sure that there are no hidden stories in the works of art drawn lovingly on each card 2.5 '' x 3.5 '' (about 6.4cm x 8.9cm) Please try it. '