Added an option to prevent Amazon from listening to Alexa's conversation data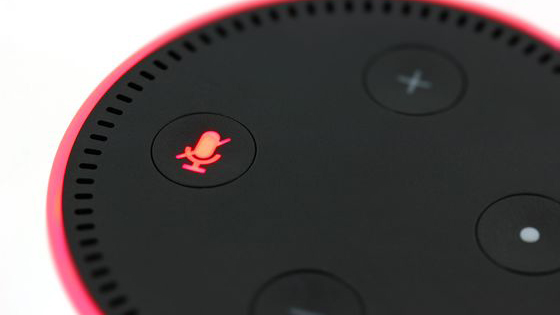 by
HeikoAL
The
voice assistant
Alexa
installed in
Amazon Echo
etc. is a convenient AI that can handle various tasks just by talking, but the privacy issue is that '
Speaking voice data is being heard by Amazon employees.
' Has often been pointed out. Meanwhile, Amazon has finally implemented an option setting that prevents Alexa from collecting conversation data.
Amazon Gives Option to Disable Human Review of Alexa Recordings-Bloomberg
https://www.bloomberg.com/news/articles/2019-08-02-amazon-gives-option-to-disable-human-review-of-alexa-recordings
Apple and Google Halt human voice-data reviews over privacy backlash, but transparency is the real issue | VentureBeat
https://venturebeat.com/2019/08/02/apple-and-google-halt-human-voice-data-reviews-over-privacy-backlash-but-transparency-is-the-real-issue/
Economic newspaper
Bloomberg
leaked in April 2019,
saying that
'
Amazon's conversation with Alexa is being heard by employees
.' It was revealed that the conversation between Alexa and the user was recorded and analyzed by a secret team assigned to Boston, Costa Rica, India, Romania, etc.
The details of the coverage by Bloomberg can be easily understood by reading the following articles.
Conversations heard by Alexa are recorded and analyzed by Amazon employees-GIGAZINE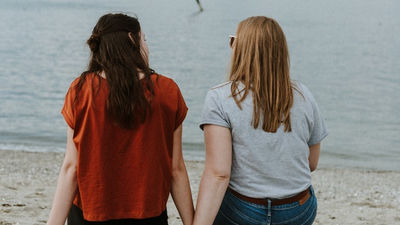 The data recorded in Alexa is that it was collected for machine learning, but some of the collected voices were not only those that spoke to Alexa 'What is ○○?' Also, it was said that the children's cries like asking for help or singing in the shower were also included.
In fact, we know that these conversations are also recorded and collected by third-party voice assistants, including Apple's Siri.
Comparing how the voice assistants of Amazon, Apple, Google, Microsoft and Samsung handle voice data-GIGAZINE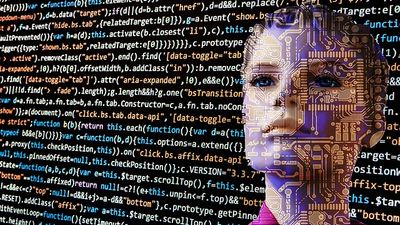 Each company that has collected conversational data has taken privacy into consideration by providing high level encryption to the data and deleting it at the request of the user, but the user has complete control over personal information. The voice of concern over privacy issues is growing day by day.
Under such circumstances, the German
Data Protection and Information Free Inspectorate
issued a
'
Government order prohibiting data collection for three months
' on August 1, 2019, and Apple also made an August 2019 On the 2nd, it announced that 'the
voice confirmation by the human employee who had been done for the grading (rating) of the conversation record is suspended
'.
In keeping with these movements, Bloomberg reported that Amazon has 'newly set up an option to stop the collection of conversation data by Alexa.' In a press release on August 3, 2019, Amazon has issued a statement that 'the information to be disclosed to customers has been updated to make our efforts clearer,' It is stated that the collection of conversation data that was not done is specified in the terms and conditions.
You can change the setting to prevent Alexa from collecting conversation data with the Alexa app for smartphones, or on the Amazon site.
Alexa privacy
https://www.amazon.co.jp/alexaprivacysettings
It looks like this when you open the 'Alexa Privacy' page from the link above. To change the settings, click 'Alexa Data Management for Feature Improvement' in the menu on the left.


Then click the toggle switch to the right of 'Contribute to the development of new features'.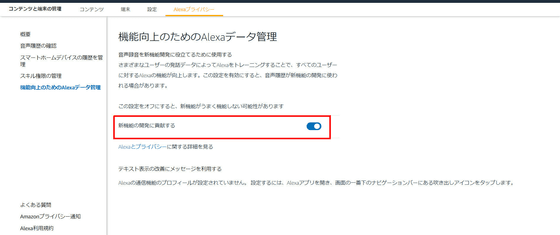 Click "Turn off" to complete the settings.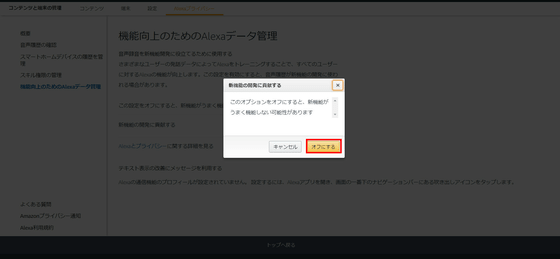 You can also see on this page, 'If you enable this setting, voice history may be used to develop new features.'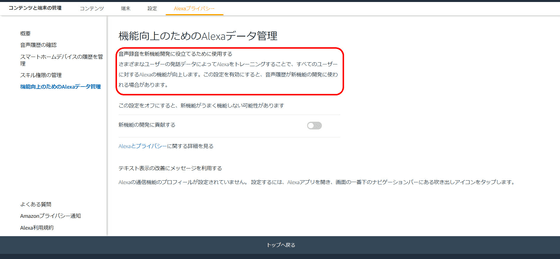 Amazon interviewed technology news media VentureBeat 'We have voices of customers who are concerned about privacy Makoto And review procedures and practices on an ongoing basis. We already offer our customers the option of opting out of voice recording to support Alexa's new feature development, which will not record your information and will allow us to manually review the samples. It will also be excluded from the learning workflow, 'he says, and it has become possible to limit the use of voice by changing settings.