The sugoroku or festival talk event report of the anime 'After School Diary Club' featuring high school girls in board games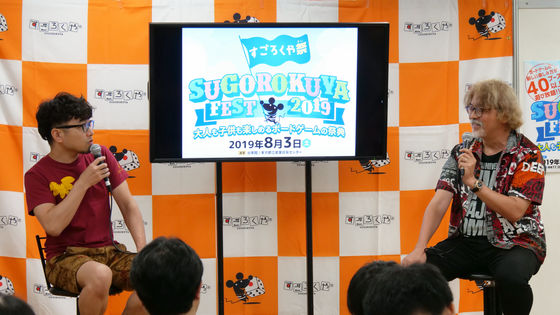 On August 3, 2019 (Saturday), the
Sugorokuya Festival 2019
, a board game festival, was held at the
Tokyo Metropolitan Industry and Trade Center Taito-kan
in Taito-ku,
Tokyo
.
Young and old, men and women, a wide range of players have played in various games, and
Hiromu Nakamichi,
who drew the original manga for the board game
after the
show, which will be broadcast from October 2019, with the theme of board games A talk was held by Mr.
Akira Maekawa,
who is in charge of the series composition and screenplay.
'After school dice club' official site
http://saikoro-club.com/
Tokyo Industry and Trade Center Taito-kan that became the venue. Near Sensoji Temple, Tokyo Sky Tree can be seen behind it.


The Sugorokuya Festival was held in the 7th floor exhibition room.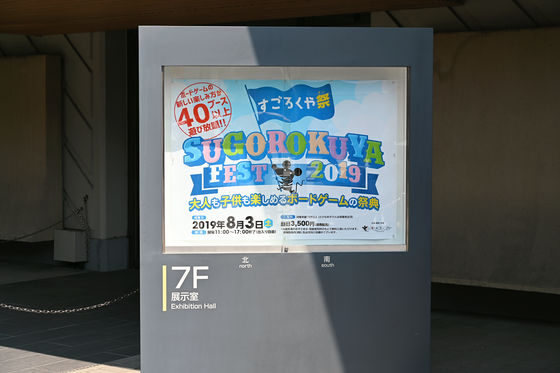 'Sugorokuya Festival' entrance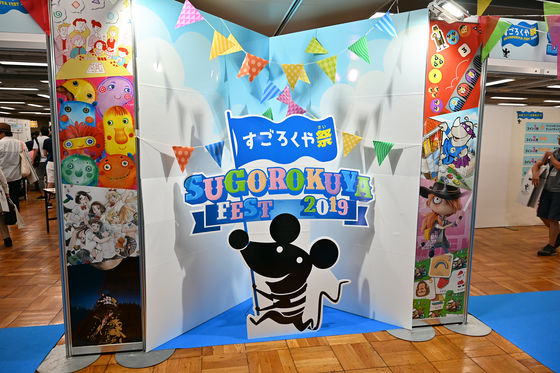 The venue map looks like this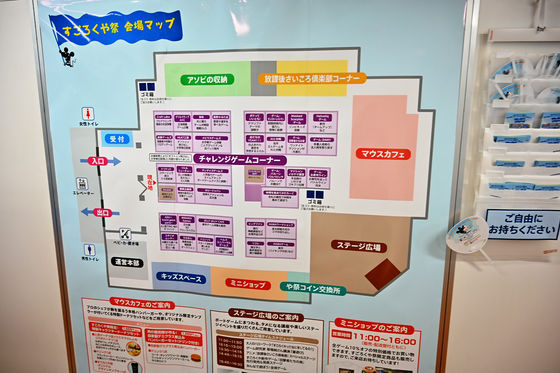 Nakamichi (left) and Maekawa (right)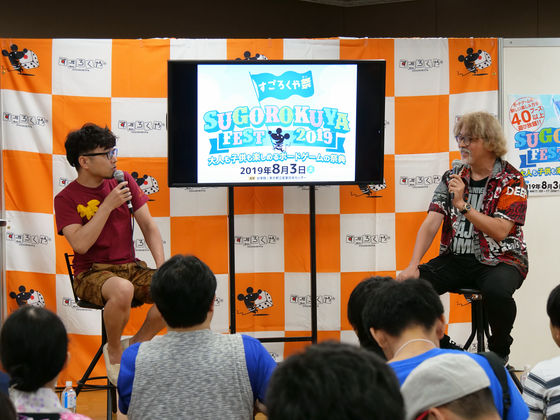 MC:
First of all, please tell us about what kind of work is 'After School Delight Club'.

Yu Nakamichi (below, Nakamichi):
Three girls meet a board game on the stage in Kyoto, play with various people through the board game, and various events occur. ...... If I was told to explain, I would get stuck in the words (laughs), so to speak, Shiro Yamaoka of 'Delicious Shinbo' was divided into three people of sociable, shy, intelligent, and made the subject from food to board What has been turned into a game is 'After School Day Club'.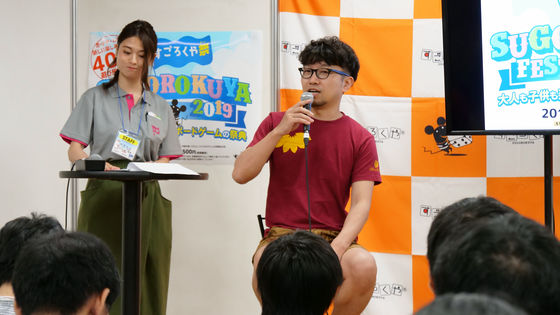 Series composition · Maekawa Akira (following, Maekawa):
Easy to understand!

Nakamichi:
Thank you very much.

MC:
Mr. Maekawa, who is in charge of making up the series for the anime "After School Daiko Club", is a big fan of board games. In the first place, what kind of work is 'series configuration'?

Maekawa:
Since many of the scriptwriters write animation scripts, they decide the flow and decide what kind of development to consider based on the outline of the whole series, show the directionality of the work in the first episode, and other sub-writers It is a job to assign people 'please write this story' and look at the whole. It is exactly the 'constituent of the series'.

Nakamichi:
It's not just writing a script.

Maekawa:
It may be misunderstood as 'the person who writes the script in the main' equal to 'series composition', but it does not necessarily match. Some people only make series and do not take charge of writing. In most of the examples the script is not written because it is not true, but basically, the series composition and the script are 'another role'.

MC:
Have you ever been to see after-scenes?

Nakamichi:
I have been to visit several times from one story.

Maekawa:
I am not every time, but I go when I can go.

Nakamichi:
In terms of audio dubbing, I drew my first dubbing in the latest 14 volumes of comics comics. Some manga artists say, "Animalization is the best dream," and I did. I was impressed by the fact that being a voice actor, she was on the spot asking her voice to be applied to her character. After that, I was not able to see that my picture was moving without tears in the after-recording while watching the moving picture. 'Well, here it is'.

Maekawa:
I think it was good for a good original author to be moved to that point. Thank you.

MC:
What do you expect from anime?

Nakamichi:
It is difficult to say 'expect' .... 'Becoming an anime' is one dream and it has come true, so more than that ....

Maekawa:
It's not already 'expecting' or something like that. Actually, animation production has already begun.

Nakamichi:
I agree. I'm sure I think that the original author is looking at the sweetest eyes for anime. So already, I have nothing to do more than this.

MC:
Mr. Maekawa, did you focus on writing the script for the animation, or would you like me to look here?

Maekawa:
I'm also working on the script and series configuration of famous originals, and in general I would like to try not to do that because it is a fate that says 'If it's fun, the original is good, if it's boring it's because of the script'. You In the case of this work, the point is not to play the board game 'little' but to play it properly. As I also like board games, I was motivated that this work was interesting. As there is a game introduction in the story, the girls' story goes on, so it was difficult to balance the drama and the game in a limited time of one story to make it a screenplay. Since I can not play the game from head to end, I thought that I could do it to the extent that I could understand the game in any way even if I saw only the rules and the animation. However, even if only the key points of the game are taken up, there is a connection back and forth, so like '棋' in Shogi, make progress of the game from the first to the last based on the original, I've been thinking about which part to use in animation, so I think that you should expect them there.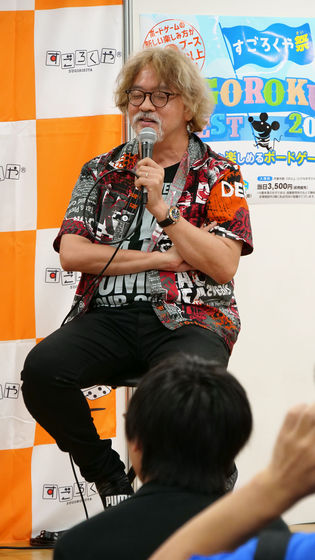 Nakamichi:
It's just that you can see the game to some extent just by watching the anime.

Maekawa:
If you are looking at the animation thinking that 'the game looks interesting', it should be about that the instrumental (explanation) has just ended. After that, if you buy a game with Sugorokuya, you can start immediately (lol)

Nakamichi:
I will connect in a little chat until the preparation for PV playback is ready, but Mr. Maekawa was in the series configuration of ' Yu-Gi-Oh! Duel Monsters '.

Maekawa:
I used to talk about that just behind the scenes, but I really use it here (laughs)

Nakamichi:
It is also known in the Net Meme, ' I 'm giving up! The life of Hashiba is zero! '

Maekawa:
I wrote

Nakamichi:
I thought that I would like to introduce this. Mr. Maekawa is doing 'Yu-Gi-Oh! Duel Monsters' and also doing a
pre-cure,
so it's perfect for this work.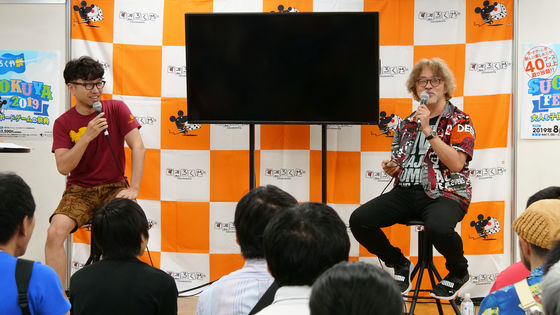 Maekawa:
The fact that I met a producer is also a board game, which leads to my work. Just before, the story of the score came out, but it is the same way in 'Yu-Gi-Oh-King', and Duel makes the flow of one pass and applies it to the game. Another thing I wrote, '
The Prince of Tennis,
' was also applied after thinking about the overall flow of the game.
MC:
Then, please look at the PV of 'After School Diary Club' here.
TV Anime 'After School Saikoro Club' Special Report PV-YouTube
Nakamichi and Maekawa also watch together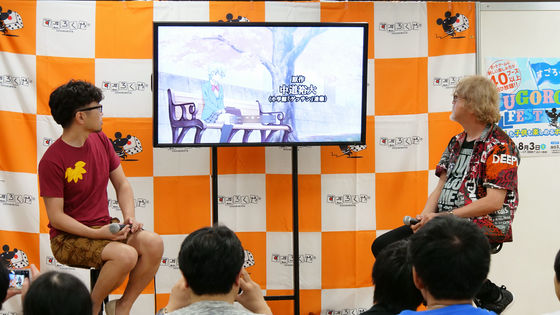 MC:
In the PV, '
Marrakesh
', '
Gokikaki Poker
' and '
Inca Gold
' appeared. What kind of game is this?
Nakamichi:
'Marrakesh' is a game in which the player becomes a carpet merchant, places a carpet around a piece when it comes to his turn, and receives money when another player moves the piece and stops on the carpet. It is difficult to explain only verbally.
Maekawa:
Mr. Assam of the merchant piece to move is cute.
Nakamichi:
It was impressive that the person who taught me the game said, 'The yellow carpet looks like a thin-baked egg', and it was the first game played in the film.
Maekawa:
We play through the games that came out in the film after the script meeting. Marrakesh played there for the first time.
Nakamichi:
Marrakesh is not a major player, it's a game for those who are a little geek, so it's no surprise if you haven't played it. If it is 'good-looking poker', it is a major. Has anyone played Marrakech in this place? ...... (Seeing the number of moves in the hall) As they are truly people, there is about a third. You can play this game at the booth of 'After School Diary Club'.
MC:
Do you have anything like a game episode?
Nakamichi:
This is how I draw in manga, but Marrakech is difficult and I still don't know how to win this. People who are smart are told 'It's gachighe', but it hasn't reached that point. However, I think that the atmosphere is pretty and I can not play.
Maekawa:
Just watching the carpet is fun, isn't it? I bought 'Gokikaki Poker' before this work came. To put it plainly, it's a game like 'Dout', in which the declaration of when the opponent put out a card is true or lie or passing through, and losing the same four pests or eight pests is a loss. This is quite a major, right? (There are a lot of raised hands depending on the voice) There is also another version called 'Squid cockroach'.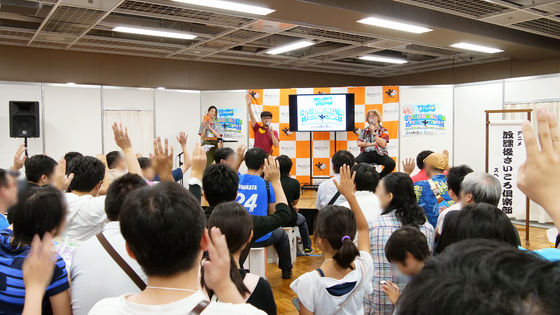 Nakamichi:
You can hide the card, it's a crazy guy.

Maekawa:
That is very exciting. Although it was the 'Gyopo' without cheating that Miki-chans played in the work. At first, there is a card that I do not know what insects are drawn, is it an insect in the first place? I was troubled (laughs)

Nakamichi:
'Gokibiki Poker' is one of the first games I bought that I knew about the presence of board games on Hikaru Itsuin's radio. When I went to Tokyu Hands after hearing the story that 'I was doing fun with my juniors,' I bought both because there was 'Good-looking poker' and 'Katan.' Since there was a drinking party on that day, I went there with both of them, and I knew I had no rules, but it looked like it was easy, I remember having done 'Good-looking Poker' on the spot. I have now found a way to win.

Maekawa:
Did you determine?

Nakamichi:
It takes time to talk everything, but I found safety when I said this. It is said that ...... do not teach something (laughs). If you are interested, let's play with me. But the first time I did it, I felt 'fear'. I don't know what it was, but I was scared to be fooling him and I've been passing for a long time. Both the 'humanoid' and this 'gokpo' game are amazing in the game where a person with a good lie is great. Even though the lie is no good, it is good to follow the lie positively.

Maekawa:
What a good person ....

Nakamichi:
Of course, I have not been able to hold a lie ever before (laughs), but I did not get a lie actively, so I felt the potential there.

Maekawa:
Did you like board games before you drew the 'After School Day Club'?

Nakamichi:
About a year ago when I started to paint, I was searching for 'something about manga?' Then I felt that there were lots of interesting games and that this would be acceptable to readers of manga. That's because 'Yu-Gi-Oh-Ku' was a hit before me, and there were Go and Shogi manga and mahjong manga, so I guess this is 'Ari.'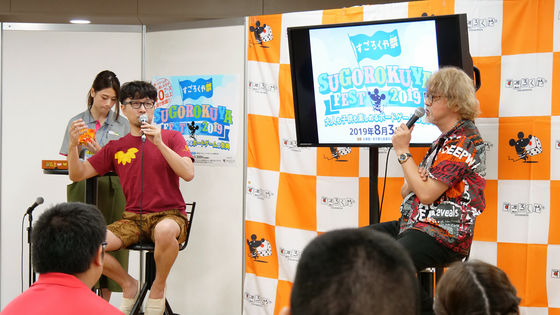 Maekawa:
Although it was a spot of attention, I thought it was interesting because there was no such thing as a manga for which a board game would appear.

Nakamichi:
It has been around six years since the start of the serialization, but when I started serializing, ' Dominion ' came out, and it was a time when awareness of the board game had just risen. If I had not drawn the 'After School Delight Club', I think someone would have drawn another board game manga and it would have been animated by now.

MC:
What kind of game is 'Inca's Golden'?

Maekawa:
This is a so-called 'serious trial'.

Nakamichi:
Yes, it's 'Chicken race'. There are many people playing this too, right? (Venue, many raised hands) Good game.

Maekawa:
This was my first play after the scenario meeting. It's just about the point where the fun is understood, and I'm not ready yet.

Nakamichi:
Players become explorers, dive in caves and collect treasures. However, there are not only treasures but also obstacles in caves, and the treasures that were held when the specified number of obstacles come out will be confiscated, so it is necessary to return before that to secure the treasures not. However, when the number of people who return in this way increases, the amount of treasure that can be obtained increases, so it is a game of how far to go, where to go back. I bought 'Inca Gold' early and played many times, so I can say 'I'm strong', but when I get up and running I'm stuck in it.

Maekawa:
Is Nakamichi gamble?

Nakamichi:
I hardly do it.

Maekawa:
People who can return to calm even if it gets hot are suitable for gambling. I also try to avoid doing it because I'm aware that I'm stuck in it when it gets hot and I'm not good for gambling on my own.

Nakamichi:
Somewhat similar to mahjong. You can aim for goodness but 'No, that's impossible' and give it a cheap hand or do you aim for it? ...... I will go to aim.

Maekawa:
I am too (lol) I felt that when I read the original, I think that the bargain of going or going back is well included. When I received this job and read it for the first time, I had the impression that the game was reasonably intertwined with the story. It wasn't something that was forced around, so it helped me to make a scenario.

Nakamichi:
In the beginning, I often got the inspiration from games to make stories. However, as it is necessary to develop a story as the number of characters increases, I have come to search for 'what game is suitable for this development?'

Maekawa:
The talk will come first.

Nakamichi:
However, I think that it is not good enough, and recently I'm trying to put back the game-oriented story.

MC:
Please tell me the board game you are watching recently.

Nakamichi:
It falls under the category of 'board game' or is subtle, but it is a Marder mystery game. In general, it is a game like a "person with no dropout", where a murder case occurs and who is the culprit. It is a role play of a detective fiction where you first receive a card that tells you what kind of person you are, then grasp the contents and then discuss it with everyone to deduce the offender. Some people draw cards that say you are the culprit.

Maekawa:
I did it too. It looks like a script with a script.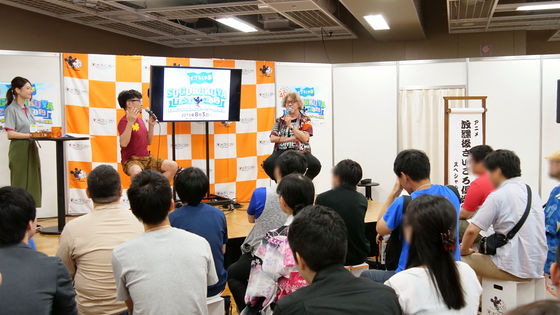 Nakamichi:
It is a popular game in China and Taiwan, and I think it will increase in Japan from now on. I tried this, and I wanted to write something and let everyone do it.

Maekawa:
I went into '
Tera Forming Mars
' and, more recently, '
Agricola
'. But I don't have much time to do it (laughs). It takes several hours at a time. In the story of agriculture, we all cultivate fields and keep livestock to save money, and we are expanding the farm while feeding the family, but it is deep.
Nakamichi:
I have a big penalty if I don't let my family eat properly.
Maekawa:
The Terraforming Mars is a game that pioneers Mars, with expansion kits coming out. I have the confidence that Terrafo is pretty good with the initial map.
MC:
Finally, I would like to ask the fans a word.
Nakamichi:
Although we can not say the broadcast start date and time in detail after 'school club after school,' it was announced until October 2019 broadcast. Now in August, it will start already when September is over. If you look at it and play the board game that came out, I would be happy just by that. Thank you for your time today.
Maekawa:
I am also looking forward to the air. I hope this game will increase the number of people who play board games and increase the board game population.
The anime 'After School Saikoro Club' special talk by Nakamichi teacher and Kei Maekawa ended in great success! # Sugorokuya Festival pic.twitter.com/6JOSpEIFSd

— Sugorokuya (@sugorokuya) August 3, 2019
It was funny to laugh at the talk show of the after-school dice club held at the Sugorokuya Festival! For example, when the main characters of the three main characters were divided into three equal parts of Shiro Yamaoka of 'Delicious Shinbo', they were addicted to the laughing point of the customers in the hall (Showa generation) (laughs) pic.twitter.com/f5loPioE9L

— YU-TA (@ o7_gj) August 3, 2019


At the venue there was a 'After School Delight Club' booth where the games appearing in the film could be played.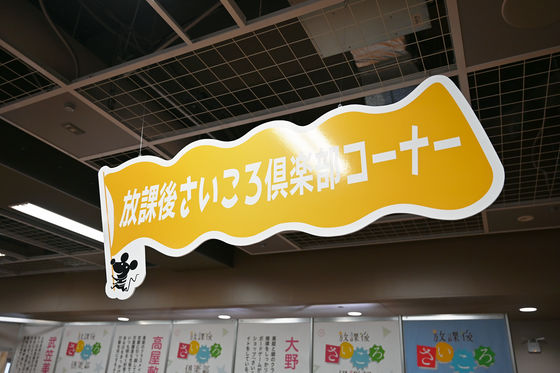 This is the main visual of the work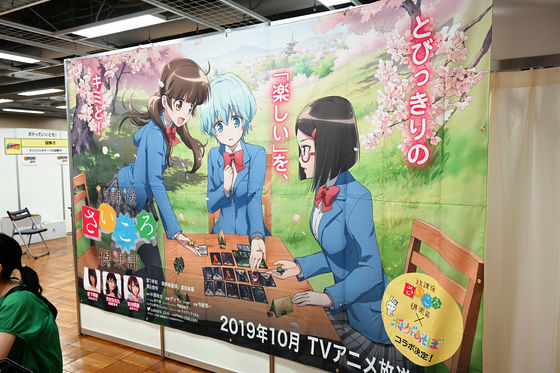 It is a story where three girls spend their fun days colored with board games.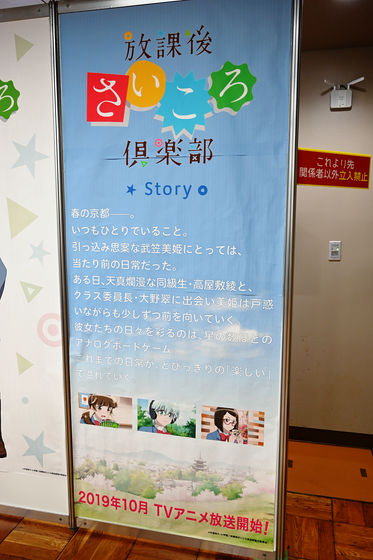 Miki Takeuchi (voice:
Saki Miyashita
) who is not good at socializing and is withdrawn


Transfer student, Takaya Riki who moved to Kyoto (voice:
Mari Takano
)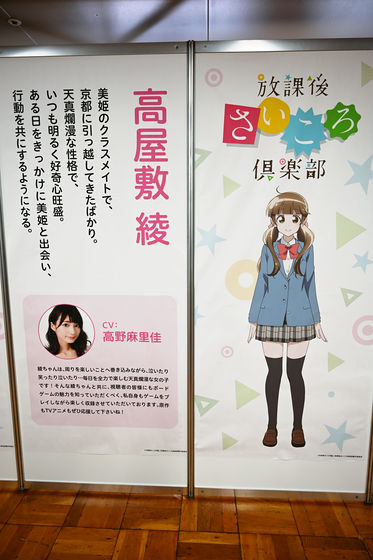 Atsushi Ono (voice:
Mikoto Tomita
) in a part-time job at the board game shop 'Saikoro Club' by the class chairperson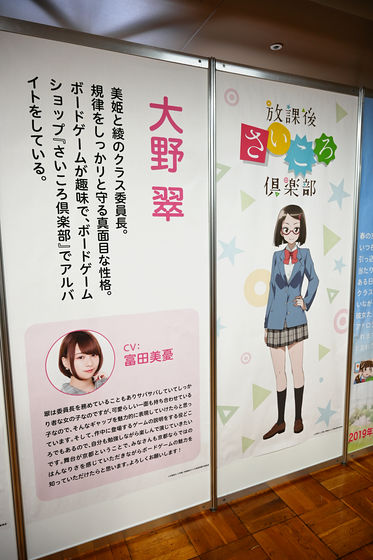 By the way, I received such a folding 'anywhere stool' at entrance ...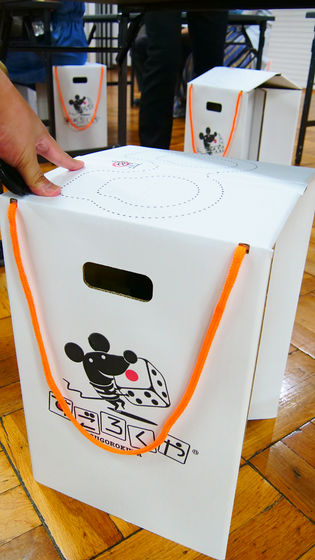 It was utilized at the time of the talk event and game play.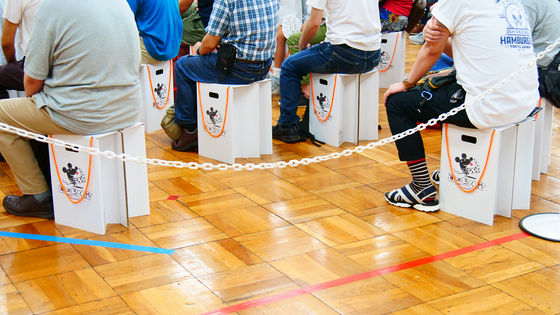 The appearance of the venue where young and old men and women played various games

Thank you for visiting us!
Adults and children, also parents. (Oni-san) It was good to have fun playing!

# Sugoroku and festivals # Hyappiki kind # Hyakunin pic.twitter.com/0aFuuJspMy — Studio Mundi (@studiummundi) August 3, 2019
Sugoroku or Bodo of the festival! Thank you for visiting our booth! ??????
[Bodnazo] Nanjamonja Mystery card was able to offer a total of about 350 pieces to those who came! I'm glad if the Decryption Mystery website is also a challenge! ???? pic.twitter.com/tm3mDZX4eT

— Sho ???? @ Bodo hen! (@shousandesuyo) August 3, 2019
[Sugorokuya Festival] State of the venue. There is only sugorokuya sponsorship, and there are many parents and children ~ pic.twitter.com/MM7IfoibTB

— Al captain @ NERF started (@D_CROSS_AL) August 3, 2019
Sugorokuya Festival

I played a lot of board games, and the burger was delicious and the best!

There are a lot of prizes that can be exchanged with coins and there is also a game feature there ...
It would have been nice to replace it with a can batch of sugoroku or rats early lol. Pic.twitter.com/2nhk58pY0k

— Yoshikazu (@gisawa_net) August 3, 2019


You can get coins by leaving good results in the game, and you can get presents according to the number you have collected.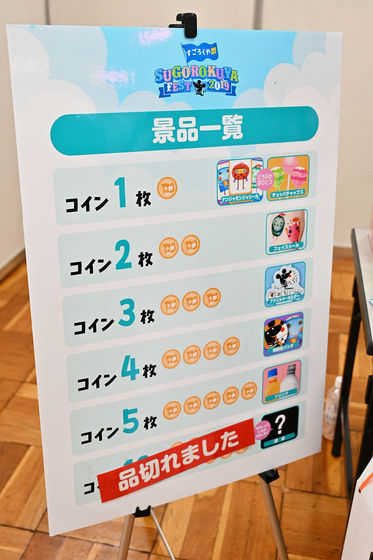 In addition to the game corner, there is also a shop where pre-sale and discount sales have been conducted.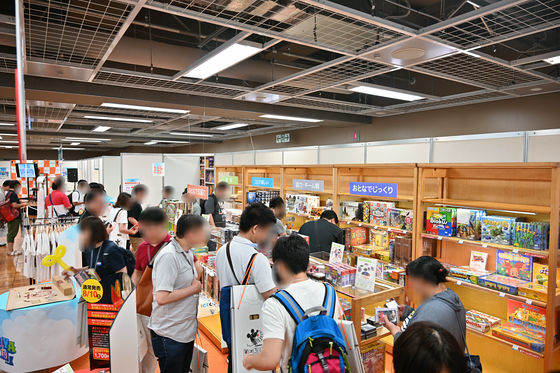 Sugorokuya Festival 2019, closed earlier. Thank you very much for visiting our many customers in the hot weather! pic.twitter.com/AYBWtOSUk2

— Sugorokuya (@sugorokuya) August 3, 2019