I tried to make 'My daughter-in-law' with 'Waifu Labs' where AI automatically generates my favorite anime girl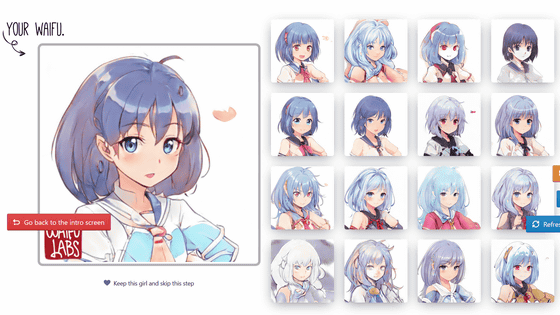 ' Aifu Labs ' is a service that artificial intelligence (AI) generates two-dimensional beautiful girl illustrations free of charge according to your preference. Waifu Labs has developed
Sizigi
in the system of 'Waifu Vending Machine (My Daughter's Vending Machine)' which became a hot topic at the '
Anime Expo 2019
' held in Los Angeles, USA in the beginning of July 2019.
It
is released for free by
Studios
.
Waifu Labs
https://waifulabs.com/
How we built the Waifu Vending Machine
https://waifulabs.com/blog/ax
Among overseas fans who love Japanese anime and manga, there is a culture that expresses their favorite anime characters as '
Waifu
', derived from 'Wife', which pronounced 'Wife' in a Japanese-like way. "Waifu Labs" is a service that AI automatically generates "
My daughter-in-law
" that is both your own and original, by answering questions and narrowing your preferences. Click 'MEET YOUR DREAM WAIFU' to experience.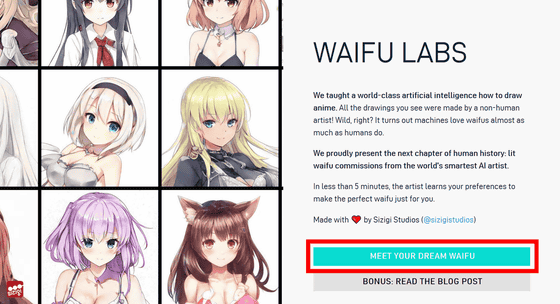 You can skip the tutorial that starts and starts by clicking the 'x' at the top right of the popup.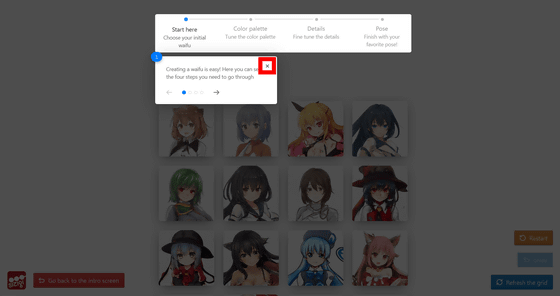 First of all, 16 kinds of beautiful girl illustrations drawn with various patterns are displayed. Select the one closest to your preference from this and click. If you do not have a favorite girl, click 'Refresh the grid' displayed in the lower right. In addition, AI that automatically generates beautiful girl illustrations at Waifu Labs uses '
Theme Waifus Do Not Exist
' that automatically generates a large number of beautiful girl illustrations.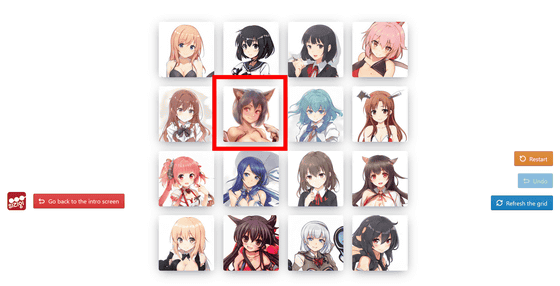 Next, 16 color variations of the selected girl's illustration are displayed, so click the illustration of your choice.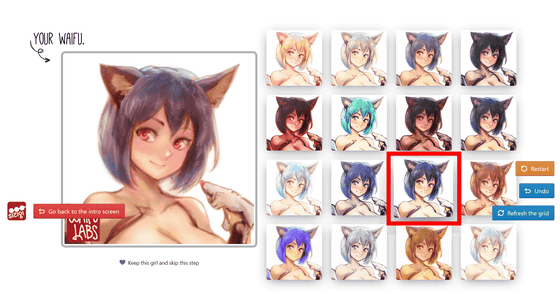 Based on the selected girl, 16 girls with different patterns are displayed again, so click on the illustration of your choice.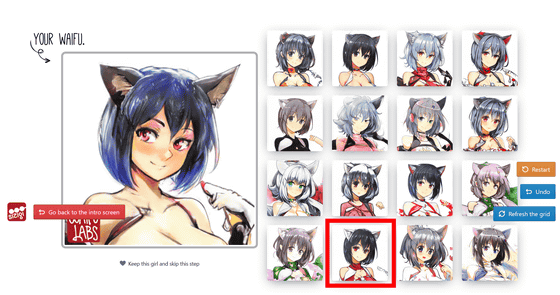 Finally, 16 patterns with different hairstyles, gestures, expressions and clothes are displayed, so click on the illustration that you think you like best.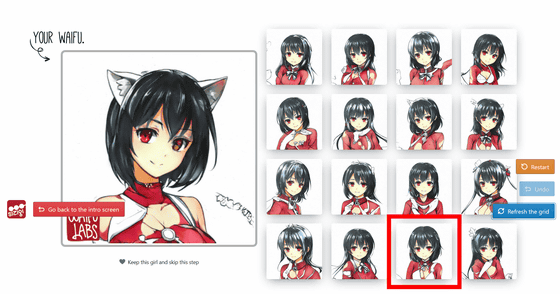 If you answer 4 questions about your preferences, your Waifu will be determined and displayed. By clicking 'Download this girl' under the image of Waifu, it is possible to save the image in PNG format of 400 pixels x 400 pixels. In addition, pillows printed with generated Waifu can be purchased for $ 90 (approximately 10,000 yen) and posters of 12 inches (approximately 30 cm) x 12 inches can be purchased for $ 25 (approximately 2700 yen), but at the time of writing the article Shipping area is only USA and Canada. And as of August 3, 2019, Japan was added to the shipping address.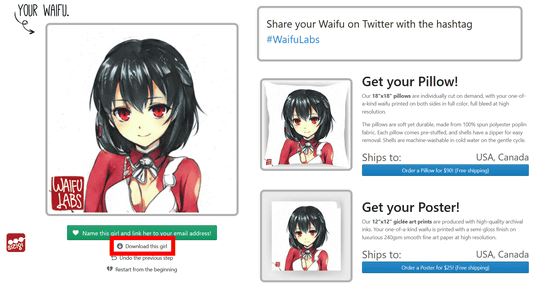 In addition, the booth of 'Waifu Vending Machine' actually exhibited at Anime Expo 2019 looks like this.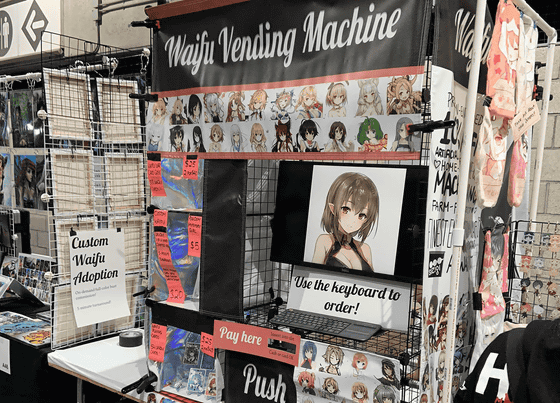 In the field, it is said that a 'marital certificate' with the automatically generated beautiful girl was issued to AI.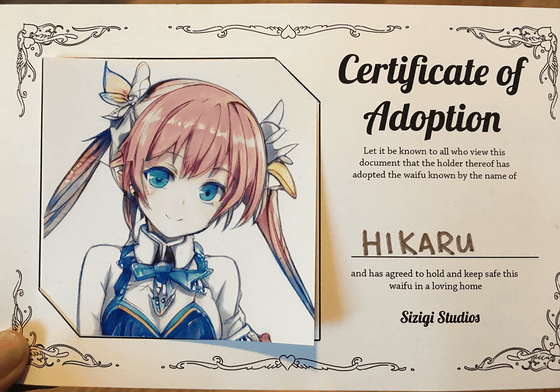 Waifu Vending Machine has gained tremendous popularity and has created long lines that extend outside the venue.