'Sin Ultraman' movie decision, director-Makoto Higuchi × Screenplay · Hideaki Ogino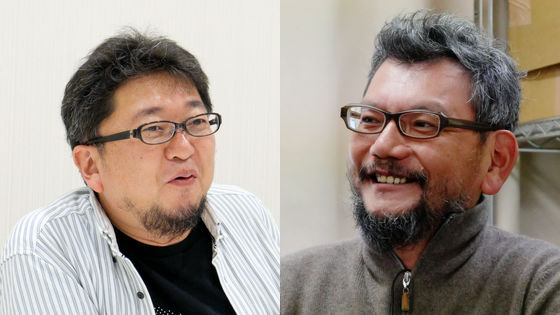 The production of ' Shin Ultraman ' was announced from Color Co., Ltd., which is known for the production of the 'Evangelion New Movie Version' series.

Notice on 'Sin Ultraman' Movie | Color Co., Ltd.

https://www.khara.co.jp/2019/08/01/01/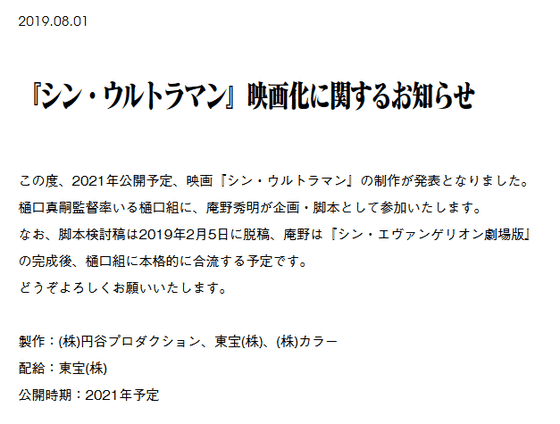 Entertainment 'Thin Ultraman' production decision to give to everyone who moved the history of 'Ultraman' is decided! -Tsuburaya Station
https://m-78.jp/news/post-5190/

According to the color, the production will be done in the form of the Higuchi group led by the director Makoto Higuchi with the addition of Hideaki Ogino. Mr. Ogino is in charge of 'planning and script', and the draft of the script has already been deducted on February 5, 2019. Mr. Ogino will join in earnest after this completion because the 'Shin Evangelion Movie version' released in June 2020 is on the way.

The existence of this 'Shin Ultraman' has been rumored to have been written for some time, and the magazine 'Weekly public' reported the full-scale start of production on July 28, 2019. The names of Hidetoshi Nishijima, Takumi Saito, and Masami Nagasawa, who were named as casts at the time of this report, are also mentioned in the main cast of Tsuburaya Station, and it is clear that the information was accurate.

Hideaki Ogino 'Shin Ultraman' is activated! Hidetoshi Nishijima, Takumi Saito, Masami Nagasawa ... Super Gorgeous Cast! Daily mass
https://taishu.jp/articles/-/67311

The 'Ultra Series' is divided into blocks of several seasons after the 'Ultra Q' in 1966, but since the 2000s, it has been constantly produced, and the latest work has been made since July 6, 2019. ' Ultraman Taiga ' is on the air.

'Ultraman Taiga' episode 1 special delivery 'Badigo!'-Official delivery-'ULTRAMAN TAIGA' Episode 1-Official--YouTube


The latest TV series, like 'Theatrical Edition Ultraman R / B Select Crystal of the Rose', films are also produced and released respectively. However, distribution of these films is Shochiku. This 'Thin Ultraman' has been distributed to Toho.