I tried to confirm the curry degree of 'Super Cup 1.5 times clear taste almost transparent! Spice curry taste ramen' that curry taste is almost colorless and transparent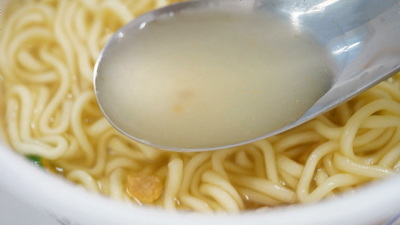 While summer has begun and exciting
spice curry popularity is rising
, "
Super Cup 1.5 times clear taste almost transparent !? Spice curry taste ramen
" appeared on Monday, July 29, 2019 from
Acecock
doing. Speaking of curry, dark brown is a standard, but I tried to make sure that almost transparent curry was indeed really curry-flavored.
Super cup 1.5 times clear taste Almost transparent! ? Spice curry taste ramen | Product Information | Ace Cook Co., Ltd.
https://www.acecook.co.jp/products/detail.php?id=985
The package is white that is likely to be overlooked if you are looking for curry-flavored ramen.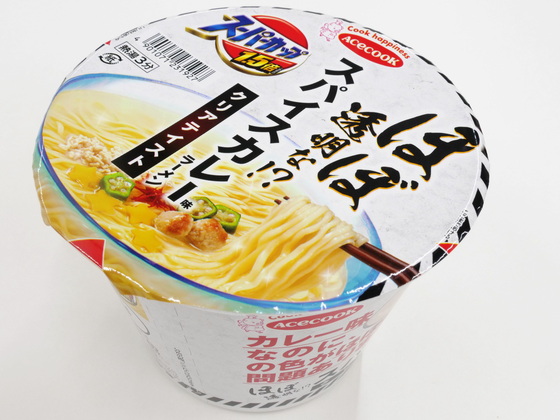 As you look at the side, curry was appealing furiously, just like a note.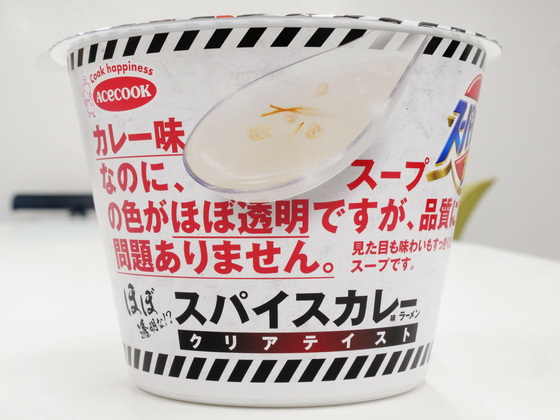 This is the size compared to the 143.6 mm height iPhone XS.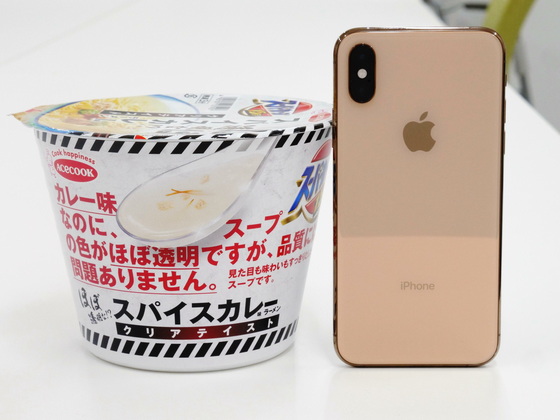 There are no ingredients related to curry powder such as spices. It may be that the spice extract brings out the curry flavor.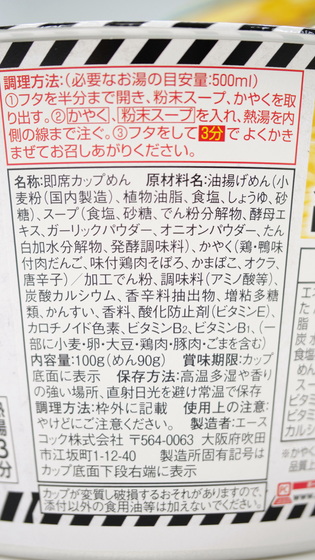 The energy per serving is 447 kcal.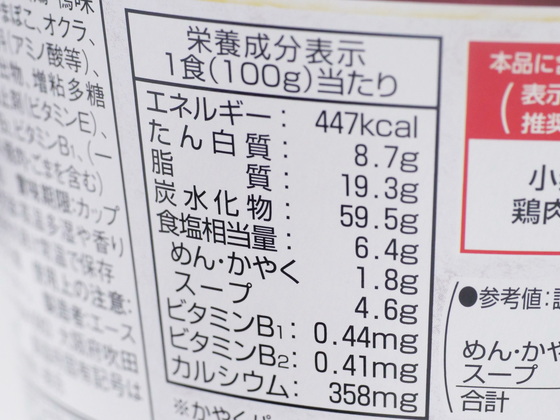 I turned over the lid. There is no particular smell and I still don't feel like curry.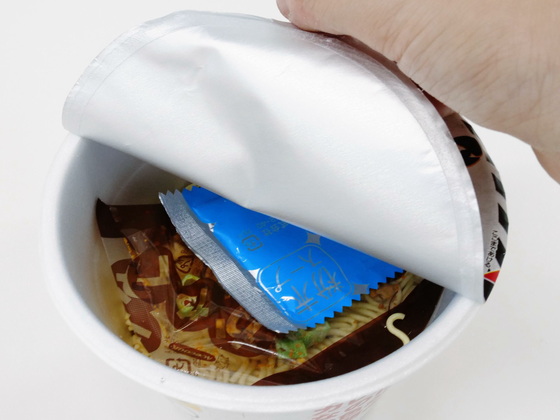 There was one soup and one powder soup each.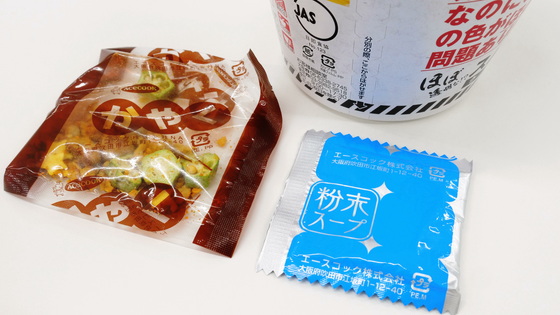 I did not feel the character of 'ka' of curry at the stage of putting in kayaku ...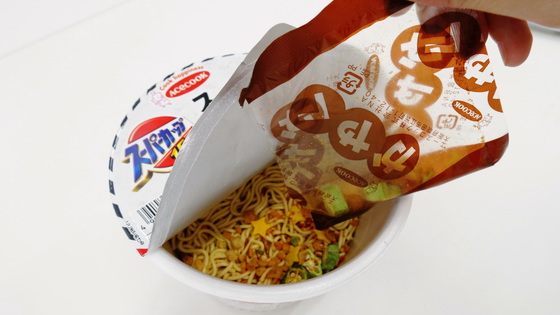 When I put in the powder soup, the flavor of the spice came off and I was finally approaching curry.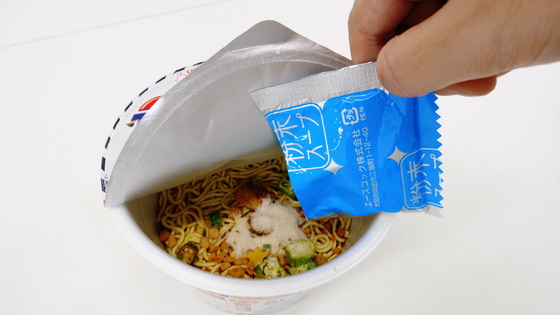 Pour hot water ...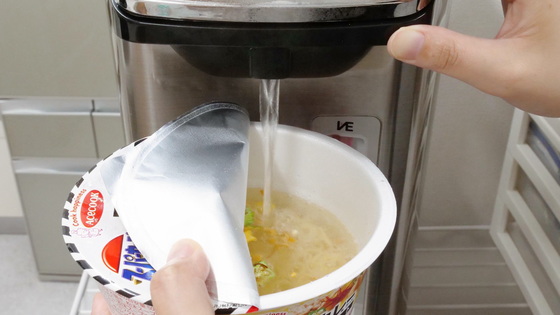 As it is '3 minutes hot water', wait 3 minutes.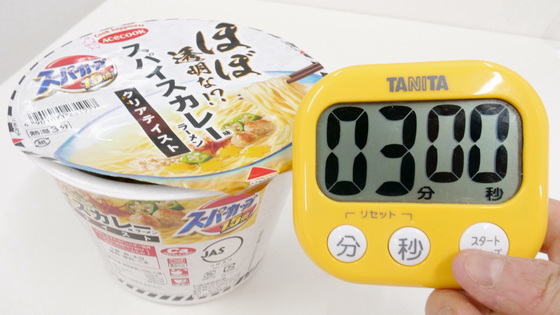 After 3 minutes, open the lid and mix well ...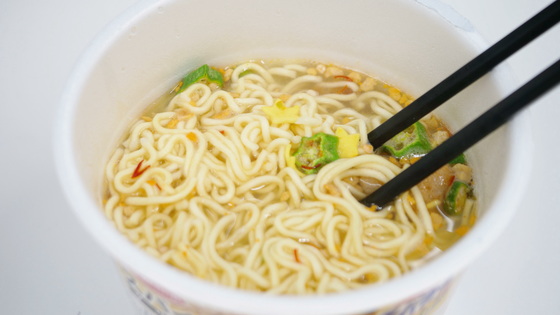 It became a soup of this color. It is not as colorless and transparent as water, but it is a color that is quite nearly transparent compared to general curry.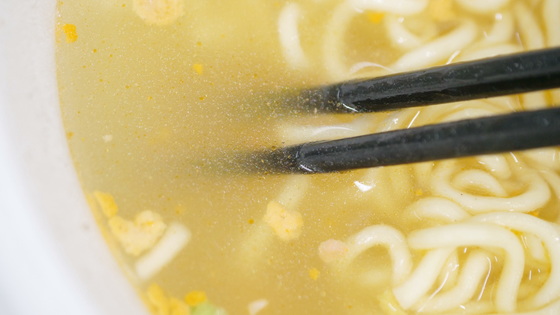 The soup is so clear that it is clear enough to see the bottom of a flat spoon. The taste is more like spiced consommé soup than curry.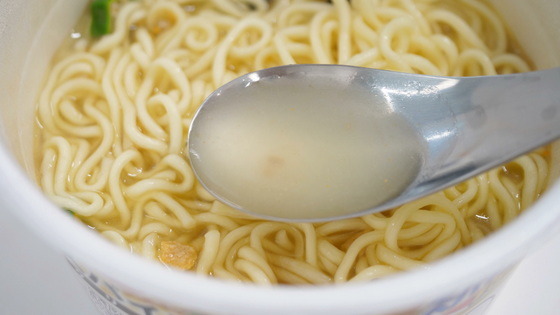 Ingredients include chicken dumplings with minced meat, chicken soboro, kamaboko, okra and chili peppers. When dumpling chicken dumplings with minced meat, the soup is full, and it is released in the mouth. Okra had a slight sense of slimy feel and had a soft texture.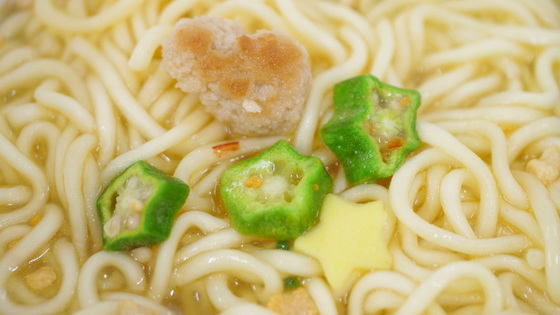 The noodles are slightly thin and slippery, and because they have moderate elasticity, they are finished with eating. Although it is mild and spicy, it is not so painful as it hurts your tongue, so you can enjoy the taste of soup and chicken. Because the smell of the spice makes me appetizing, it was perfect when I was not at home in summer.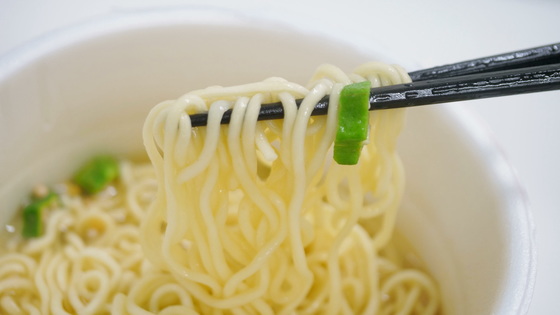 'Super cup 1.5 times clear taste almost transparent !? Spice curry taste ramen' has been sold at retail stores nationwide from July 29, 2019 at a suggested retail price of 220 yen (excluding tax).