I had a drink from the topic tapioca drink from Mos Burger.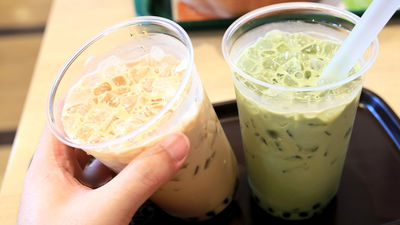 Tapioca has become a big boom in Japan, with its sticky texture and texture, and it boasts a popularity that the Tapioca Theme Park , Tokyo Tapiocaland, will open in front of JR Harajuku Station in Tokyo . On such a Tapioca Boom, ' Tapioca Tofu Tea Milk ' and ' Tapioca Matcha Milk Milk ' have appeared from Mos Burger. I actually drank it because I can taste the mochimochi texture using black tapioca from Taiwan.

Hot topic 'Tapioca Drink' appeared from Mos Burger! 'Tapioca Tofu Tea Milk' 'Tapioca Matcha Tea Milk' |
(PDF) https://www.mos.co.jp/company/pr_pdf/pr_190620_1.pdf

Moss tea time | Mos Burger official site
https://www.mos.jp/cp/dessert/

I came to Mos Burger right away.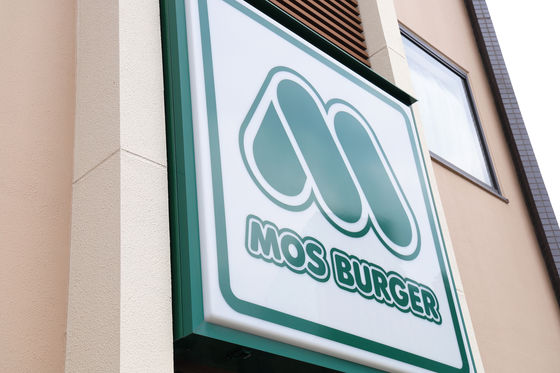 Outside the store, there are two types of Taiwanese Tapioca Milk, which were newly released on July 18, 2019, and a banner to promote the revived 'Curry Mos Burger' and 'Curry Return'. Yes.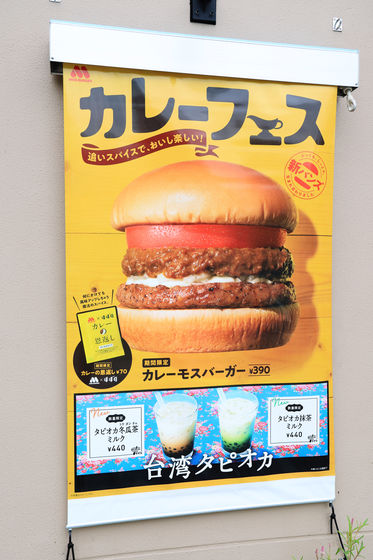 So I ordered 'Tapioca Tofu tea milk' (left) and 'Tapioca green tea milk' (right). Price is tax-included 440 yen each.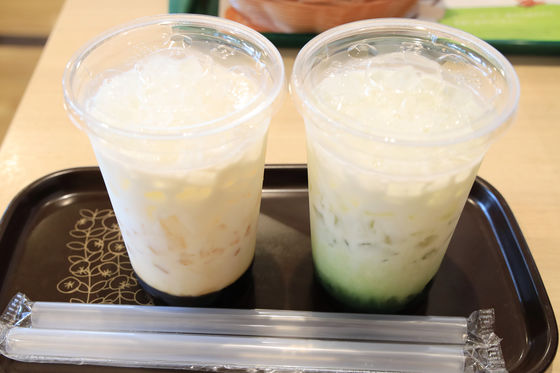 The size of the cup is about this size compared to the iPhone XS equipped with Leather Folio .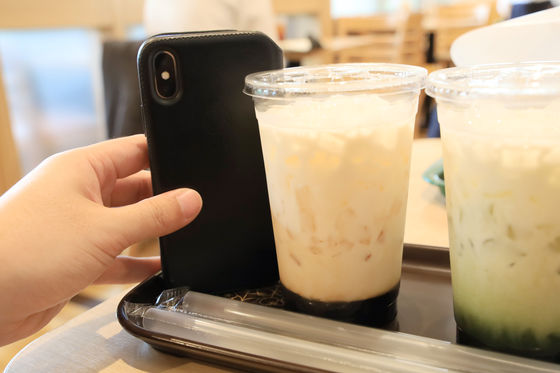 It has a thick dedicated straw so that you can smoke tapioca as it is.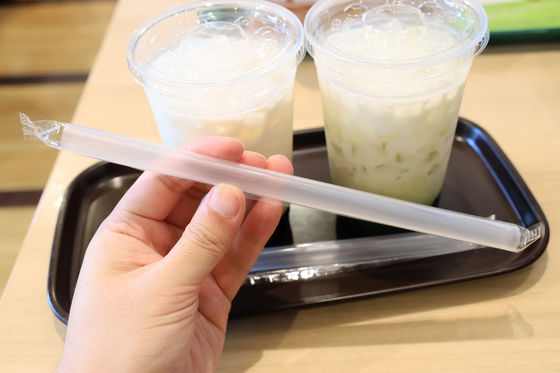 It is a milk-based drink, but the syrup is at the bottom and Tapioca can not be found in a glance.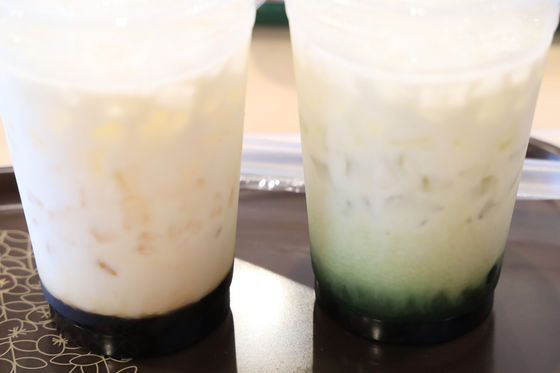 Since the syrup is sinking, insert a straw into 'Tapioca Tofu tea milk' ...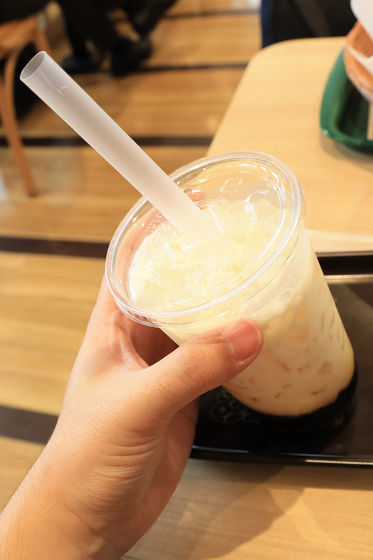 I will stir. Then, it turns out that plain white milk turns to brown and a lot of tapioca sinks to the bottom. When you actually drink it, 'Tapioca Tofu tea milk' has its own fragrant scent that differs from black tea, coffee, and Japanese tea such as matcha and hojicha. As the name suggests, it is based on a traditional Taiwan drink called 'Fuyu-cha', and the combination of mellow milk taste and winter sucrose is exquisite. It's very sweet, but it's very refreshing because of its fragrant taste, and it's also very compatible with the slightly sweet black tapioca from Taiwan.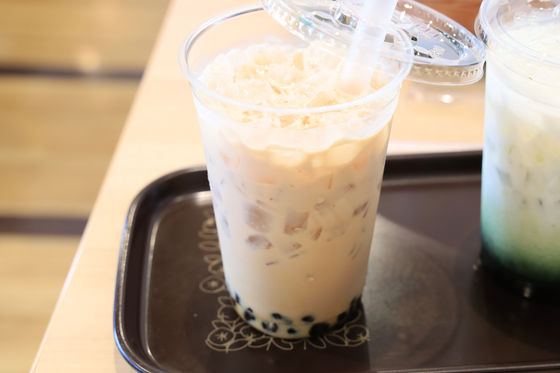 Tapioca is intentionally sunk in the bottom of the cup to be drinkable with a straw. Ice is floating on the top, so tapioca will not rise on the surface of the drink.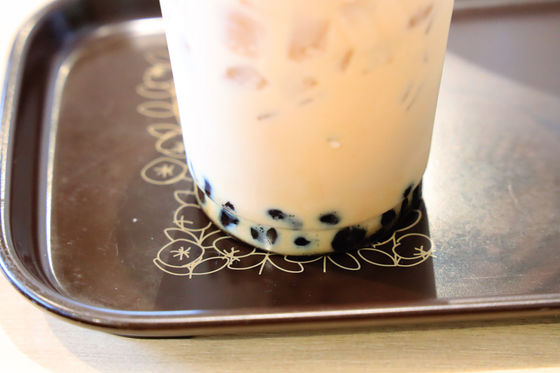 It feels like this when you stir 'Tapioca green tea milk' in the same way. It uses tea leaves from Shibushi City, Kagoshima Prefecture, which has designated farms for moss, as the green tea leaves for matcha, and it is said that it has been finished with a taste of matcha with little astringency. I could feel the smell of green tea when I drank it, but I could hardly feel the bitterness or the combination of the mellowness of the milk.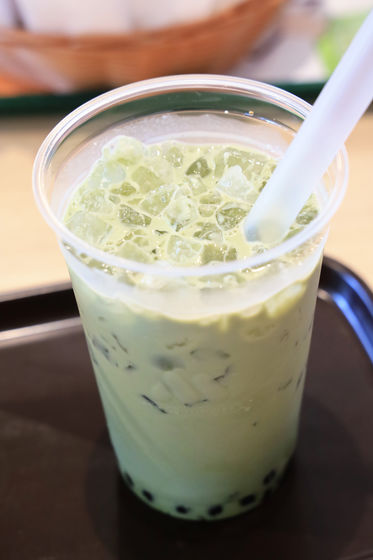 Tapioca is about 1 cm in diameter, and it has a pleasant texture and bite and a good belly.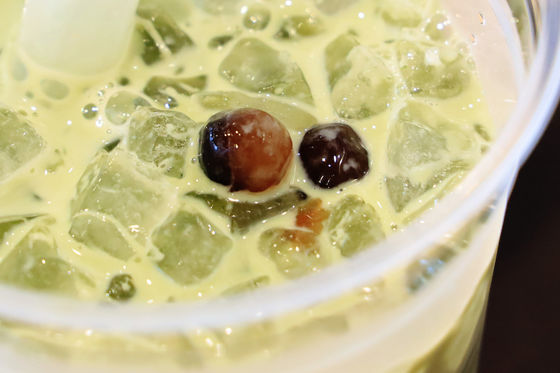 However, it is a drawback that tapioca builds up in the bottom of the ice after drinking a drink.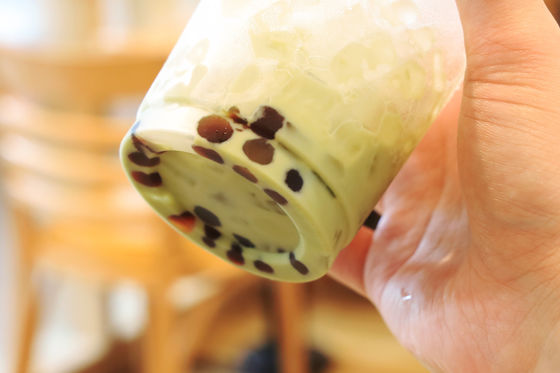 I also ordered 'Curry Mos Burger' (tax-included 390 yen), which will be a resurgence sales of those sold in 2015 .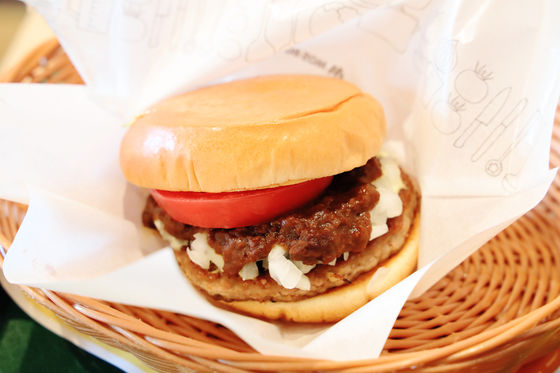 Juicy patties are topped with mustard and calories half mayonnaise, chopped onion, curry sauce and sliced tomatoes from below. Curry sauce is a combination of multiple curry powder, roasted cumin and coriander, onions and carrots combined to bring out the full-scale spicyness and depth of taste. Other than vegetable bouillon and bonito soup, soy sauce is added to the secret.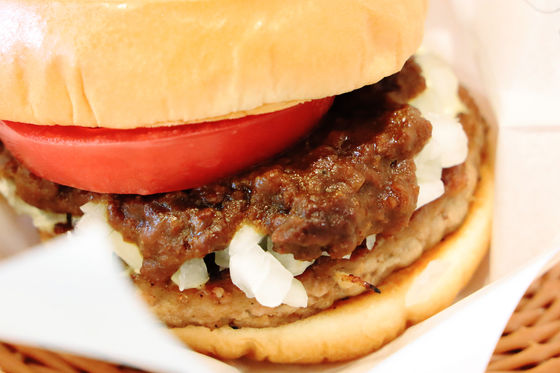 When you actually eat it, you can see that the curry sauce is a full-fledged taste, but the base is Mos Burger . Curry sauce that is congested with the taste of vegetables such as onion, along with hotness, has a taste that makes the taste of the meat of patties more intense. The thickly sliced sliced tomato and chopped onion make it possible to finish thick curry sauce and enjoy eating in a hot summer. The Mos Burger feel of the base is felt well, and the taste is perfect, so the level is 'Why is this not a standard menu ......?!'.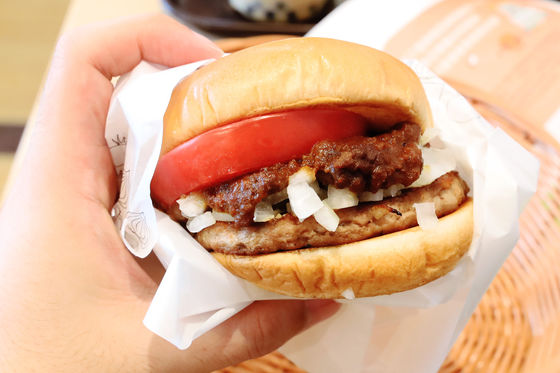 And this is 'return of curry' (tax-included 70 yen). Co., Ltd., which operates " Almost daily Itoi Shimbun " etc. Spice that was completed by collaboration between Mos Burger and Sun. Those released in limited quantities in March 2019 were resurrected and sold.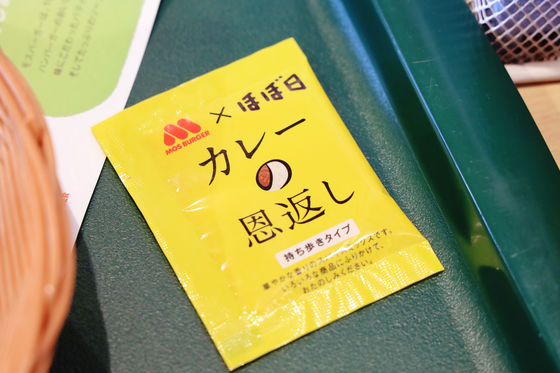 It is a mixture of 12 kinds of spices: cardamom, cumin, coriander, turmeric, cinnamon, pink pepper, clove, pepper, laurel, fennel, fennel, lemongrass. In actual use, the contents are completely powdery spice, and it is understood that the way of spice is changed for each spice so that you can enjoy the spice's presence when you eat it.

Curry sauce is more like a spice flavor than a hot taste, so it will make the curry sauce a more authentic taste, so you can use it as much as you like. Although I also feel curry-like spices such as cumin, it smells like lemon through the nose, so it's surprisingly refreshing, and the crisp texture of rough-painted pink pepper is also an accent. As well as curry mos burger, mos burger and French fry potato, and it is OK with the combination such as vanilla shake.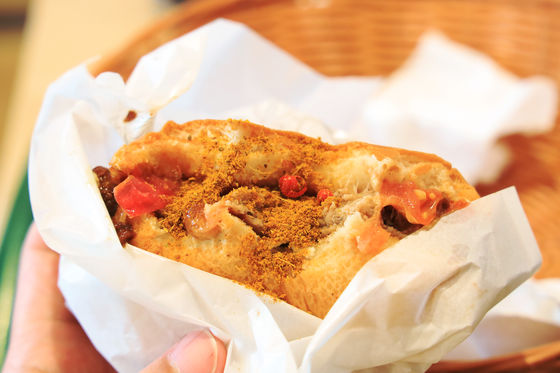 In addition, 'Tapioca Tosu Tea Milk' and 'Tapioca Matcha Milk' are sold in limited quantities, and 'Curry Mos Burger' and 'Cursor Curry Return' are limited sales until mid September 2019.