I went to a restaurant specializing in "Nutmeg" cuisine that caused hallucinations and resulted in the worst death [Interlink Domain Island Tour 14th ".gd"]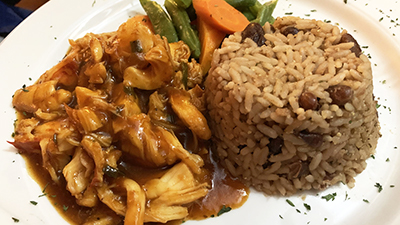 There are many famous places in the world that are said to " visit once before they die ", but there are many more niche places that "I will never go to death". "Nevertheless, it 's free to travel in your head!" It 's about reporting the unknown charm of an island country that has little local information in Japanese, sometimes being chased by wild dogs. Bullet trip planning " Domain Island Tour ". This is the 14th visit to Grenada from the Caribbean.

Domain Island Tour-Interlinks handling over 1,000 types of world domains focus on about 50 types of 'island domains' such as the South Pacific and the Caribbean, such as '.cc' '.tv' '.sx' Actually go to the islands and report the charm of the island.
https://islanddomains.earth/

◆ Where is Grenada?
Grenada is an island country in the southern part of the Lesser Antilles in the Caribbean. In addition to the mainland, it occupies islands such as the Grenadines Grenadines, Carriacou and Petit Martinique. Like Tuvalu , St. Lucia , and Barbados that I have visited so far, it is one of the Kingdom of the Commonwealth of the Commonwealth.


table of contents
◆ Arrived safely in Grenada instead of Granada
◆ I went to a restaurant specializing in "Nutmeg" cuisine that would cause hallucinations if I eat too much
◆ The beach "Grand Anse" is mistaken for being the most beautiful in the world
◆ If you sink the sculpture into the sea, people will be happy
◆ Man who jumps into waterfall and earns
◆ Special menu of Grenada Sushi
◆ SIM purchase method & speed investigation in the field
◆ '.gd' domain I saw in town
A variety of Grenada where a bee thief costs a $ 100 sweepstakes

◆ Arrived safely in Grenada instead of Granada
`` Grenada '' floating in the Caribbean Sea is similar in name to Spain's `` Granada '', so in 2014, passengers who tried to go to Granada from London at British Airways had a lot of happenings that arrived in Grenada by mistake It 's a place. However, this time, with a firm will, Granada ... I went to Grenada.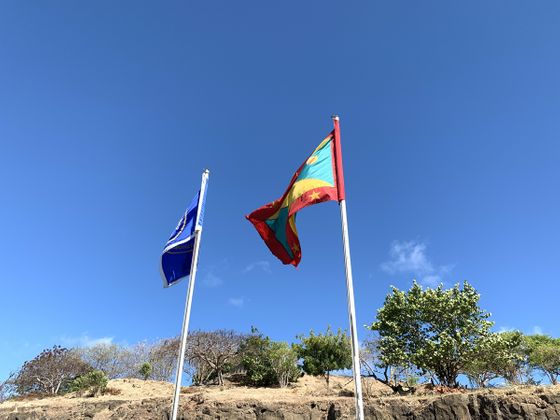 ◆ I went to a restaurant specializing in "Nutmeg" cuisine that would cause hallucinations if I eat too much
What kind of country is Grenada? I found out that the production of nutmeg, which is famous as a spice, is the sixth largest in the world and is called "Spice Island". If you look closely, the nutmeg fruit was also drawn on the left side of the flag.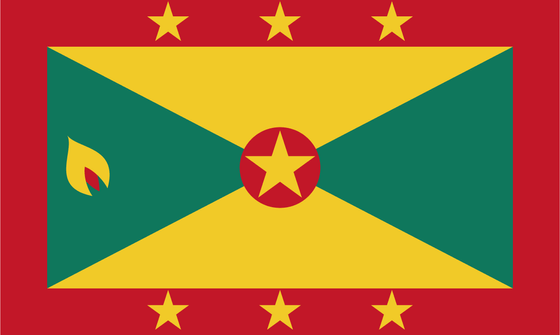 Nutmeg, known as "Nikuzuku" in Japanese, is one of the four main spices along with pepper, cinnamon and cloves. There are cases where a child who ate two nutmeg dies died, and nutmeg also has a psychotropic effect, but there is a nutmeg food specialty store in Grenada. This is the only way to go ... So I went to a shop called 'The Nutmeg'.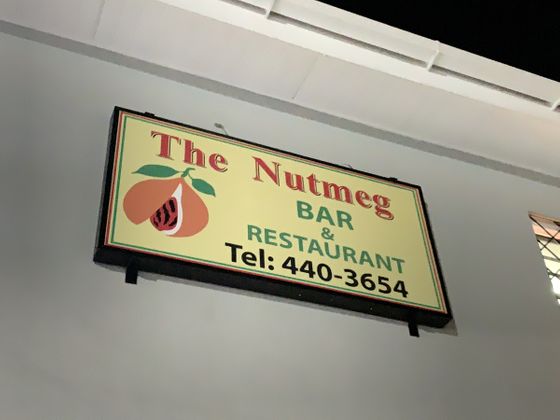 When I asked the store clerk, "Which is the food with nutmeg?", I got a reliable answer, "It's all!", So I ordered several dishes and drinks that I was interested in without thinking deeply. To do. There is no spice in the drink.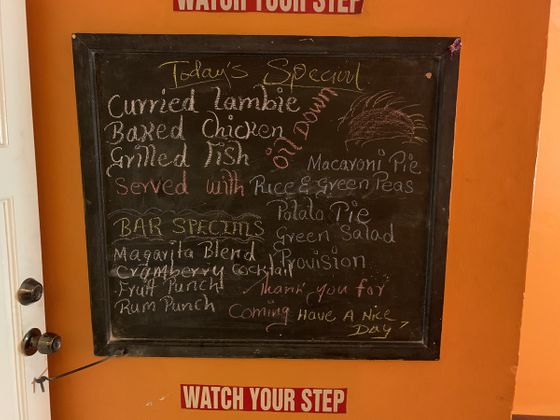 First, order from "Carib Premium" ($ 6 / about 240 yen). In addition, "dollar" notation in the text means "East Caribbean dollar (EC $)" with some exceptions.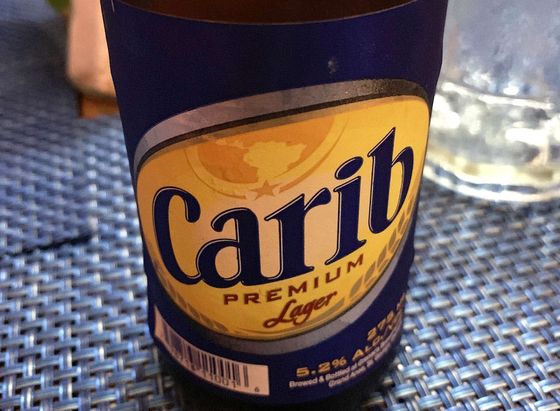 'STAG ($ 6 / about 240 yen)' arrives. Both are easy to drink with lager. The view of St. George's harbor from the calm atmosphere of the shop also colors the time of the night.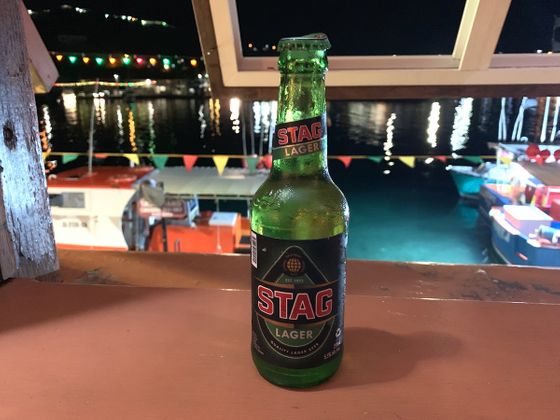 Outside of Japan, bottled beer is often poured as it is without being poured into a glass, but at this shop, a chilled mug glass was served together. I feel sympathy with Japan.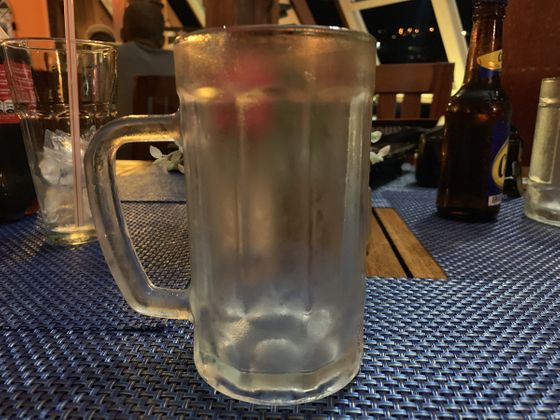 Subsequently, grilled chicken thighs ($ 60 / about 2400 yen) were carried. Garnish with rice like red rice and sauteed vegetables. Although the white sauce is rich, it can be eaten lightly with the flavor of nutmeg.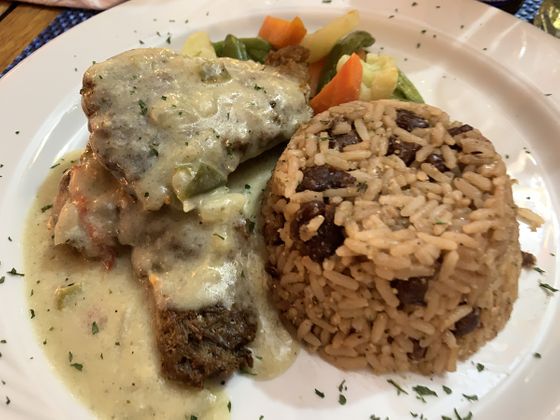 Spice Island Lobster ($ 85 / about 3400 yen). Not only nutmeg, but also spices other than nutmeg are included, and every time you chew, the taste of lobster and the complex aroma of spices will come off. Fortunately, even after eating Morimori Nutmeg, I didn't have any symptoms, and I was able to greet the next day.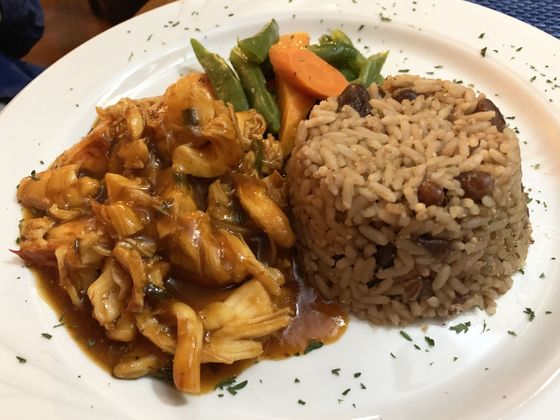 In addition to restaurants, food with nutmeg was provided throughout the city. After all it is nutmeg jam for bread that came out at breakfast of accommodation.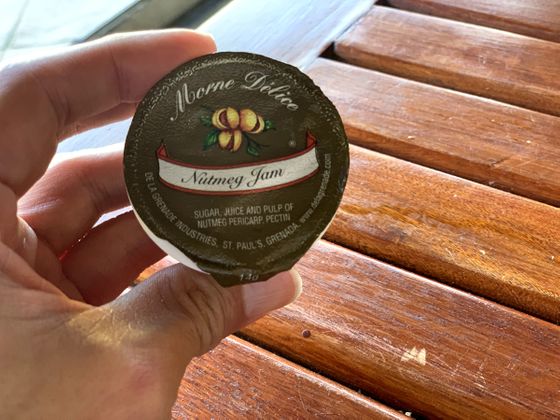 It has a spicy scent that does not seem to be jam, but it has a sweet and sour taste like apricot.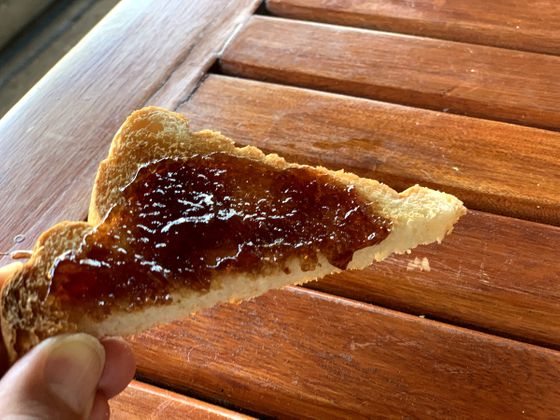 There was a nutmeg painting on the wall.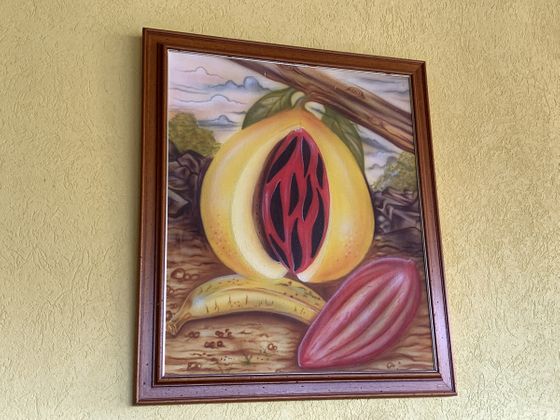 Many foods eaten in Grenada contain nutmeg, and supermarkets also sell various nutmeg products. Local foods are not usually eaten, so people tend to eat too much, but the amount of nutmeg human oral poisoning is 5 to 10 grams for adults. Eating too much can cause symptoms such as difficulty breathing, dizziness, hallucinations, and vomiting. It usually recovers within 24 hours, but it may take 2-3 days. During the trip this time, there was no symptom during eating and it seems that there will be no problem as long as you can eat it deliciously.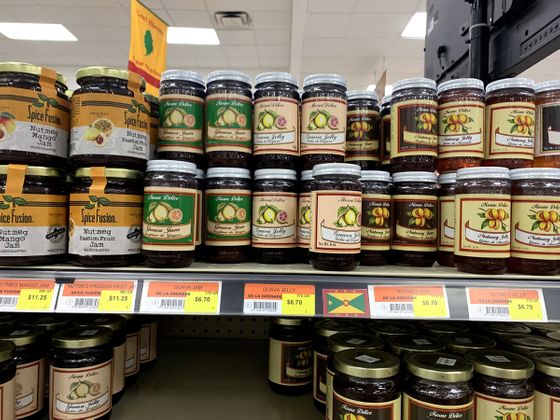 By the way, if you go to the Botanical Garden in Grenada, you will be familiar with herbal tea and other lemongrass ...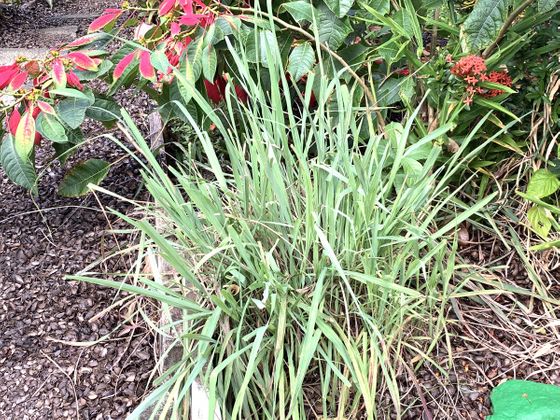 You can see a fine papaya ...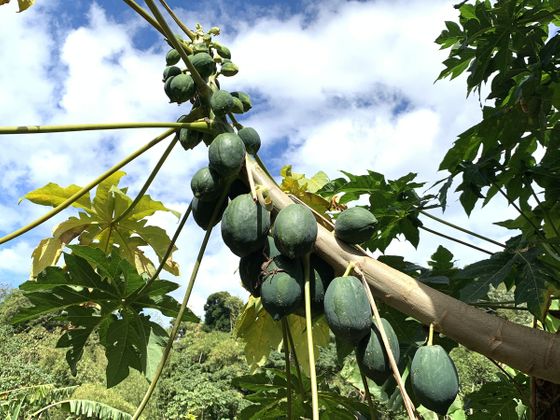 Even in such a botanical garden, nutmeg shells were spread over the feet instead of gravel. Just looking at this, you can see how much nutmeg is overflowing in Grenada.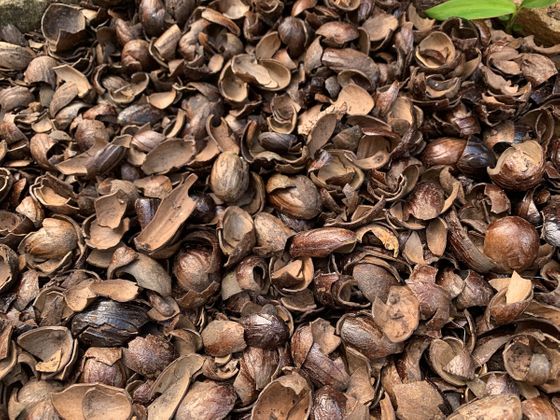 I went to a small spice shop ' Tourist Destiny Spice Shop ' near the botanical garden.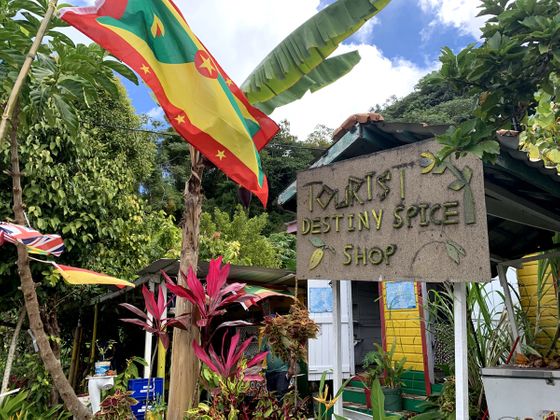 Not to mention spices including nutmeg, vegetables and fruits were also placed.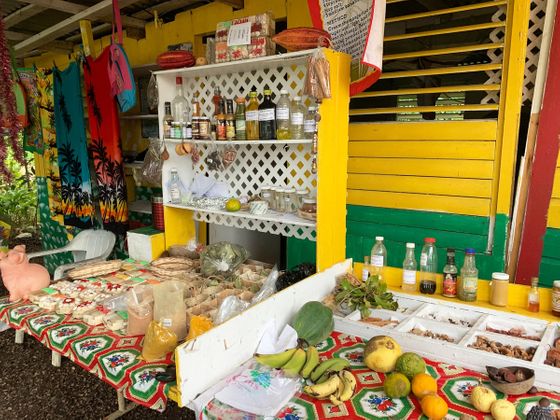 The cacao was lined up with vegetables and fruits in the style of 'Is it a fruit?' The seeds (cocoa beans) are visible inside. Grenada's cacao varieties are said to be hybrids of Amazon caravasillo and Venezuela-derived criolo, and are also popular in Japan for chocolate. Chocolate for souvenirs was also on sale.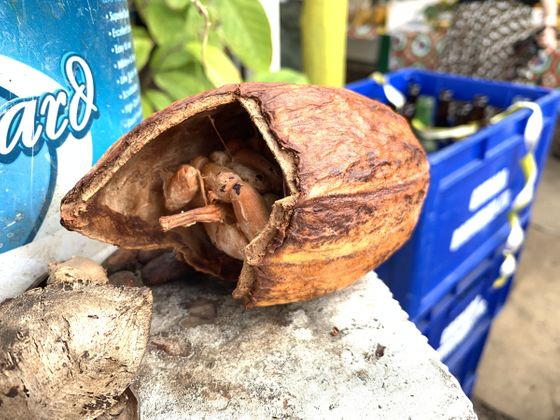 ◆ The beach "Grand Anse" is mistaken for being the most beautiful in the world
Since I got information that CNN has announced that Grenada is the first place in the `` 100 beaches of the world '', I will actually go to see what the world's most beautiful beach is like I decided to.

Arrived at Mount Cinnamon Resort . Walking through the resort gardens ...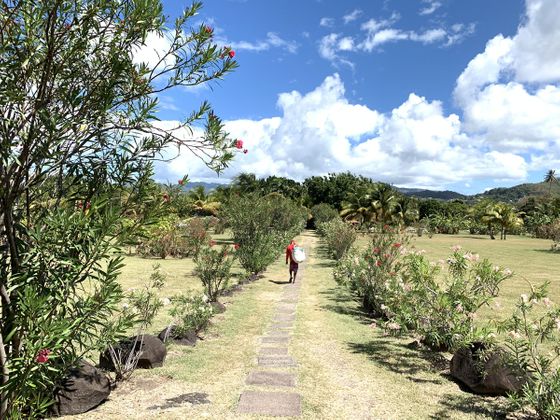 I can see the beautiful sea. The best beach in the world is in front of you.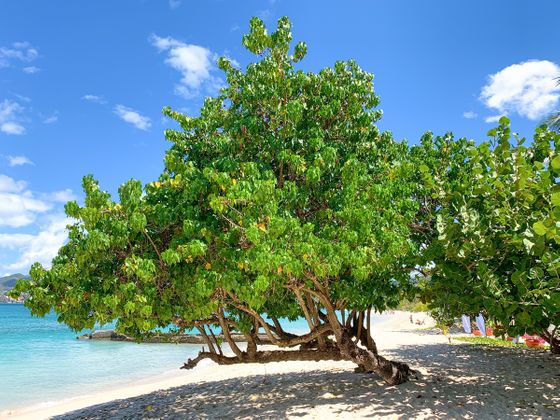 This is the Grand Anse that won first place in the "100 Best Beaches in the World". The water transparency and sand whiteness are suitable for 1st place.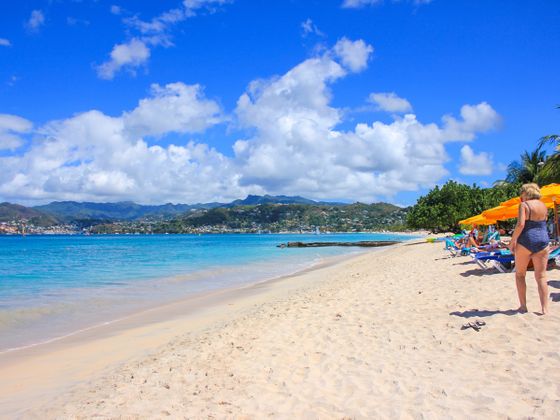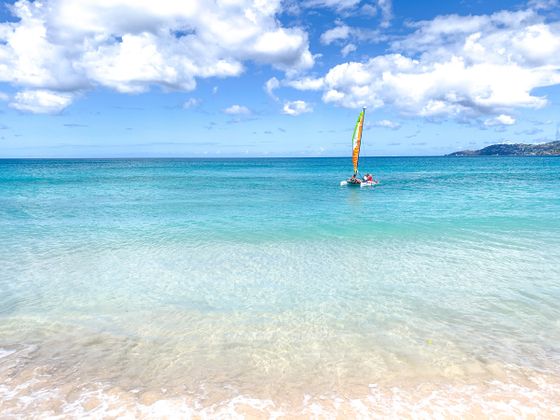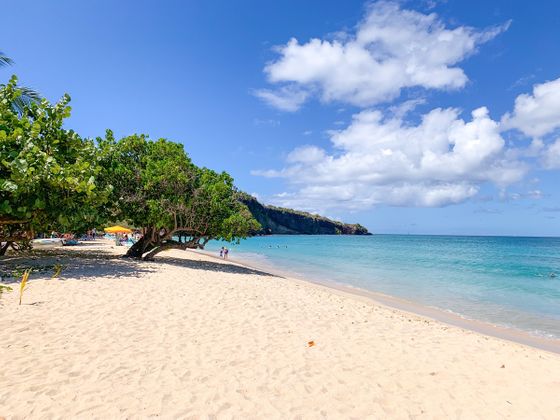 In order to always remember the atmosphere of the world's most beautiful beach, I took a video.

Grand Anse Beach (Grenada)-YouTube


Drinks to drink at restaurants on the world's best beaches ...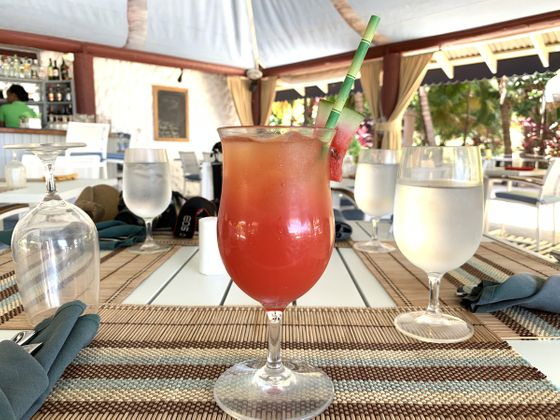 The potato fries that you eat on the world's best beach are cheerful while feeling happy, saying, "It 's a different taste from some ordinary potato fries…".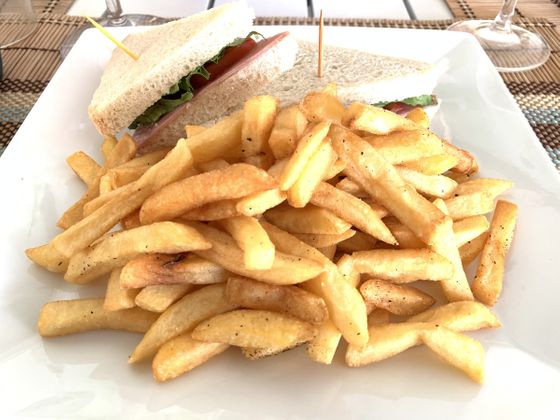 However, after returning home, I noticed when organizing the information. The first place in " 100 Best Beaches in the World " was not "Grande Anse" in Grenada, but "Grande Anse Beach" in the Republic of Seychelles (off East Africa) … ….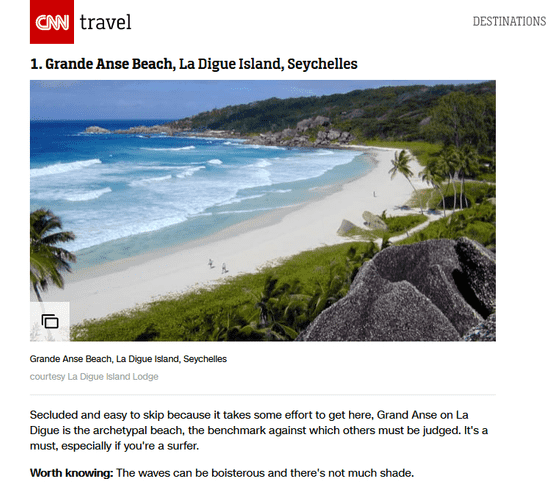 I thought "Grand Anse" is the name of "Grand Anse Beach", but it is actually a completely different beach. Grenada's Grand Anse, which we were so impressed with and even felt the taste of potatoes, was actually 30th instead of 1st. The word " placebo effect " crossed my head.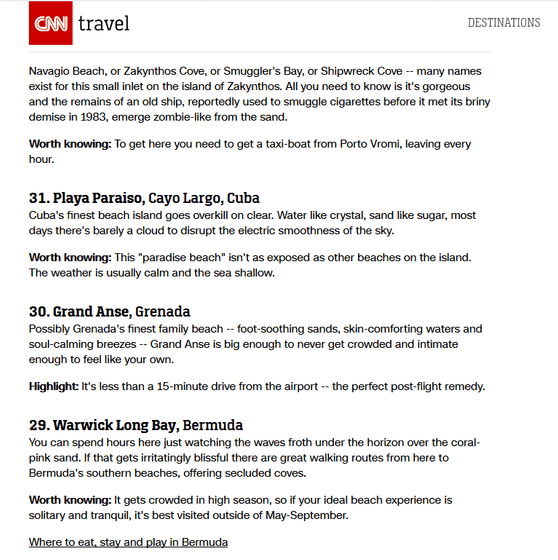 Actually, it was the 30th beach in the world, but its beauty is 'It should be no exaggeration to say that it is the best in the world!' You can see your favorite part by moving the photo.

Grand Anse Beach (Grenada) -Spherical Image-RICOH THETA

Another misunderstood traveler introduced Grenada's Grand Anse as "the best beach in the world", so it was an event that made me feel the importance of a preliminary survey before going on a trip.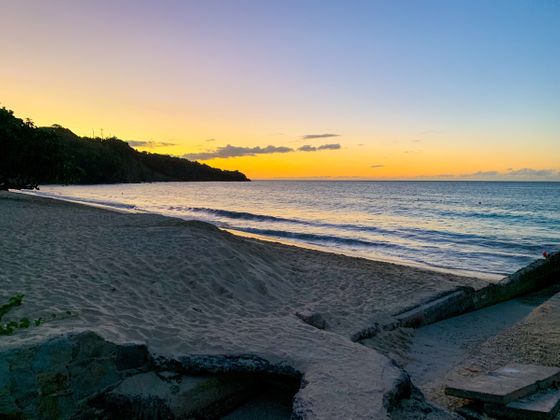 ◆ If you sink the sculpture into the sea, people will be happy
In 2006, sculptor Jason Taylor started underwater sculpture with the support of the Grenada government and opened the world's first undersea sculpture park . I went there because the museum at the bottom of the sea was one of the most popular spots in Grenada.

Go to the dive shop ' Dive Grenada ' to participate in the undersea museum tour.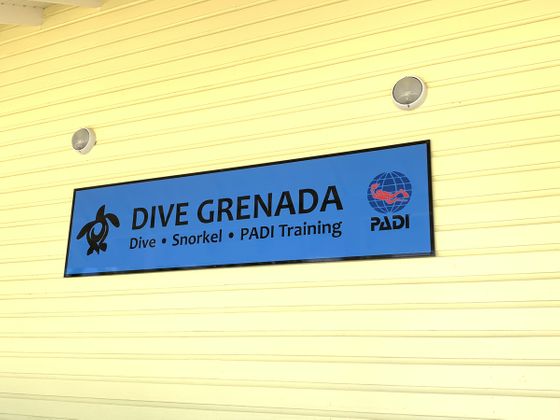 Change into a swimsuit and move by boat. It takes about 10 minutes to go through the sea at a tremendous speed. The instructor handed snorkels and fins and finally entered the water. Sculptures are scattered in several places, and the instructor will guide you to the point.

The following is a movie that asked an instructor to shoot at the site. The state where the human-shaped sculpture stands quietly in the sea has the solemnity of an ancient ruin or even a slightly strange atmosphere.

A sculpture in a circle. There is a sculpture with only a face on a large rock. Do you understand?-YouTube


Sculpture of a girl kneeling down with a fish or bird in her hand. -YouTube


A ring composed of a larger number of sculptures than before. There is a force that seems to start moving. -YouTube


Sculpture lying on the sea floor. -YouTube


The tour where you can fully enjoy the sculpture in the sea lasts about an hour. If you are a beginner diving, you will not be able to shoot, so if you are not good at diving, you should ask the instructor to shoot. Tour participation fee is 55 USD per person (about 6100 yen) including rental fee such as snorkel. You can also make a reservation in advance.

In the case of art museums on land, in addition to construction costs, there will be labor costs such as electricity bills, repair costs, and security guards. On the other hand, in the case of a submarine art museum, once the sculpture is set up, it is OK as it is, so it seems that it is not difficult to maintain it compared to a museum on land.

Also, by sinking the sculpture into the sea, not only will tourists be born and people will be pleased, but also a place for marine plants such as corals and sponges to grow and be a place for fish . In other words, people, fish and even corals are happy. If you want to make a tourist attraction, it seems better to sink the sculpture into the sea.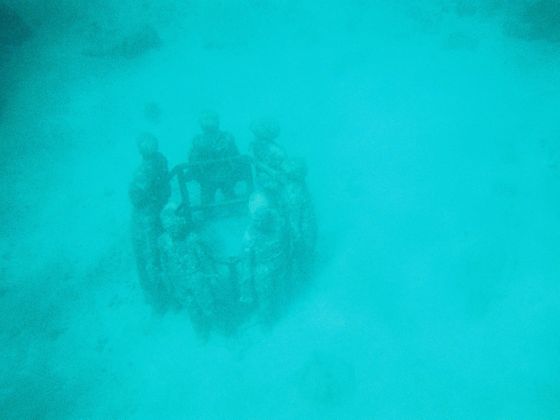 ◆ Man who jumps into waterfall and earns
Grenada has a special mention of the beauty of the sea, but it is also famous for its many waterfalls. " Annandale Falls ", about a 10-minute drive from the capital, St. George, was relatively easy to access.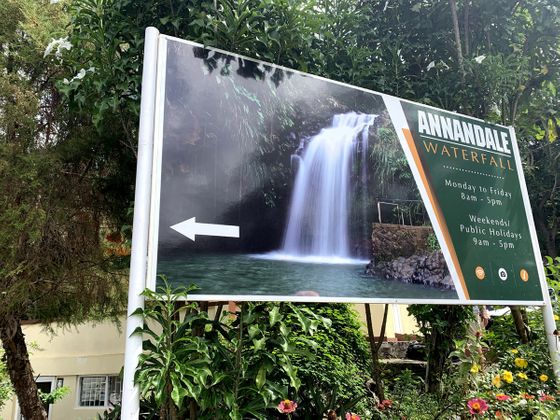 On the way to the waterfall, you will walk through the trees, but the road is not paved, but the road is well paved.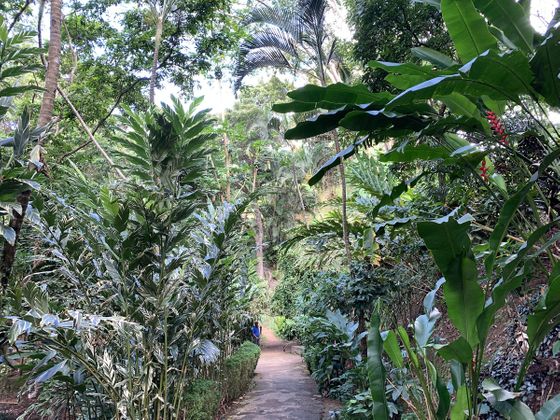 Arrived at the entrance of Annandale Falls. I looked for a receptionist to pay the entrance fee of $ 5.35 (about 220 yen), but nobody was there. I believe the taxi driver who guides me around the island and says, "It's free today." I visited on Sunday when many tourists would come.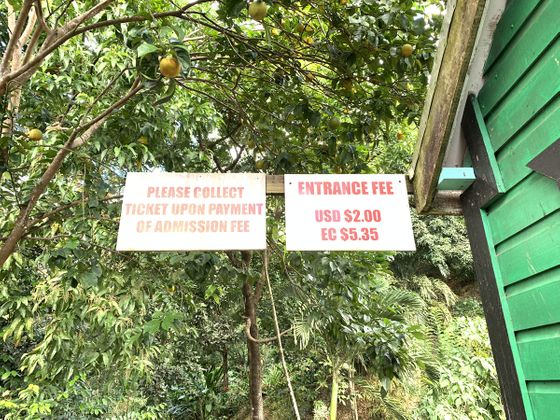 As I walked around the site, I met an older sister who sells necklaces.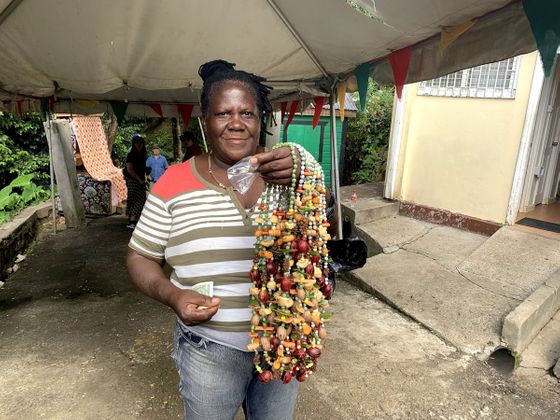 Necklace made only with spices, unlike any other in Japan.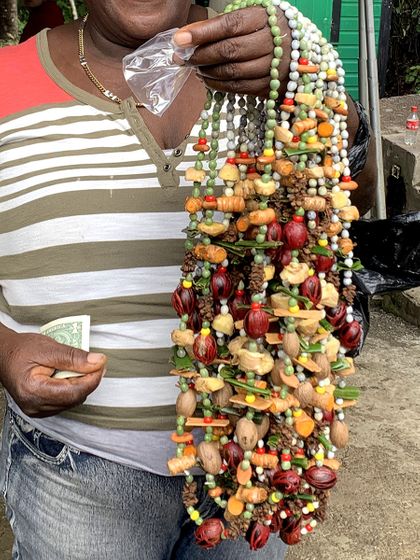 So I arrived at Annandale Falls. Crystally clear water is running down.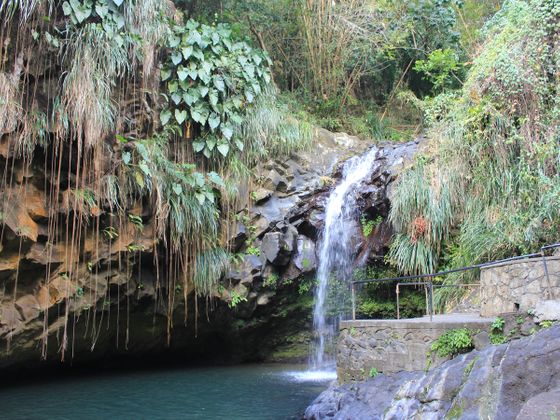 In a shallow place, the transparency is such that you can see the color of the sand under the water.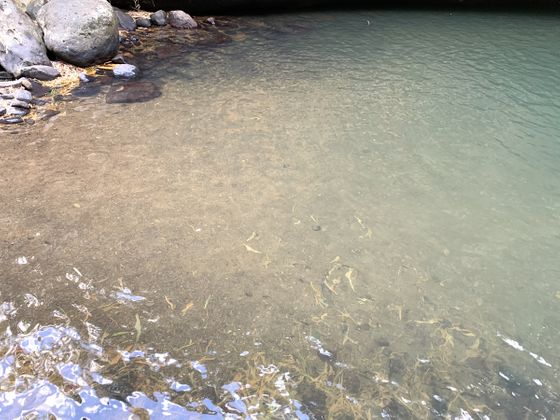 While observing the surroundings while being healed by the sound of a waterfall, a man was found a little away from the waterfall.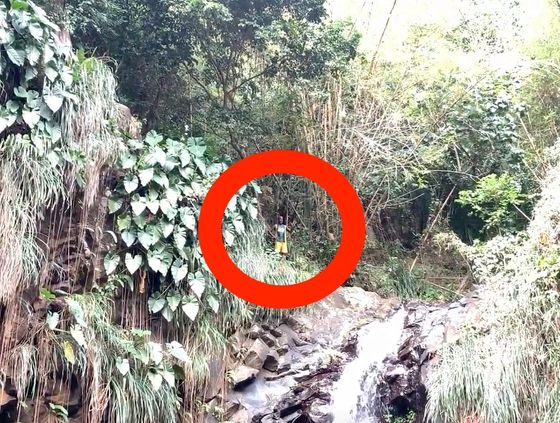 When I thought, "Is this person managing this waterfall…?" Suddenly dropped from a height of about 10m to the waterfall.

Takitsubo Dive (Grenada)-YouTube


Suddenly I couldn't understand the situation and was stunned, 'Is it all right ...?', The man came to us. When listening to the story, he said he was getting a tip with a performance to jump into the waterfall. If you give a tip, you can thumb up with both hands. Even after this, I climbed and jumped, climbed and jumped ...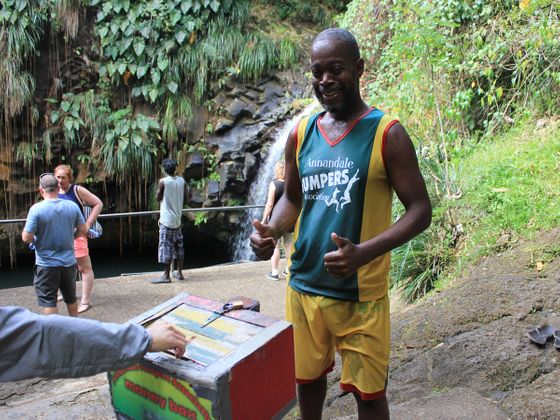 ◆ Special menu of Grenada Sushi
There was a sushi restaurant in the British Virgin Islands , famous as a tax haven island, but there is also a sushi restaurant in Grenada. When I got tired of the taste of nutmeg, I went to the sushi restaurant " Caribbean Sushi " in the Lime area. The Caribbean Sushi also has an open terrace that is crowded with locals and tourists.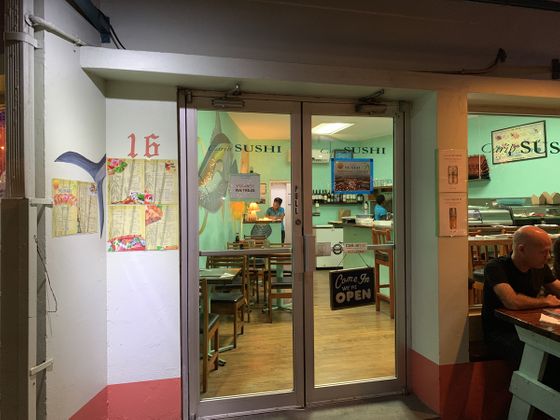 The soy sauce is Kikkoman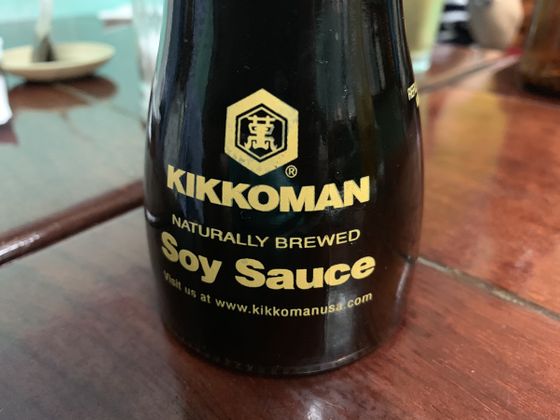 Split chopsticks on the chopstick rest. The atmosphere is the same as Japanese sushi restaurants.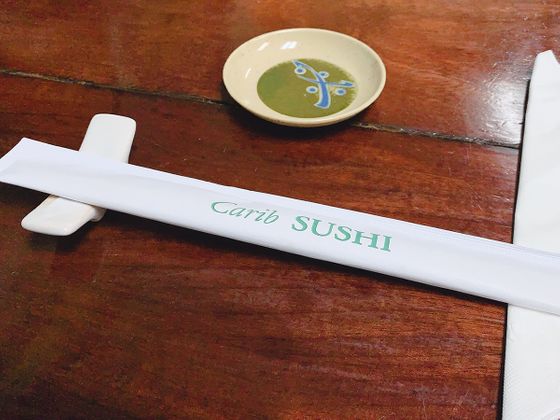 Because it is hot, I ordered cold green tea ($ 5 / about 200 yen). I have drunk sweet green tea in the United States, but the green tea here is sugarless. Just came with gum syrup and sliced lemon. When you put it in, it tastes like lemon tea, this is ant.



A sushi came. A handful of visuals is stable in every country. A handful of fresh tuna and white fish is $ 38 (about 1500 yen).



Subsequently, 'Leo Special Grip ($ 32 / about 1300 yen)' appeared. This is a special menu recommended by the chef Leo. An avocado and a tentacle on top of a tuna. Although it is not visible in the image below, the grip was also in the bottom of the tuna. It has been boiled and used for conger.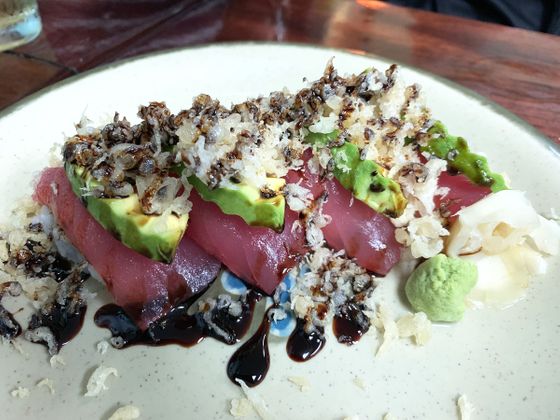 The tuna crispy roll ($ 44 / about 1800 yen) has a large amount of heavenly haze applied to it. Apparently, it seems to express it with 'crispy' which is used in the meaning of 'crisp'.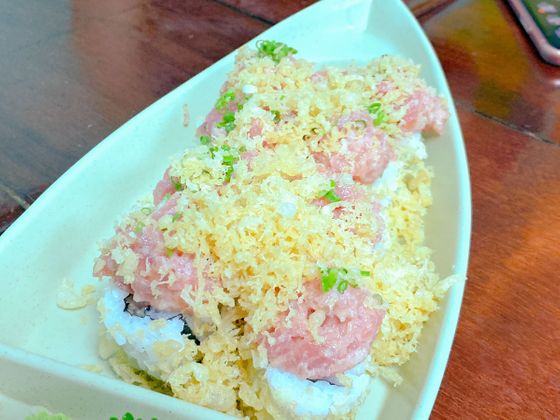 The scotch roll ($ 45 / about 1840 yen) without vinegared rice is no longer a sushi look, but it is a dish of Scottish smoked salmon, avocado and cream cheese wrapped in a thin fried egg. Surprisingly, it goes well with soy sauce and is perfect for liquor.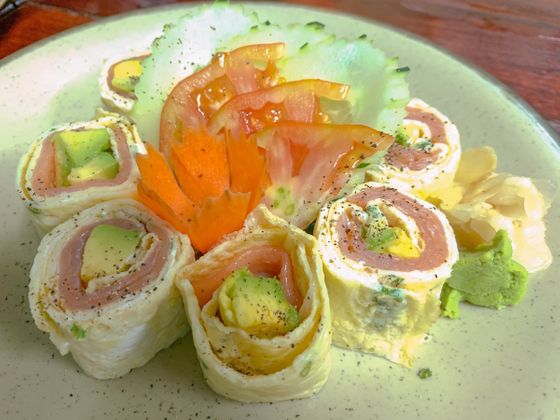 In addition to this, there was a menu other than sushi such as white fish and mozzarella cheese. All of them were arranged menus with spices, but they were delicious.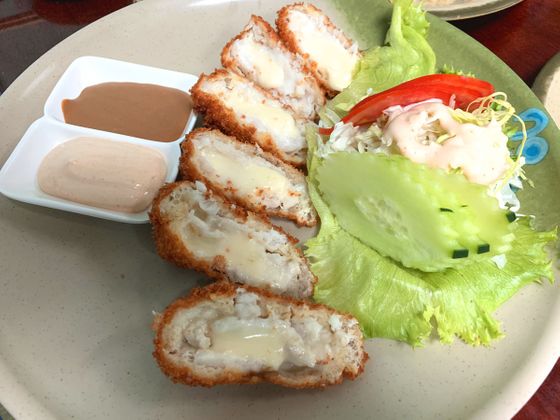 ◆ SIM purchase method & speed investigation in the field
When traveling, the availability of the Internet can be a matter of life and death, and I want to know the local communication method. As a result, Grenada has an increasing number of Wi-Fi connection services for people coming from abroad, but it seems that some areas are not covered. In such a case, you can use the method of purchasing a local SIM.

FLOW is a popular telecommunications company in Grenada. Since there is no SIM sold at the airport, I looked for it in the city, but on Saturday arrived, it was not in time for the evening, and every store was closed on Sunday. When I was impatient, 'Is it isolated from the Internet as it is ...?', I found a vending machine that could add data communication capacity to an existing SIM card at a shopping mall that happened to stop by.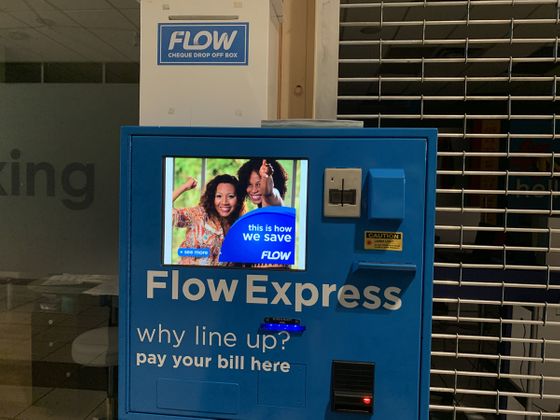 Since there was a FLOW SIM card purchased on another island, I will add 10 dollars (about 400 yen).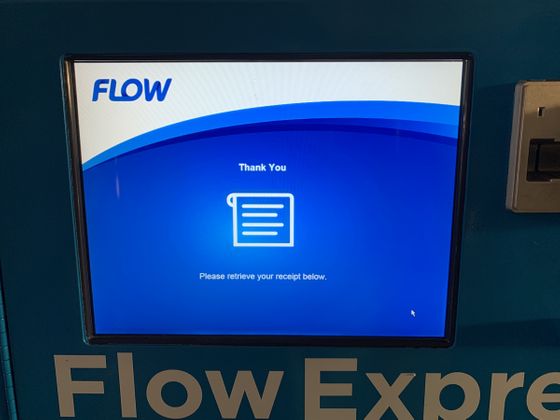 A notification email has been sent that the additional purchase has been completed. However, I can't connect. Thinking that activation is necessary, nothing happens when you call a dedicated number.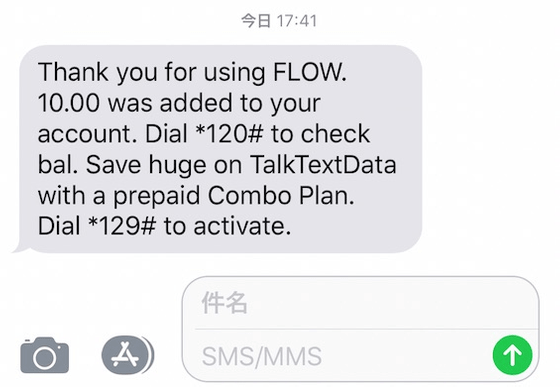 If you check the status of the charge without being able to connect, it shows $ 7.54. Where did the $ 2.5 portion disappear?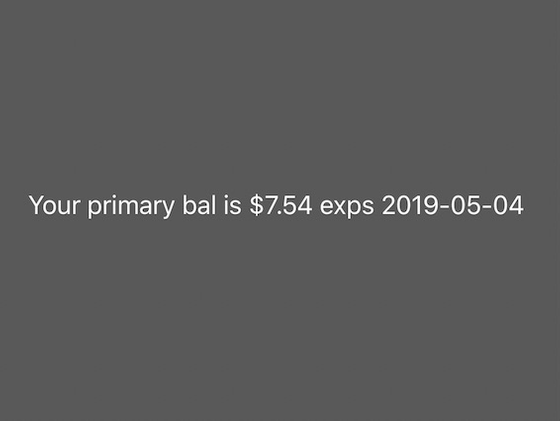 While I was struggling without being able to connect, I spent up to 10 dollars so I purchased additional. However, I couldn't connect even after re-challenge ...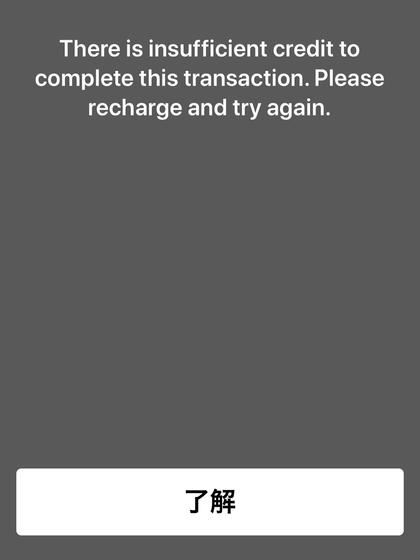 By the way, even if you can't use SIM, you can connect to FLOW's airport Wi-Fi if it is inserted in the terminal.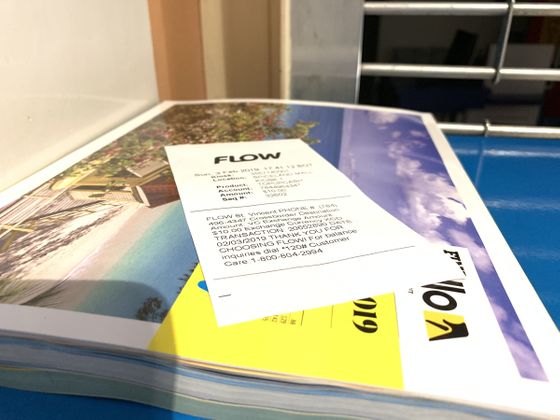 ◆ '.gd' domain I saw in town
…… And it is a domain island tour that just seems to be enjoying the land of a foreign country, but as the name suggests, the domain " ccTLD (country code top-level domain) " assigned to each country is Japan Is it used properly in island countries far away from the island? I have the name of investigating that.

So, I have been doing a local report with a body while trying to go to an island that sinks over 40 hours one way so far, while continuing to search the field even if I can not return due to a delay in the plane .

Grenada's ccTLD is ' .gd ' which is also used to mean 'GOOD'. A tourist taxi company ...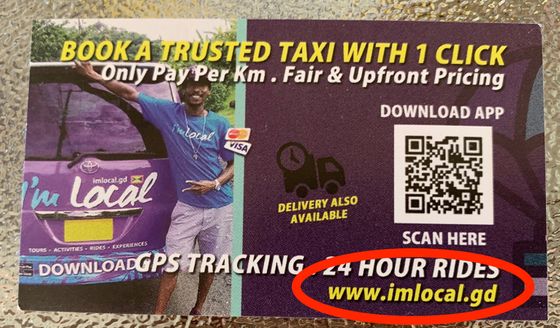 The domain of ".gd" was used in the signage of the yoga class at the hotel.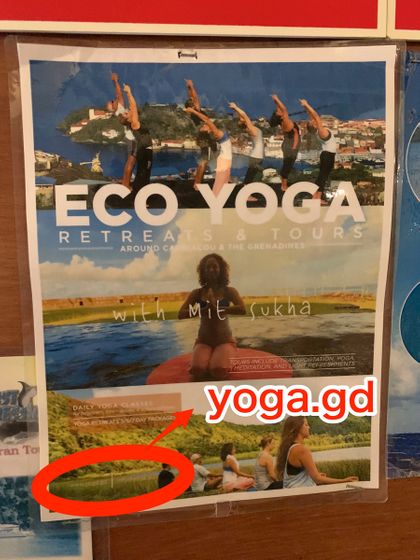 Since one of the purposes is to hear from the registry that operates the domain locally, I looked for it. The registry of the ".gd" domain is in charge of the NTRC (National Telecommunications Regulatory Commission) Grenada branch as well as St. Vincent and the Grenadines.

Arriving at the building where the registry office is located ... Unfortunately, we were unable to meet the person in charge because it was not open on Sundays.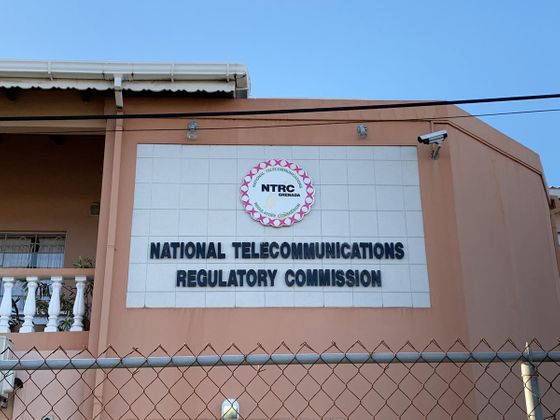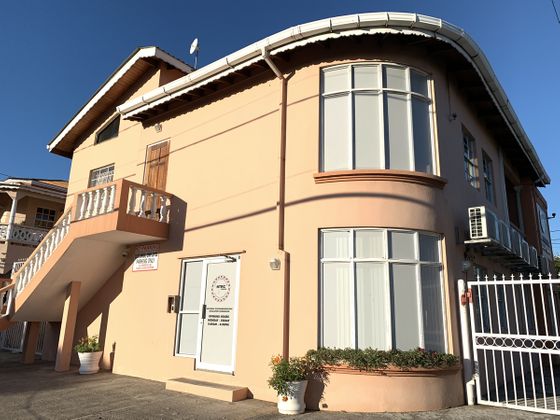 At the bus stop in front of the building, the NTRC website address and '.gd' were written large.



A variety of Grenada where a bee thief costs a $ 100 sweepstakes
In addition, I have compiled a variety of local information that may be useful when traveling to Grenada.

・ Grenada scenery
St. John's during the day. A scene reminiscent of a European port town.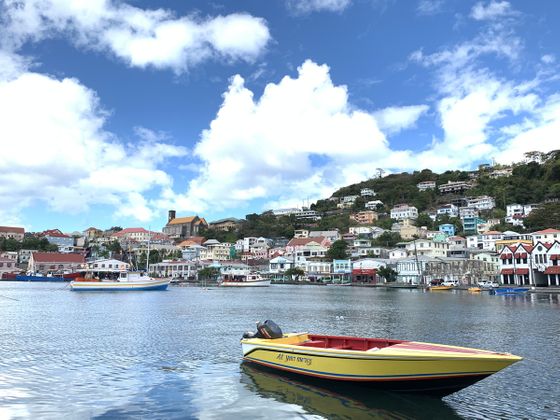 The scenery that the taxi driver stopped and showed me on the road saying 'Look! It's a $ 1 million view!'



・ To local supermarket
Since I was bitten by a mosquito, I went to a local supermarket for mosquito coils.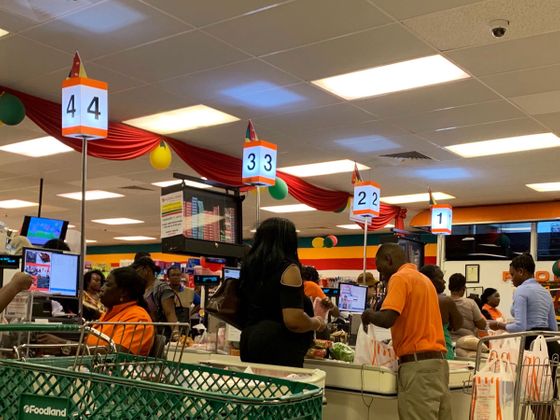 As expected, there are so many kinds of spices that you think of Spice Island.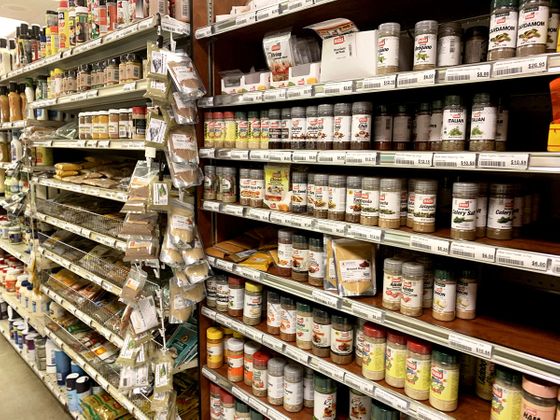 There was no mosquito-repellent incense stick, but I bought a mat that seems to be strong to get rid of mosquitoes. There was no lie in the package, and it properly repelled mosquitoes.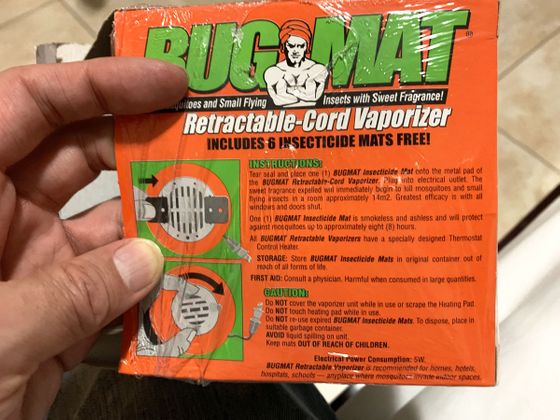 There was a notice on the supermarket bulletin board, "A bee thief pays a prize of $ 100".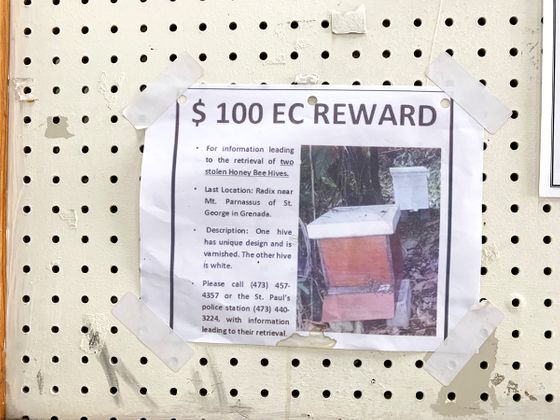 ・ Be careful with copy products and ripping
While walking around the shopping mall ' Spiceland Mall ', there were shops selling famous brand copy products.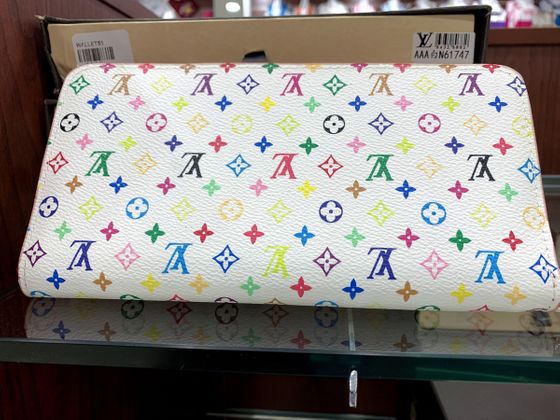 At first glance, this is a store that seems unlikely to sell copy products.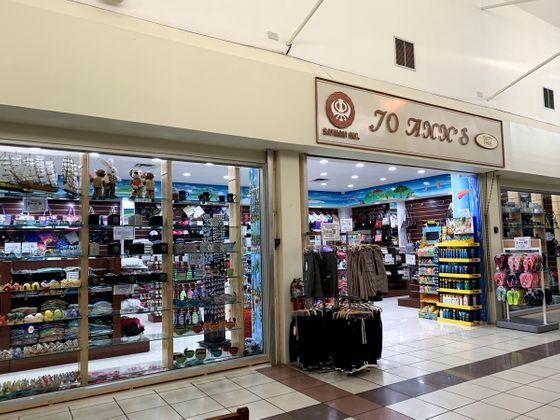 There was a shop in the airport that I wanted to watch out for.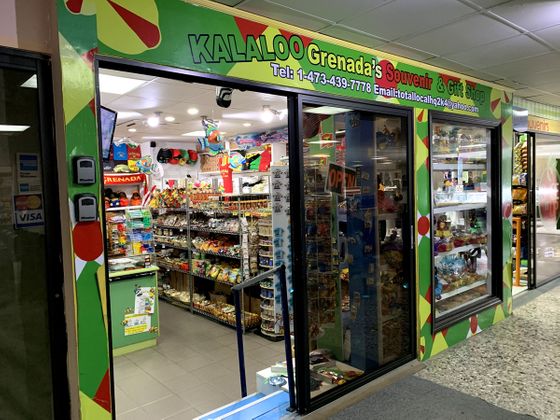 The gift shop "KALALOO" sells banana ketchup for $ 13 each (about 530 yen).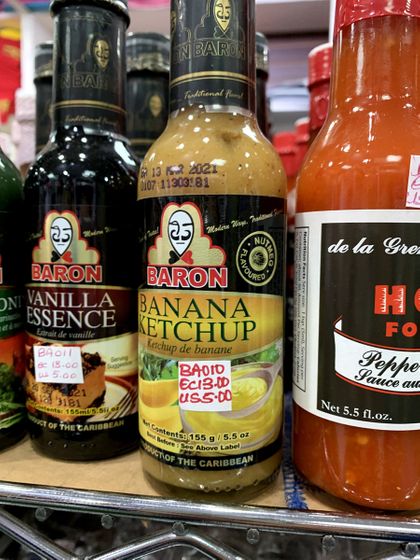 However, another shop in the airport costs $ 5.85 (about 240 yen). Although it was in the same airport, it was sold at more than double the price.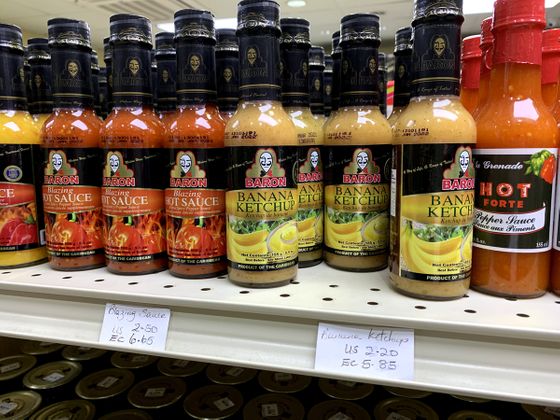 So, here is a summary of the places we visited on this domain island tour:


Details of access to Grenada can be confirmed here .

You can check the details and application of the domain '.gd' here .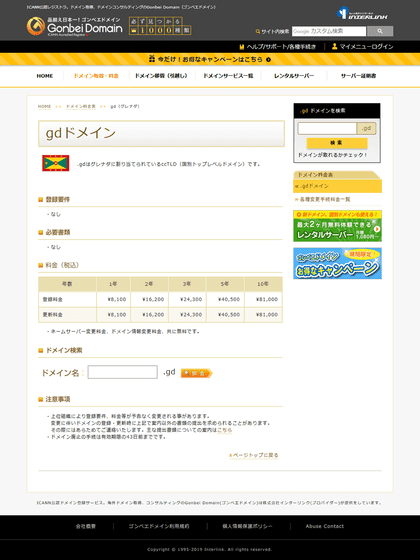 (Sentence / Photo: Interlink https://www.interlink.or.jp/
Visit the domain island https://islanddomains.earth/ )