The battery of the 15-inch MacBook Pro that has been recalled explodes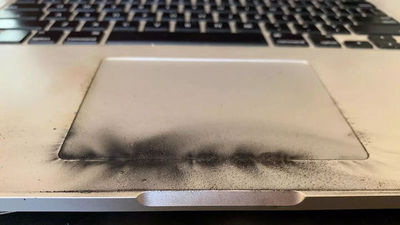 In June 2019, Apple announced a recall program that could cause the battery to ignite on some 15-inch MacBook Pros. Users who used the target device share photos of their own MacBook Pro, which burned just as the battery had ignited three days before the recall program was announced.

Apple's MacBook Pro Battery Recall is No Joke, Here's What Could Happen

https://petapixel.com/2019/07/03/apples-macbook-pro-battery-recall-is-no-joke-heres-what-could-happen/
Images underscore the need for Apple's MacBook Pro recall-9to5Mac
https://9to5mac.com/2019/07/03/macbook-pro-recall-images/
An unfortunate person whose MacBook Pro has been ignited three days before the announcement of the recall program is Steven Gagne who shares photos of the burned devices on his Facebook. According to Gagne, when the MacBook Pro's battery exploded, a small fire came out, and the house was filled with smoke, which smelled like a chemical burn. It was said that the MacBook Pro that exploded was not used at that time and was not charging. Gagne usually puts his MacBook Pro in a sofa or magazine rack, but at the time of ignition he got it because he put it on the table.
So, in light of the @ apple announcement today that they are recalling 15 "MacBook Pros from 2015-2017, I want to tell my ...

Posted by Steve Gagne Thursday, June 20, 2019


The photograph of Gagne's MacBook Pro that suddenly exploded is as follows. There is a black burnt at the center of the bottom of the terminal, and the burn extends from the vent on the left end.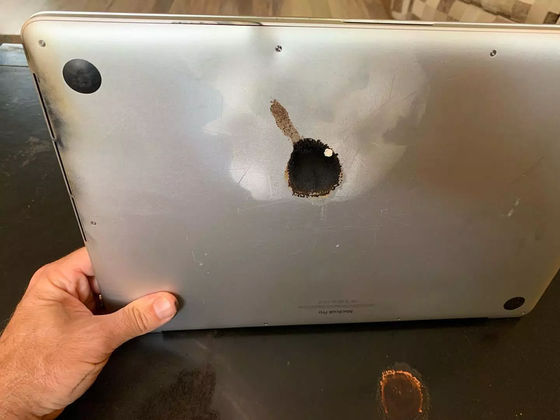 I burnt from the track pad.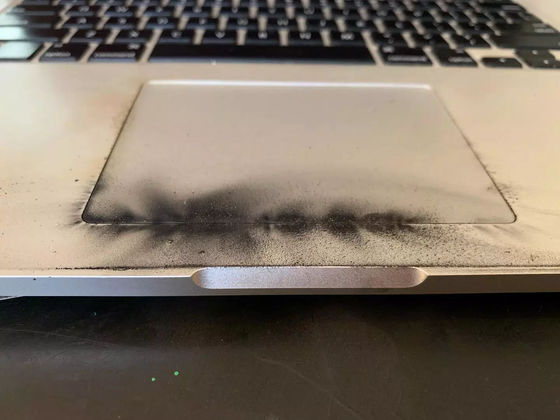 Bottom left end vent.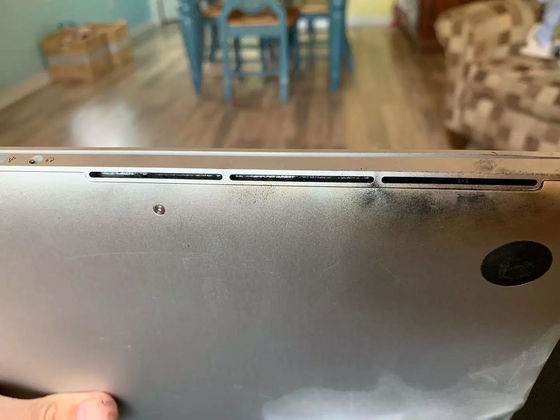 The recall target is the MacBook Pro sold from September 2015 to February 2017. It is possible to confirm from the serial number whether it is a recall target terminal or not. You can check how to check if your own terminal is subject to recall from the following articles:

Apple recalls 15-inch MacBook Pro battery fires, how to check for recalls summary-GIGAZINE