It turns out that June 2019 was 'the hottest in June in the history of observation'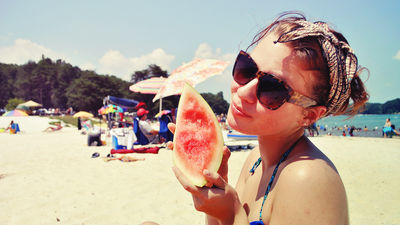 by
Ashley Campbell
The summer of 2019 also heat wave struck various parts of Japan, Hokkaido is at the end of May 2019
Saroma
as the temperature in May in the national all-time high of 39.5 degrees
recorded
was. Such an intense summer heat is observed not only in Japan but also in the world, and the
Copernicus Climate Change Service,
which observes global climate change using satellites from the EU, says, 'If you look at the whole world, the average temperature in June 2019 Is the hottest ever in history, particularly in Europe, where it has recorded unusually high heat levels at an unprecedented level. '
Record-breaking temperatures for June | Copernicus
https://climate.copernicus.eu/record-breaking-temperatures-june
In Europe, climate change has been observed in recent years due to the large amount of heat flowing from the Sahara Desert and the
El Nino phenomenon
. Especially in recent years, the summer heat is at a level higher than expected from past records, and the average temperature in June 2019 is about 2 degrees higher than the average temperature in the past 30 years.
Below is a map showing the five-day average temperatures from June 25 to 29, 2019, based on the state-of-the-art climate analysis system 'ERA5'. Areas that were higher than the long-term average temperature during the same period from 1981 to 2010 are red, and areas that were lower are marked blue. It can be clearly seen that the average temperature is higher than the standard, especially in western Europe such as France, Italy, and Spain. In particular, central France, southern Switzerland, and northern Spain have been shown to be 6 ° C to 10 ° C higher than usual.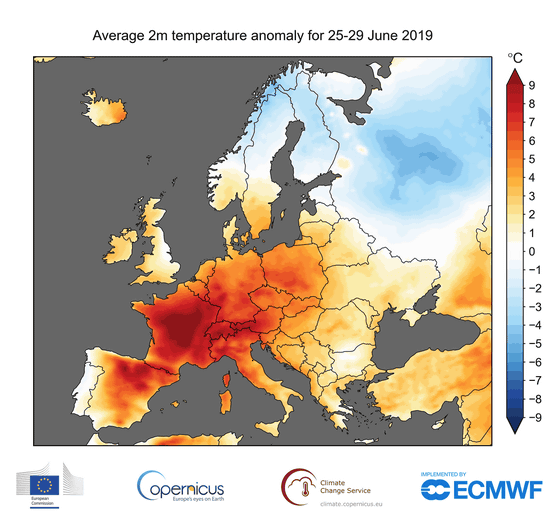 The following graph shows the average temperature in June from 1979 to 2019, with Europe only and the whole world wide. The horizontal axis is the year, and the vertical axis is the temperature difference between 'average temperature in June of that year' and 'long-term average temperature from 1981 to 2010.' Globally, the average temperature in June tends to rise year by year, with Europe recording the highest average temperature in the past 30 years in June 2019 (rightmost).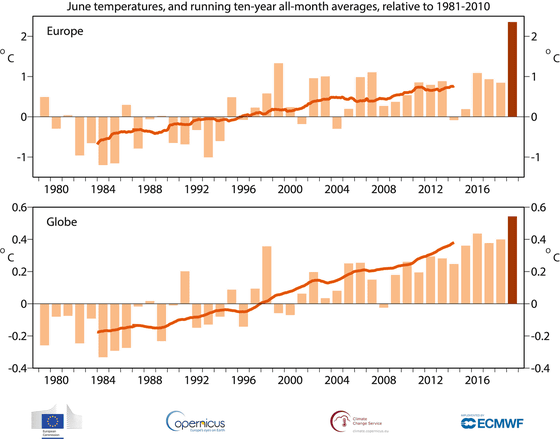 Below is a graph with the same content, with a longer span from 1880 to 2019. If we look at 140 years, we can clearly see that the average temperature of the whole world is on the rise, and that the heat of June, 2019 in Europe is at a remarkable level even in the past 140 years.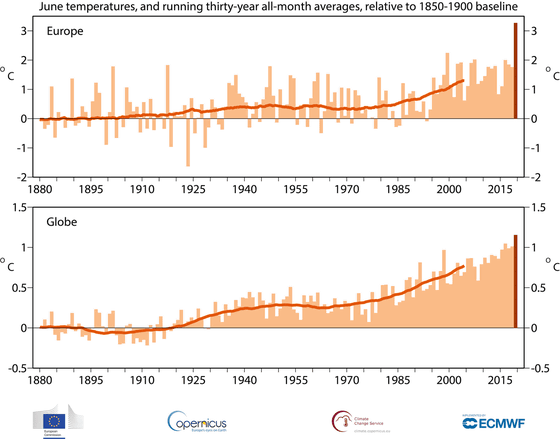 'The temperature in southwestern Europe at the end of June was found to be unusually high,' said Jean-Noel Tepo , head of the Copernicus Climate Change Service. An unusual heat may be observed again and again. '

in Note, Posted by log1i_yk